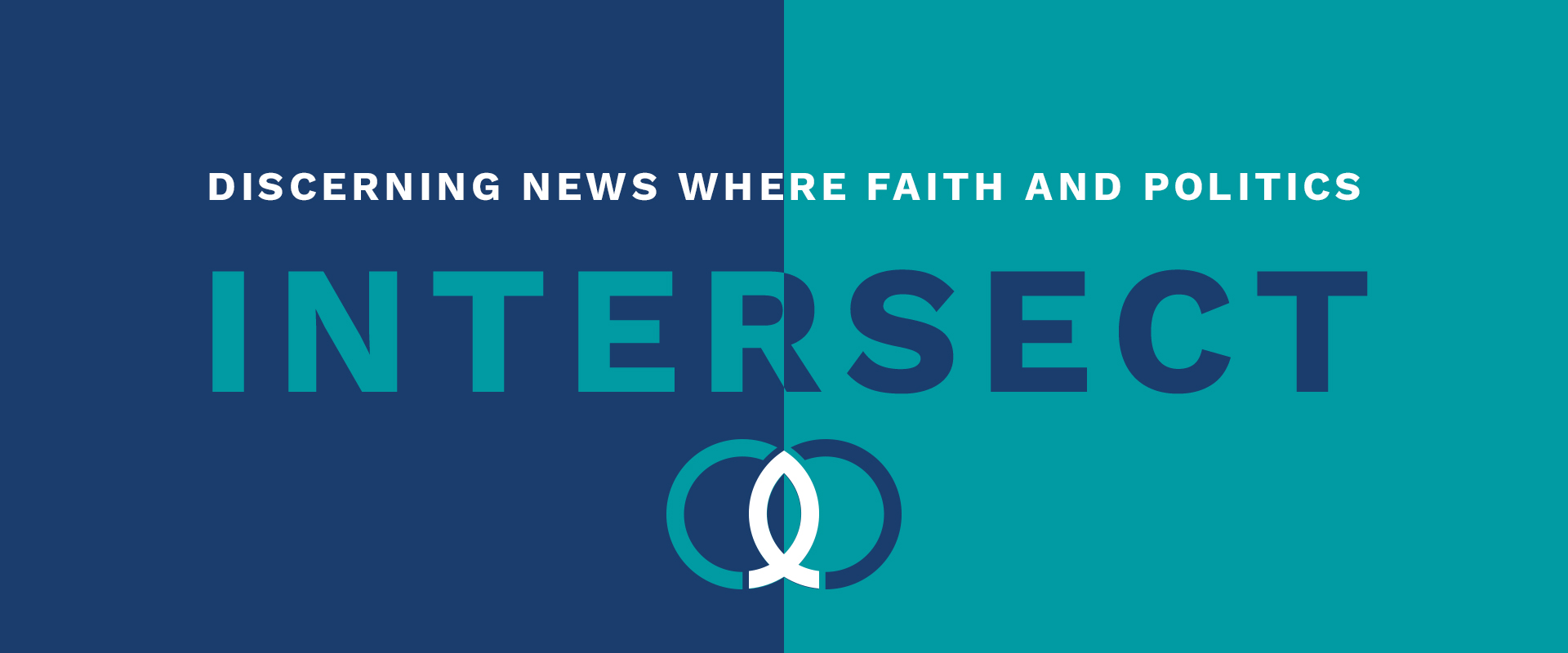 WEEKLY NEWS SUMMARY - JANUARY 6, 2021
In this week's Intersect, read about:
---
Democrats projected to win both Georgia runoff elections, take control of Congress
With nearly 99% of the vote counted in the state of Georgia, Democrats Raphael Warnock and Jon Ossoff were projected as winners of their runoff Senate races against Republican incumbents Kelly Loeffler and David Perdue, according to the nonpartisan Cook Political Report editor Dave Wasserman. Warnock and Ossoff received boosts from high Democrat turnout and what was an unquestionably depressed Republican turnout in the special election runoff. The Democrat wins create a 50-50 split in the Senate, an effective Democrat majority given that Kamala Harris would serve as the tie-breaking vote in a Biden administration. Collectively, that means the Democrats will control both houses of Congress and the White House for the first time since 2010, with Chuck Schumer becoming Senate majority leader, giving them an unfettered ability to push through legislation and implement their agenda. read more at DISRN News
THINK.
More than three million people (40 percent of the state's registered voters) cast a ballot in the runoff before yesterday's election. Absentee ballots postmarked by Tuesday and received by Friday will be counted. Georgia state law doesn't require a recount in tight elections, but it does allow a candidate to request a recount if the margin is less than half a percentage point. By 9 a.m. on Wednesday, Ossoff led Perdue by 0.4 percentage points. Raphael Warnock, who has been declared the winner over Kelly Loeffler 50.6 to 49.4, has stated that abortion "is consistent with my view as a Christian minister and I will fight for it." Warnock has been the senior pastor at Ebenezer Baptist Church in Atlanta, Georgia since 2005, a position he is expected to keep in conjunction with serving as a senator. Since he is filling a special election seat, it will be up for election again in 2022. In Georgia's November election, 4,999,960 votes were cast in the presidential race. The runoff vote count is currently 4,297,000 with more than 99% of the votes counted. Senate Minority Leader Chuck Schumer has already declared himself the new Senate majority leader stating, "America is experiencing one of the greatest crises we have ever faced, and the Senate Democratic Majority is committed to delivering the bold change…" Leading progressive Democrats have seized on the anticipated double-victory to lay out their policy priorities for a Congress that sits in their party's hands. Rep. Pramila Jayapal (D-WA), Chair of the Congressional Progressive Caucus, spelt out the key areas of policy focus for Democratic progressives on Wednesday morning. She called in a tweet for: "Expansive COVID relief include survival checks, Raise Fed min wage of at least $15, Green renewable energy infrastructure package putting ppl back to work w/union jobs, Humane immigration policy." In a follow-up tweet, she promised to push for: "Racial Justice, Guaranteed Healthcare for all, $$$ out of politics & democracy reform, Bold climate justice, Universal childcare, paid leave, domestic workers bill of rights, pay equity, Public education, free college." As the legislative agenda surely changes from the last four years, we'll be keeping on top of how this impacts Christians and our culture. The purpose of our weekly Intersect is to bring you the top stories from a "think, pray, and act" perspective. We truly appreciate all of you who partner with us and we've seen God at work through you. Before the November elections and the Georgia runoff elections, more than 5,000 My Faith Votes volunteers stepped up to the plate and sent over 1.4 million postcards and handwritten letters to Christian voters in swing states and Georgia. They prayed over each voter by name and wrote a personal note to them. We may never know the tremendous impact, both motivationally and, more importantly, spiritually that this incredible campaign has had.
PRAY.
As Christians, we must prepare for a role much more vital and important than ever before in our nation. We are to be salt and light. Ultimately, the Lord's goal is eternal, not temporal, and we must remember this most vital fact. We encourage you to pray for our nation after these historic elections and subscribe to our My Faith Votes Stronger weekly devotional with scripture and biblical insights as well as prayer points for our nation.
ACT.
The 2020 elections may be over but we are to be a people of faith in action 24/7. There will be ample opportunities to stand for faith, pray unceasingly, think well and know truth, vote in local and state elections this next year and encourage others in their faith. Sign up to be a volunteer and receive action alerts to stay informed and be alerted with opportunities to put your faith in action with My Faith Votes here.
---
Congress Begins Electoral Vote Count as Pence, McConnell Push Back on Trump Claims
Electoral College votes began being officially counted Wednesday in a joint session of Congress, where scores of Republicans are expected to object to votes being counted from numerous states that Joe Biden won amid pressure from President Donald Trump and pushback from Vice President Mike Pence and Senate Majority Leader Mitch McConnell, R-Ky. The first objection, to Arizona's vote, took place minutes into the proceeding as Trump-supporting protesters, egged on by the president, surrounded and later stormed the Capitol. After the protesters breached the Capitol steps and began to clash with police, parts of the building were placed on lockdown and the congressional tally was paused. Pence was taken to a secure location. The chaos began as the House and Senate separately debated the objection. Protesters could be seen from the third floor walking past barricades up to the Capitol building, and Capitol Police officers began running into the hallways and shouting at staff and reporters to get away from the windows, and told staff that protesters had breached the building and that they should take cover. Shouting could be heard floors down. Senate staff then began locking the doors to the Senate chamber. A recording then began playing announcing that there was a security threat inside the building and that people should take shelter. Senators were taken to a secure location. read more at NBC News
THINK.
Protesters from a morning rally where President Trump spoke, outside the White House, then descended on the Capitol to protest the certification of results, before clashing with police. As of press time for this edition, a woman is in critical condition after being shot in the chest on the Capitol grounds, according to two sources familiar with the matter. Multiple officers have been injured with at least one transported to the hospital, sources tell news outlets. President Trump called in the national guard to aid police and capitol security to end the violence at the capitol. The D.C. mayor issued a 6:00 PM curfew in D.C in response to the outbreak. Republican House Leader Kevin McCarthy said he heard reports of shots fired and the capitol building was evacuated amid a bomb threat at the capitol. Earlier today, before the violence broke out and the electoral vote process interrupted, Vice President Mike Pence sent a letter to lawmakers on Capitol Hill Wednesday announcing he would not reject certified election results from the states and will confirm the 2020 Electoral College votes. Long after the political events of this week are over, every person you know will still need the eternal life only Jesus can offer. Our political engagement, even when motivated by a desire for truth and integrity in our political system, can become so divisive and caustic that nonbelievers will judge Christ by Christians and reject both. Social media serves as a painful reminder of that sometimes. At the end of the day, people who love the Lord long for truth which is being circumvented, hidden, and distorted. We have distorted love to be void of truth and therefore truth has been perverted and swept under the carpet. Our society is now primed for strong Christian leadership to unify our voices, give hope, and provide a lane to embolden each other to stand and stand for Christ alone. As the quote from Warren Wiersbe says, "Love without truth is hypocrisy. Truth without love is cruelty." Are we ready for the role to which He may be calling us?
PRAY.
Please take time to stop right now and pray for our nation. Pray for the protection of the capitol police and the national guard that they would restore order quickly. Pray for those injured. Pray that the time set to count votes would be able to proceed and end with a peaceful resolution. Pray for this divided nation, that in our chaos, we seek repentance and God's mercy.
ACT.
We encourage you to stay apprised of what is happening in D.C. and with the electoral vote process because our nation needs your prayer. Remember, you are not alone. Christians all across the country are also grieved at the violence that has unfolded at the capitol and that the electoral vote process has been halted. Consider reaching out to two or three other people from your church, neighborhood, or family members and urge them to join you in praying for our country. It is the most powerful thing we can do right now.
---
House Dems Draft 'Gender-Neutral' Rules Package That Changes 'Father, Mother' to 'Parent'
Congress is considering a new set of rules favoring gender-neutral language in references to family, which would require addressing a father, mother, son, daughter, brother, sister, husband, wife, or in-law as "parent, child, sibling, spouse, or parent-in-law." The revisions include modifying "seamen" to "seafarers," "chairman" to "chair" and "submit his or her resignation" to "resigns," according to the rules package. The rule is intended to "honor all gender identities" the resolution reads. The package introduced by House Speaker Nancy Pelosi and Rep. James McGovern Friday revealed a resolution package for the 117th Congress, that would change "pronouns and familial relationships in the House rules to be gender-neutral or removes references to gender, as appropriate, to ensure we are inclusive of all Members, Delegates, Resident Commissioners, and their families – including those who are nonbinary." And Pelosi said the changes "will make the House more accountable, transparent and effective in our work to meet the needs of the American people." read more at CBN News
THINK.
Pelosi and McGovern claim these changes will make the House "the most inclusive in history." This is a positive-sounding statement, but thoughtful Christians must ask, "What specifically are they being inclusive of?" By removing gender-specific pronouns, the House is rejecting biological reality in favor of a false idea--that gender is based on a person's thoughts and emotions, not their body. So, in reality, they are not the most inclusive House in history; they have simply excluded reality. Former Representative Tulsi Gabbard (D-HI), who introduced a bill banning men from competing in women's sports, pointed out in an interview with Tucker Carlson, "It's the height of hypocrisy for people who claim to be the champions of rights for women to deny the very biological existence of women." Unfortunately, her views are not shared by most of her party. Joe Biden has pledged to sign the Equality Act if passed by Congress and has made transgender rights a top priority. This bill would force federally funded schools to allow biological males to access girls' bathrooms and locker rooms, as well as participate in girls' sports. It also would infringe upon religious freedom, claiming that it is discriminatory against LGBTQ communities. In other news, the opening prayer in Congress this year given by Representative Emmanuel Cleaver (D-MO) ended with the words "Amen and A-woman." Representative Cleaver said he intended his "lighthearted pun" partly to be a recognition of the record number of female representatives, which is ironic given that the proposed rules would eliminate any use of the word "woman". What effect does this controversy over words have on us? Abigail Shrier, author of the book, Irreversible Damage: The Transgender Craze Seducing Our Daughters, pointed out that the words we use to describe reality carry consequences, but especially when used by governing authorities. She states, "language in the law, by definition, ushers words into action. Words grant rights or take them away….Just ask the ­female prisoners now housed with violent biological men in California if our lawmakers' words matter." Speaking of California, their Department of Insurance just mandated that all insurance companies must pay for mastectomies for minors who believe they are transgender. The host of young girls who will be irreversibly damaged by the state's refusal to acknowledge reality is heartbreaking. One last point about the Congressional prayer. Cleaver, a United Methodist minister, finished his prayer in the name of various gods: "the monotheistic god, Brahma, and god known by many names by many different faiths." Once again, we see that in an attempt to be inclusive, an important truth was excluded. We are to head the words of Isaiah 45 which says, "I am the Lord, and there is no other, besides me there is no God; I equip you, though you do not know me, that people may know, from the rising of the sun and from the west, that there is none besides me; I am the Lord, and there is no other."
PRAY.
All this confusion can tend to leave us overwhelmed, but the first thing we must do is pray. Father, our hearts break for the sad departure from truth in our nation. We are sorry for the times we have failed to stand for your truth. Please help us to be so full of your love that we are compelled to speak truth with grace, following the example of our Lord Jesus. We ask you to open the minds and hearts of our friends and family who don't yet acknowledge the truth.
ACT.
Our children and grandchildren are growing up in a society drifting further from truth. You are no doubt feeling burdened to help them stay grounded in God's truth. But remember, this is a spiritual battle that you can't fight without prayer. A group called Raising Prayerful Kids has a free prayer guide to download for this year, with a different prayer focus each month. You can download the prayer guide here.
---
Abortion Leading Global Cause of Death in 2020 with 42.7 Million Killed
Abortion was once again the number-one cause of death globally in 2020, with a record 42.7 million unborn babies killed in the womb, according to data provided by Worldometer. As of December 31, 2020, there were 42.7 million abortions performed in the course of the year, Worldometer revealed, while 8.2 million people died from cancer, 5 million from smoking, and 1.7 million of HIV/AIDS. By comparison, worldwide deaths from the coronavirus in 2020 totaled 1.8 million, according to Johns Hopkins University. Worldometer — voted one of the best free reference websites by the American Library Association (ALA) — keeps a running tally through the year of major world statistics, including population, births, deaths, automobiles produced, books published, and CO2 emissions. It also registers the total number of abortions performed worldwide, based on the latest statistics on abortions published by the World Health Organization (WHO). Globally, there were more deaths from abortion in 2020 than all deaths from cancer, malaria, HIV/AIDS, smoking, alcohol, and traffic accidents combined, according to Worldometer statistics. The shocking number of deaths from abortion, in fact, has led certain observers to call abortion "the social justice cause of our time," since the sheer magnitude of the problem completely overshadows other human rights issues. The year 2020 also saw abortion legalized in Argentina, one of the last bastions in the world to recognize and protect the right to life of unborn children. read more at NewsAKMI
THINK.
In spite of such horrific news, there are always glimmers of encouraging developments. Poland struck down a provision that would have permitted doctors to abort babies who were diagnosed with Down syndrome and other disabilities. Thankfully, the High Court ruled that allowing doctors to abort a baby simply based on congenital defects would constitute eugenics, which is the elimination of certain groups of people who are deemed unfit. Nazi Germany was infamous for this, but sadly, America is all too familiar with the practice as well. During the eugenics movement of the early to mid-1900s, Margaret Sanger, Planned Parenthood's founder, saw birth control as a means to gradually rid society of people she called "useless weeds." When a society devalues human life, such opinions are the natural effects. But we must continue our efforts to stand firm for a culture which values all life. Last week, Ohio Governor Mike DeWine signed the Unborn Child Dignity Act into law, which requires that aborted babies' bodies be treated like any other deceased human being by disposing of them either by burial or cremation. It also requires abortion clinics to document their disposal. This is especially relevant given that a 2015 investigation revealed that Planned Parenthood facilities in Ohio were disposing of babies' bodies in landfills. Mike Gonidakis, president of Ohio Right to Life, stated, "No longer will the tiny bodies of babies whose lives have been tragically taken through abortion be treated like trash. In Ohio, we respect life and we bury our dead. The abortion industry, who has for decades tried to convince women that the lives of their children don't matter and should simply be thrown away, will now be unable to hide behind this blatant lie." Indiana passed a similar law in 2016. An abortionist in that state, Dr. Ulrich Klopfer, was found to have been storing over 2,200 remains of aborted babies in his garage, car and other properties. Investigators stated that he indeed broke the law, however, no charges were filed because he has passed away. The babies received a proper burial. Hopefully, our society will begin to see the irony of treating these precious babies as equal human beings after they are dead, but not while they're still alive. These laws are a small step in the right direction. However, Joe Biden's "Women's Agenda" would invalidate pro-life state laws by codifying Roe v. Wade into federal law. It also supports repealing the Hyde Amendment, which prevents federal taxpayer dollars from funding elective abortion through Medicaid and other programs. According to Live Action, this amendment saves roughly 60,000 children each year. The pro-life work must continue on all levels--federal, state, and local. Your elected representatives need to hear from you.
PRAY.
Pray against the temptation to be discouraged in the fight for life. "Let us not grow weary of doing good, for in due season we will reap, if we do not give up." (Galatians 6:9) Pray that the hearts of elected officials would be softened to the sanctity of life and pray that more pro-life laws in states will be passed this year and that more children will be rescued.
ACT.
Seth Gruber is a pro-life writer and speaker who unpacks some of the common pro-abortion rhetoric. We will be interviewing him this month! In the meantime, we encourage you to check out his page and listen to a few of his podcasts at sethgruber.com. One episode that is especially relevant to this Intersect story is Abortion Is Modern Day Eugenics.
---
My Faith Votes—is a nonpartisan movement that motivates, equips and activates Christians in America to vote in every election, transforming our communities and influencing our nation with biblical truth. By partnering with national faith leaders, My Faith Votes provides resources to help Christians Pray, Think, and Act to create an America where God is honored in the public square.
Website | www.myfaithvotes.org Twitter | @MyFaithVotes Facebook | My Faith Votes
---
React
---
Comments