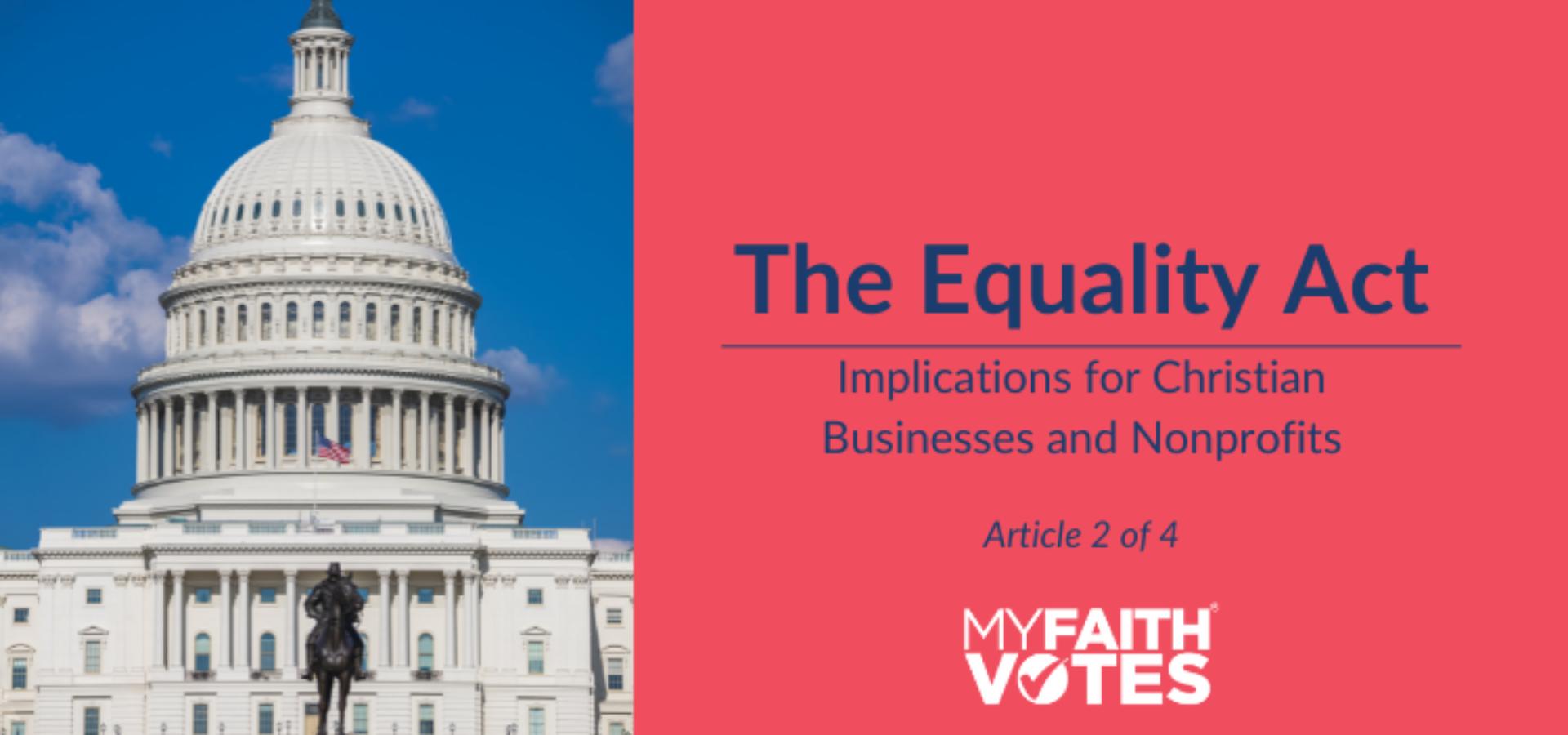 Implications of the Equality Act for Christian Businesses and Nonprofits
(This is the second in a series of four articles on the Equality Act)

The so-called "Equality Act," HR 5 will have a significant impact on employers, workers, non-profits, and schools. Here are some specific ways in which this bill will influence these areas of our society.
No Construction Loans for Christian Churches, Schools, Charities
The Equality Act adds "sexual orientation and gender identity" to prohibited classes of discrimination in public accommodations [see HR5, Sec. 3, (a) (1)]. A "public accommodation" is "any establishment that provides a good, service, or program…." [HR5, Sec. 3, (a) (4)]
The so-called "Equality Act," HR 5, will prevent churches and faith-based non-profits that follow sexual morality as taught by Moses and Jesus Christ from obtaining commercial bank loans.
A loan application for a church building in which only one man and one woman couples could be married; or a private, religious school which would not hire "married" same-sex persons as teachers; or a senior retirement apartment building that houses heterosexual married couples only; or a shelter for battered biological women but not "trans" women; or, a building where wedding receptions are only held for male and female couples: These could all be denied bank loans because of illegal "discrimination" per the 1964 Civil Rights Act as modified by the Equality Act's Sexual Orientation and Gender Identity (SOGI) conditions.
The 2019 Judiciary Committee Report on the Equality Act (Report 116-56, Part 1, p. 81) provides that, "It shall be unlawful for any creditor to discriminate against any applicant, with respect to any aspect of a credit transaction…on the basis of…sex including sexual orientation and gender identity."
If a Christian college wanted to: build dormitories for married students, but they limited occupancy to one man and one woman married couples; construct a sports stadium but did not allow males claiming to be females to compete in the same athletic events; construct a gymnasium, but refused to abide by the provision of the Equality Act that "an individual shall not be denied access to a shared facility, including a restroom, a locker room, and a dressing room, that is in accordance with the individual's gender identity": Again, in all such cases, no loan could be issued. [HR 5, Equality Act, Sec. 1101, Definitions and Rules. Rules, (2), p. 21]
SOGI Prohibitions Treated the Same as Racial Discrimination
Sexual Orientation and Gender Identity (SOGI) provisions of the Equality Act will unfairly categorize biblical beliefs on sexuality as racial discrimination. As such, any person or organization that upholds these biblical beliefs will be subject to the same penalties and legal actions.
The Supreme Court rightfully ruled in 1964 that refusing to rent motel rooms to African Americans was illegal discrimination because the Civil Rights law required that, "All persons shall be entitled to the full and equal enjoyment of the goods, services, facilities…of any place of public accommodation…without discrimination on the ground of race…." [379 U.S. 241] The Equality Act cites this same Supreme Court  Heart of Atlanta case (HR 5, p. 12) to justify prohibiting discrimination on SOGI grounds in hotels and everywhere else.
Under the Equality Act, a church is defined as a "public accommodation." If it declines to hire same-sex "married" teachers based on behavior that violates church moral teaching, that church would be acting illegally under the Equality Act and could be fined up to $500,000 per violation.
In Bob Jones University v. United States (461 U.S. 574) the Supreme Court held that colleges or schools which racially discriminated in admissions based on religious doctrine did not qualify as tax-exempt organizations under the IRS Code, nor were contributions to such groups tax-deductible. By the same reasoning, religious institutions under the Equality Act will lose their tax-exempt status if they engage in newly designated "illegal" activities such as witnessing a marriage between a man and a woman, but not providing "marriage services" to same-sex couples.
Other problems: Some Jewish congregations do not allow men and women to sit in the same section of a synagogue. Any such sex distinction is also illegal under the Equality Act. College students with federally subsidized loans or scholarships will not be able to use them for tuition at religious-affiliated colleges which follow the moral teachings of Moses or Jesus Christ on sexual morality. While clerics cannot be "compelled" to change their moral teaching or religious practices, they will not be eligible for commercial bank loans, tax-exempt status, or student government scholarships.
Religious Freedom Restoration Act (RFRA) Does Not Apply
Section 1007 of the Equality Act expressly forbids reliance on the protections of the Religious Freedom Restoration Act as a legal defense against complying with SOGI requirements.
University of Virginia law school professor Douglas Laycock, who supports same-sex marriage and federal LGBTQ+ anti-discrimination laws, does NOT support the Equality Act. Professor Laycock noted (5/17/19) that the Equality Act:
"...goes very far to stamp out religious exemptions…. It regulates religious non-profits. And then it says that…[RFRA]…does not apply to any claim under the Equality Act. This would be the first time Congress has limited the reach of RFRA. This is not a good-faith attempt to reconcile competing interests. It is an attempt by one side to grab all the disputed territory and to crush the other side."
Equality Act and Employment
It is questionable if any employment arrangement would escape the SOGI requirements of the Equality Act. Speaker Pelosi noted (5/19/20) that passage of the Equality Act will ensure that: "all Americans, regardless of sexual orientation or gender identity, are treated equally under the law—not just in the workplace, but in every place."
Further, HR 5 would affect any and all of the following:
stadium or other place or establishment that provides exhibition, entertainment, recreation, exercise, amusement, public gathering, or public display…any establishment that provides a good, service, or program, including a store, shopping center, online retailer or service provider, salon, bank, gas station, food bank, service or care center, shelter, travel agency, or funeral parlor, or establishment that provides health care, accounting, or legal services….
The Equality Act defines "establishment" as "an individual whose operations affect commerce and who is a provider of a good, service, or program; and shall not be…limited to a physical facility or place." [Equality Act, Sec. 3, Public Accommodations, (a) (2) (a); (4); and Sec. 208 Rule of Construction, (1) (2)] Passing the Equality Act means that Americans should prepare for sexual attitude indoctrination and compliance mandates reminiscent of Soviet and Chinese Communist "education" practices.
Action Essential
The Equality Act has already passed the House of Representatives and is now before the U. S. Senate.
It is of the utmost urgency for each of us to call, write or email our U. S. Senators immediately, and respectfully demand they oppose the Equality Act. Sending this message to your Senators is easy to do using our simple tool here.
Thanks to Bob Marshall for his research and insights for this article.
###
My Faith Votes—is a nonpartisan movement that motivates, equips and activates Christians in America to vote in every election, transforming our communities and influencing our nation with biblical truth. By partnering with national faith leaders, My Faith Votes provides resources to help Christians Pray, Think, and Act to create an America where God is honored in the public square.
Website | www.myfaithvotes.org Twitter | @MyFaithVotes Facebook | My Faith Votes
---
React
---
Comments