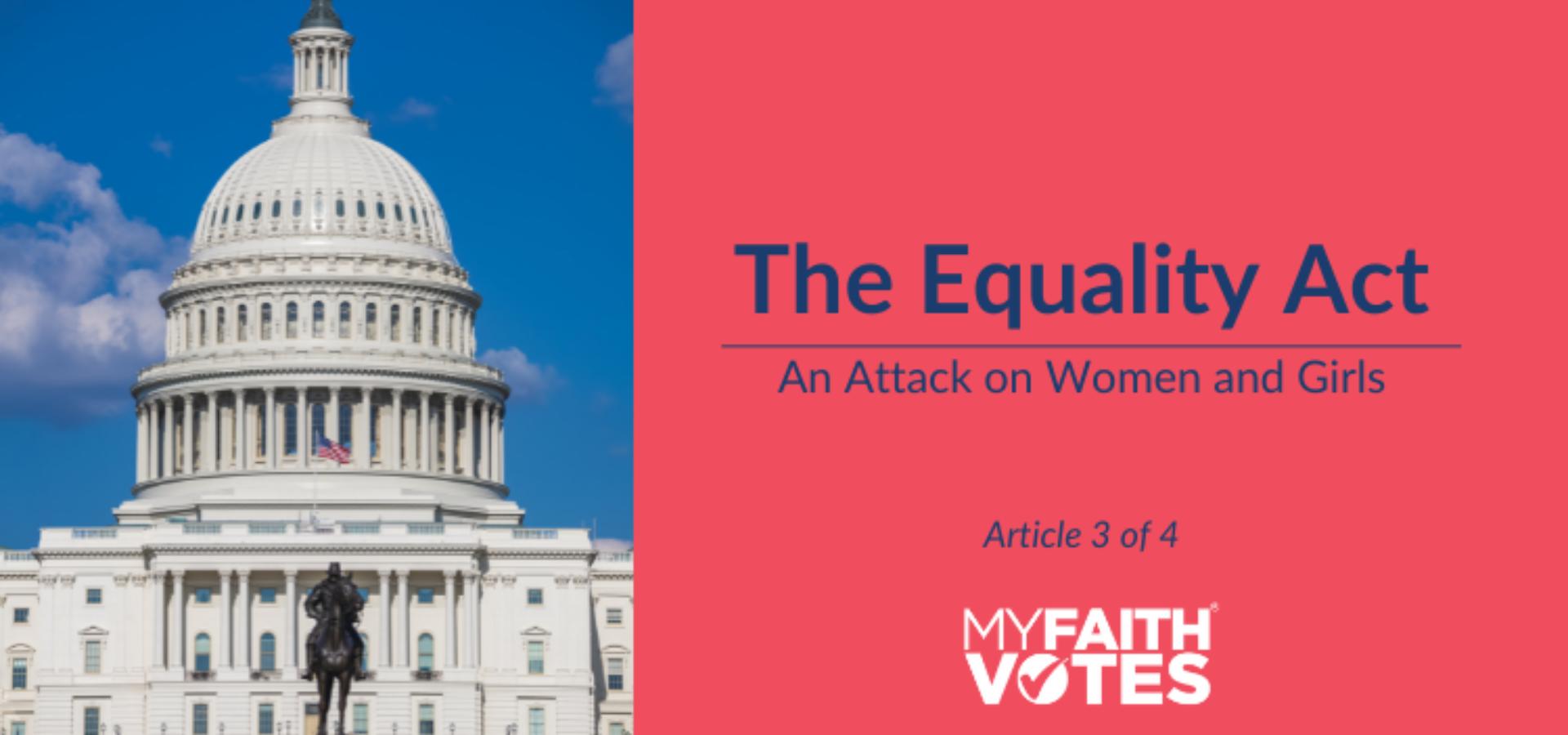 The Equality Act's Attack on Women and Girls
(This is the third in a series of four articles on the Equality Act)
"Transgender discrimination" is the "Civil Rights issue of our time," according to President Biden.
"Equality" in sports for President Biden and Democrat House Speaker Nancy Pelosi means allowing a 260-pound male high school football lineman to ram any 118 pound Sally Smith flat on her back on the Soccer field. President Biden and Speaker Pelosi are pushing HR 5, the so-called "Equality Act," which will make "transgender females" (males who "identify" as female) play on previously female-only sports teams.
When the Equality Act was debated in the House Judiciary Committee in 2019, Congressman Greg Steube (R-FL) proposed an amendment "that nothing in the Act…may be construed to require a biological female to face competition from a biological male in any sporting event." Steube's amendment failed 10 yeas to 22 nays. All Democrats voted no, and all Republicans voted yes.
In late February 2021, Congressman Steube again proposed his amendment, "which bans recipients of Federal funds from permitting biological males from competing with biological women or girls." He lost 7-4 in the Rules Committee and was not allowed to offer his amendment on the floor of the House of Representatives when HR 5 was considered this year.
Bottom line: The Equality Act means that guys "identifying" as "transwomen" will not only dominate women in sports but they will also be allowed to shower and use the same locker room as girls.
At the 2019 hearing, Law Professor Doriane Coleman, Villanova track scholarship recipient in 1978, noted the benefits of the present system for biological women:
"Since the passage of Title IX . . ., female participation in sport has increased more than 900%."
Tens of thousands of girls and women are now eligible for college scholarships, ensuring educational opportunities that for many wouldn't be realistic otherwise.
"Girls who play sports stay in school longer, suffer fewer health problems, enter the labor force at higher rates, and are more likely to land better jobs. They are also more likely to lead."
The Equality Act Will Erase All Sports and Other Benefits for Women
Professor Coleman also stated that men and women are not equal in athletic abilities because of Nature. She pointed to lifetime best records of female Olympic Champions in the 400 meters, including Team USA's Sanya Richards-Ross and Allyson Felix. The absolute best sports-titled women would automatically lose to thousands of boys and men, including thousands of men in the second-tier level.
In 2019, eighteen-time tennis Grand Slam winner Martina Navratilova, an acknowledged lesbian, took issue with Equality Act treatment of biological female athletes:
"Sport…is a public space where the relevance of sex is undeniable.… The evidence is unequivocal that starting in puberty, in every sport except sailing, shooting, and riding, there will always be significant numbers of boys and men who would beat the best girls and women in head-to-head competition. Claims to the contrary are simply a denial of science."
A recent Politico national sample poll of 1900 registered voters (March 6-8, 2021) asked respondents if they supported Mississippi "banning transgender athletes from participating on women's sports teams at the state's high schools and universities." Among all registered voters, 53% supported the Mississippi ban, 32% opposed, and 16% had no opinion.
Yet, at present, all but one Democrat in Congress supported coercing women to compete against men in all sports, while all but four Republicans opposed it.
Senator Tuberville (R-AL), a former high school boys' football coach and a girls' basketball coach, offered an amendment to HR 1319 (the Covid Relief Act) to ban using federal money for biological males competing in female athletics. The amendment lost 50 nays to 49 yeas with one not voting.
President Biden's then-nominee, now Secretary of Education, supports making girls compete against guys in sports. This was made clear in the questioning of Michael Cardona on February 3, 2021, by Senator Rand Paul (R-KY):
Sen. Rand Paul:  What do you think about boys in girls' track meets like in Connecticut?
Michael Cordona:  I think it is important for all students including those that are transgender, and they're afforded all of the opportunities they have...
Sen. Paul:  Does it bother you that like the top 20% of boys running in track beat all of the girls in the state and it would completely destroy girls' athletics…if they don't make the finals, they don't get college scholarships… Do you think it is fair?
Cordona:  I think it is appropriate…schools should engage students in extracurricular activities, even if they're transgender.…
Sen. Paul:  You're going to run the Department of Education and you have no problem with it…. what planet are you from? To think that boys competing with girls at a track meet, that that would be fair, that concerns me…the fact that you're answering the question saying it's okay without saying it is okay is a problem.
Action is Essential
The House-passed version of the Equality Act is now before the U. S. Senate. Please contact your US Senators and urge them to vote no on the Equality Act. Ask if they think it is fair to make girls compete against boys in sports competitions.
Point out that males have roughly 40% more muscle mass and 40% less body fat. By nature, boys are taller, faster, and stronger than girls and can metabolize more oxygen than girls. Ask if they care that women will lose Title IX benefits including sports scholarships which provide educational opportunities and economic advancement including for minority women.
Express your views on the Equality Act with the Senators in your state. Use our simple tool to send a message letting them know you oppose this legislation.
Thanks to Bob Marshall for his research and insights for this article.
###
My Faith Votes—is a nonpartisan movement that motivates, equips and activates Christians in America to vote in every election, transforming our communities and influencing our nation with biblical truth. By partnering with national faith leaders, My Faith Votes provides resources to help Christians Pray, Think, and Act to create an America where God is honored in the public square.
Website | www.myfaithvotes.org Twitter | @MyFaithVotes Facebook | My Faith Votes
---
React
---
Comments