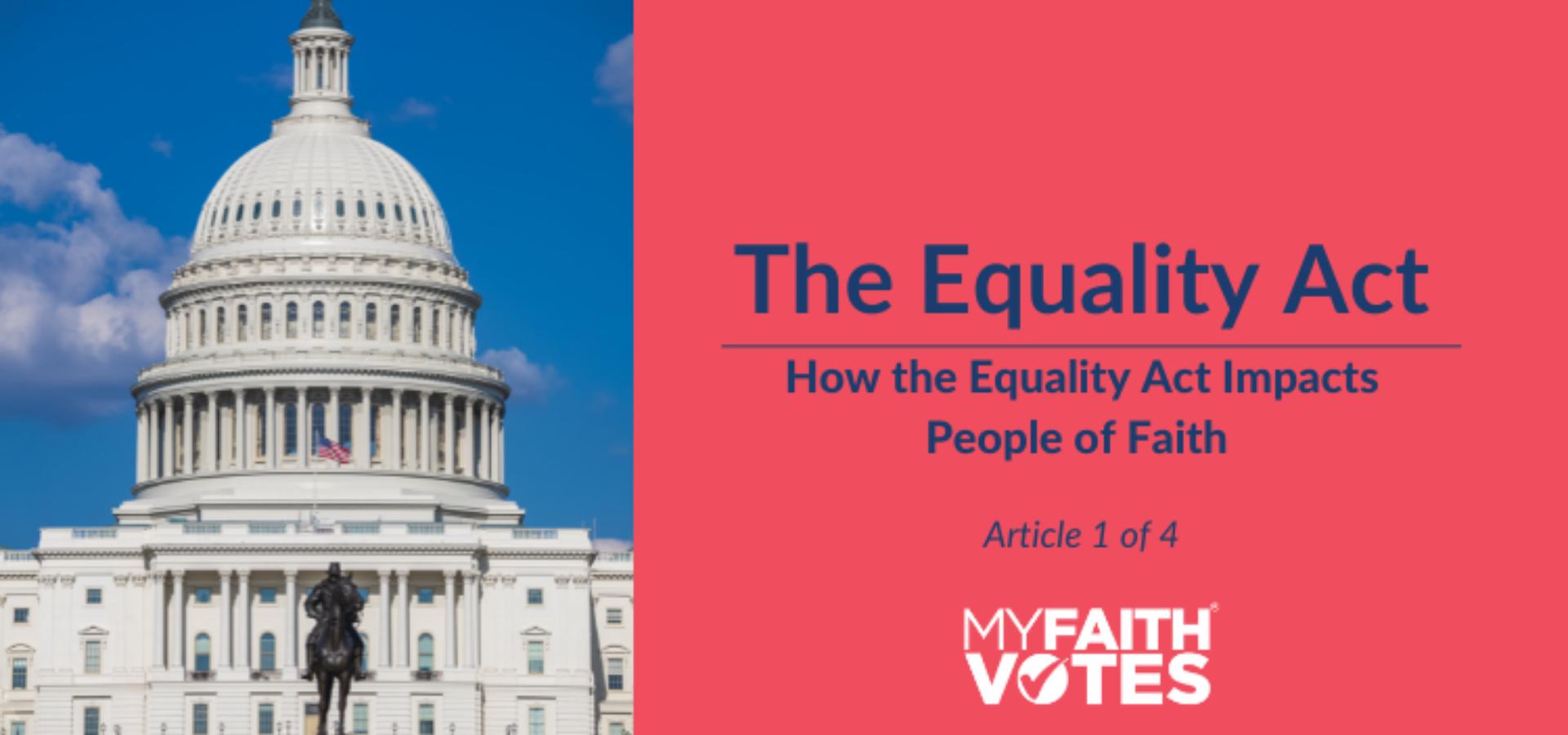 How the Equality Act Impacts People of Faith 
(This is the first in a series of four articles on the Equality Act)
This Spring, the House has passed the Equality Act. It has an appealing name, but it does not actually support equality for everyone. On the contrary, the Equality Act targets people of faith for whom human sexuality is not merely a matter of personal opinion but a strongly held religious belief.
Background
The Equality Act passed in the House in February 2021 by a vote of 224-206, mostly along partisan lines. Three Republicans joined every Democrat in the House in voting for the bill (Reps. John Katko, Tom Reed, and Brian Fitzpatrick).
This was not the first go around in the House. It passed the House floor in 2019, with eight Republicans joining all the Democrats in a vote supporting the legislation.
However, until the GOP lost the majority in the Senate, there wasn't much of a chance of the Equality Act becoming law. Yet, when the Democrats secured 50 seats in the Senate after the 2020 elections, it became much more practical for President Biden to keep his promise of signing the Equality Act into law.
What Does the Equality Act Actually Do?
If passed, the bill would amend the 1964 Civil Rights Act to add sex, sexual orientation, and gender identity to its list of protected classes. 
However, to do so, the Equality Act would become the first major piece of legislation in the history of the United States to exclude protections for religious freedom. In fact, the Equality Act specifically states that the Religious Freedom Restoration Act of 1993, a federal law was written to directly protect religious freedom, can't be used to challenge the Equality Act's rules on sexuality.
John Stonestreet of the Chuck Colson Center for Christian Worldview recently wrote of the Equality Act, it is "a grave threat to religious liberty and conscience rights that would, in effect, erase all legal distinctions between male and female in public life."
In a country in which our First Amendment to our Constitution is the safeguard of religious freedom, we might expect that, at the very least, churches and religious schools would off-limits to the government's overreach.
But if the "Equality Act" is passed, no religious institution will be safe from the government's reach.
To be clear, you should not only care about the Equality Act if you are a Christian or a person of faith, but also if you are a woman, or own a business, or run a non-profit, or go to school, or teach at a school, or are a medical professional, or are a female athlete, or under the age of 18, or even if you ever use a public restroom. That's not an exaggeration. In fact, here is the exact wording from the Equality Act:
"An individual shall not be denied access to a shared facility, including a restroom, a locker room, and a dressing room, that is in accordance with the individual's gender identity."
This applies to…
"any establishment that provides a good, service, or program, including a store, shopping center, online retailer or service provider, salon, bank, gas station, food bank, service or care center, shelter, travel agency or funeral parlor, or establishment that provides health care, accounting or legal services," along with any organization that receives any federal funding.
In short, this bill is very broad in scope and will affect the treatment of males and females in nearly every corner of society. Those who will be most affected are:
Medical Professionals - The Equality Act would force doctors, hospitals, and insurers to provide and pay for therapies that contradict moral or medical views.
Employers and Workers - The Equality Act would force employers and workers to conform to new sexual norms or else be subject to fines and lawsuits and risk the loss of their businesses and jobs.
Women - The Equality Act would undermine the equal treatment and protection of women by dismantling sex-specific facilities, sports, and other female-only spaces.
Parents and Children – The Equality Act would lessen parental rights in the medical treatment of gender dysphoric children and normalize ideological "education" in schools.
Non-Profits and Volunteers - The Equality Act would hurt charities, volunteers, and the populations they serve with requirements that contradict their mission.
In this article series from My Faith Votes on the Equality Act, we will explore the impacts to some of these areas in more depth to help you understand what is at stake. Express your views on the Equality Act with the Senators in your state. Use our simple tool to send a message letting them know you oppose this legislation.
###
My Faith Votes—is a nonpartisan movement that motivates, equips and activates Christians in America to vote in every election, transforming our communities and influencing our nation with biblical truth. By partnering with national faith leaders, My Faith Votes provides resources to help Christians Pray, Think, and Act to create an America where God is honored in the public square.
Website | www.myfaithvotes.org Twitter | @MyFaithVotes Facebook | My Faith Votes
---
React
---
Comments

Lord God I grieve for our country of your creation for the continued moral decay of mankind represented by this "Equality Act" which attacks your Deity and Name. You are in control and sovereign. Please guide those who love you to respond in effectual prayer for Your Will to be Done. In praise, worship and thanksgiving to our Savior Jesus Christ.

Lord, we ask that this act will never be voted into law, whatever it takes. Show us any part we should have in stopping this ungodly act from being enacted. We also ask for a reversal of existing laws that trample on religious rights and that result in the slaughter of the unborn. In Jesus' name, Amen.