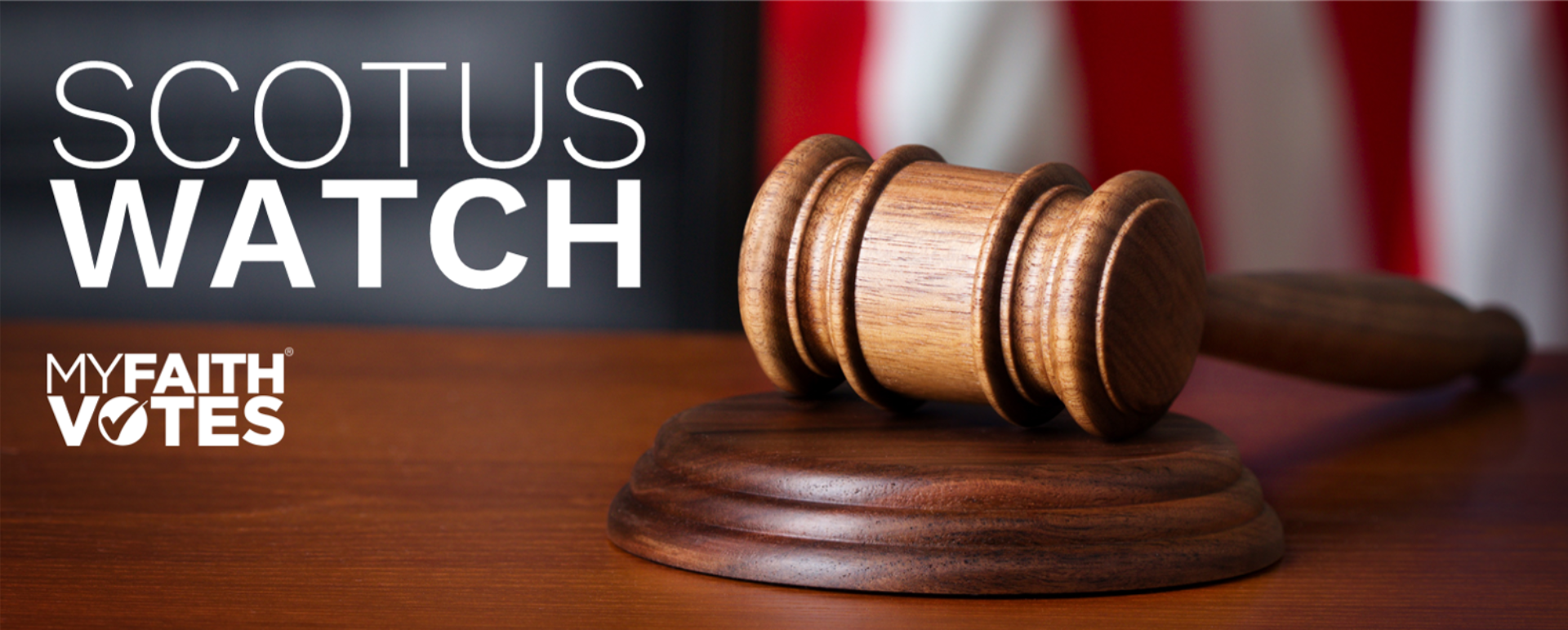 SCOTUS Watch | Mar 22, 2019
Changes to SCOTUS? It's Being Discussed.
Democrats in Congress are looking to expand the number of justices on the Supreme Court if they win in 2020. Some of the suggested proposals would add as many as ten new Supreme Court Justices to the bench and other proposals would impose term limits for life-tenured federal judges. It's evident that the Supreme Court is becoming one of the Democrats' main talking points gearing up for 2020. This isn't the first time a change to the number of Justices on the Supreme Court has been proposed. In fact, the Constitution does not specify a set number of justices to the high court, so the decision is Congress's to make. The first Supreme Court included six justices and for more than a century, since 1869, the Supreme Court has held nine justices.
PRAYER ALERT
Please continue to pray for two important religious liberty cases, the American Legion v. American Humanist Association case heard by the Supreme Court last month. And the Coach Kennedy case that we hope will be heard during the next term.
American Legion v. American Humanist Association Case
The Supreme Court heard oral arguments for this case on February 27. The Court will determine more than whether crosses can remain on public property. The case will set a significant precedent for religious freedom as it relates to interpreting the Establishment Clause found in the First Amendment of the Constitution. Thank you for praying for the First Liberty attorneys who argued in this case. It appears that a majority of the justices will rule in favor of the cross, but we will not know until their vote is announced in June. Justice Gorsuch, in support of allowing the cross to stand, said "We accept that people have to sometimes live in a world in which other people's speech offends them. We have to tolerate one another." Continue to pray that the Justices rule in favor of religious freedom.
Kennedy v. Bremerton School District
Another critical case to pray for is First Liberty's Coach Kennedy Case. You may remember, Coach Kennedy was suspended and terminated for silently praying on the football field after high school games. The Supreme Court decided in January not to review the Kennedy case, but there is a silver lining. Four of the Supreme Court Justices issued a statement that said, "the Ninth Circuit's understanding of the free speech rights of public school teachers is troubling and may justify review in the future." Their statement further explained they needed more information to rule on the matter. According to First Liberty, they "are preparing to return to the district court in order to resolve the issues the Supreme Court identified." Please pray for First Liberty as they continue to fight for Coach Kenney's most basic First Amendment Rights.
SUPREME COURT CASE UPDATE FOR MARCH:
Below are two cases worth highlighting for which SCOTUS will hear oral arguments for this month.
Case 1: Rucho v. Common Cause
This case is gaining special attention, because it's an issue the Supreme Court considered just last year. But this year, because Justice Brett Kavanaugh is now on the bench, things may play out differently. In 2016 two organizations, Common Case and League of Women Voters, filed a lawsuit in North Carolina claiming the congressional map created by the Republican-led legislature remained illegal because it was political gerrymandering. Redrawing district lines has long been an issue as one political party often holds power and draws the lines in their favor. In the case Gill v. Whitford, from the previous Supreme Court Term, the court ruled that no standards are to be upheld to judge in these situations, and that it may be impossible to take politics out of the equation. The four liberal justices on the bench believe the Supreme Court should step in to put an end to gerrymandering. In their opinion piece last year, they wrote, "only the courts can do anything to remedy the problem, because gerrymanders benefit those who control the political branches." Justice Roberts would have provided the swing vote in the case, but he stepped down before they issued a ruling. Now, Justice Brett Kavanaugh will likely cast the deciding vote.
The central question in this case: Whether North Carolina's 2016 congressional map is, in fact, an unconstitutional partisan gerrymander. The Supreme Court will hear oral arguments for this case on March 26, 2019 and will also hear another gerrymander case from Maryland on the same day, Lemone v. Benisek.
Case 2: Kisor v. Wilkie
Kisor, a retired United States Marine suffering from post-traumatic stress disorder, filed a disability claim for benefits in 1983 with the Department of Veterans Affairs, and his claim was denied. In 2006 Kisor asked the VA to reopen his claim, and although they awarded the benefits, they determined he was not eligible for retroactive benefits dating back to 1983 when he first made the claim. Kisor appealed, arguing he is entitled to the benefits, but the Federal Circuit Court of Appeals sided with the VA's interpretation of its own regulation under the Auer/Seminole Rock doctrine deference. The controversy lies in the fact that this deference provides a clear advantage to government entities over the individual.
The central question in this case: Whether the Supreme Court should overrule Auer v. Robbins and Bowles v. Seminole Rock & Sand Co., which direct courts to defer to an agency's reasonable interpretation of its own ambiguous regulation. The Supreme Court will hear Oral arguments for this case on March 27, 2019
###
My Faith Votes—is a nonpartisan movement that motivates, equips and activates Christians in America to vote in every election, transforming our communities and influencing our nation with biblical truth. By partnering with national faith leaders, My Faith Votes provides resources to help Christians Pray, Think, and Act to create an America where God is honored in the public square.
Website | www.myfaithvotes.org Twitter | @MyFaithVotes Facebook | My Faith Votes
---
React
---
Comments

I will pray for this retired Marine. Just an FYI Marine as in United States Marine is a proper noun and should always be capitalized. Semper Fi.