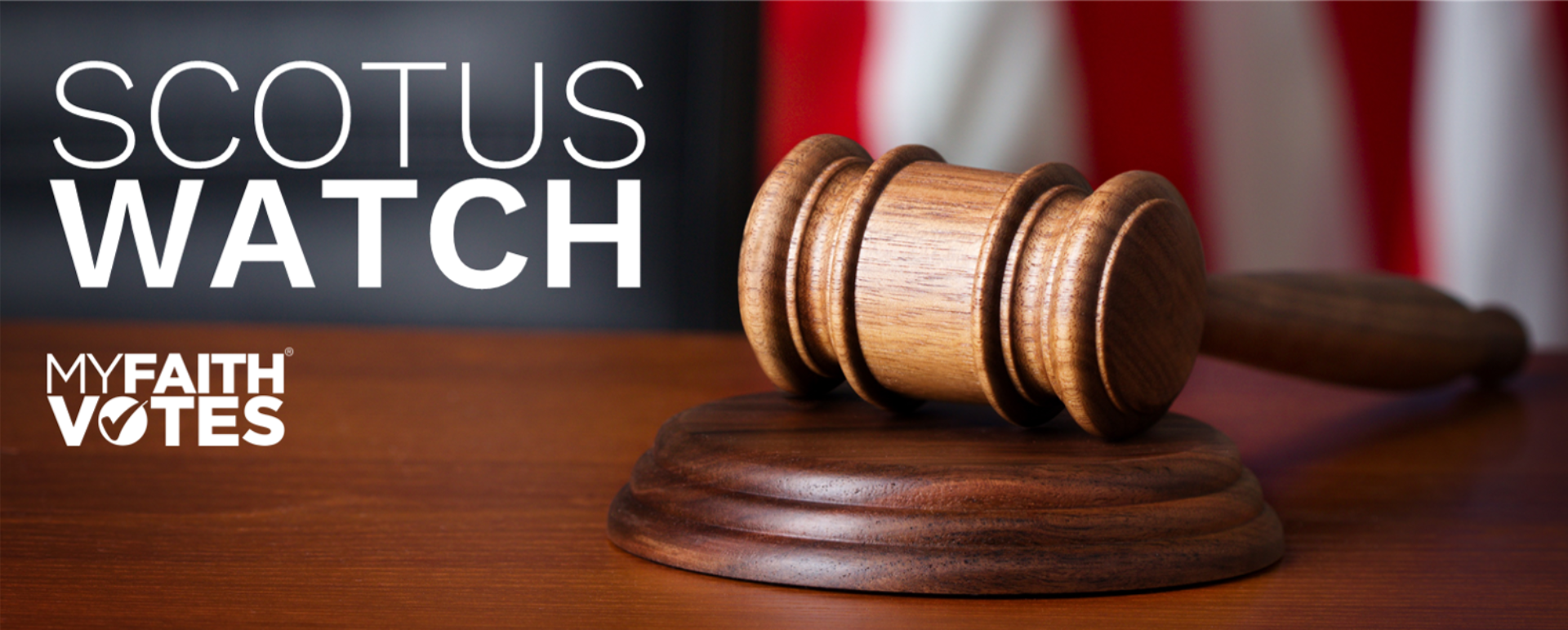 SCOTUS Watch | June 2, 2020
SCOTUS Watch: The Supreme Court's Disturbing Ruling on The First Amendment
Late Friday evening, May 29, on a narrow 5 to 4 ruling, the Supreme Court ruled against a California church's appeal regarding the state of California's limits on religious services due to COVID-19.
Churches argue the lockdown is unconstitutional because it violates the First Amendment right to assemble and worship; it places an unconstitutional burden on religious freedom.
While Costco, Target, Liquor Stores, and others are deemed "essential" and allowed to open, burdensome restrictions in California (and in other states) force churches to be limited to their attendance while also requiring strict guidelines to be followed.
More than 1,500 churches in California decided they had obeyed the state long enough, and they publicly opposed Gov. Newsom's order by safely opening their churches on Pentecost Sunday, May 31. They did so despite the consequences that could come from the California government. They held onto their biblical mandate from God to gather together as the church (Hebrews 10:25), and utilized their First Amendment right, which protects religious gatherings.
But the Supreme Court disregarded the First Amendment with this recent decision, and it should disturb every Christian and every American who cares about liberty.
Let's discuss a few reasons why this ruling is so notable.
1. The Court Could Have Remained Silent
As Andrew McCarthy wrote in The Hill, the Supreme Court could have declined to issue an injunction. McCarthy notes, "The Supreme Court rarely issues injunctions (as opposed to stays that merely suspend matters temporarily), the justices simply could have sidestepped this one. That approach would have been consistent with the court's usual and prudent reluctance to rule on weighty constitutional questions unless it is truly necessary."
Instead, late on a Friday night, before Churches were set to gather on Sunday in California, Chief Justice Roberts cast the deciding vote against the church's right to assemble. He wrote a three-page opinion explaining his position. The Justices could have chosen not to weigh in on the issue at this time. Instead, Justice Roberts took the opportunity to send a powerful message to governors and local authorities that they have the authority to close churches. It was an unprecedented action in American history in light of the First Amendment of the Constitution.
This action gives Americans insight into how Justice Roberts may rule on similar issues of religious freedom and religious gatherings in the future.
2. The Court Sees No Difference Between Concerts and Church - Despite Your First Amendment Right
Chief Justice Roberts wrote in part, "Similar or more severe restrictions apply to comparable secular gatherings, including lectures, concerts, movie showings, spectator sports, and theatrical performances, where large groups of people gather in close proximity for extended periods of time."
Roberts goes on to explain that the Constitution entrusts elected officials to implement restrictions: "The precise question of when restrictions on particular social activities should be lifted during the pandemic is a dynamic and fact-intensive matter subject to reasonable disagreement."
He continued, "Our Constitution principally entrusts '[t]he safety and the health of the people' to the politically accountable officials of the States 'to guard and protect.'"
"Where those broad limits are not exceeded, they should not be subject to second-guessing by an 'unelected federal judiciary,' which lacks the background, competence, and expertise to assess public health and is not accountable to the people."
Justice Roberts explains, "The notion that it is 'indisputably clear' that the Government's limitations are unconstitutional seems quite improbable."
Justices Thomas, Alito, and Gorsuch, and Kavanaugh all dissented. Justice Kavanaugh wrote the dissenting opinion.
He wrote in part: "I would grant the Church's requested temporary injunction because California's latest safety guidelines discriminate against places of worship and in favor of comparable secular businesses. Such discrimination violates the First Amendment."
Kavanaugh continued, "In my view, California's discrimination against religious worship services contravenes the Constitution. As a general matter, the 'government may not use religion as a basis of classification for the imposition of duties, penalties, privileges or benefits.'"
"Absent a compelling justification (which the State has not offered), the State may not take a looser approach with, say, supermarkets, restaurants, factories, and offices while imposing stricter requirements on places of worship. The State also has substantial room to draw lines, especially in an emergency. But as relevant here, the Constitution imposes one key restriction on that line-drawing: The State may not discriminate against religion," Kavanaugh wrote.
3. The Supreme Court's Newest Swing Vote - and What You Can Do About It
President of First Liberty, Kelly Shackelford, wrote in response to the Court's decision, "Justice Roberts just did some real damage to churches and to everyone's Constitutional rights for the future during a pandemic. Pray that a better case reaches the Court and that this is not the last word."
For a long time, both the political right and political left have speculated on how Justice Roberts would rule on key issues such as religious freedom. Through this recent injunction, Americans have been given a window into how he will likely rule in the future.
The next appointment to the Supreme Court will determine the direction of the Court for decades to come.
There are two important steps you can take right now to help uphold the First Amendment and defend religious freedom:

Pray. Do not underestimate the power of prayer. As Kelly Shackelford said, we must pray specifically for a better case to reach the Supreme Court and for a ruling to uphold the First Amendment and protect churches and religion.

Make sure every Christian you know is committed to voting this November. The president we elect in the fall could have the opportunity to appoint the next Supreme Court Justice. Statistically, one out of every four Christians will not vote unless together we equip and motivate them to vote. We need YOU to help with this critical mission.
Direct your friends, family, co-workers, and church community to the My Faith Voting Assistance Center and encourage them to sign-up for voting reminders. Eighty-five percent of the people who use our voting assistance tools actually turn out to vote.
Please consider making a donation to support this important work. A donation of $3.20 helps us to equip one Christian to vote. We are utilizing the latest technology to reach non-voting Christians in critical districts and swing states across the nation with voter guides and voting resources.
When we stand together, we can make a difference for religious freedom by turning out Christians to vote this November.
###
My Faith Votes—is a nonpartisan movement that motivates, equips and activates Christians in America to vote in every election, transforming our communities and influencing our nation with biblical truth. By partnering with national faith leaders, My Faith Votes provides resources to help Christians Pray, Think, and Act to create an America where God is honored in the public square.
Website | www.myfaithvotes.org Twitter | @MyFaithVotes Facebook | My Faith Votes
---
React
---
Comments

To me this is so illegal. I can't understand how they can make religion and churches illegal. They will answer to GOD one day, but in the meantime they should realize the many good things churches do to help communities and people in need. Never in all my years did I think our country would sink so low as to take away our freedom to attend church and worship GOD our creator.