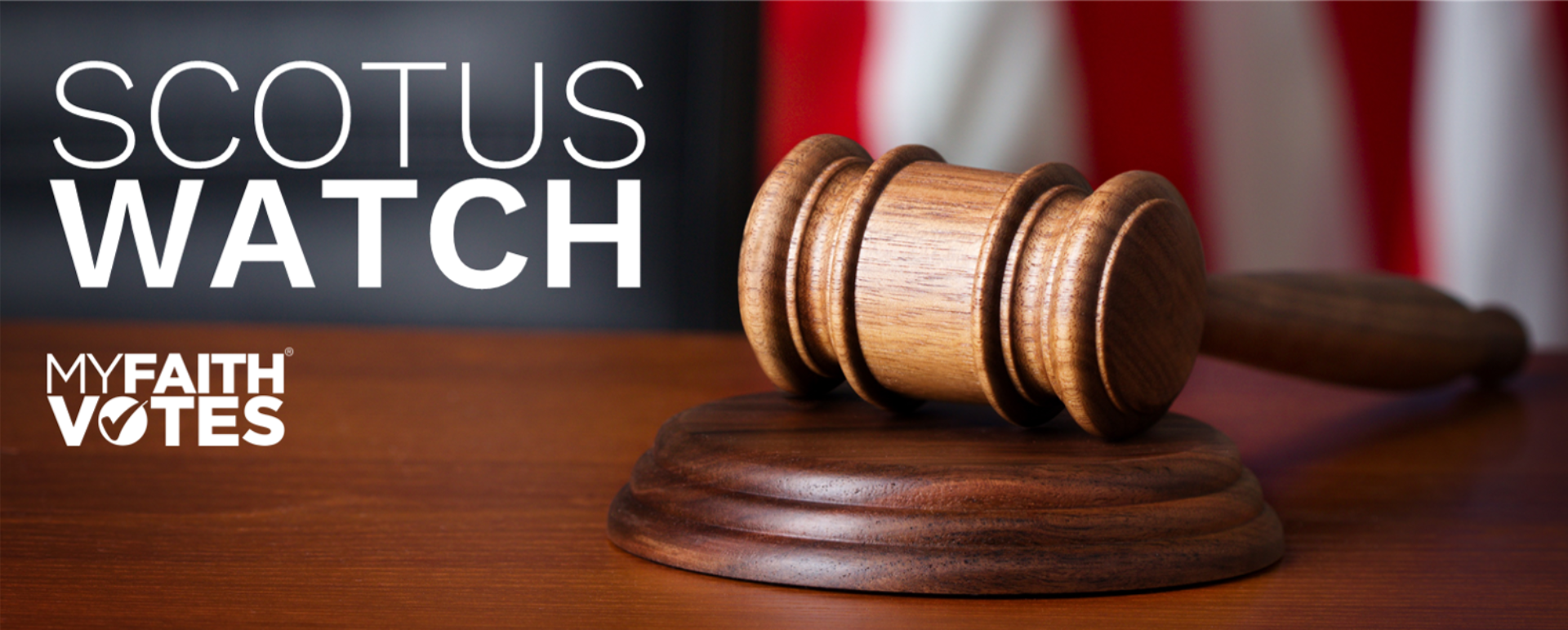 SCOTUS Watch | July 26, 2019
The Supreme Court has completed issuing their rulings for the 2018 and 2019 session and as we highlighted last month, many of their decisions have been historic and are critical for Christians to be aware of.
Below we have highlighted three additional decisions issued by the Supreme Court in June of which we want to keep you apprised.
Here are three Supreme Court rulings worth noting:
Kisor v. Wilkie
Lancu v. Brunetti
Manhattan Community Access Corp. v. Halleck
Kisor v. Wilkie
On June 26, 2019, the Supreme Court issued a unanimous decision in favor of veteran Kisor. The Court ruled that the lower court was wrong to defer to the agency in the case. Kisor, a retired United States Marine suffering from post-traumatic stress disorder, filed a disability claim for benefits in 1983 with the Department of Veterans Affairs, and his claim was denied. In 2006 Kisor asked the VA to reopen his claim, and although they awarded the benefits, they determined he was not eligible for retroactive benefits dating back to 1983 when he first made the claim. Kisor appealed, arguing he is entitled to the benefits, but the Federal Circuit Court of Appeals sided with the VA's interpretation of its own regulation under the Seminole Rock/Auer doctrine deference. All nine members of the Court have sought to right this situation for Mr. Kisor, but it's important to note that a majority were not willing to retire the Seminole Rock/Auer doctrine. The doctrine guides judges to defer to an administrative agency's interpretation of a regulation, yet many argue this deference ensures administrative bureaucrats, rather than judges, are granted power to interpret the law.
Justice Kagan, believed the Seminole Rock/Auer doctrine should remain in place, but she wrote a multi-step test for lower court judges to use to help determine how to grant deference. Justices Gorsuch, Thomas, Alito and Kavanaugh all support retiring the Deminole Rock Auer doctrine. Justice Gorsuch particularly took issue with Kagan's new test writing, "The majority proceeds to impose so many new and nebulous qualifications and limitations on Auer that the Chief Justice [who wrote a concurring opinion] claims to see little practical difference between keeping it on life support in this way and overruling it entirely. So the doctrine emerges maimed and enfeebled—in truth, zombified."
lancu v. Brunetti
This case dealt with the use of vulgar trademarks and the freedom to apply for them under the First Amendment. In a 6-3 ruling, the Court affirmed Erik Brunetti has the right, protected by the First Amendment, to trademark his brand containing a vulgar word. The Supreme Court upheld the Federal Circuit Court's ruling in this case.
Erik Brunetti had previously attempted to register his clothing brand trademark with the U.S. Patent and Trademark Office but was denied because of the vulgar word he was trying to trademark. Brunetti brought the case before the United States Court of Appeals, and the court found that the U.S. Patent and Trademark Office violated his First Amendment rights. In 2017, the Supreme Court ruled on a similar case, Matal v. Tam, which also challenged offensive trademarks. In that case, the justices unanimously ruled that the trademark should be allowed.
While a majority on the Court has ruled that the First Amendment ensures Brunetti's right to file for his trademark, this case does indicate a shift in our culture that Christians should notice; vulgar language is becoming more mainstream and marketable.
Chief Justice Roberts wrote in his dissenting opinion, "Refusing registration to obscene, vulgar, or profane marks does not offend the First Amendment. Whether such marks can be registered does not affect the extent to which their owners may use them in commerce to identify goods. No speech is being restricted; no one is being punished. The owners of such marks are merely denied certain additional benefits associated with federal trademark registration."
Manhattan Community Access Corp. v. Halleck
In a close 5-4 decision the justices ruled that the Manhattan Neighborhood Network is not a state actor subject to the First Amendment. The Manhattan Neighborhood Network, located in New York City, suspended two of their employees, Melendez and Halleck, from using the network's services or facilities after the employees incited violence against other employees. Melendez and Halleck then filed a lawsuit against Manhattan Neighborhood Network claiming the company violated their First Amendment rights to free speech. But as a majority of the justices concluded, the First Amendment does not apply to private institutions and only applies to state actors of which the Manhattan Neighborhood Network is not. Justice Brett Kavanaugh wrote the majority opinion in the case stating, "We conclude that operation of public access channels on a cable system is not a traditional, exclusive public function. Moreover, a private entity such as MNN who opens its property for speech by others is not transformed by that fact alone into a state actor." He continued, "We reverse in relevant part the judgment of the Second Circuit, and we remand the case for further proceedings consistent with this opinion." The liberal justices on the bench, Justice Sotomayor, Ruth Bader Ginsburg, Breyer and Kagan all dissented.
This case was important because if the justices had ruled the Manhattan Neighborhood Market was a state actor, this would have substantially limited control of content from other content platform companies.
PRAYER ALERT
Please continue to pray for the Coach Kennedy Case (Kennedy v. Bremerton School District). You may remember, Coach Kennedy was suspended and terminated for silently praying on the football field after high school games. The Supreme Court decided in January not to review the Kennedy case, but there is a silver lining. Four of the Supreme Court Justices issued a statement that said, "the Ninth Circuit's understanding of the free speech rights of public school teachers is troubling and may justify review in the future." Their statement further explained they needed more information to rule on the matter. According to First Liberty, they "are preparing to return to the district court in order to resolve the issues the Supreme Court identified." Please pray for First Liberty as they continue to fight for Coach Kenney's most fundamental First Amendment Rights.
###
My Faith Votes—is a nonpartisan movement that motivates, equips and activates Christians in America to vote in every election, transforming our communities and influencing our nation with biblical truth. By partnering with national faith leaders, My Faith Votes provides resources to help Christians Pray, Think, and Act to create an America where God is honored in the public square.
Website | www.myfaithvotes.org Twitter | @MyFaithVotes Facebook | My Faith Votes
---
React
---
Comments

If they are claiming that the First Amendment gives them the right to copyright or trademark a word that has been used by the immoral whores and whoremongers for centuries, then how is it they maintain ownership or exclusive use of that word rather than letting the rest of the world declare that they are also cheap two bit whores and whoremongers, too?

What are they claiming? That the First Amendment gives only them this so-called right? Did they think of the word themselves? Should they also be allowed to copyright or trademark the letter E?

Where did we get a judge or jury or attorneys stupid enough to think this was somehow OK?