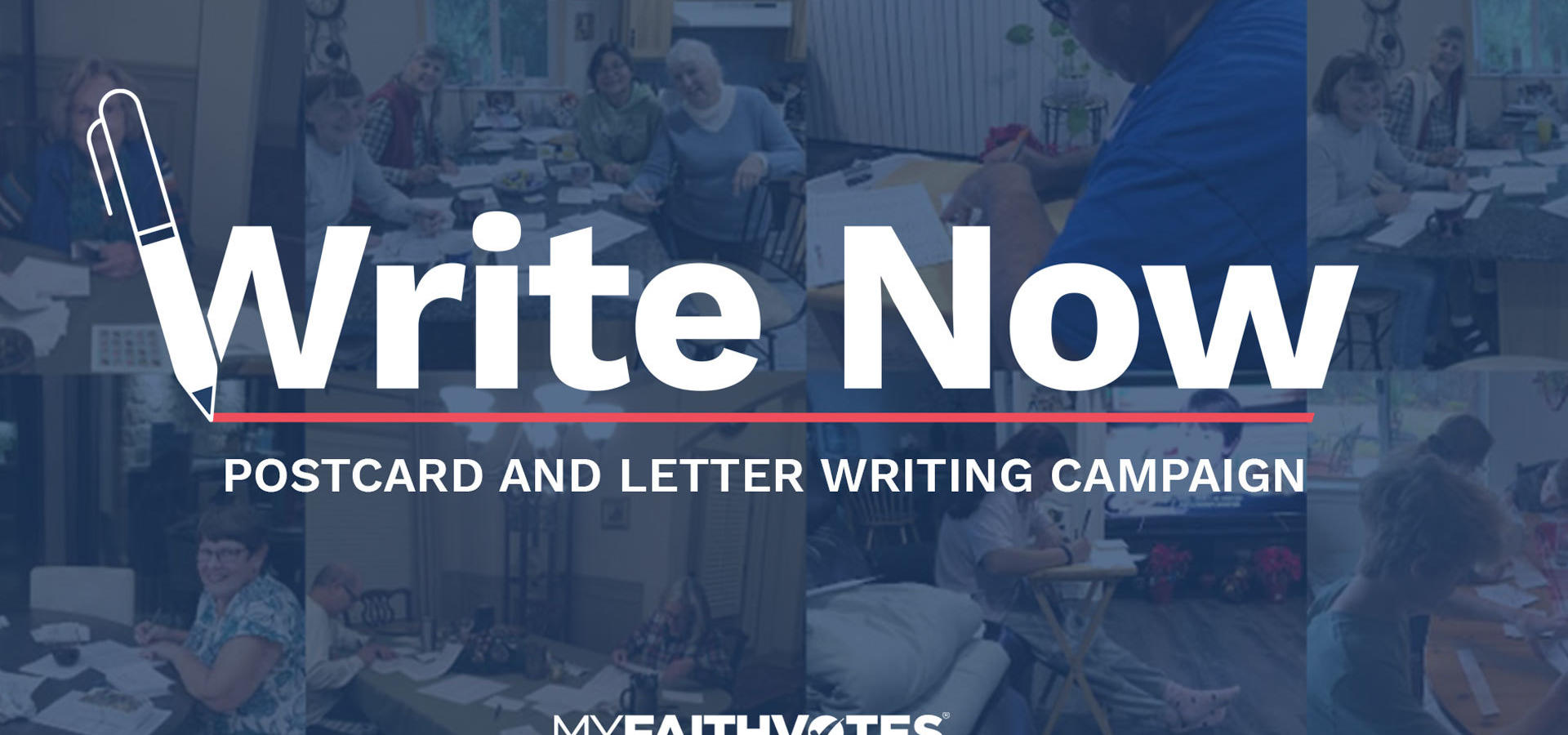 My Faith Votes 'Write Now' get out the vote campaign reaches 600,000 eligible voters
Postcard and letter-writing campaign mobilizes hundreds of thousands ahead of midterms
DALLAS — "Write Now," a get-out-the-vote campaign launched by My Faith Votes, saw an estimated 12,000 individuals across all 50 states reach over 600,000 eligible voters with handwritten letters and postcards ahead of the November Midterm Elections.  
My Faith Votes is a nonpartisan organization that mobilizes people of faith to vote in every election. The "Write Now" campaign is a national effort run by their grassroots Action Partner community with over 10,000 volunteers. Together with friends, family, and churches, Action Partners wrote personalized messages to other Christians, encouraging them to vote in the 2022 midterm elections.
Within its first 48 hours, "Write Now" volunteers committed to writing over 250,000 postcards and letters to eligible voters around the country. Throughout the campaign, that number increased by 600%.

"I feel privileged to be able to do these mailings," shared one participant. "I take care of my elderly mother and cannot do many things, but this I can do. Praise the Lord!"
A pastor in Hawaii shared, "Living in a state where one political party controls every level of government, it can get very discouraging when we see non-biblical viewpoints openly promoted and celebrated by nearly every politician elected to 'represent' me. So having My Faith Votes come alongside those of us who seek leaders with biblical values encourages us to not lose hope. To know thousands of Christians are specifically praying for our state also brings hope. I pray that every postcard and letter I send will make a difference this November and that God will be glorified!"
My Faith Votes executed multiple Get Out the Vote campaigns at the state level in Virginia in 2021 and saw tremendous success–an unprecedented 57% increase in Christian voter turnout. During the Senate runoff election in Georgia, My Faith Votes planned to send 500,000 postcards, but that number doubled to 1 million due to the overwhelming response from volunteers.
This year, entire church congregations and volunteers ranging from young children putting stamps on letters to those in their 80s and 90s residing in assisted living communities wrote handwritten messages on postcards and letters provided by the organization and prayed for the recipients before dropping them in the mail. 
Volunteers were provided with instructions, letter templates, postcards, and lists of names. Letters and postcards were written by individuals, families, Bible studies, small groups, and church congregations.
Learn more about the Write Now campaign at:  myfaithvotes.org/writenow. Become part of the community of Action Partners with My Faith Votes here: myfaithvotes.org/actionpartner.


Media: To request an interview with My Faith Votes CEO Jason Yates, email press@jdaworldwide.com.
###
My Faith Votes—is a nonpartisan movement that motivates, equips and activates Christians in America to vote in every election, transforming our communities and influencing our nation with biblical truth. By partnering with national faith leaders, My Faith Votes provides resources to help Christians Pray, Think, and Act to create an America where God is honored in the public square.
Website | www.myfaithvotes.org Twitter | @MyFaithVotes Facebook | My Faith Votes
---
React
---
Comments