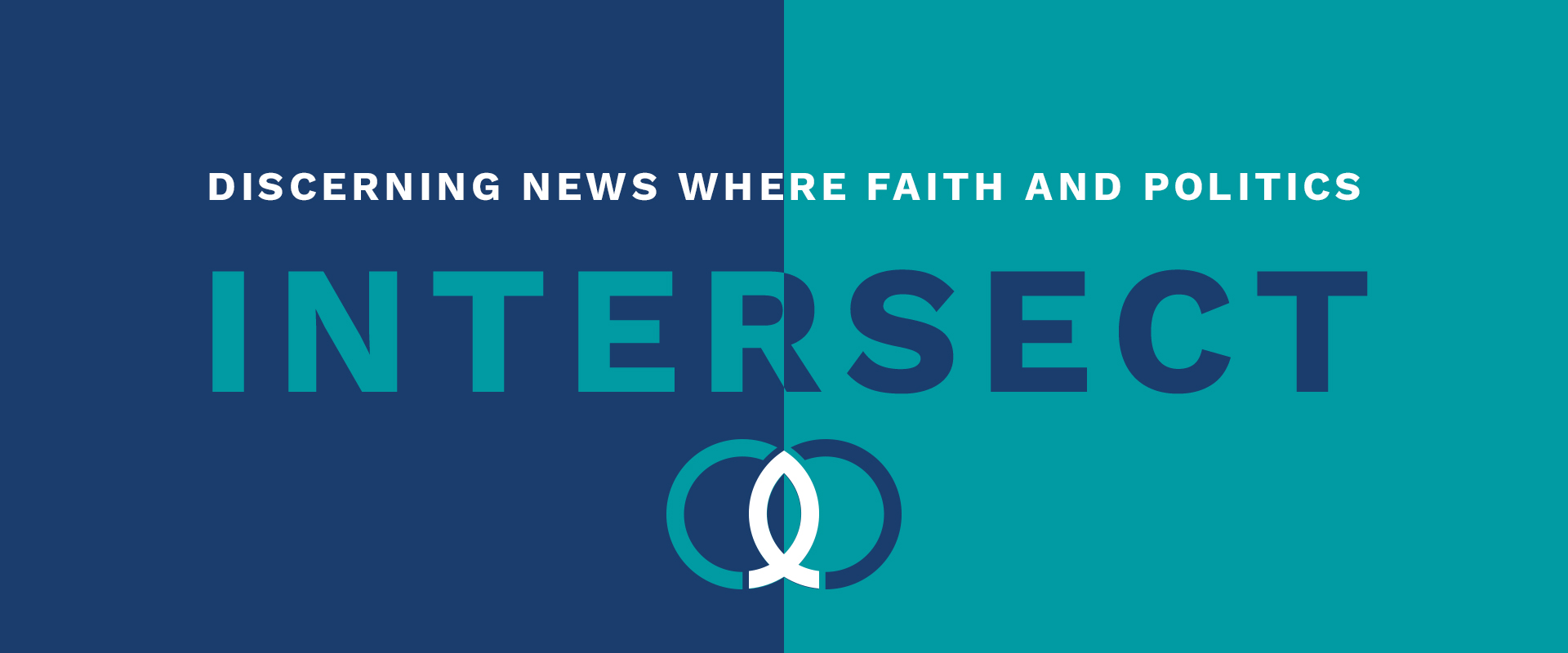 WEEKLY NEWS SUMMARY - SEPTEMBER 8, 2021
In this week's Intersect, read about:
---
John MacArthur's Church Wins $800,000 Settlement with City, State in Major Religious Liberty Case
"Los Angeles County and the state of California have agreed to pay $800,000 in attorney's fees to John MacArthur's church after the congregation prevailed in multiple courts over the issue of COVID-19 restrictions. Last year, MacArthur and Grace Community Church defied restrictions prohibiting indoor services, sparking a series of legal actions by both the county and the state intended to force the congregation into compliance. The county threatened the church with thousands of dollars in fines. At one point, MacArthur faced potential arrest. In the end, though, Grace Community Church prevailed in court, in part because the U.S. Supreme Court issued a major ruling in November siding with churches in other jurisdictions." read more at Christian Headlines
THINK.
The state of California has also been required to pay the legal fees of several other churches who challenged the worship restrictions. Initially, the state had banned indoor worship while still allowing businesses to operate at twenty-five percent capacity. After the Supreme Court struck down the ban in February, churches could hold services at twenty-five percent capacity. The state removed all capacity restrictions in June. Jenna Ellis, an attorney with the Thomas More Society who represented the Grace Community Church, stated, "The church is essential. Religious liberty and the Constitution won today against the overbroad, arbitrary, indeterminate, and clearly unconstitutional mandates from Gavin Newsom and Los Angeles County...I hope this hard-fought result encourages Californians and all Americans to stand firmly with the protections our Constitution rightly provides, and against tyranny." In standing for religious liberty regarding our ability to meet for worship services, we must remember the purpose for such services. When Jesus said He would build His church, the Greek word used was "ekklesia", which means "a called-out assembly or congregation." Why do we assemble? We are the body of Christ, and each member has a specific role in service to the rest of the body. In Hebrews 10:24-25, we are admonished, as we meet together, to "stir up one another to love and good works, not neglecting to meet together, as is the habit of some, but encouraging one another, and all the more as you see the Day drawing near." The church is to teach biblical doctrine so we can be grounded in our faith. In the difficult times facing us, we need each other as the pressure to conform to the culture's worldview intensifies.
PRAY.
Praise God for the victory for churches in California, and previous religious liberty victories around the country. Pray that God will refine, purify, and strengthen His church, and that we will unite around Jesus Christ, who is the way, the truth, and the life. Be earnestly praying for your local church leaders as they shepherd their flock in these trying times.
ACT.
September 26 is National Voter Registration Sunday--a great day to engage the fifteen million Christians who are not yet registered to vote. Visit our special website, Voter Registration Sunday, to access free tools and resources for your church to participate.
---
Supreme Court Allows Texas Bill Banning Abortions Once a Heartbeat is Detected to Remain in Place
"A divided Supreme Court broke its silence on Wednesday and declined to block a Texas law that bans abortions once a fetal heartbeat is detected. The court voted 5-4 to deny an emergency appeal from abortion advocates to stop the law that went into effect on Wednesday. The court's decision is not a final ruling on the law's constitutionality and abortion providers will continue waging a legal battle over the measure. But for now, aborting a baby with a heartbeat is now a crime in the state of Texas. The unique element of this bill is that private citizens can sue anyone who helps someone facilitate an illegal abortion. They can also be compensated up to $10,000. 'What unimagined joy to see Roe crumbling in front of our very eyes,' said Kyleen Wright, CEO of Texans for Life Coalition. The 'Heartbeat Act' (SB 8) bans most abortions in the state because the fetal heartbeat is detected around the six-week mark and before most women even know they are pregnant." read more at CBN News
THINK.
It is estimated that the Heartbeat Law will save 150 babies from abortion each day. To date, thirteen states, including Texas, have passed laws banning abortion after at least six weeks. However, this Texas law is the first one to escape a court injunction and take effect. Texas Right to Life (TRTL) explains this law uniquely succeeded because the state has no authority to enforce it. The only people who can enforce this law are private citizens, whom the law gives authority to sue anyone--besides the mother--who performs or aids an illegal abortion. This left pro-abortionists with no one to sue before the law took effect, and therefore, no standing in court. Still, Planned Parenthood filed a lawsuit against TRTL and several individuals associated with them who might be likely to sue Planned Parenthood in enforcement of the Heartbeat Act. A Travis County elected judge has issued an order temporarily preventing TRTL from suing Planned Parenthood; however, this does not affect the ability of other citizens to file lawsuits against Planned Parenthood or anyone who participates in an illegal abortion. Planned Parenthood itself argued that even if they were to win their lawsuit, the law's purpose would still be accomplished in preventing most abortions due to the time and money an abortion provider would spend defending themselves. Texas Attorney General Ken Paxton said the bill was "well-crafted" and that in the decades since Roe v. Wade, the Supreme Court has left the parameter of abortion "rights" unclear. For this reason, states must be allowed to determine abortion restrictions for themselves. Contrary to the media's narrative that this is similar to the Taliban's oppression of women, Students for Life reports that Texas has invested one hundred million dollars into their Alternatives to Abortion Program, which partners with organizations supporting parents during and after pregnancy. And pro-life activist Lila Rose pointed out that 164 pregnancy resource centers and health clinics exist in Texas, vastly outnumbering the eighteen abortion clinics. U.S. Attorney General Merrick Garland, who was appointed to the Supreme Court in 2016 but rejected by the Senate, stated that the Justice Department "urgently explores all options" to combat SB 8. In addition, a press release by President Biden labeled the law as "extreme" and claimed it "blatantly violates the constitutional right established under Roe v. Wade and upheld as precedent for nearly half a century." Two things are clear: the legal battles will continue and are worth fighting, and pregnancy resource centers will need increased support for many more women.
PRAY.
Praise the Lord for this milestone in securing legal protection for unborn babies. Pray for laws to be enacted and hearts to be changed to recognize the sanctity of human life. Continue to pray for the upcoming Supreme Court case, Dobbs v. Jackson, which formally challenges Roe v. Wade. Lastly, pray for blessing and support for the many organizations helping mothers and fathers in need.
ACT.
September 22 marks the beginning of the next 40 Days for Life campaign--a united effort of prayer, fasting, and public awareness of the sanctity of human life around the world. Since 2007, over 19,000 lives have been saved! Learn how you can get involved in your community.
---
Taliban Form All-Male Afghan Government of Old Guard Members
"The Taliban on Tuesday announced an all-male interim government for Afghanistan stacked with veterans of their hard-line rule from the 1990s and the 20-year battle against the U.S.-led coalition, a move that seems unlikely to win the international support the new leaders desperately need to avoid an economic meltdown. Appointed to the key post of interior minister was Sirajuddin Haqqani, who is on the FBI's most-wanted list with a $5 million bounty on his head and is believed to still be holding at least one American hostage. He headed the feared Haqqani network that is blamed for many deadly attacks and kidnappings. The announcement came hours after Taliban fired their guns into the air to disperse protesters in the capital of Kabul and arrested several journalists, the second time in less than a week that heavy-handed tactics were used to break up a demonstration." read more at The Associated Press
THINK.
The Taliban seized the last province not in their control, Panjshir, after their blitz through Afghanistan, overrunning forces who had opposed their takeover. According to reports, the Taliban have invited Russia, China, Turkey, Iran, Pakistan, and Qatar to attend the inaugural ceremony of their newly formed government that is far from the "inclusive" government they vowed to form. President Biden, on Monday, said recognition of the Taliban government was "a long way off." Hundreds of Americans and thousands of Afghan allies are still looking to get out of the country but the Biden Administration and the State Department are reportedly blocking those efforts. Frustration with the way the withdrawal has been handled by the Biden administration continues to grow. My Faith Votes conducted a poll that revealed 91.8% of the 11,000 who responded were in favor of Congress opening an impeachment inquiry of President Joe Biden over the failed Afghanistan withdrawal. Next week, Secretary of State Antony Blinken will testify at least twice in Congress as lawmakers examine the U.S. withdrawal from Afghanistan, after Senate and House of Representatives committees promised aggressive investigations. According to Pew Research, in a survey conducted in early 2002, a few months after the start of the war in Afghanistan, 83% of Americans said they approved of the U.S.-led military campaign against the Taliban and al-Qaeda in Afghanistan. Today, 69% of U.S. adults say the United States has mostly failed to achieve its goals in Afghanistan. This week the trial of the alleged mastermind of the 9/11 terrorist attacks, Khalid Sheikh Mohammed, is set to resume at Camp Justice in Guantanamo Bay. According to ABC News, Mohammed will be joined by four co-defendants in pretrial proceedings as a new judge presides over the military commission nearly 20 years after 2,977 souls were killed at the World Trade Center, Pentagon and Shanksville, Pennsylvania. Lawyers are still arguing over evidence and there is no date set for the actual trial. As we remember 9/11 this week, the words of Oswald Chambers ring true, "We presume that we would be ready for battle if confronted with a great crisis, but it is not the crisis that builds something within us— it simply reveals what we are made of already...If you are not doing the task that is closest to you now, which God has engineered into your life, when the crisis comes, instead of being fit for battle, you will be revealed as being unfit. Crises always reveal a person's true character."
PRAY.
Lord God, our world changed so much 20 years ago. We have seen how easily buildings can fall and how quickly lives can end. As we reflect on the 9/11 anniversary this week, may it remind us that You are our only true security. Give us Your strength to face the memory of that day and the changes it made in our lives. Give us Your compassion to help each other and recognize the needs of others around the world. Thank You that You are sovereign and in control.
ACT.
One of the ways I've been reflecting on the 9/11 anniversary is by watching documentaries and reading stories from that somber day. Here's a helpful list of TV documentaries and specials marking the 20th anniversary that are available to watch. A powerful book to read is called God at Ground Zero where Chaplain Ray Giunta writes about the 68 days he spent ministering and assisting at Ground Zero in New York City right after the twin towers fell.
---
Virginia Supreme Court Hands Major Victory to Christian Teacher Suspended for Opposing Trans Policy
"This was a good week for Tanner Cross. The Virginia Supreme Court handed Cross, a physical education teacher at Leesburg Elementary School in northern Virginia, a major victory Monday, when it agreed his suspension for opposing a leftist transgender policy was likely a violation of his constitutional rights. Cross first garnered national attention in May, when he said during a meeting that he opposed a Loudoun County Public Schools policy requiring district faculty to affirm students' chosen gender identities by using their preferred pronouns — irrespective of biological sex — as well as allowing kids to participate in activities that correlate with their selected identities. To comply with such a policy, the educator said, would violate his beliefs. 'It's lying to a child,' Cross said of the transgender-affirming rule. 'It's abuse to a child, and it's sinning against our God.'" read more at Faithwire
THINK.
Greg Koukl, a Christian author, apologist and president of Stand to Reason, recently wrote an insightful article explaining why the pronoun debate is really a debate about reality. He states, "[W]e are pressured to reject God's truth and common sense and to affirm a false narrative of reality. Why? Because (they say) it's the only way to be nice…On the pretext of being nice, the world has made pronouns the skirmish line in a broader battle of worldviews: Who defines reality, God or each one of us? This demand is not about being nice; it's about enforcing a foreign worldview." This is why another Virginia school teacher was also fired for "avoiding the use of male pronouns" when referring to his female student. Even though he intentionally accommodated the student by using her preferred masculine name, that was not enough. He needed to affirm the lie, or else. Despite such examples, the American Psychological Association recently published a study claiming that "Although Christians perceive increasing bias against their group, there is little evidence to support those perceptions." The study's methods and conclusion have been vigorously disputed by various Christians, including Professor George Yancey, who co-authored the book, So Many Christians, So Few Lions, which documents that those with "Christianophobia" appear to be increasing in societal power, even if not in number. A prime example is the push in Congress to pass the "Equality Act", which would erase many religious freedom protections for Christians who hold a Biblical belief about sexuality. Times will likely get tougher; it is crucial to seek out solid, Biblical teaching and be an active servant in the Body of Christ "until we all attain to the unity of the faith and of the knowledge of the Son of God...so that we may no longer be children, tossed to and fro by the waves and carried about by every wind of doctrine, by human cunning, by craftiness in deceitful schemes. Rather, speaking the truth in love, we are to grow up in every way into him who is the head, into Christ," (Ephesians 4:13-15).
PRAY.
Heavenly Father, thank You for the example of courageous believers, who--like Daniel and his three friends--are willing to lose their positions rather than dishonor You. Thank You that, although contested, we still have religious liberty laws that give us many protections. Whatever happens in the future, empower us by Your Spirit to live by the truth, and speak it in love, no matter the cost.
ACT.
This "debate" over equality is perhaps the biggest threat to biblical values that our generation will ever face. We encourage you to sign up here to receive a series of 4 articles sent to your inbox, breaking down the Equality Act (HR 5) legislation and why Christians who hold to a biblical worldview must oppose it.
---
My Faith Votes—is a nonpartisan movement that motivates, equips and activates Christians in America to vote in every election, transforming our communities and influencing our nation with biblical truth. By partnering with national faith leaders, My Faith Votes provides resources to help Christians Pray, Think, and Act to create an America where God is honored in the public square.
Website | www.myfaithvotes.org Twitter | @MyFaithVotes Facebook | My Faith Votes
---
React
---
Comments