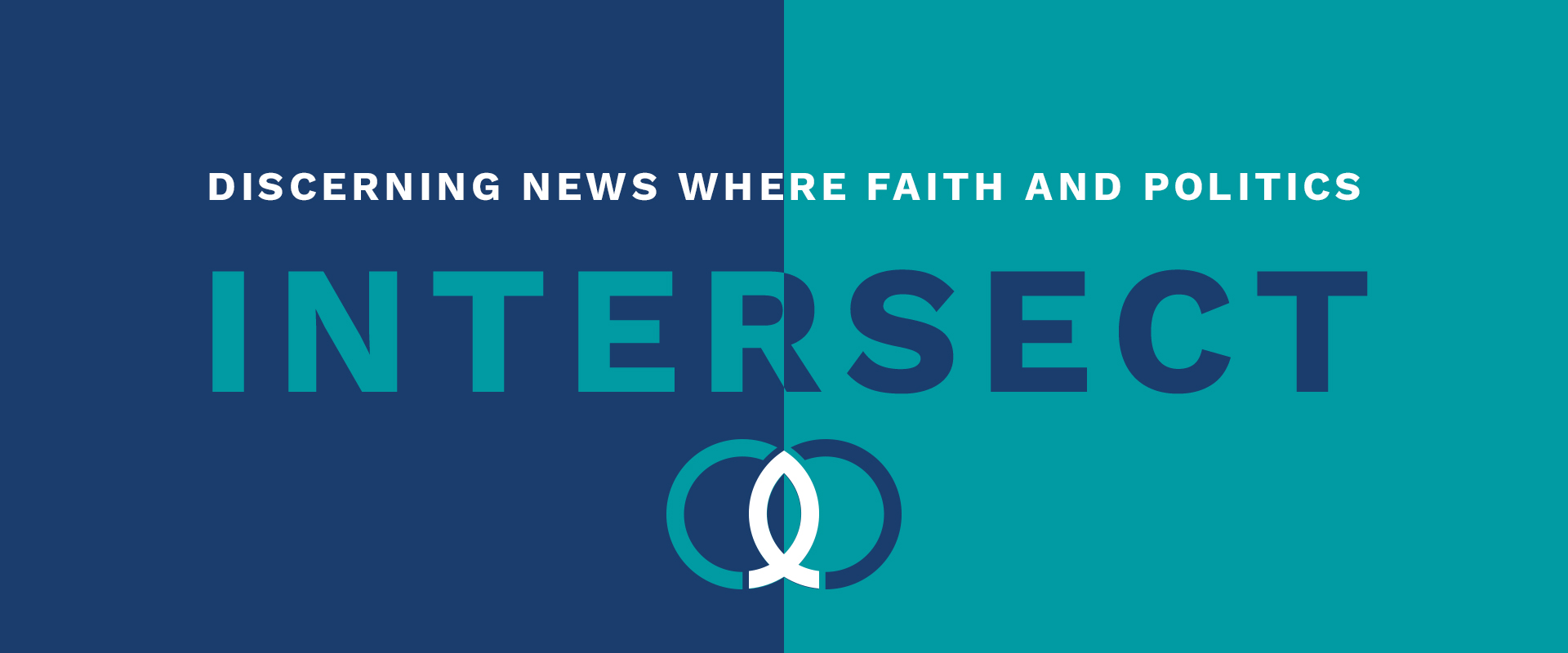 WEEKLY NEWS SUMMARY - OCTOBER 14, 2020
In this week's Intersect, read about:
---
Christian Community Seeks Restraining Order Over NY Governor's Restrictions on Religious Gatherings
The faith community in New York is fighting back against Gov. Andrew Cuomo (D) for his continued effort to restrict religious services during the coronavirus pandemic despite a federal judge telling him not to. The Thomas More Society filed an Emergency Amended Complaint and Motion for Temporary Restraining Order on Friday, in the US District Court for the Northern District of New York on behalf of and two Catholic priests, two Catholic school students, and four Orthodox Jewish individuals. This comes after Cuomo issued a warning on Oct. 5 that the state could shut down religious institutions that are not adhering to the restrictions on mass gatherings during the pandemic. The governor asserts that his measures aim to prevent the spread of COVID-19, while at the same time he permits mass protests. Senior US District Judge Gary Sharpe advised Cuomo and New York City Mayor Bill de Blasio in June that they cannot limit worship services to prevent the spread of COVID-19 while condoning mass protests. read more
THINK.
The federal judge ruled in June that by limiting the capacity of outdoor religious services while placing no such restrictions on mass protests, "Governor Cuomo and Mayor de Blasio sent a clear message that mass protests are deserving of preferential treatment." Yet the governor's capacity restrictions remain in place for religious services. Businesses deemed essential, however, are exempt from the capacity limitations. While we should expect opposition to our faith, we must also be prepared to stand up for our legal rights, as the apostle Paul did numerous times. He did this to pave the way for more opportunities to share the Gospel, and that is our ultimate motive as well. Last week, we reported on a Washington, D.C. church engaged in a lawsuit against the city over outdoor worship services. Thankfully, the U.S. District Court ruled that the church can hold outdoor services without a capacity restriction. Because the city had allowed mass protests without such restrictions, they have no grounds to restrict outdoor religious services, Judge Trevor McFadden ruled. Praise God for this important victory! Many governor and city council seats are up for reelection this November. Proverbs 11:10 says, "When it goes well with the righteous, the city rejoices." One way you can stand for the freedom to live out your faith is by voting for the candidates who will protect that freedom.
PRAY.
Pray that churches will have the freedom to minister to their members without restriction in New York and around the country. Pray for wisdom for the pastors as they interact with government officials. And pray that God's work will continue to advance and impact people's lives despite the opposition.
ACT.
A Pew Research Study found that 77% of Hispanic Americans identify as Christian. However, voter turnout for Hispanics was only 47.6% in 2016. Christian music artists Jaci Velasquez and Evan Craft have teamed up with My Faith Votes to urge Hispanic Christians to let their voices be heard through voting "in a way that most honors God." Please share our voting resources, which are available in Spanish, with your friends and family.
---
Republicans Accuse Left of 'Religious Bigotry' for Attacking Amy Coney Barrett's Faith
Republican senators during the first day of the Senate Judiciary Committee hearings on Monday defended Supreme Court nominee Amy Coney Barrett's Catholic faith and said she had been a victim of "religious bigotry" in recent days. The comments from GOP Sens. Ben Sasse (Neb.), Josh Hawley (Mo.) and Joni Ernst (Iowa) came amidst a media infatuation with Barrett's membership in a Christian community, People of Faith, and a spotlight on her devout Catholic beliefs as a former professor at the University of Notre Dame. In 2017, when Barrett was confirmed to the Seventh Circuit Court of Appeals, Sen. Dianne Feinstein (Calif) famously told Barrett, "The dogma lives loudly within you." President Trump nominated Barrett to fill the seat held by the late Justice Ruth Bader Ginsburg. "Whatever you or I or Judge Barrett believe about God isn't any of the government's business," Sasse said. Religious liberty, he said, "is the default assumption of our entire system. We don't have religious tests," Sasse said. "This committee isn't in the business of deciding whether the dogma lives too loudly within someone. This committee isn't in the business of deciding which religious beliefs are good and which religious beliefs are bad, and which religious beliefs are weird…" read more
THINK.
One of the reasons Supreme Court nomination processes have become so contentious is because the Court has gradually assumed power that the framers of the Constitution never intended it to have. It has created policy that legalized abortion nationwide and redefined marriage, becoming a more convenient vehicle for change that is not accountable to the American people. However, Judge Barrett stated that she is committed to leaving policy-making to the elected representatives of Congress. "That is the approach I have strived to follow as a judge on the 7th Circuit. In every case, I have carefully considered the arguments presented by the parties, discussed the issues with my colleagues on the court, and done my utmost to reach the result required by the law, whatever my own preferences might be," she stated on Monday. Her approach is consistent with the founders' wish that we would be a nation ruled by laws, not human beings. Otherwise, we would be forced to rely on the good nature of judges who we have no power over. And since human nature is inherently sinful, we know that is never a wise plan for government. The way we can advance policies is through our elected representatives, at both the federal and state level. And the first step is to vote. The Senate panel has scheduled the first vote in Barrett's confirmation for this Thursday.
PRAY.
Amy Barrett has expressed her gratefulness to the many Americans who have been praying for her: "I would like to thank the many Americans from all walks of life who have reached out with messages of support over the course of my nomination. I believe in the power of prayer, and it has been uplifting to hear that so many people are praying for me." Please continue to pray for her, her confirmation hearings and for the senators who will vote on her confirmation.
ACT.
Please join us for Lift Up America, a special, online worship event that will live stream on Facebook on October 15th at 7:00 PM CST. Lift Up America will be hosted by Megan Alexander, an Emmy-nominated national news correspondent, who will be joined by My Faith Votes CEO, Jason Yates, Kelly Shackelford, President and CEO of First Liberty Institute, Lt. Col. Allen West, as well as many others who will challenge us to stand strong for our freedoms during this election season. We highly encourage you to attend! You can register for the event here.
---
'I'm Pro-Life. I Don't Apologize For It': Mike Pence Issues Bold Declaration During Vice Presidential Debate
Vice President Mike Pence didn't mince words Wednesday night when he defended his pro-life position during his debate with Sen. Kamala Harris (D-Calif.), the Democratic vice presidential nominee. "I couldn't be more proud to serve as vice president to a president who stands without apology for the sanctity of human life," Pence said. "I'm pro-life. I don't apologize for it." As Faithwire reported in the lead up to the VP debate, Pence and Harris are deeply divided on the issue of abortion. While Pence is, as he stated to Harris, unapologetically pro-life, the progressive lawmaker is unwaveringly committed to expanding access to abortion and increasing federal funding for it. Both Harris and her running mate, Democratic presidential nominee Joe Biden, are opposed to the Hyde amendment, a once-bipartisan stipulation that bars taxpayer dollars from being used to fund abortion, except in cases of rape, incest, or when the health of the mother is at risk. Additionally, both Biden and Harris have said Roe v. Wade needs to be codified into law, should the U.S. Supreme Court ever overturn the 1973 ruling that gave nationwide legal cover to abortion. Harris, who has a 100% approval rating from the pro-abortion group NARAL, also supports an anti-federalist plan that would require states that pass pro-life laws to have the bills reviewed by the federal government prior to implementing them. read more
THINK.
Unfortunately, abortion continues to be made more accessible in our nation. In a ruling last week, women can continue to receive the first abortion pill by mail without a doctor's appointment during the coronavirus pandemic, at least for now. The Food and Drug Administration asked the Supreme Court to immediately reinstate a rule requiring women to receive the drug mifepristone in person from a healthcare provider, but the justices declined, asking a lower court to rule on the question within forty days. Justices Samuel Alito and Clarence Thomas dissented. Over four in ten American Christians believe the Bible is "ambiguous" on abortion, according to the Cultural Research Center of Arizona Christian University. The findings are part of the CRC's American Worldview Inventory 2020 survey. Conducted by CRC Director of Research George Barna, a noted evangelical pollster, the report found that forty-four percent of respondents said they believe the Bible "is ambiguous in its teaching about abortion," while thirty-four percent said "abortion is morally acceptable if it spares the mother from financial or emotional discomfort or hardship." While the Bible never specifically addresses the issue of abortion, there are numerous teachings in Scripture that make it abundantly clear what God's view of abortion is. Jeremiah 1:5 tells us that God knows us before He forms us in the womb. Psalm 139:13-16 speaks of God's active role in our creation and formation in the womb. Exodus 21:22-25 prescribes the same penalty—death—for someone who causes the death of a baby in the womb as for someone who commits murder. Our culture has placed personal gain over the value and sanctity of life. Over 98 percent of the abortions performed today involve women who simply do not want to have the baby. We must be able to defend life from an emotional, spiritual, and intellectual perspective in the public square. The life of a human being in the womb is worth every effort to allow the child to be born. We must also be able to tell of the saving grace of Christ's forgiveness to the millions who still carry the burden of having an abortion in their past.
PRAY.
Pray that people would see right and wrong as real and objective. Pray that important realization points them toward the Moral Lawgiver who alone offers salvation. Abortion is seen as morally complex, but it's not. Pray that voters are not distracted by side issues that miss the point entirely. Pray that abortion not only becomes illegal, but it becomes unthinkable.
ACT.
Join us this Sunday for an important event called "How Then Shall We Vote," a conversation about life and death on the ballot. This virtual video seminar, hosted by Paul Isaacs of My Faith Votes, will feature the speakers from the Colson Center for Christian Worldview and the Life Training Institute and through questions and answers will provide political clarity for pro-life Christians to engage in the voting booth. Learn more and RSVP here.
---
Christian Adoption Agency Can't Be Closed for Refusing to Place Kids with Gay Couples, Fed Court Rules
A federal court judge decided Monday a New York-based Christian adoption agency cannot be forced to shut down due to its policy of only placing children with married heterosexual couples. U.S. District Court Judge Mae D'Agostino granted the preliminary injunction against the New York Office of Children and Family Services after the Christian agency, New Hope Family Services, filed a lawsuit against state officials in 2018, when they claimed the organization's faith-based policy violated a 2013 state law prohibiting discrimination against adoption applicants on the basis of sexual orientation or marital status. In her decision, D'Agostino rebuked OCFS for its interpretation of the law, arguing the state's application "demonstrates some animosity towards particular religious beliefs." "While not all of the evidence discussed weighs in favor of a finding of hostility when viewed individually, the totality of the evidence indicates that section 421.3(d), as promulgated and enforced by OCFS, is not neutral and appears to be based on some hostility towards New Hope's religious beliefs," she wrote. read more
THINK.
Speaking on the ruling, Roger Brooks of Alliance Defending Freedom, the law firm representing the faith-based agency, said the ruling shows the state's actions "violated core rights protected by the First Amendment." He continued, "This ruling means that New Hope can continue offering the exceptional support it has provided for decades while its lawsuit challenging the state's unconstitutional policy continues." The legal battle over who can adopt will only continue to intensify. More and more cases reflect a growing tension in the United States between civil rights advocates opposing so-called discrimination and faith-based groups seeking the right to operate according to religious beliefs. A 2018 study by the University of California's Williams Institute found that 21% of U.S. same-sex couples had adopted children and 3% had fostered - a rate seven times that of straight couples. In the United States, child welfare services began with private, faith-based organizations in the early 1800s. The government did not become involved until the early to mid-1900s. Now, these matters are on the docket of the Supreme Court. On November 4, the Supreme Court will hear oral arguments in Fulton v. City of Philadelphia to decide whether the city can shut down Catholic Social Services, an adoption and foster care provider, because of the organization's religious beliefs about marriage. CSS has worked with foster families in the Philadelphia area for more than a century and has always believed that a child is best raised by a married mother and father and has served children and families according to this belief. But in March 2018, just days after the city issued an urgent call for 300 more foster families, it cut all referrals to CSS because of their views on marriage. If faith-based agencies are shut down, a noticeable impact will be felt by children awaiting adoption or a foster family. Catholic Charities in Michigan alone, placed 82,000 children with families from 2006 to 2016 and was responsible for 25% to 30% of foster adoptions.
PRAY.
Following James 1:27, Lord, we pray for the thousands of children here in the US who are without a family and for the millions around the world who are fatherless. We praise You that You care more about the fatherless than anyone. You are their defender, their protector, their sustainer. You are their Father when they have none. We praise You that we can trust in You to work your purposes in each one of these children's lives. We praise You for how you are at work to provide them with earthly fathers. Stir your church to take care of these children and make visible the glorious gospel. Awaken the church to care for the needs of children.
ACT.
As an adoptive mom of two children, a side of the adoption that we rarely hear from is a birth mother's point of view. An incredible organization called Brave Love is giving voice to the courageous choice a woman makes when she chooses adoption for her child. The pro-adoption organization is changing the perception of adoption by showing the brave decisions of birth moms. Learn more and watch some of the amazing and uplifting stories here.
---
My Faith Votes—is a nonpartisan movement that motivates, equips and activates Christians in America to vote in every election, transforming our communities and influencing our nation with biblical truth. By partnering with national faith leaders, My Faith Votes provides resources to help Christians Pray, Think, and Act to create an America where God is honored in the public square.
Website | www.myfaithvotes.org Twitter | @MyFaithVotes Facebook | My Faith Votes
---
React
---
Comments