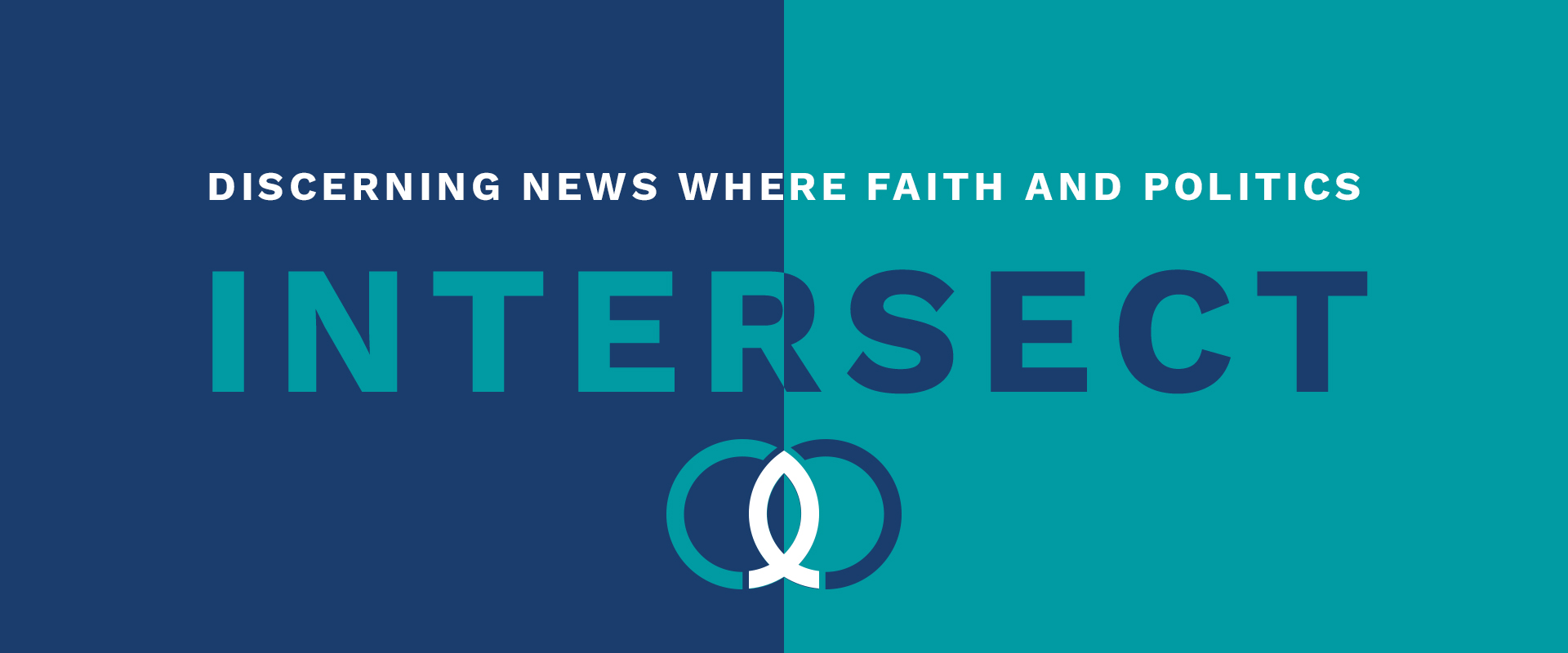 WEEKLY NEWS SUMMARY - NOVEMBER 9, 2022
In this week's Intersect, read about:
---
Governor Races Recap: Arizona, Oregon too Close to Call; Whitmer, Kemp win Reelection
"Incumbents in Florida, Texas, Michigan and more overcame challengers to retain the governor's mansion on Election Day. But not every race was settled as the sun rose the next morning. Arizona's election between Republican Kari Lake and Democrat Katie Hobbs remained too close to call. The GOP faced unexpected headwinds in flipping the office in conservative Kansas, while Democrats were nervous about their prospects in the race in Oregon, typically a liberal bastion." read more in USA Today
THINK.
While Tuesday's election night may not have been the red wave Republicans were hoping for, one Republican and his state did have an incredible night — Florida Gov. Ron DeSantis. DeSantis won reelection handily, defeating Democrat Charlie Crist with a nearly 20-point landslide. A significant victory for DeSantis came from Miami-Dade County, a majorly Hispanic county that typically voted Democratic in previous elections. He became the first Republican gubernatorial candidate to win in the county since 2002. Wins across all levels show Florida may no longer be a swing state. Florida Sen. Marco Rubio defeated Democratic challenger Val Demings 57.7% to 41.3%.
In Arkansas, Sarah Huckabee Sanders became the first female Governor for the state and in Texas, Governor Greg Abbott won a third term defeating democratic challenger Beto O'Rourke, 54-43. In a Georgia rematch, Gov. Kemp defeated Stacey Abrams, this time by a larger margin.
Notable Democrat wins include Wes Moore, who made history by becoming Maryland's first black governor, bringing the governorship back into Democratic hands after Republican Gov. Larry Hogan held the office for two terms. In another victory, Democrat Maura Healey was elected governor of Massachusetts, making U.S. history as the first openly lesbian governor.
According to Ballotpedia, if the current results hold, there will be more state trifectas (when one political party holds the governorship and majorities in both chambers of the state legislature) than at any time in the past 30 years. At least two states—Maryland and Massachusetts—became Democratic trifectas when Democrats won the governorship. If trifecta control does not change in any other state, this would leave 39 total trifectas - Republicans with 23, Democrats with 16, and 11 states where neither party has a trifecta. This would be an increase from 14 states with Democratic trifectas before the election. This would also be the fewest number of states with divided government since at least 1992.
You can find your state election results here.
PRAY.
I want to encourage you to pray for your newly elected officials—regardless of if they were the ones you voted for, or not. They will be on your school board, in your state legislature, your courts, and representing you in Washington, D.C. Pray for them right now, even before they take their oath of office in the New Year. Can you name your new representatives? To effectively pray for them and the important issues they will impact, we must know them by name. Praying for those in government is essential to leading "a peaceful and quiet life, godly and dignified in every way." (1 Timothy 2:1-4)
ACT.
Our mission at My Faith Votes doesn't change just because the elections are over. We will continue to PRAY unceasingly, THINK biblically, and ACT on our faith. We will stay engaged in the public square in election years and in "off-election" years. We will hold those who are elected accountable as they represent us, and we will continue to stand boldly for the sanctity of life, religious liberty, and marriage and family. Together, we will remain vigilant, informed, and active to be salt and light in our communities, our state, and our country. This is our mission, and what we are called to do, not just every two years, but all the time. We ask you to remain steadfast with us.
---
Midterm Race for U.S. Congress is Tight, no Republican 'Red Wave'
"Republicans made modest gains in U.S. midterm elections, but Democrats performed better than expected, leaving control of Congress and the future of President Joe Biden's agenda unclear on Wednesday morning. Many of the most competitive races were too close to call and Republicans acknowledged that the election was not producing the sweeping "red wave" victory they had sought. The results appeared to show voters punishing Biden for presiding over an economy hit by steep inflation, while also lashing out against Republican moves to ban abortion." read more at Reuters
THINK.
Will control of the Senate all come down to Georgia again? As of this morning, Democrat Senator Warnock is leading Republican challenger Walker 49.4 to 48.5. If neither candidate surpasses the 50% threshold, Warnock and Walker will proceed to a December 6 run-off. Depending on the outcome of Senate races in Arizona and Nevada, voters in Georgia could then – for the second consecutive election cycle – have the Senate majority in their hands.
In Pennsylvania, Democrat John Fetterman defeated Republican Dr. Mehmet Oz. Questions about Fetterman's fitness to serve, in addition to his radical policy positions on criminal justice and abortion, voters chose to send him to the Senate.
The Senate seat in Nevada could come down to voter turnout in rural northern Nevada. Currently, Republican Adam Laxalt has a razor thin lead over incumbent Democrat Catherine Cortez-Masto.
In the US House, Republicans have a slight edge in taking control but it's still too soon to tell. In a big upset, Rep. Sean Patrick Maloney (NY), the head of House Democrats' campaign arm, conceded his race against state Assemblyman Mike Lawler (R), a stunning defeat for the man charged with propelling other House Democrats to victory.
Despite the majority of voters saying our nation is on the wrong track, they are concerned about high inflation and the economy and there is an unpopular President, voters stayed true to party lines. The outcomes of who controls the House and Senate will determine if the President is able to keep pushing forward his progressive agenda.
Could the balance of power at the federal level now be a reflection on where we base our theology? George Barna recently pointed out that people nowadays are "more likely to take their moral cues from government laws and policies than from church teachings about biblical principles." "Americans have historically said that when they elect a president, they are choosing a chief executive, not a pastor-in-chief, but that distinction appears to be passé. One could reasonably argue that the nation's ideas about right and wrong are now more likely to come from the White House and the halls of Congress, than from our houses of worship," he said. "The laws of the land are replacing the laws of God in determining good and evil in America." Another finding is that 42 percent of Americans say that "what you feel in your heart" is their absolute moral guide to life instead of the Bible.
PRAY.
Let's press into prayer as this nation moves forward from the elections. Join our weekly virtual prayer calls that take place every Monday morning and evening. You can learn more and sign up here. Let us be a people devoted to prayer (Acts 2:42).
ACT.
As our friend Jeff Myers says, "voting is the beginning of your involvement, not the end of it. You may only have two candidates, but you vote for somebody, and then your involvement begins with the vote. We're always encouraging those who are in office to do the right thing. And why do we get to do it? Because they work for us. We don't work for them. They work for us, and their job is not to give us our rights. According to the Declaration of Independence and the Constitution, their job is to secure the rights that have been given to us by God." One of the ways we can be involved is to pray for our elected officials and let them know we are praying for them. Take time to tell them you are praying for them with our easy-to-use tool here.
---
Voters Support Abortion Rights in all Five States with Ballot Measures
"Voters in California, Vermont and Michigan on Tuesday approved ballot measures enshrining abortion rights into their state constitutions, while those in traditional red states Montana and Kentucky rejected measures that would have restricted access to reproductive care." read more at The Hill
THINK.
Two ballot issues that we were heavily encouraging pastors to speak into in this election were abortion and marijuana.
Abortion played a larger part in the midterms than was expected. While the majority of Americans don't want late-term abortion, it's clear that voters, even Christian voters, want compromise, not an all or nothing approach that was presented in these ballot measures. Only 28% of voters think abortion should be legal in all cases yet those voters still want some level of abortion access. Voters were more passionate about providing abortion access than they were about avoiding extreme abortion positions, including abortion up to birth.
By a huge margin of 72 to 22, Vermont becomes the first state to enshrine abortion rights in its constitution. In conservative leaning Montana, the Born-Alive Infant Protection Act constitutional referendum is likely to fail with the vote standing at 52 to 48.
In Kentucky, an amendment that would have stated there is no right to abortion, or any requirement to fund abortion in the State Constitution was rejected. The close vote in Kentucky (53-47) follows the defeat in August of a similar measure in Kansas to eliminate abortion rights from that state's constitution, a vote that reverberated nationwide coming just weeks after the U.S. Supreme Court eliminated the federal right to abortion.
The push to legalize marijuana for recreational use failed on Tuesday as voters in Arkansas, North Dakota and South Dakota rejected ballot measures on the issue. In Maryland and Missouri, voters approved legalization measures.
In Matthew 18:6, Jesus said, 'Whoever causes one of these little ones who believe in Me to sin, it would be better for him if a millstone were hung around his neck, and he were drowned in the depth of the sea.' People of faith in AR, ND and SD took that admonition to heart yesterday by voting no on the legalization of marijuana. We are praising God, knowing that this outcome will save countless minors from the harmful effects of marijuana use.
PRAY.
Lord, forgive us for not using our vote to protect life. We grieve that these important ballot measures will further devalue the sanctity of life in our culture. Father, while this news may feel hopeless, we trust that You are sovereign over all. We pray for continued courage and resolve to keep fighting for the innocent, to not give up as too much is at stake. We stand on Your Word and we will continue to proclaim Your truth.
ACT.
Much of the recent debate on abortion has included misunderstandings about the law surrounding abortion, the history of the significant cases (including Roe v. Wade), and what abortion law and the pro-life movement look like in a post-Dobbs America. We want you to be ready to have impactful conversations with friends and family—ready to dispel common myths and help defend the rights of the unborn. Our friends at Alliance Defending Freedom have created this free, downloadable resource to help equip you: Defending Life: An Overview of Key Abortion Cases and Their Impact. This guide provides a brief but detailed look at the cases you need to know about, how they changed the legal landscape, and what you can do to take an active role in standing up for mothers and their unborn children.
---
Veterans Day; Not Always Easy for our Heroes — Here's What to Say and Do
"Most of America's service members do not seek the spotlight. To do so would seem incongruous with their initial motivations for raising their hand, their reasons for sticking out the tough times and their means of transitioning back to civilian life. These men and women chose to join the military — not for money or fame, but for ancient virtues like honor, duty and sacrifice. They did it because they love serving their country, not because they love receiving attention for it. So, what is a grateful American to do?" read more at Fox News
THINK.
Veterans Day, not to be confused with Memorial Day which honors American service members who died in service to their country or as a result of injuries incurred during battle, pays tribute to all American veterans, living or dead, who served their country honorably during war or peacetime. On the "11th hour, of the 11th day, of the 11th month" in 1918, an armistice, or temporary cessation of hostilities, between the Allied nations and Germany in World War 1, then known as "the Great War," went into effect. For that reason, November 11, 1918, is generally regarded as the end of "the war to end all wars." It became known as "Armistice Day," commemorated by many countries. One year later, in November 1919, U.S. President Woodrow Wilson proclaimed November 11 as the first commemoration of Armistice Day. On June 4, 1926, Congress passed a resolution that stated, "Whereas it is fitting that the recurring anniversary of this date should be commemorated with thanksgiving and prayer and exercises designed to perpetuate peace through goodwill and mutual understanding between nations." It wasn't until 1954 when the 83rd U.S. Congress renamed Armistice Day, striking the word "Armistice" in favor of "Veterans." President Dwight D. Eisenhower signed the legislation and later issued the first "Veterans Day Proclamation."
Friday we celebrate Veterans Day, a federal holiday still recognizing the original tie with November 11, 1918, but now honoring all veterans from all wars.
When our nation is divided, and political uncertainty looms, it's important to pause and remember the sacrifices that gave us freedom and made America who she is today. On Veterans Day, November 11, 1988, President Ronald Reagan gave a speech at the Vietnam Veterans Memorial, and many of his words speak directly to this specific moment we find ourselves in today. "Our liberties, our values, all for which America stands is safe today because brave men and women have been ready to face the fire at freedom's front. And we thank God for them…Yes, gentle heroes and living love and our memories of a time when we faced great divisions here at home. And yet if this place recalls all this, both sweet and sad, it also reminds us of a great and profound truth about our nation: that from all our divisions we have always eventually emerged strengthened."
We owe our veterans a debt of gratitude. Take time to thank a veteran for answering the call to serve and defend our nation. Pray for our veterans and their families and continue to pray unceasingly for our nation.
PRAY.
Pray that more Americans would come to understand the true magnitude of these heroes and their sacrifices. Pray that every veteran of our nation's armed forces would know they are truly and appropriately honored by the attention and appreciation of their fellow citizens. Pray for God's protection and blessing on their life.
ACT.
Lieutenant Colonel Allen West and My Faith Votes would LOVE YOUR HELP! We want to honor Veterans by allowing you to make a 30 second vertical video to share. Send it to us telling us what Veterans Day means to you. A few tips when making the video:
Hold your phone vertically
Start by saying your name and what city/state you live in example: "My name is Sally and I live in Sacramento, California."
"Veterans Day to me means __________."
If you are a Veteran, let us know the branch you served in your video.
Send your short video by email to veteransday@myfaithvotes.org by end of day tomorrow (Thursday). We're working on something special and we'd love to include you.
---
My Faith Votes—is a nonpartisan movement that motivates, equips and activates Christians in America to vote in every election, transforming our communities and influencing our nation with biblical truth. By partnering with national faith leaders, My Faith Votes provides resources to help Christians Pray, Think, and Act to create an America where God is honored in the public square.
Website | www.myfaithvotes.org Twitter | @MyFaithVotes Facebook | My Faith Votes
---
React
---
Comments