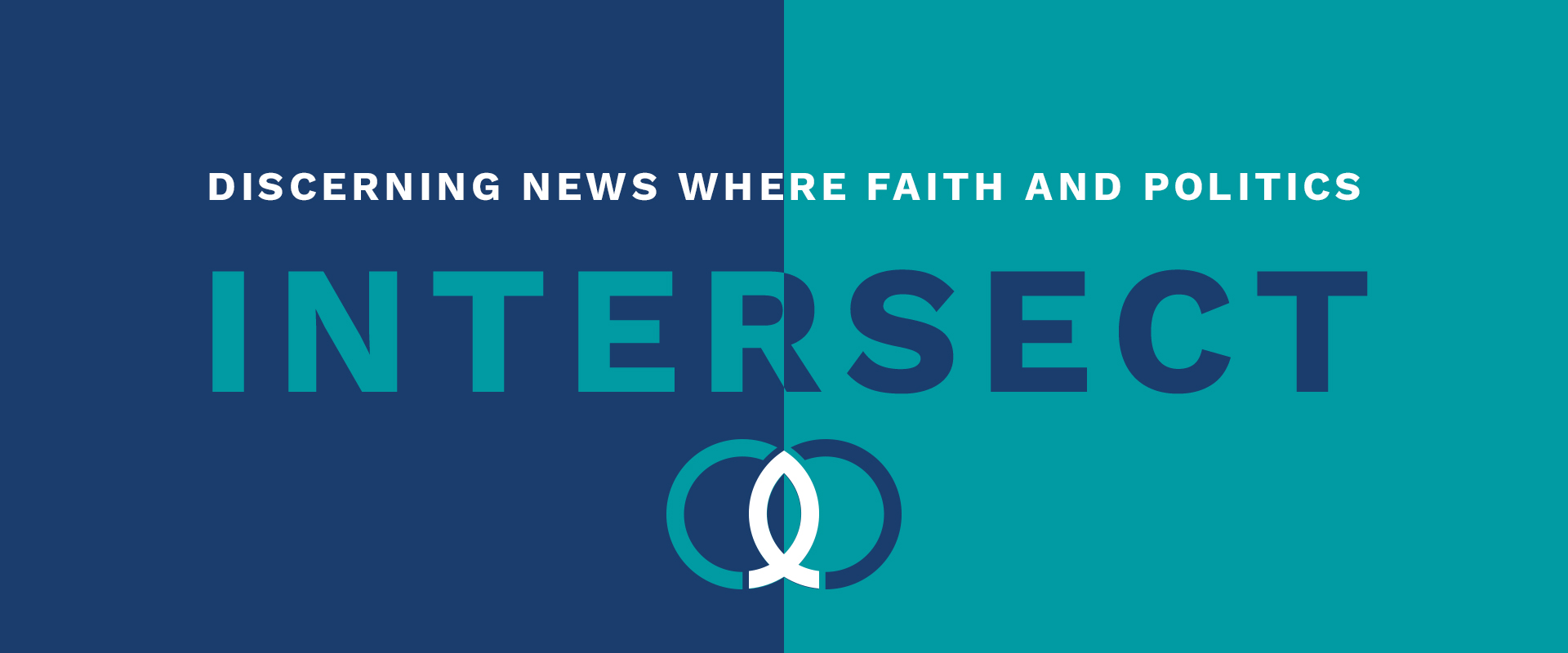 WEEKLY NEWS SUMMARY - NOVEMBER 16, 2022
We'll be taking a break from publishing the Intersect next week to rest and enjoy time with family. We will pick back up on Wednesday, November 30. From all of us at My Faith Votes, Happy Thanksgiving! We are so thankful for you.
In this week's Intersect, read about:
---
In Post-Roe America, We Must Change How We Think and Speak About Adoption and Foster Care
Foster Care
As the nation reacts to the overturning of Roe v. Wade, we've seen an increase in abortion proponents citing the struggles of the foster care system as a justification for ending the lives of the unborn. November is National Adoption Month and Herbie Newell, president and executive director of Lifeline Children's Services, the largest evangelical Christian adoption agency in the country, addresses common misconceptions about adoption, foster care, and the choice to preserve life when parenting is not in the best interests of the child and the birth parents. read more at The Federalist
THINK.
The most recent numbers from 2014 state there were an estimated 18,000 private infant adoptions nationwide, according to the National Council for Adoption. That same year, there were 926,190 abortions in the U.S., according to the Guttmacher Institute, a prominent source of abortion-related statistics. About 2 million couples are currently waiting to adopt a baby in the United States — which means there are as many as 36 waiting families for every one infant who is placed for adoption.
Why do so many women choose abortion over adoption? Sociological studies suggest that some women who are deciding between adoption and abortion find adoption to be more emotionally painful than abortion. When that is the case, women who report feeling bonded with the life growing inside of them feel too attached to choose adoption. The prevailing narrative pushed by abortion advocates frames the decision to abort as simply a "reproductive" choice. But they fail to publicly acknowledge that from the moment of conception, it's really a "parenting" choice. Women have bought the lie and would rather use abortion to avoid parenting altogether.
In the powerful above article, Newell responds to the emotional factor stating, "No matter what a woman chooses — abortion or adoption — she will think about her child daily for the rest of her life. The decision involved is whether she will mourn the opportunities her child missed by not being given the chance at life, or dream about who they're becoming as a toddler, teen, and adult. This is a crucial distinction. In both circumstances, women end up childless. Yet one path leads to death while the other leads to hope."
While I'm grateful for the President's proclamation of the importance of adoption, his push to advance "equality" has a negative impact on the biblical definition of family. The legal battle over who can adopt will only continue to intensify. More and more cases reflect a growing tension in the United States between LGBTQ advocates opposing so-called discrimination and faith-based groups seeking the right to operate according to religious beliefs. And children will be caught in the middle.
For Christians, the true beauty of adoption is even deeper than children becoming part of a non-biological family. For believers, earthly adoption points to the spiritual reality of our adoption as children of God. As we consider the theme of adoption this November, Christians should reflect on the great love of God in welcoming us into His family and be steadfast in sharing that truth with those around us.
PRAY.
We pray for those in an unplanned pregnancy, that they will choose life for their children and not abortion. Pray that boyfriends, husbands, friends, and family members of the women will hear God's truth, and aid in saving the lives of the pre-born. Pray that churches, family, friends, pregnancy resource centers, and other pro-life agencies will let them know they are not alone in the decision they are making. Pray that any desperation they experience will cause them to turn to God and find hope and strength in Him for all things. Pray for a change of perspective, that they would have the love necessary to put the child before themselves, their own convenience, desires, and plans. Pray for an understanding given by the Holy Spirit of the dignity of that child. And pray for their confidence to grow in the Lord, that they would not be fearful of the future.
ACT.
As an adoptive mom of two children, I am deeply grateful to both of their birth moms for choosing life. They are the definition of courage. Yet a side of adoption that we rarely hear from is a birth mother's point of view. An incredible organization called Brave Love is giving voice to the courageous choice a woman makes when she chooses adoption for her child. This pro-adoption organization is changing the perception of adoption by showing the brave decisions of birth moms. Learn more and watch some of the amazing and uplifting stories here.
---
Democrats Maintain Senate Control After Victories in Nevada, Arizona
"Democrats will maintain control of the U.S. Senate in 118th Congress as Nevada Sen. Catherine Cortez Masto is projected to defeat her Republican challenger, Adam Laxalt, in a tightly contested midterm race in The Silver State. With 98% of the precincts reporting in Nevada, Cortez Masto has secured about 48.8% of the vote to Laxalt's 48.1%. With the victory, Democrats are guaranteed to win 50 seats in the upper chamber. With Democratic Vice President Kamala Harris being the tiebreaking vote, Democrats will again have a narrow majority in the Senate for the second half of President Joe Biden's first term in office." read more at the Christian Post
THINK.
With Republicans likely to gain a slim majority in the House but not the Senate, what will the next two years look like? In the House, the main objective of Republicans will be to block radical policies like enshrining abortion into federal law. With a Democrat president, we will not expect the success of conservative legislation, but we should expect and demand a strong stand against ungodly policies.
The Speaker of the House holds a great deal of power over committee chairmanships, which is where the bulk of work is accomplished, and bills are rejected or advanced. 188 House Republicans nominated Kevin McCarthy (R-CA) to be the next Speaker, but 31 Republicans voted for Freedom Caucus member Andy Biggs (R-AZ). It remains to be seen whether McCarthy will have the majority vote of the entire House when they vote to pick the Speaker in January.
Continued control of the Senate means Democrats will still be able to approve Biden's nominees such as federal judges. Should a vacancy open in the next two years, that would mean any appointees to the U.S. Supreme Court.
If Democratic Senator Raphael Warnock were to win the Dec. 6 Georgia runoff election against Republican challenger Herschel Walker, that would expand Democrats' majority to 51-49. That would give Democrats an additional edge in passing the few bills that are able to advance with a simple majority of votes, instead of the 60 needed for most legislation. Once again, the United States Senate composition will depend on the results of the runoff election in Georgia on December 6.
A 50-50 Senate would look very different from a 51-49 Senate. With a 50-50 split in the U.S. Senate, a power-sharing agreement between the two parties would ensure equal representation on committees. It means that both the Majority leader and the Minority Leader have equal opportunity to bring items to the Senate floor. And a 50-50 Senate split keeps the filibuster more secure. With a 51-49 democrat majority, only one of the two democrat senators who currently support the filibuster would need to back down for the filibuster to be abolished and all legislation to pass with a simple majority.
The Senate is set to vote on the anti-religious freedom Respect for Marriage Act today. A bipartisan group of Senators claim to have amended the bill to protect religious liberty, but in reality, the bill only provides narrow protections related to the "solemnization or celebration of a marriage." If it passes in the Senate, it will go back to the House to reconcile the changes. We will give updates in the weeks ahead.
PRAY.
Pray for our current Congress as they close out this year–that detrimental legislation would be restrained. Pray for the critical Georgia runoff election on December 6. Georgia is divided in to 159 counties. Would you commit to pray for one county through December 6th? You can find the list here.
ACT.
Georgia still matters a great deal. We're asking you to influence the outcome of this Georgia runoff election on December 6 by writing letters to Christians in Georgia who might not vote without your encouragement. If you have participated in our Write Now letter-writing campaign before, you know it is easy and effective. This is a proven campaign with meaningful impact.
Our part: We email you the names and addresses of people in Georgia who need your encouragement, a printable letter template, and clear instructions for completing your letters.
Your part: Simply print the letter, handwrite a personal greeting, pray for the recipient, drop the letter in an envelope and mail it by November 28, the beginning of early voting.
You can choose to send as few as 20 or as many as you would like. Every letter helps us reach our goal of sending 280,000 letters. Make it a letter-writing party. Gather friends and family and make it a Thanksgiving event. Get started here.
---
Biden, China's Xi Hold First In-Person Meeting
"President Joe Biden and Chinese President Xi Jinping held their first in-person meeting of Biden's presidency on Monday. In remarks before the meeting, Biden said he and Xi share a responsibility 'to show that China and the United States can manage our differences' and find ways to collaborate on 'urgent global issues.' Xi said the two countries 'need to find the right direction for the bilateral relationship going forward.' Afterward, Biden said the U.S. would 'compete vigorously, but I'm not looking for conflict,' and that he doesn't believe there's an 'imminent attempt' from China to invade Taiwan." read more at All Sides
THINK.
An October Pew Research poll of the American public found 50% consider China's military power to be a "very serious problem" for the U.S.
Why should the church be paying attention to what is happening in China? Because 1) God's church is being oppressed and persecuted and 2) the authority of scripture is under attack.
Some research suggests that China's Christian population could reach 247 million by 2030. This is great news for the Kingdom, but it could also mean greater suffering for the people of God in China. If we understand our history, we understand that the rise of Christianity in hostile nations means there will be more suppression and persecution. As it stands now, churches have been forced to close, house churches have been raided, Christians have been imprisoned and crosses have been removed from churches. There are also some reports where the Bible is being rewritten by the communist party to include how socialism is good and add Confucian and Buddhist principles, among others. This is an assault of the authority of God's word, and a heinous attempt to prevent unbelievers from encountering the real Jesus.
So, what are key takeaways for the church of America?
We should take seriously the fight for the preservation of religious freedom at home and abroad.
Remember that Jesus is King – not the government (Philippians 2:10-11). In China, the president has a high view of himself. In America, many have an idolatrous view of our government. The lesson of the church of China can teach us that while we respect governing authorities, our knee bows to Jesus.
Find tangible ways to help the church of China through ministries such as Open Doors.
Our authority and theology must be formed from the Bible – not the government. The Bible must remain the authority of every aspect of our life. No one gets to redefine the message of the Bible.
As we watch our Chinese brothers and sisters risk everything for the Gospel, we must ask, "are we willing to risk everything for the sake of Jesus?"
When the church no longer has a voice in civic affairs, we have a risk of authoritarian governments taking over the church. Such is the case in China. In 1958 Mao Zedong established the People's Republic of China as a communist state and declared that the country is an atheist nation. However, the gates of hell will not prevail against the Lord's church. (Matthew 16:18) In a nation that only recognizes state-run churches, Christianity is one of the fastest growing religions in the communist country.
If the church withdraws its voice from government, expect there to be consequences. Although the church wasn't invited to the table when China formed its new government in the 50s, the church of America played a huge part in the founding of our nation. What a shame it would be to voluntarily give up our voice.
PRAY.
Heavenly Father, we pray for our brothers and sisters in China who don't have the freedom to live out their faith in the public square. Touch and convict the hearts of the Chinese government officials, so that many would repent and be saved through faith in Jesus. We continue to pray for the pastors, church leaders, and other Christians who are imprisoned for their faith. Strengthen them and their families. Help them to "Rejoice in hope, be patient in tribulation, be constant in prayer." (Romans 12:12) Be glorified in Your church, in Jesus' name. Amen.
ACT.
If you want to understand the threat that China poses to the U.S., I encourage you to read The Hundred-Year Marathon: China's Secret Strategy to Replace America as the Global Superpower. Author Michael Pillsbury, Director for Chinese Strategy at The Hudson Institute and Assistant Under Secretary of Defense for Policy Planning during the Reagan Administration, explains how China's goals for the future constitute "the greatest national security challenge of the twenty-first century," and why we must be aware and engaged.
---
Post-Election Thoughts: A Message from the CEO
Christians across the nation are feeling a range of emotions after the midterm elections. This has been a long election cycle, for sure, with a drawn-out period of counting the results. At the time of writing this, the Democrats hold a narrow lead (50-49) with Georgia to determine the last seat in a December 6th runoff. The Republicans just secured a slim majority in the House. While we wait some more, let's look at what we do know. Pro-life, pro-family, and pro-freedom values did indeed advance in these midterm elections. It is likely that the majority in the U.S. House will shift, making it a backstop against radical extremism at the federal level. Each governor that signed pro-life laws in the last year won re-election. Over 1,300 churches in Arkansas, North Dakota, and South Dakota received support from My Faith Votes to push back on recreational marijuana ballot measures, all of which were voted down (yet, Maryland and Missouri did pass similar measures). read more at My Faith Votes
THINK.
Preliminary results show just 46.9% of eligible voters nationwide turned out to vote in this year's midterms, down from four years ago. Minnesota had the highest voter turnout (61.6%) and Tennessee had the lowest at 33.5%.
About 27 percent of voters aged 18-29 voted, marking the second-highest youth turnout of any midterm election in history. "Generation Z" favors the Democratic Party more than any other age group and was a key factor in many races Republicans lost. Exit polling showed strong youth support for Democrats, typically on issues like climate change, reproductive rights, and gun control. Polling data in recent years show that Gen-Z Americans are the most secular and openly LGBTQ of any living age group. They are also increasingly likely to have been raised by one parent and to believe that single-parent households are not "a bad thing for society."
Many Democrats, including President Biden credited student debt forgiveness with turning out young voters last week to help Democrats over-perform expectations. Was the unconstitutional promise just a ploy to lure voters? On Monday, a federal appeals court blocked the Biden administration from moving ahead with its mass student-debt cancellation program, dealing another blow to the administration's plan after it was ruled unlawful by a federal judge in Texas last week.
With the increased attention on education and parental rights there was more national focus than usual on local school board elections during the 2022 midterms. The 1776 Project PAC and Moms for Liberty both stated they were able to flip a number of key school board races across the nation to conservative and parental rights advocates. However, from our own exit poll that we'll be releasing soon, parental rights was dead last in issues voters cared about. Only 1% of voters considered this to be a top issue in this election.
One of the most concerning things we discovered in our exit poll is the growing disconnect between faith and political engagement. Just 19% of Christian voters said they factor in their faith when they vote and only 6% stated that faith was the top motivating factor in voting. Could that be because a troubling 70% of churches were silent and did nothing to speak into the elections or encourage people to vote?
Even with some Midterm results still being determined, the 2024 Presidential race has officially begun with President Trump announcing his third presidential campaign last night.
Elections come and go. This is a process that must continue because, as James Madison said, "If men were angels, no government would be necessary." To keep the proper perspective, it helps to remember our assignment, which is not fixed on "winning" elections. Our call is simple...we PRAY for our nation, we THINK biblically about issues, and we VOTE…in every election. The results belong to God.
PRAY.
James 1:2-4 says, "Count it all joy, my brothers, when you meet trials of various kinds, for you know that the testing of your faith produces steadfastness. And let steadfastness have its full effect, that you may be perfect and complete, lacking in nothing." Ask God for steadfastness in these changing times. Pray for boldness to stand firm on His Word and an unwavering commitment to be a Christ follower, trusting in His goodness and mercy.
ACT.
"One could reasonably argue that the nation's ideas about right and wrong are now more likely to come from the White House and the halls of Congress than from our houses of worship," George Barna recently stated. "The laws of the land are replacing the laws of God in determining good and evil in America." Is that because we have forgotten our history? Over 400 years ago, the Pilgrims fled religious persecution and tyranny and believed in the possibility of self-government and the freedom to worship as they saw fit. It was outlandish, without precedent, and certainly not easy, but the courageous actions of those 102 souls established the DNA of the freedoms we enjoy in America today. In the fall of 1621 when their labors were rewarded with a bountiful harvest after a year of sickness and scarcity, the Pilgrims gave thanks to God. The 53 surviving settlers celebrated their bounty with a 3-day festival of prayer. In this short video, we take you to Plymouth Rock where the Pilgrims stood as shining examples of people who were deep in their convictions, certain of what they believed, unswerving in their loyalty, and passionately dedicated to God whom they trusted and for whom they willingly would have died.
---
My Faith Votes—is a nonpartisan movement that motivates, equips and activates Christians in America to vote in every election, transforming our communities and influencing our nation with biblical truth. By partnering with national faith leaders, My Faith Votes provides resources to help Christians Pray, Think, and Act to create an America where God is honored in the public square.
Website | www.myfaithvotes.org Twitter | @MyFaithVotes Facebook | My Faith Votes
---
React
---
Comments