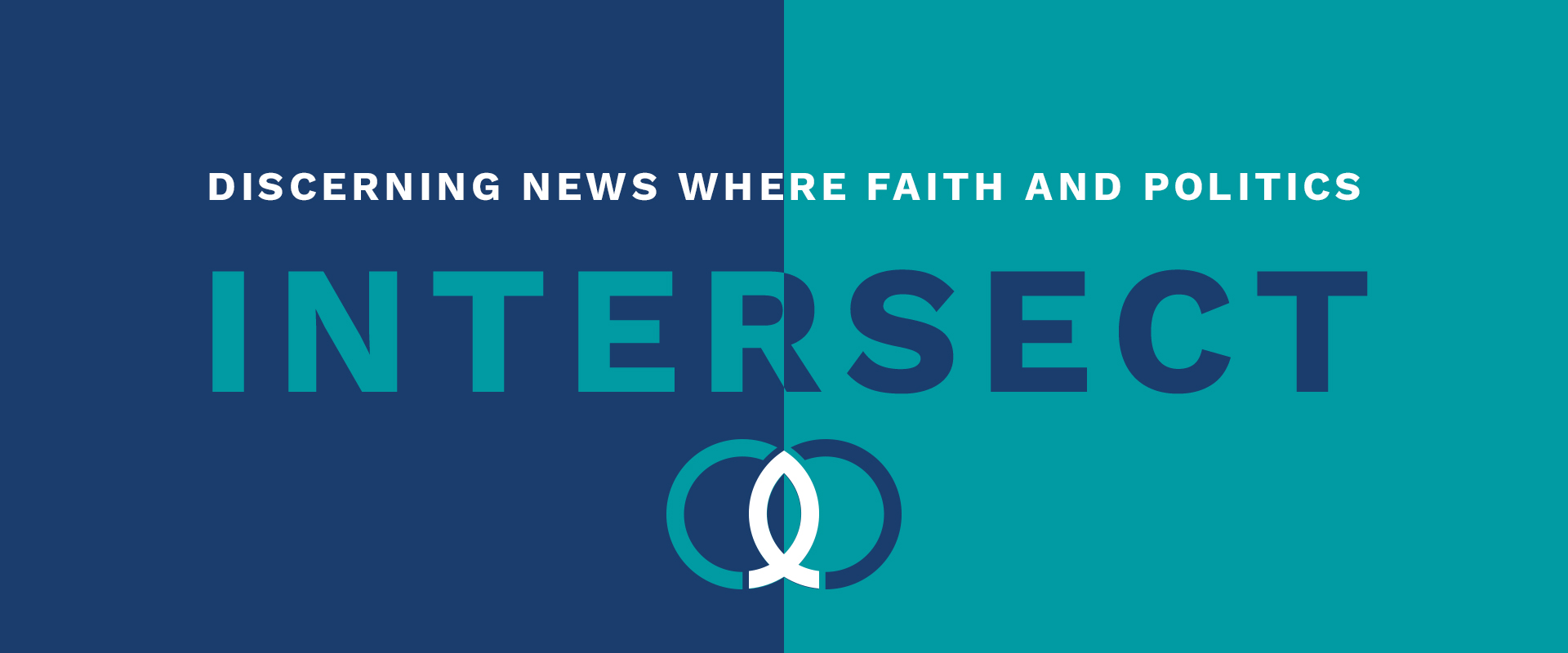 WEEKLY NEWS SUMMARY - NOVEMBER 11, 2020
In this week's Intersect, read about:
---
Influential DC-Area Evangelical Leader Bishop Harry Jackson Jr. Passes Away
Bishop Harry Jackson Jr., senior pastor with Hope Christian Church in Beltsville, Maryland passed away Monday morning. CBN News learned of Jackson's passing from some of his closest friends, including Alveda King - niece of Dr. Martin Luther King. A statement from the church reads: "It is with a heavy heart that we notify you that our beloved Bishop Harry R. Jackson, Jr. has transitioned to be with the Lord on November 9, 2020. Information about the memorial service will be forthcoming. Please pray for the Jackson family's comfort and respect their right to privacy at this time." read more at CBN News
THINK.
We were deeply saddened to hear of our friend, Bishop Jackson's passing. Just last week, he joined us on Election Eve for a special time of national prayer. Since the inception of My Faith Votes in 2015, Bishop Jackson has always been an incredible friend, strong advocate, and wise voice to the mission of My Faith Votes. In 2018, our CEO, Jason Yates, had the privilege of sharing the stage with Bishop Jackson as the two of them were featured in a segment on the Huckabee Show, sharing the importance of Christians taking action through voting. Bishop Jackson will be greatly missed by our entire team.
PRAY.
Pray for Bishop Jackson's family, as they mourn his loss. Praise God for the tremendous witness and example that Bishop Jackson's life has had on so many throughout this nation, calling us to a deeper and bolder relationship with Christ and challenging us to stand firm in the public square for Christ.
ACT.
On Good Friday of this year, Bishop Jackson was invited by President Trump to lead a public prayer from the Oval Office. Read the transcript of his powerful prayer for the nation here.
---
Attorney General Barr Authorizes DOJ to Investigate Any 'Substantial' Claims of Election Fraud
The US Department of Justice will now be getting involved with the ongoing legal battles - and investigations - into the presidential election. US Attorney General William Barr has authorized the Justice Department to look into what he called "substantial" allegations of voter irregularities. And some top Republicans, including Senate Majority Leader Mitch McConnell, are supporting President Trump's efforts to investigate voting issues. "Our institutions are actually built for this," McConnell said as he opened the Senate on Monday. "We have the system in place to consider concerns, and President Trump is 100 percent within his rights to look into allegations of irregularities and weigh his legal options." Some critics say there's no evidence of fraud, but the Trump team disagrees and says the process should play out. There would have to be enough evidence to show not only voter fraud or irregularities but also to prove there was enough fraud to change the outcome in a given state. White House Press Secretary Kayleigh McEnany has declared, "This election is not over, far from it." Even though Democrats and many in the media continue to dismiss the possibility of voter fraud in the 2020 election, one top Democratic operative told the New York Post this summer that voter fraud is real, especially with mail-in ballots, and he knows because he's played a big role in it in the past. The Democratic insider, who asked to remain anonymous, said mismanagement of ballots is standard practice and he's been doing it for decades on a major scale. "An election that is swayed by 500 votes, 1,000 votes - it can make a difference," he said. "It could be enough to flip states." read more at CBN News
THINK.
As followers of Jesus, we are to be lovers of truth. As we strive to discern the truth regarding the election results in contested states, it is imperative to understand how our political process is structured. As the Trump campaign files lawsuits in Pennsylvania, Michigan, Nevada, Arizona, and Georgia, Dick Morris, a prominent political commentator, explains how, according to the Constitution, the president may still receive the 270 Electoral College votes needed to secure a second term. We encourage you to read his instructive article. Additionally, Hans Von Spakovsky, manager of Election Law Reform Initiative at the Heritage Foundation, summarizes the reasons for the lawsuits filed in the various states. Amidst the clamor and confusion, how can Christians stand firm? As I've searched the Scriptures during the past week, nearly every passage has provided encouragement and comfort in God. James 3:17 instructs us that the wisdom from above is "impartial and sincere". We must always remain committed to an honest vote count, whether our preferred candidates emerge victorious or not. As Proverbs 11:1 states, "A false balance is an abomination to the LORD, but a just weight is his delight." As we strive to hold our earthly government to the standard of Romans 13, let us take courage that our citizenship is in heaven, and our hope is found in Jesus, "the ruler of kings on earth" who has "made us a kingdom, priests to his God and Father". (Revelation 1:5,6) As we commemorate Veteran's Day today, let us honor our men and women who served our military to preserve our freedom under the law. As we express our gratitude to those who served, let us also renew our commitment to a fair and honest election process without which liberty cannot succeed.
PRAY.
First, pray for our leaders, and everyone in authority. Pray that they will execute justice so that our freedom is preserved. Secondly, pray earnestly for your brothers and sisters in Christ. Pray that we will remain committed to glorifying the name of Jesus and being a light to our hurting country. Pray that we will humbly resolve any wrongs committed against each other.
ACT.
We are encouraging people across the country to fervently pray for the elections. Join with others across our nation right now. You can download our post-election prayer guide here.
---
Pro-life Women Surge in Congress
Pro-life legislators in the US House of Representatives made major gains on Tuesday with the election of 13 new pro-life women and the reelection of the House's 11 incumbent pro-life women. With female pro-life candidates running in eight House races that have not been called, the pro-life presence could still grow. A record-breaking 107 women were elected to the House in 2020, surpassing the previous record of 102 set in 2019. Pro-life groups welcome the new representatives and the encouragement their presence will provide to their pro-life colleagues. Carol Tobias, president of the National Right to Life Foundation, said men advocating for the rights of the unborn are sometimes dismissed because they don't deal with the direct effects of pregnancy the same way as women do. "Bringing in more pro-life women will give encouragement and support to the leaders who have been speaking up for years," she said. All of the pro-life representatives elected this week are Republicans, and many say their position on abortion stems from their Christian faith. read more at Christianity Today
THINK.
Voters in Colorado defeated a ban on late-term abortions last week. According to the Denver Post, about 59.2%, rejected Proposition 115 with 83% of the vote counted, while 40.8%, supported it. The measure would have banned most abortions in the state after 22 weeks - the only exemption being to protect the life of the mother in emergency situations. This is the 4th time since 2008 that Colorado voters have rejected measures to restrict abortion. Abortion rights were on the ballot in two states on Election Day, and the results went in opposite directions. In Louisiana, voters approved a measure that will amend the state's constitution to read that it does not guarantee the right to abortion or the right to funding for abortions. But the fight to end abortion isn't just happening in the US. Guatemala has decided to reverse an earlier decision to allow Planned Parenthood to operate in their country, repealing an earlier agreement made in October. Guatemalan President Alejandro Giammattei announced the repeal of the agreement this week, explaining in a statement that he opposed the organization's abortion stance. "I recognize life from conception and therefore I will not tolerate in my administration any movement that violates what is established in our Political Constitution of the Republic, that goes against the values with which I was raised and that conflicts with my principles as doctor," stated Giammattei. "I am a faithful defender of life and I am emphatic in stating that I will not endorse in my administration the creation, registration, or start-up of any organization that goes against life." Guatemala's interior minister, Oliverio García Rodas, who initially approved the agreement with Planned Parenthood last month, officially resigned in response to the issue.
PRAY.
Pray for the sanctity and dignity of life to be upheld and cherished. While we work for legislation to be passed to protect life, pray for hearts to be changed to make abortion unthinkable.
ACT.
Take a moment to send a message to your current elected officials, encouraging them to protect life. Contacting them does make an impact. One Senator recently told us, "If I get a deluge of people reaching out to me on something, I will reconsider my position." He continued, saying, "I just hear from so few; eight, nine, ten people would really change my thoughts on things."
---
Supreme Court Hears Case Pitting Religious Liberty Against Same-Sex Marriage
An important religious liberty case went before the U.S. Supreme Court Wednesday – the first heard by new justice Amy Coney Barrett. A Catholic foster agency in Philadelphia had told a reporter because of its belief in traditional marriage, it would refer same-sex couples to other foster agencies rather than place children with such couples. Reading that, Philadelphia officials decided if Catholic Social Services (CSS) would do such a thing, it would be anti-gay discrimination. Now, remember, no same-sex married couple had ever come to the agency. As US Deputy Asst. Attorney General Hashim Mooppan pointed out in arguing for Catholic Social Services. "There are dozens of foster agencies that are available to serve gay couples in the city of Philadelphia," Mooppan said. "And there's no evidence that any gay couples ever even tried to use CSS as their agency." But just the idea that the agency would turn them away was enough for Philadelphia to restrict CSS's doing foster care business with the city. That has saddened CSS's James Amato, who said, "We stand ready to provide loving homes for children in need, but our ministry is stuck on the sidelines." Philadelphia argued it has every right to do that. Attorney Neal Katyal, representing the city, asserted, "The government has broad powers to impose conditions on contractors like CSS that stand in the government's shoes performing government functions." Or, as Chief Justice John Roberts put it, "Shouldn't the city get to strike a balance as it wishes when it comes to setting conditions for participating in what is, after all, its foster program?" read more at CBN News
THINK.
No, the city cannot impose a condition on this foster care agency that would force it to deny its long-standing religious belief, said Lori Windham of the Becket Fund, the religious liberty law firm defending Catholic Social Services. When someone wants to become a foster parent, they must first contact any one of the thirty private agencies in Philadelphia, who will conduct a home study to determine whether the parent(s) are an ideal partner for their particular agency, the Beckett Fund explains. "As part of the Catholic Church, Catholic Social Services cannot partner with and endorse same-sex or unmarried couples. Instead, it will help that couple to find a match from among the 29 other nearby foster agencies that can provide the same endorsement and partner with that couple to serve kids in need." Moreover, foster care agencies regularly refer foster families to a more suitable agency based on their various situations, such as location, waiting lists, and special needs. For CSS, their religious beliefs "aren't a policy or set of guidelines it can change." It is plain, therefore, that the city of Philadelphia simply does not like their religious beliefs and is willing to reduce the available options for foster children as a result. Toni Simms-Busch, a Catholic foster mother with decades of experience in social work, related how she felt when the city announced its position: "It felt like I'd been kicked in the stomach the day I learned the city was closing down Catholic Social Services foster program despite a severe shortage of foster families." Sadly, this is not an isolated case. As Windham points out, "There have been agency closures across the country over this very issue." Hopefully, the high court will rule in favor of religious liberty, recognizing its benefit to all of society. Thankfully, eleven states have already passed laws protecting the right of religious foster care agencies to operate according to their beliefs.
PRAY.
Pray the justices will rule correctly, and that Catholic Social Services will be free to continue their vital work for many children. Pray that the many precious children who are currently in the foster care system will know that, as Psalm 27:10 says, "Though my father and mother forsake me, the LORD will receive me."
ACT.
The church can play a crucial role in the foster care world. Read this simple blog post by the ministry of Buckner International that gives 6 ways your church can be involved to make a difference in the lives of children in foster care.
---
My Faith Votes—is a nonpartisan movement that motivates, equips and activates Christians in America to vote in every election, transforming our communities and influencing our nation with biblical truth. By partnering with national faith leaders, My Faith Votes provides resources to help Christians Pray, Think, and Act to create an America where God is honored in the public square.
Website | www.myfaithvotes.org Twitter | @MyFaithVotes Facebook | My Faith Votes
---
React
---
Comments