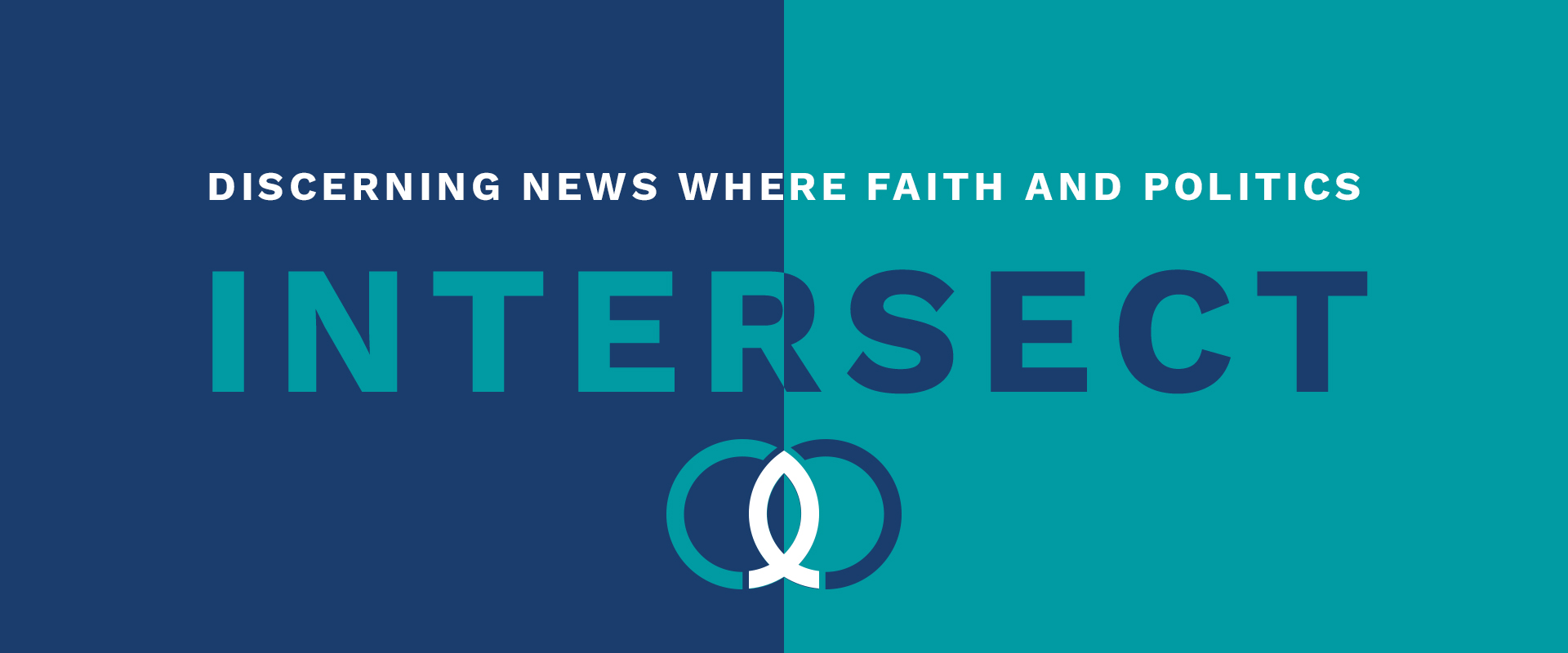 WEEKLY NEWS SUMMARY - JUNE 3, 2020
In this week's Intersect, read about:
---
It Wasn't Just Religious Liberty that Chief Justice Roberts Strangled
Close to midnight on Friday, while rioters used the killing of George Floyd as a pretext to set America aflame, the U.S. Supreme Court issued a 5-4 ruling that declined to enjoin the states of California and Illinois from restrictions on communal worship imposed due to the coronavirus pandemic. Most startling was that Chief Justice John Roberts not only joined the court's four left-leaning justices (Ruth Bader Ginsburg, Stephen Breyer, Sonia Sotomayor, Elena Kagan) in declining to uphold religious liberty. Roberts also wrote a brief opinion explaining his decision. That opinion is an eye-opener. Roberts accords the right to worship no deference by virtue of its being a fundamental liberty expressly protected by the First Amendment. We are to see it as an activity like any other activity, commercial or social, the pros and cons of which technocrats must weigh in fashioning regulations. The opinion, moreover, champions the power of government officials to dictate to the people who elect them without "second-guessing by an unelected federal judiciary" — exactly the power that the Bill of Rights, and the incorporation jurisprudence by which the court has applied much of it to the states, are meant to deny. This is truly remarkable because it is so gratuitous. read more
THINK.
Conservatives and Christians across the nation were shocked by Justice Roberts' decision Friday night. The President of First Liberty Institute, Kelly Shackelford, wrote in response to the Court's decision, "Justice Roberts just did some real damage to churches and to everyone's Constitutional rights for the future during a pandemic. Pray that a better case reaches the Court and that this is not the last word." Roberts was the swing vote in the case, while the other four conservative justices, Kavanuagh, Gorsuch, Thomas, and Alito, dissented. Justice Kavanaugh wrote a dissenting opinion stating in part: "I would grant the Church's requested temporary injunction because California's latest safety guidelines discriminate against places of worship and in favor of comparable secular businesses. Such discrimination violates the First Amendment." You can read the full opinions of both Justice Roberts and Justice Kavanaugh here. More than 1,500 churches in California reopened this past Pentecost Sunday, despite California Gov. Newsom's order and the Supreme Court's injunction. We interviewed Pastor Jack Hibbs, Senior Pastor of Calvary Chapel Chino Hills, to learn more about what led to his decision to reopen Sunday services. You can watch the interview here. We are grateful for courageous pastors like Pastor Hibbs and others who are willing to stand up for the First Amendment, and more importantly, faithfully shepherd and lead their congregations. Hebrews 10:25 says, "Do not give up meeting together, as some are in the habit of doing, but encouraging one another—and all the more as you see the Day approaching." It's so important that Christians across the country reach out to our governors and urge them to keep church essential. You can do that by taking action here and contacting your governor with My Faith Votes' easy to use tool.
PRAY.
Pray specifically for a better case to reach the Supreme Court and for a ruling that will uphold the First Amendment to protect churches and the free exercise of religion.
ACT.
To read more about this decision, and learn what you can do about it, check out the My Faith Votes SCOTUS Watch issue from this week.
---
MLK Jr.'s Niece Alveda King Says Her Uncle Refused to Promote Violence as a Solution, Calls for Repentance and Prayer
The niece of Dr. Martin Luther King, Jr. is speaking out against the rioting happening in cities across the country during the protests over George Floyd's death and his inhumane treatment by a Minneapolis police officer. In an op-ed published on Sunday by Fox News, Dr. Alveda King said Floyd's killing has led to "a cry to heaven going up across America: Lord, please heal our land. It is a cry for unity, for social justice, for safety, and for an end to hatred." King, a minister like her uncle, pointed out this was an opportunity for the nation's leaders to invite people to stop panicking, stop fighting, and breathe. She emphasized prayer is important and called on spiritual leaders to show the way. "Right now, here in America, we are in a season of repentance and revival. It is very important for spiritual leaders to lead the way in repentance and prayer; especially with the violence erupting out of Minneapolis spreading destruction across the country like wildfire," she said. "As leaders, we must encourage people who are frightened and frustrated. We must stand in solidarity and unity as one human race. We must reject the socially engineered concept that our skin colors and ethnicities divide us into racial groups," King continued. She recalled the now-famous words of her uncle. "He dreamt of a world where people 'will not be judged by the color of their skin but by the content of their character.'" read more
THINK.
George Floyd's younger brother, Terrence, also issued a passionate call for peaceful protest only. He strongly denounced the riots, saying that he knew his brother would not want that: "It's OK to be angry, but channel your anger to do something positive or make a change another way." He emphasized, "My family is a peaceful family; my family is God-fearing", and expressed his faith that, "Justice will be served." As chaplains from the Billy Graham Rapid Response Team deployed to Minneapolis to help those grieving and support local church leaders, Franklin Graham reminded Christians and church leaders that "the greatest weapon and the most powerful defense we have is prayer." We desperately need to take his, Alveda King's, and Terrence Floyd's advice. Ephesians 6:10-20 warns us who is really behind every form of evil we see, including the injustice that was done to George Floyd and the violence caused by the rioters. The Devil's aim is to keep people divided and from turning to the Lord and receiving forgiveness, peace, and healing in Him. Yet our purpose as Christians is to draw people to the Lord as we reflect His glory and goodness, and we cannot do that without humbly seeking His wisdom and guidance. Jeremiah 17:9 says, "The heart is deceitful above all things, and desperately sick; who can understand it? I the LORD search the heart…" and Hebrews 4:12-13 tells us that the Word of God can discern "the thoughts and intentions of the heart." Let us be encouraged that we can come honestly before God and receive his mercy and grace to help us be better ambassadors of him.
PRAY.
We'd like to share Franklin Graham's insightful prayer points for this time: Pray for PEACE, because "the anger of man does not produce the righteousness of God" (James 1:20). Pray for PERSPECTIVE, because "the wisdom from above is first pure, then peaceable, gentle, open to reason, full of mercy and good fruits, impartial and sincere" (James 3:17). Pray for PATIENCE, because of God's "kindness and forbearance and patience" toward us all (Romans 2:4). And pray for an OUTPOURING of His wisdom and direction for our leaders and officials who are dealing with this crisis. Ask God to change hearts and heal this divide in our nation.
ACT.
We encourage you to watch this short video about the work of the chaplains in Minneapolis from the Billy Graham Evangelistic Association.
---
Trump Vows to Mobilize Federal Resources in Address to Nation, Makes Surprise Trip to Church that Caught Fire
President Trump said during a statement in the Rose Garden on Monday that he is taking "immediate action" to mobilize "all available federal resources" to stop riots and looting across the country, threatening to deploy the military if states don't send in the National Guard to protests. "I will fight to protect you," Trump said in an evening protest, ahead of what's expected to be more protests in the city of Washington on Monday night over the death in Minnesota of George Floyd. Immediately following the speech, in an extraordinary scene, the president and his entourage walked outside of the White House, across Lafayette Square, to St. John's Episcopal Church, which caught on fire during the protests the night before. During the brief visit, the president stood in front of the boarded-up church and held up a Bible. He was accompanied by a variety of aides and officials, including Attorney General Bill Barr, daughter and White House adviser Ivanka Trump, Chief of Staff Mark Meadows, and Defense Secretary Mark Esper. read more
THINK.
Citing recent acts of violence against innocent citizens and an incident in California where an African-American Federal Protective Service officer was killed during the protest, Trump stated that "The destruction of innocent life and the spilling of innocent blood is an offense to humanity and a crime against God." He continued, "America needs creation not destruction, cooperation not contempt, security not anarchy, healing not hatred, justice not chaos. America is founded upon the rule of law...but where there is no law, there is no opportunity, where there is no justice there is no liberty, where there is no safety there is no future." The National Guard has been deployed in several states with the purpose of stopping the violent rioters and protecting innocent citizens, including peaceful protesters. The President is also attempting to designate the radical leftist group Antifa as a terrorist organization, as he believes it is one of the groups inciting the destruction and looting. While violence is still occurring in many cities, there are also encouraging instances of civility. In St. Paul, Minnesota, a National Guard officer invited one of the protestors to say a prayer for everyone, after which the two embraced and the crowd cheered. On Saturday, Miami Dade County police officers knelt for a moment of prayer with protesters. Minneapolis citizens turned out in large numbers to help clean up the city and repair the unbelievable damage. And in Houston, Texas, one man spent four hours in the middle of the night cleaning graffiti off the buildings. We have also seen inspiring acts of courage. During a protest in Louisville, Kentucky that was turning violent, several protesters bravely formed a human shield around a lone police officer who was separated from his unit. These examples can inspire us and remind us of our duty to "See that no one repays anyone evil for evil, but always seek to do good to one another and to everyone." (1 Thessalonians 5:15)
PRAY.
Pray for protection for our cities, and for the law enforcement officers and National Guard members who are sworn to protect our lives and freedom. Pray that the violence would cease, and that even those who commit acts of destruction and lawlessness would repent and find peace in Jesus.
ACT.
We encourage you to take a few minutes to read and pray through this important prayer from Pastor David Platt.
---
Christians Being Denied Food Aid During COVID-19 Pandemic
As the world goes through food security and financial crises due to the coronavirus pandemic, disadvantaged Christian communities in Asia, especially in Vietnam and Pakistan, are being hit the hardest as government and aid agencies discriminate against them due to their faith, according to reports. In the communist country of Vietnam in Southeast Asia, the government is denying food aid to more than 100 Christians, including children and the elderly, according to Open Doors, a ministry to persecuted Christians worldwide. "You are Christians and your God shall take care of your family!" authorities told 18 Christian families, comprising 107 people, in north Vietnam. "The government is not responsible for your families!" A local partner of Open Doors, which was not identified due to security reasons, said, "They strive to put food on their tables, and they consume their rice little by little every day. When they learned that the government's support was coming to their district, they were so happy — only to find out that they were not on the list because they are Christians." Christians often face ostracism, threats, torture, and prison sentences in Vietnam, whose atheist government doesn't tolerate any faith or ideology other than communism. Vietnam's communist regime, which requires its officials to use a secret 600-page manual to repress religion, fears Christianity, which involves building a community of believers and promotes respect for human dignity. The government views citizens' freedom to form associations as a threat to its power, according to the International Federation for Human Rights. read more
THINK.
According to Open Doors, Vietnam ranks as the 21st worst nation in the world for persecution of Christians. And it's not only in Vietnam where food and basic aid is being withheld from Christians. In Pakistan, Muslim charities are also excluding Christians from the food distribution aid. A U.S. Commission on International Religious Freedom Commissioner, Anurima Bhargava, spoke out against what is happening in Pakistan stating, "As COVID19 continues to spread, vulnerable communities within Pakistan are fighting hunger and to keep their families safe and healthy. Food aid must not be denied because of one's faith." While it's important and necessary to focus on difficult issues here at home in America, such as racism, riots, and the impacts of COVID-19, we must also remember to pray for those facing life-threatening challenges around the world. In the Chinese province of Jiangxi, the government has intensified its crackdown on churches by closing down 48 churches in the wake of COVID-19. It's reported government officials have stormed churches and torn down crosses and podiums. There are one million people who live in Yugan county, and over ten percent are Protestants. Yesterday, President Trump signed an executive order that aims to prioritize religious freedom as a foreign policy initiative that includes requiring all civil service employees to undertake "international religious freedom training." The executive order sets aside $50 million annually for advancing international religious freedom by deterring attacks on sects and enhancing security at houses of worship.
PRAY.
Pray today for the Christians and religious minorities in Vietnam and Pakistan. Ask the Lord to supernaturally provide for their needs. Pray for their faith, courage, boldness to increase, and for God's blessing and favor to be upon them as they stand for the Gospel.
ACT.
We encourage you to take a few minutes to read this informative op-ed by David Curry, CEO of Open Doors International. Curry explains how China has used this COVID-19 pandemic to increase surveillance, control, and religious persecution.
---
My Faith Votes—is a nonpartisan movement that motivates, equips and activates Christians in America to vote in every election, transforming our communities and influencing our nation with biblical truth. By partnering with national faith leaders, My Faith Votes provides resources to help Christians Pray, Think, and Act to create an America where God is honored in the public square.
Website | www.myfaithvotes.org Twitter | @MyFaithVotes Facebook | My Faith Votes
---
React
---
Comments