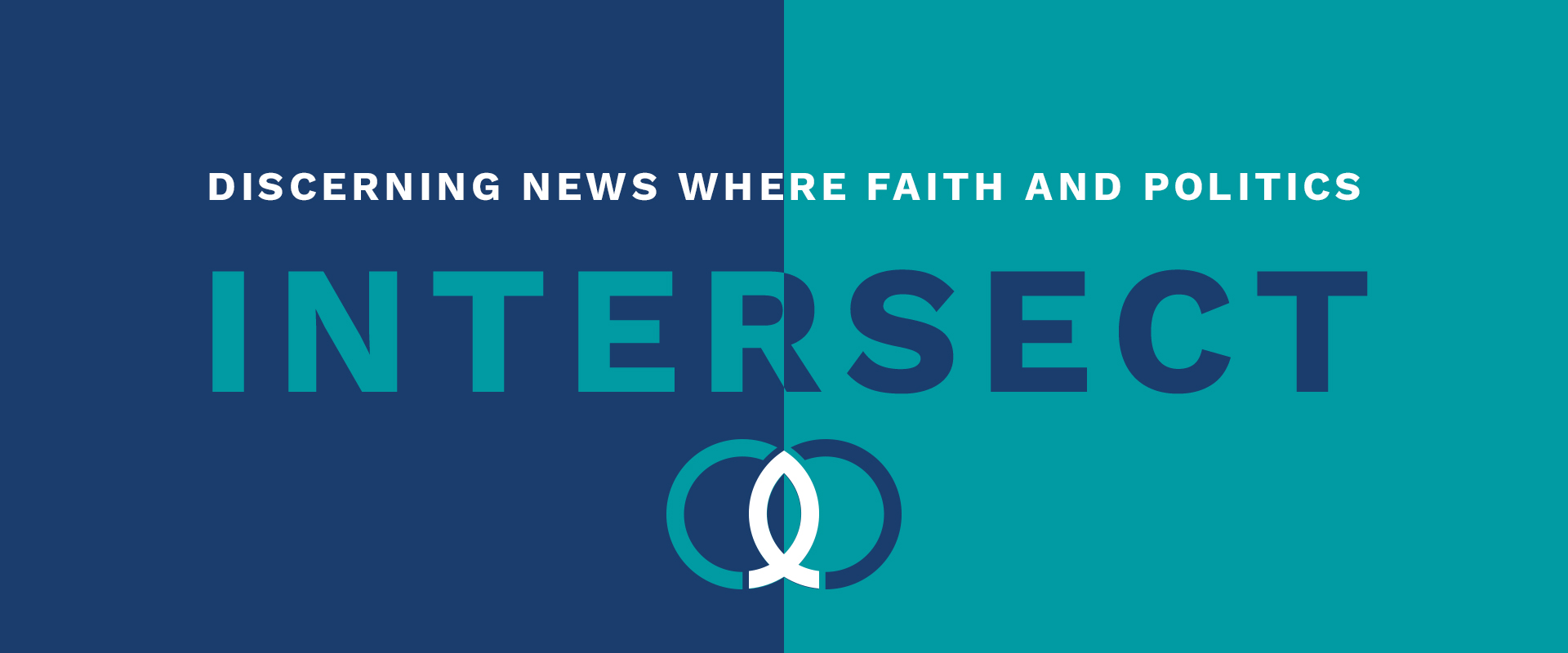 WEEKLY NEWS SUMMARY - DECEMBER 21, 2022
The world will always have headlines to Intersect, but it's important to take time to pause and reflect on the magnificence of our Savior's birth this Christmas season. We'll be taking a short break and will be back Wednesday, January 4th, 2023.
From all of us at My Faith Votes, Merry Christmas!
---
In this week's Intersect, read about:
---
Congressional Negotiators Roll Out Sweeping $1.7 Trillion Funding Bill
"Congressional negotiators unveiled a mammoth $1.7 trillion funding bill early Tuesday, as leaders scramble to quickly sort out government funding for fiscal 2023 before the end of the month. The 4,155-page funding package, which lawmakers hope to pass later this week, includes $772.5 billion in nondefense discretionary spending, and $858 billion in defense funding, a figure in line with the dollar level set by the National Defense Authorization Act that passed both chambers earlier this month." read more at The Hill
THINK.
Passing an omnibus bill that determines government funding through next September would be an unusual move, considering that the new Congress will convene in just a few weeks on January 3rd. Outgoing members are not accountable to the voters anymore.
This bill would deprive voters of having the people they voted for decide how their tax money will be spent. A letter from several House Republicans to GOP Senators who support the omnibus bill calls it "an indefensible assault on the American people," the separation of powers, fiscal responsibility, and "basic civic decency."
Congress has until Friday to pass a government funding bill to avert a shutdown. The question is, what kind of bill? Instead of passing this massive bill, other members favor a continuing resolution–a temporary spending bill–that would continue funding until just after the new Congress is sworn in.
Senator Rand Paul lamented that the proposed omnibus bill adds one trillion dollars to our 31 trillion-dollar deficit. It also includes expensive earmarks--funding for lawmakers' pet projects back in their districts. Some of these projects promote sexual immorality and Critical Theory. It's a reminder that our money management reveals our values. (Matthew 6:21)
Regarding the National Defense Authorization Act (NDAA), it creates a budget for national defense, but Congress must pass appropriations bills in order to actually fund this budget. Notably, the NDAA removes the requirement for service members to receive the COVID-19 vaccine.
Former U.S. Representative Bob McEwen has pointed out that government is inherently wasteful because it spends money that it did not earn (so it doesn't care about the cost) for people other than itself (so it doesn't care about the quality). If virtue is not at the forefront of our elected official's minds, their main incentive to wisely steward our money is reelection. That is why we must hold our representatives and senators accountable through voting and communication with them throughout the year.
PRAY.
Heavenly Father, You are the Creator of all my possessions, and "the cattle on a thousand hills" belong to You. (Psalm 50:10) Thank You for the honor of being a steward of Your money for Your kingdom. Help my elected officials to remember that they are stewards as well. Guide them to spend our money in a way consistent with biblical values, with future generations in mind. In Jesus' name, amen.

ACT.
For an instructive visual showing our national debt, USDebtClock.org has a real-time running tally that shows just how wasteful we are. It can be a helpful addition to at-home civics lessons. To put it in perspective, when our debt was 27.9 trillion dollars last year, it was the equivalent of 28 stacks of 100-dollar bills… each one 631 miles high.
---
Supreme Court Temporarily Halts Expiration of Title 42 Border Policy
"With Title 42 set to end this week, Supreme Court Chief Justice John Roberts has issued an administrative stay, which temporarily pauses the expiration of the controversial border restriction policy. A response by the Biden administration to the temporary hold must be filed by Tuesday. Border towns across Texas have been preparing for a potential increase of migrants with the potential end of Title 42." read more at NewsNation
THINK.
Yesterday afternoon, the Biden Administration requested that the Supreme Court leave Title 42 in place until next Tuesday to give the government time to prepare.
Title 42 is a part of federal law that enables the government to forgo the asylum process and deport people more quickly to prevent the spread of contagious disease. Title 42 is not being enforced against every single illegal immigrant. According to NPR, unaccompanied children and some families are allowed to seek asylum under the Biden Administration.
Unlike a refugee, who legally enters the U.S. after applying from another country and being vetted, asylum seekers apply for asylum at the U.S. border or once they have already entered the country, many of them illegally. While they are waiting to be granted or denied asylum (based on credible fear of persecution in their home country), they live in the U.S.
Around 7,000 people illegally cross the southern border every day. That number is estimated to more than double–up to 18,000–if Title 42 is lifted. El Paso Mayor Oscar Leeser has declared a state of emergency in order to obtain more resources. Roughly 2,300 migrants are arrested or deported every day at the border near El Paso.
To the argument that Title 42 is no longer necessary, Texas Governor Greg Abbott reasoned, "Whether it's COVID or some other issue, when you have people coming across the globe without knowing at all what their health status is, that almost by definition is a public health risk. There's every reason to keep that in place."
What is a Christian biblical response? The church must submit to the governing authorities as far as the law does not compel disobedience to Christ. When considering immigration policies, our compassion can and must be guided by wisdom, as Jesus displayed both. (Luke 2:52, Matthew 14:14, Proverbs 8:12-16, 22)
The American church's response to refugees has demonstrated our willingness and ability to minister to immigrants in genuine need. A secure border and a more efficient vetting process could enable this ministry to grow without violating our laws and endangering national security.
PRAY.
Heavenly Father, give our churches and ministries great wisdom as they determine how to help people. Help our demoralized border patrol agents and everyone involved with this crisis. As in times past when our nation was in a mess of our own making, move our leaders and Your church to humbly seek Your face, turn to Your principles, and act with wisdom. We need You to make a way.

ACT.
Well Versed - Biblical Answers to Today's Tough Issues, is a book that has helped me think biblically about many policy issues, including immigration. Written by our friend, Jim Garlow, it tackles over 20 hot-button issues and applies biblical principles to each one. You can order this book on our website and keep it handy for yourself or give it as a gift to your elected official.
---
Vatican Defrocks Priests for Life Director Frank Pavone
"The Vatican has defrocked Fr. Frank Pavone, the national director of Priests for Life and a leading Catholic voice against abortion in the United States, for "blasphemous communications on social media" and disobeying his diocesan bishop. Archbishop Christophe Pierre, the apostolic nuncio to the United States, wrote a letter to U.S. bishops last week, saying Fr. Pavone had been dismissed from priesthood and there was 'no possibility of appeal,' Catholic News Agency reported." read more at The Christian Post
THINK.
The archbishop said the prefect of the Dicastery for the Clergy issued the decision on Nov. 9 over Pavone's alleged "blasphemous communications on social media and of persistent disobedience of the lawful instructions of his diocesan bishop." Father Pavone robustly responded and said, in part, "my request remains the same: let me serve the Church with a fulltime ministry on behalf of the unborn. Some call my refusal to turn away from that work 'disobedience.' I call it faithfulness."
Vocal pro-life advocate, Abby Johnson, offered this response: "The Vatican has stripped Father Frank Pavone, one of the most dedicated prolife warriors, of his priesthood. So, let's tally the score. Fr. James Martin…gay priest who supports gay 'marriage' and loads of other immoral acts - priest in good standing who continues to move up the Vatican chain of command. Fr. Frank Pavone…faithful priest who has been the director of Priests for Life for decades and has fought tirelessly for the unborn, their mothers and former abortion clinic workers - removed from the priesthood." She went on to say, "The enemy is in our churches, friends. Every faith tradition. All different congregations. All ages. All cultures. He is sly, charming, unassuming and incredibly convincing. Good will indeed look like evil and visa versa. Stay in the word. Pray constantly. Use discernment."
Some will say Pavone is too extreme. Others will respond by saying that abortion is an extremely gruesome procedure which takes the life of a baby. And that "procedure" is on the rise. According to the Guttmacher Institute, abortions increased in 32 of the 50 states in 2020.
It's why public policy matters. Missouri's last abortion facility quit doing abortions in 2020 and as a result, abortions fell by 89 percent in the Show Me State. Sadly, Maine's Medicaid program started covering elective abortions in 2020 and the number of abortions in Maine increased by 13 percent.
Concerningly, both the CDC data and the Guttmacher data show a large increase in chemical abortions. The share of all abortions that were chemical abortions increased from 39 percent to 53 percent. That means we are turning homes into abortion clinics where women are given the power to take the life of their own child. This is extreme.
PRAY.
We must commit ourselves to prayer, as we are powerless to change hearts and minds without the transforming power of the Gospel of Jesus Christ. Pray for more of us to have courage and bravery like Father Pavone, standing for life no matter the cost.

ACT.
Our friends at Alliance Defending Freedom have given Intersect readers special access to an important resource to help you be ready to have impactful conversations and dispel common myths about abortion. This guide provides a detailed look at the legal cases you need to know about, how they changed the prolife landscape what you can do to protect unborn children.
---
'He Shows Me Grace Every Day': Gov. Glenn Youngkin Leans on His Faith to Lead Virginia
"Before becoming Virginia's Governor in 2022, he spent 25 years in his dream job at the Carlyle Group, a private equity firm. Youngkin says he prayed each year that if the Lord had something else for him, he'd lead him there. One day during his prayer time, Youngkin recalls God making it clear he did, indeed, have something very different in store. "I'm forever grateful for Him calling out to me and saying, 'step out of where you're comfortable and go someplace where you're uncomfortable,'" Youngkin told CBN News." read more at Faithwire
THINK.
It's incredibly refreshing and encouraging to hear how a prominent elected official leads with faith and leans on faith. And his encouragement to others mirrors what we often talk about at My Faith Votes: be obedient to God.
Youngkin offers this advice to other believers who feel God is calling them to run for office but are hesitant to jump into the negative political landscape in our country right now. "Don't worry too much because all things are possible with Him and He calls us to be obedient. He doesn't tell us how it's going to turn out, He just calls us to be obedient and I felt from the moment that I told Suzanne 'I'm quitting my job tomorrow' this huge weight came off of me and I felt encouraged in this in every day, every moment."
Another "politician" who has been obedient to God's call is our own Honorary National Chairman, Mike Huckabee. He shared this important message as we look to celebrate the birth of our Savior this week:

One thing I love about Christmas is the carols we sing. And I think what makes them extra special is that they're not simple songs of celebration—they're really songs of victory. When we sing 'Joy to the World,' we're not just remembering the gift of God's love at Christmas; we're proclaiming the victory of the Gospel over the forces of darkness in this world. So today, I want to encourage you with a favorite of carol of mine, Henry Wadsworth Longfellow's, 'I Heard the Bells on Christmas Day.' It goes…"I heard the bells on Christmas Day. Their old familiar carols play. And wild and sweet the words repeat, 'Of peace on earth, good-will to men!' That's a moving verse. But the mood soon changes. You see, the backdrop of this carol is the American Civil War. And amidst this national tragedy, Longfellow himself had suffered extreme personal heartache—with the tragic death of his wife and the near loss of his son on the field of battle. So it's no surprise that a later verse reads…"In despair I bowed my head; 'There is no peace on earth,' I said. 'For hate is strong, and mocks the song of peace on earth, good-will to men!'" I think many us can often identify with that sort of hopelessness as we look at the state of our nation and see the biblical values that have made America great mocked in the public square. But this Christmas I want you to know that the song doesn't end there. And neither does ours. Henry Longfellow couldn't give into despair when he knew that true victory had already been won. So he wrote almost defiantly… "Then pealed the bells more loud and deep: 'God is not dead; nor doth he sleep! The wrong shall fail, the right prevail, with peace on earth, good-will to men!'" Friends like you joining us at My Faith Votes has stirred the hearts of Christians to stand united against hopelessness and influence this nation with God's truth. You're helping make a powerful difference. And the growing voice of believers at the ballot box can ring loud and clear across this nation.


PRAY.
Prayer has played an essential role in the history of our nation, from the Pilgrims to the present day. In fact, there have been defining moments throughout our history that can be traced back to the power of one person's prayer. We've highlighted four key prayers that have shaped America, adapted from our friend Robert J. Morgan's book, 100 Bible Verses That Made America. Following each of these powerful prayers, you'll find discussion questions along with a prayer guide to help you reflect and pray individually or as a small group. You can download it here.

ACT.
For nonprofit ministries like My Faith Votes, the end of the year is a critical time. It's an opportunity for believers to show your support for the causes you care about. If this weekly Intersect has been a blessing to you, would you consider giving a gift here today? It will be matched dollar for dollar and more people, like you, will be able to Think, Pray and Act on the news and be equipped to vote in every election. Your donation is tax-deductible to the fullest extent allowed by law. Thank you for reading this publication every week. I'm so grateful for you!
---
My Faith Votes—is a nonpartisan movement that motivates, equips and activates Christians in America to vote in every election, transforming our communities and influencing our nation with biblical truth. By partnering with national faith leaders, My Faith Votes provides resources to help Christians Pray, Think, and Act to create an America where God is honored in the public square.
Website | www.myfaithvotes.org Twitter | @MyFaithVotes Facebook | My Faith Votes
---
React
---
Comments
I've admired and supported Mike Huckabee for many years, but I am SO disappointed in him and have lost all confidence in him and respect for him, in that he had that two-faced traitor mike pence on his TV to hawk his book. pence held our future in his greasy hand but refused to do his sworn duty. He is a reprobate, turn-coat traitor to this country and when he refused to stand by President Trump he betrayed this beautiful country. It is MY opinion that he is the main reason we've gone through and are still going thru Hell. Our nation is being destroyed because of him and all the other cowardly RINOS whose ultimate goal was to obliterate us and completely destroy our proud history, and our future as free people. My daily prayer is Maranatha, come quickly Lord Jesus and wipe this world clean of these filthy, demonic despots, bring them to justice and help us to live in peace. Because of pence the wolf in sheep's clothing, we are shaken to the depths of our soul, broken-hearted, dismayed, depressed, drifting in confusion, and if not for the grace of God I believe we would be utterly destroyed. These are the saddest years of the 83 I have lived on this planet. I guess I really am one of the last of the Greatest Generation. God help us all.