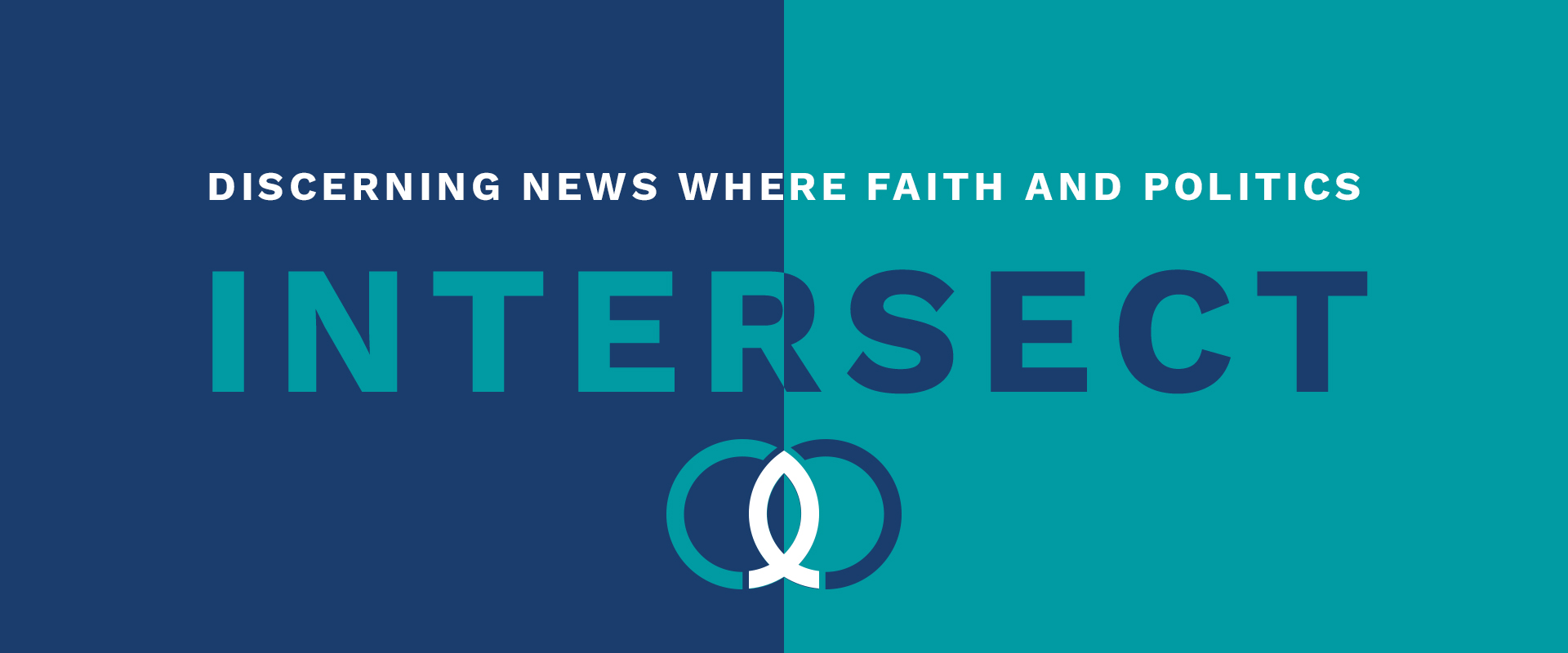 WEEKLY NEWS SUMMARY - DECEMBER 1, 2021
In this week's Intersect, read about:
---
New York City Council Expected to Pass Bill Allowing Noncitizens to Vote in Local Elections
"The City Council is moving towards allowing some noncitizens to vote in local elections. The legislation, poised to be approved by a City Council supermajority on Dec. 9, would benefit about 800,000 legal permanent residents and immigrants with work authorization. The bill requires that immigrants be residents of New York City for 30 days and otherwise eligible to vote under state law. While proponents argue that immigrants who pay taxes and contribute to the city's economy should have a say in who represents them in City Hall, opponents say that this kind of measures discourage immigrants from trying to become citizens. They also raise concerns about the legality of the bill, saying that voting reforms should be implemented at the state level. Those who are against the legislation also argue that it would be hard to implement, since the New York City Board of Elections would have to issue modified ballots and voter registration forms for noncitizen New Yorkers." read more at Spectrum News
THINK.
Known as Intro 1867, the bill would allow noncitizens including anyone "authorized to work in the United States" who may be on brief stays in New York to vote in local elections. There are about 808,000 immigrants with permanent legal status in the five NYC boroughs, according to Mayor de Blasio's Office of Immigrant Affairs. Under the bill, they will be allowed to vote for mayor, comptroller, Council, and other city-level positions. The legislation does not extend the right to vote for federal or state offices including the U.S. president, a member of U.S. Congress and governor. New York City would become the largest municipality in the country to allow legal residents to vote if the legislation is approved, as expected. An email from Reverend Rubén Díaz, New York City councilman from the Bronx and lifelong Democrat and former state senator stated, "This is a dangerous and misguided effort being made by some elected officials to overlook the law which offers citizens—not noncitizens—in New York City, the right to vote...New York City, which is home to both the United Nations and Wall Street, could easily be taken over by any group of noncitizens who live here for 30 days and vote for the leader of their choice. Why would we ever make ourselves vulnerable to this kind of possible threat?" In 1996, Congress passed a law prohibiting noncitizens from voting in federal elections, such as the U.S. House, U.S. Senate, and presidential elections. The federal law did not address state or local elections. According to Ballotpedia, "as of March 2020, two state constitutions specified that noncitizens may not vote in state and local elections: AZ and ND. Fourteen municipalities across the country allowed noncitizens to vote in local elections as of June 2021. Eleven were located in Maryland, two were located in Vermont, and the other was San Francisco, California." Interestingly, all 50 state constitutions mention United States citizenship when discussing who can vote in that state's elections. In response to the NYC bill, the New York Post editorial board wrote, "Citizenship should mean something, and the right to vote is a big part of it. And while most Americans are born citizens, an immigrant's affirmative decision to become a citizen is a vital acceptance of duties as well as privileges...We'll cheer any city leader who encourages immigrants to become citizens in order to participate in elections. But, please, don't devalue US citizenship out of sheer partisan pique."
PRAY.
Voting requires an educated electorate who will examine the issues and the candidates and vote in a way that is best for the community, state, and nation, not just their own well-being. Much prayer is needed for this critical process. Pray today for voters in the United States, that wisdom will be sought from God (James 1:5), and discernment between truth and falsehood will be clear. As Scripture says, "Righteousness exalts a nation, but sin is a disgrace to any people" (Proverbs 14:34). The selection of elected officials who understand and lead according to God's righteous standards can bring great blessing to a nation.
ACT.
My Faith Votes was founded because 1 in 3 Christians does not vote consistently. Our faith should influence every aspect of our lives, including the voting booth. But we must show up to vote. Would you consider partnering financially and prayerfully with our mission today? You can help equip and motivate Christians to vote in every election here.
---
Roe v. Wade Hangs in Balance as Reshaped Court Prepares to Hear Biggest Abortion Case in Decades
"When he ran for president in 2016, then-candidate Donald Trump promised to nominate Supreme Court justices who would vote to end the constitutional right to an abortion. During his four years in office, Trump placed three justices – Neil Gorsuch, Brett Kavanaugh, and Amy Coney Barrett – on the court, cementing a 6-3 conservative majority. With that majority in place, conservatives hope, and liberals fear, that the court will renounce nearly five decades of abortion jurisprudence and overturn the landmark rulings of Roe v. Wade and Planned Parenthood v. Casey. In Dobbs v. Jackson Women's Health Organization, which is scheduled for oral argument on Wednesday, the justices have been asked to do just that. If the court were to overturn Roe and Casey, access to abortion in America would shrink dramatically and immediately. Twenty-one states have laws in place that would ban all or nearly all abortions if Roe and Casey fell. And even if the court does not formally overturn Roe and Casey, a decision weakening those precedents would permit new abortion restrictions, perhaps including bans on some early-stage abortions." read more at SCOTUS blog
THINK.
Today, Capitol Hill police expect up to 20,000 protestors, a historic turnout of both pro-life and pro-abortion advocacy that will likely result in one of the largest crowds ever seen for any Supreme Court demonstration. Inside the courtroom, oral arguments will center around two words: stare decisis, a Latin term that means "to stand by things decided" --in this case, Roe and Casey are the previous decisions. Stare decisis is not a binding rule, and in fact, the Supreme Court has overruled over 300 of its past decisions. Erin Hawley explains, "The American legal system is one of positive or written law. Whereas the common-law courts of England discerned legal principles in the first instance, the role of U.S. federal courts is limited to faithfully interpreting the Constitution and democratically enacted federal law. As Justice Thomas has explained, stare decisis fits uneasily within this system of positive law. The justices swear to uphold and defend the Constitution of the United States, not previous judicial interpretations of that document." Since 1973, our knowledge of unborn life has progressed. In Roe, the Court was told that "in early pregnancy...embryonic development has scarcely begun." Fifty years of scientific progress demolishes that assessment. By just fifteen weeks, an unborn baby has a heartbeat, her internal organs are functioning, and she can move, yawn, and hiccup. A growing scientific consensus suggests that she may be able to feel pain as early as twelve weeks. Peruse media publications regarding the court's ruling on abortion and you'll frequently see the term "constitutional right to an abortion," as seen in the above headline story. But the right to an abortion is found nowhere in constitutional text, structure, or history. Instead, Roe v. Wade uses a pregnant woman's a constitutional right of privacy as justification to decide whether or not to abort her child either "in the Fourteenth Amendment's concept of personal liberty..., as we feel it is, or…in the Ninth Amendment's reservation of rights to the people." The Supreme Court last month appeared to signal that it would move quickly on a decision when it fast-tracked a Texas abortion case to oral arguments. But more than three weeks later, the justices have yet to release their ruling. Regarding the case being heard today, a decision is not expected until early summer. John Wesley Reid has a helpful assessment of the case and how the justices are likely to rule here.
PRAY.
Pray for the justices as they hear the case and make their decision. Pray for all of those who work tirelessly in all areas of the pro-life movement to have courage, wisdom, influence, and opportunity. Pray for God to raise up an army of more workers who are not afraid to stand for life and be a voice for the preborn. Pray for unity, that the world will know that we are sent by Christ. Let our love for one another prove that we are disciples of Christ. We pray against all division and dissension among us right now. Pray for protection from the enemy who seeks to kill, steal and destroy. (See verses Matthew 9:37-38; James 2:14-17; 1 Corinthians 15:5)
ACT.
The opportunities to stand for the sanctity of life are endless. We created a unique site with easily accessible ideas and tangible ways you can take action at My Faith Cares. Choose one item and put your faith into action today.
---
HHS Revokes Religious Exemption Waivers for Faith-based Foster Care Providers in 3 States
"The Biden administration is revoking Trump-era waivers from federal nondiscrimination law granted to faith-based foster care providers in three states, drawing pushback from Christian conservatives and praise from progressives. In a statement Thursday, the U.S. Department of Health and Human Services announced that it would rescind waivers granted to faith-based child welfare agencies in Michigan, South Carolina and Texas that contract with the federal government. The waivers exempted those organizations from nondiscrimination requirements imposed on recipients of federal grants mandating that "no person otherwise eligible will be excluded from participation in, denied the benefits of, or subjected to discrimination in the administration of HHS programs and services." read more at the Christian Post
THINK.
The faith-based foster care and adoption agencies in these three states could not in good conscience place children with same-sex couples. To continue contracting with the federal government to serve children, therefore, they were exempted from the federal nondiscrimination requirements. Now, the HHS Department is calling those waivers "inappropriate." Notably, the department is still claiming to uphold religious liberty. In fact, they believe rescinding these exemptions is "restoring proper application of RFRA [Religious Freedom Restoration Act]." Many public officials (and political candidates) state their commitment to religious liberty. However, what some really mean by liberty is the freedom to only practice the tenets of your faith that do not go against cultural beliefs. Simply living according to biblical, historic Christian teaching regarding human sexuality is increasingly seen as not just unfavorable, but dangerous to others. The logical consequence of this mindset is seen in the case of two Christians in Finland. A member of the Finnish Parliament, Paivi Rasanen, and a Lutheran pastor, Juhana Pohjola, will be brought to trial on January 24 for communicating the Bible's teaching on sexuality. Rasanen wrote a pamphlet regarding church teaching on sexuality, which Pohjola published. They are noted as probably the first people to be criminally charged for holding to a basic Christian teaching in the post-Soviet Union West. Note the wording used by the by Prosecutor General: "The statements violate the equality and dignity of homosexuals, so they transcend the boundaries of freedom of speech and religion." When our belief in God's Word casts us as hurtful, harmful people, holding to that belief requires more courage. It will also require sacrifice, like Washington state florist Barronelle Stutzman, who endured a legal struggle for nearly a decade because she declined to create custom flower arrangements for a same-sex marriage ceremony. After the Supreme Court rejected her petition, Stutzman's case ended in a settlement earlier this month. "I wish the culmination of all that I've been through could result in a new respect, culturally and legally, for freedom of conscience in our country. From the beginning, I have asked no more than the freedom to act in accordance with my religious beliefs and personal convictions," she writes in a stirring public letter. These recent events underscore the need for Christians who will not only uphold God's Word but defend the freedom to do so.
PRAY.
As you pray for those who are enduring lawsuits for their faith, pray that God will give you courage to do the same if the occasion arises. Let Pastor Pohjola's words encourage you as you pray. "Christ remains faithful to His church and wherever He is leading us, He will come with us. He will provide everything that is needed for the future of His Christians and His church." Praise Him for that!
ACT.
Jack Phillips is the Christian baker from Colorado who could not create a custom-made wedding cake to celebrate a marriage between two men because of his sincerely held religious beliefs. Because of that decision, he has faced almost a decade of vitriol and countless legal proceedings. And while he won his case at the Supreme Court in 2018, another lawsuit was brought on by a transgender activist. Watch our in-depth conversation with Jack here.
---
Taiwan Sends Jets After 27 Chinese Planes Enter Buffer Zone
"Taiwan said 27 Chinese aircraft entered its air defense buffer zone on Sunday, the latest in a long series of incursions as part of Beijing's pressure on the self-ruled island. The Defense Ministry said Taiwan scrambled combat aircraft to 'warn' the Chinese planes to leave. It also deployed missile systems to monitor them. Sunday's incursion included 18 fighter jets and five H-6 bombers, as well as a Y-20 aerial refueling aircraft, according to Taiwan's Defense Ministry. The Chinese aircraft flew into Taiwan's air defense identification zone near the southern part of the island and out into the Pacific Ocean before returning to China, according to a map by Taiwan authorities. Over the past year, the frequency of Chinese incursions has increased, with about 150 aircraft over a period of four days." read more at USA Today
THINK.
China is hoping to seize Taiwan without a fight, according to a new report published by Taiwan's Ministry of National Defense. The CCP hopes "to demoralize adversaries and influence foreign and domestic public opinion during conflicts." A Department of Defense report noted that China's psychological warfare "uses propaganda, deception, threats, and coercion to affect the adversary's decision making, while also countering adversary psychological operations." Tensions between China and Taiwan are at their highest in 40 years. Why does China want to invade Taiwan? The Kuomintang (Chinese Nationalist Party) left China when Mao Zedong's communist forces took control of China in 1949. They fled to an island off mainland China and formed what they called the Republic of China—now commonly called Taiwan. To this day, Taiwan has maintained that it is an independent nation. However, China views the island as a breakaway province, and there are fears China is planning to use force to fully reunify it with mainland China. Though Taiwan is a relatively small island, it is home to the world's leading semiconductor technology and a major part of the global supply chain, and it is in a geographically strategic position. Chinese President Xi Jinping recently denounced the "separatism" of Taiwan and has previously said China would "smash" any attempts of Taiwan to declare independence. But Taiwanese President Tsai Ing-wen has said Taiwan would not bow to China's pressure. It seems like a classic David and Goliath story and may remind some of the Cold War. Tsai certainly frames the conflict that way in her language. In October she stated, "Free and democratic countries around the world have been alerted to the expansion of authoritarianism, with Taiwan standing on democracy's first line of defense." While China is threatening Taiwan they are also working with North Korea to persecute Christians. A new report found that Chinese officials are working with the North Koreans to identify Christians. If Christians in North Korea participated in Christian activities in China, the CCP will put a stamp on their files and North Korean leaders will punish them accordingly. The North Korean regime's goal is to make it impossible to be a Christian. The Ministry of State Security searches out perceived domestic threats to its power and since the regime considers Christianity to be a domestic threat, holding Christian beliefs is a political crime, and agents seek out and arrest anyone suspected of having such beliefs.
PRAY.
Pastor Bruce Ho, who serves as a pastor in Taipei, said, "The current unpredictable tensions in the China-Taiwan situation are a reminder to us that we must 'make the most of every opportunity, because the days are evil.' This is true for all of us, but situations like this make us more aware of that truth. More importantly, we remember that 'there is no authority except from God, and those that exist have been instituted by God,' so whatever happens, God is in control, and we have a crucial assignment to preach the gospel and make disciples. We covet your zealous prayers that we may do so boldly and effectively!"
ACT.
Praise God that the Gospel message is alive and well throughout the world, despite conflicts, war, and persecution. Is it alive in your own heart? Beginning today, December 1st, read one chapter of Luke each day through December 24th. There are 24 chapters in the book of Luke and by Christmas Eve, you will have read all 24 chapters – an entire account of the birth, ministry, sacrifice on the cross, and resurrection of Jesus. You will wake up on Christmas day knowing who and why we celebrate! We'll be reading a chapter each night on our Facebook page.
---
My Faith Votes—is a nonpartisan movement that motivates, equips and activates Christians in America to vote in every election, transforming our communities and influencing our nation with biblical truth. By partnering with national faith leaders, My Faith Votes provides resources to help Christians Pray, Think, and Act to create an America where God is honored in the public square.
Website | www.myfaithvotes.org Twitter | @MyFaithVotes Facebook | My Faith Votes
---
React
---
Comments