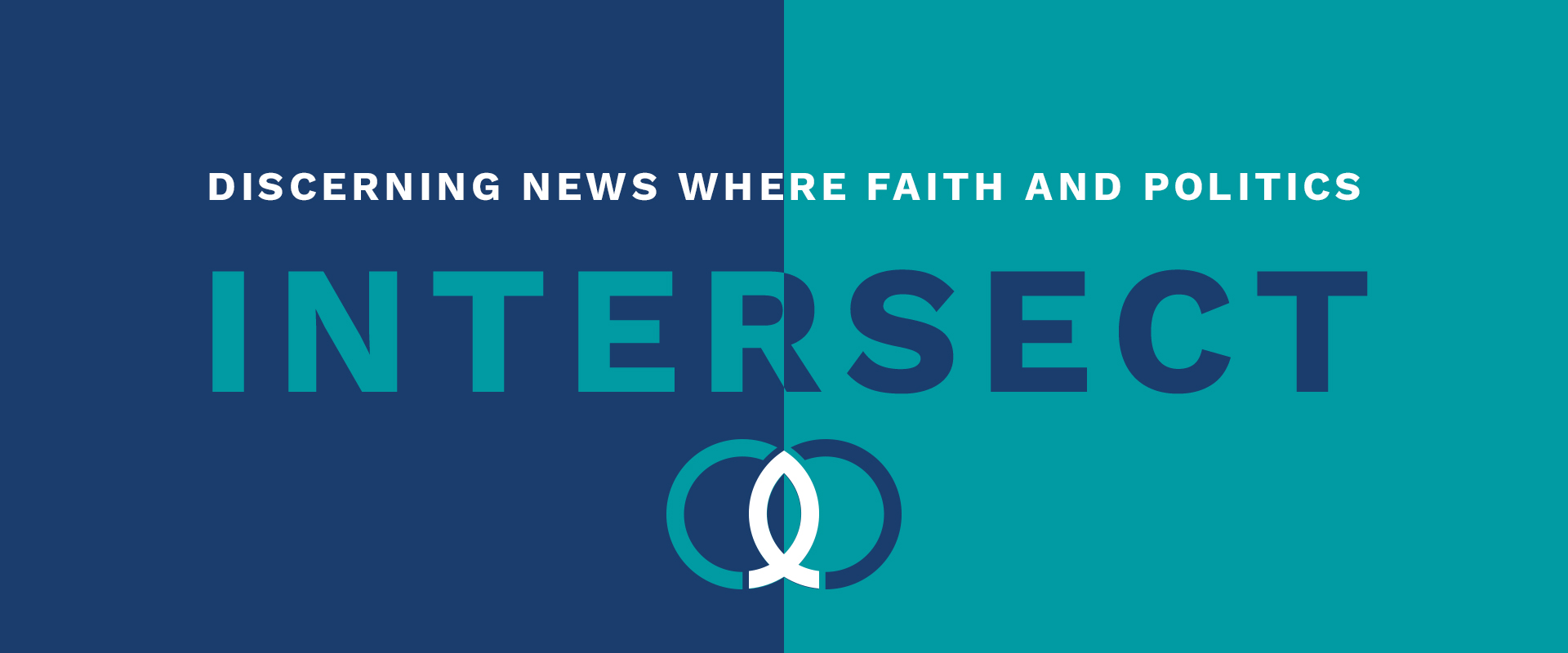 WEEKLY NEWS SUMMARY - MAY 13, 2020
In this week's Intersect, read about:
---
'Ridiculous': States Tell Supreme Court to Force Nuns to Violate Their 'God-Given Right of Conscience
More than ten years after it became law, the Affordable Care Act is back before the U.S. Supreme Court, pitting birth control funding against religious liberty. Last week's hearing at the high court was all about forcing nuns to violate their religious beliefs. The coronavirus may have forced the U.S. Supreme Court to hold its hearings by phone, but that meant this critical religious liberty case could be attended by Justice Ruth Bader Ginsburg from her hospital bed. The case is Little Sisters of the Poor v. Pennsylvania, and the issue has come back around again because states are insisting that the federal government should make a group of nuns abide by the Obamacare contraceptive mandate. From her hospital room, Justice Ginsburg insisted the Little Sisters of the Poor should not be exempted from providing abortion-causing contraceptives to female employees on their healthcare plan. She told U.S. Solicitor General Noel Francisco, "You have just tossed entirely to the wind what Congress thought was essential, that is that women be provided these services with no hassle, no cost to them." But the Little Sisters' attorney Paul Clement argued the nuns would never buckle, meaning they could face fines of somewhere between $60 and $70 million a year for not complying – a heavy penalty for practicing their religious freedom. Clement stated, "When the government imposes a burden on religion by telling the Little Sisters that they have to comply with the mandate or else when the 'or else' is massive penalties, that plainly provides a substantial burden on religious exercise." read more
THINK.
After the hearing, one of the nuns, Sister Loraine Marie Maguire, profoundly stated, "We could not comply with the mandate. To do so would undermine our most important belief, that all life is valuable. We cannot hold the hands of the elderly dying while at the same time facilitating the ending of unborn life." She added that the astronomical fines "would have crippled our ministry." One of the most significant ways Christians demonstrate the relevance of our faith to the culture is through service and charity work. To be stripped of that ability would not only constitute a gross violation of the First Amendment, but it would tragically cut off a significant way to fulfill Jesus' command to be salt and light. Several faith leaders expressed support for the Little Sisters during their oral arguments, including Cissie Graham Lynch of Samaritan's Purse, who skyped in to pray during their virtual rally. In other religious liberty news, Army Chaplain Moon Kim has come under fire for sending a PDF of John Piper's book, "Coronavirus and Christ," in an email to 35 other chaplains last month. "This book has helped me refocus my sacred calling to my savior Jesus Christ to finish strong. Hopefully, this small booklet would help you and your Soldiers, their Families, and others who you serve", he wrote. Mikey Weinstein, President of the Military Religious Freedom Foundation, a group that often objects to perceived violations of "separation of church and state" in the military, demanded that Kim "be officially, swiftly, aggressively, and visibly investigated and disciplined in punishment for his deplorable actions." However, First Liberty Institute, the nation's largest religious freedom legal organization, stated, "If the Army gives in to Mikey Weinstein's demands, it will be violating the Constitution and federal law." They also stated that they would gladly represent Chaplain Kim if he is disciplined.
PRAY.
Pray that the Supreme Court will rule in favor of the Little Sisters. Pray for them to be able to continue their ministry, meeting the needs of so many who are suffering. Pray also that Chaplain Kim will stay strong in his convictions, and that he will not be punished for simply doing his job.
ACT.
We encourage you to use our prayer guide to pray for our elected officials at the federal level, including the SCOTUS justices and the judges in the federal judiciary and in your state.
---
Huge Group of California Churches Announces Plan to Defy Governor Newsom's Order
An evangelical church network in California will ignore Democratic Gov. Gavin Newsom's executive prohibitions this month, opening sanctuary doors for communal worship despite the ongoing coronavirus pandemic. According to Fox News, California Church United, representing roughly 3,000 churches and 2.5 million congregants statewide, announced Thursday that it would return to conducting in-person services by Pentecost on May 31 rather than await the third phase of planned societal reopening. Newsom, the first governor to introduce a statewide executive stay-at-home order, finally pushed California into Phase 2 of its reopening effort on Friday, allowing retailers to recommence on-site sales under substantial health and capacity restrictions. Newsom did not, however, definitively indicate when the "Phase 3" reintroduction of public dining and in-person church services might come — and that left local church leaders unwilling to cooperate. "Our churches are part of the answer, not part of the problem," Water of Life Community Church senior pastor Danny Carroll said. "We're an essential part of this whole journey, and we've been bypassed … kicked to the curb and deemed nonessential." read more
THINK.
A federal judge upheld Gov. Newsom's ban on churches assembling last week. The judge stated, "This Court finds the State and County stay at home orders being challenged here bear a real and substantial relation to public health." Mat Staver, President of the religious freedom law firm Liberty Counsel, stated, "I don't think any of these restrictions on churches – and we've reviewed thousands – are constitutional." Staver continued, "They can't direct them to have online service or prohibit a drive-in service while people are in Walmart...that kind of unequal treatment is exactly what Attorney General Barr is speaking against." California Church United has organized a petition to urge Governor Newsom to deem churches essential. You can read more about it here. More than 1,200 churches in California will be reopening on the Day of Pentecost, May 31. This day is known as the birthday of the Christian church. This year will be the 1,990th anniversary of the original Day of Pentecost that occurred in the year A.D. 30. Hebrews 10:24-25 says, "And let us consider how we may spur one another on toward love and good deeds, not giving up meeting together, as some are in the habit of doing, but encouraging one another—and all the more as you see the Day approaching." About 400 churches in North Carolina are also considering suing their Governor, Roy Cooper, over his stay-at-home order. State Representative Kidwell is organizing the lawsuit. Rep. Kidwell stated, "The big-box stores are allowed to remain open, and it looks like it's Christmastime in most of them, yet churches are not allowed to open even though they've been declared essential businesses."
PRAY.
Pray for the California churches planning to open on May 31. Pray for the pastors and church leaders to have wisdom as they open and for the services to be peaceful. Pray for the pastors in North Carolina and other states across the nation. Pray for elected leaders to have a change of heart and to deem churches essential.
ACT.
Liberty Counsel has launched a ReOpen Church Campaign providing churches with worship and safety measures and legal resources outlining churches' rights during this time. Take a few minutes to check out this resource, ReOpenChurch.org, and consider sending it to your pastor or church leadership.
---
Christian Leaders Respond to Disturbing Video of Ahmaud Arbery Shooting
The release of video footage portraying the fatal shooting of 25-year-old Georgia native Ahmaud Arbery in February has sparked intense scrutiny and has drawn calls for prayer and investigation from numerous Christian leaders. Arbery, who was black, was pursued on February 23 by two white men in a truck, Gregory McMichael and his son, Travis. The elder McMichael said there had been a series of break-ins in his neighborhood around the time he saw Arbery, whose family said he routinely jogged in the area. Gregory McMichael, a former Glynn County police officer, and retired investigator with the local district attorney's office, said he was standing in his front yard when he saw Arbery running down the street. He ran inside his home to tell his son he'd spotted Arbery. The two men grabbed their firearms, piled into a truck and chased the 25-year-old man "in an attempt to intercept him," according to a police report obtained by The New York Times. The duo tried to "cut off" Arbery, but he ran the other direction. They tried apprehending him once more from a different direction, at which point they shot Arbery dead. Gregory McMichael told police Arbery "began to violently attack Travis," who then began fighting with the man before his son fired his gun twice. S. Lee Merritt, the attorney representing Arbery's mother, released the footage of the deadly encounter last week, claiming the video shows Arbery was targeted "solely because of his race" and "murdered … without justification." District Attorney George Barnhill has argued the McMichaels acted lawfully in their pursuit of Arbery and that Travis McMichael was acting in self-defense, noting prior records showed Arbery had an "aggressive nature." read more
THINK.
District Attorney George Barnhill has since recused himself from the case because his son had previously worked with Greg McMichael. The McMichaels were arrested last Thursday and charged with murder and aggravated assault. Georgia Governor Brian Kemp posted a tweet writing, "Georgians deserve answers. State law enforcement stands ready to ensure justice is served." Numerous faith leaders, including Priscilla Shirer, J.D. Greear, and Russell Moore, also expressed their dismay at the incident and called for justice to be served. David French, a former writer for National Review, published an extensive op-ed on the incident. He believes that the Georgia citizen's arrest law does not give grounds for the McMichaels to aggressively pursue an unarmed man based on their conclusion that he was a robber. Former Republican congressman Trey Gowdy also weighed in on Fox News, saying, "We need a justice system people can have confidence in, regardless of color...I think what people of color want to know is, 'Where is the justice before it's on video?" Gowdy continued. "Because most of this stuff is not on video." In an insightful podcast, conservative evangelical millennial Allie Beth Stuckey reminds Christians to follow the command given in Micah 6:8 "What does the LORD require of you but to do justice, to love kindness, and to walk humbly with your God?" In keeping with humility, she advised that if we choose to post about this on social media, we should make sure our motive is sincere and that we are doing it because we truly care, not because we simply want to look caring. As for justice, the Bible gives clear principles in Leviticus 19:15: "You shall do no injustice in court. You shall not be partial to the poor or defer to the great, but in righteousness shall you judge your neighbor." We must pray for wisdom for the justices as they weigh the evidence.
PRAY.
Pray for God to give comfort to Ahmaud Arbery's parents, Marcus and Wanda, as they grieve. Pray for wisdom for all who are involved in the case, and pray earnestly for justice to be done and for healing and racial reconciliation.
ACT.
We encourage you to take a few minutes to read our friend, Dr. Jim Denison's thought-provoking article, The Shooting of Ahmaud Arbery: Eradicating the Virus of Racism.
---
Biden Tells LGBT Group He Will Appoint 'Pro-Equality Judges' and 'Reverse Trump's Actions'
Former Vice President Joe Biden told the nation's largest LGBT advocacy group last week that he will appoint "pro-equality judges" to the federal judiciary and will make it a "top priority" to pass the Equality Act if elected president. Biden, the presumptive Democratic nominee, made the comments to Human Rights Campaign President Alphonso David during a live stream the same day HRC officially endorsed him. "I'm going to make passing the Equality Act a top priority my first 100 days, because it's about who we are," Biden said. Biden further said he would "reverse Trump's actions" and will reinstate anti-discrimination measures he says President Trump has "shredded." Among them, Biden pledged to let transgender service members serve openly in the military, prohibit discrimination against transgender people in federally funded homeless shelters, and "stop schools from discriminating against LGBTQ students." The Equality Act, he said, "makes clear that existing civil rights law banned discrimination based on gender and sexual orientation." The Equality Act would amend federal laws to prohibit discrimination based on sexual orientation and gender identity in public accommodations and facilities, education, federal funding, employment, and housing. read more
THINK.
Kristen Waggoner, Senior Vice President of Alliance Defending Freedom (ADF), stated that the Equality Act "would undermine women's equality and force women and girls to share private, intimate spaces with men who identify as female" and deny "women fair competition in sports." In addition, she said it would "force Americans to participate in events and speak messages that violate their core beliefs." ADF is currently representing Jack Phillips, the Colorado cake artist who was sued for declining to create a custom same-sex wedding cake and a "gender transition" cake. His case is similar to many across the country, and more Christians will certainly face similar situations if the Equality Act is ever passed. This is why it is critical for us to be informed and vote not only in the Presidential election, but also vote for our U.S. Representatives and Senators, and communicate to them the harm this bill would inflict. Another key component to protecting our religious liberty is having judges who correctly apply the Constitution, rather than interpret it according to current cultural norms. Yet Biden has promised to appoint "pro-equality judges," and it should be noted that he publicly supported same-sex marriage, even before President Obama. Exodus 18:21 provides qualifications for good judges: "Look for able men...who fear God, who are trustworthy and hate a bribe." If those are the kind of judges we hope to see in our country, we must urge our fellow Christians to vote this November.
PRAY.
Let's pray that many Christians will realize the significance their vote has in deciding how much freedom we have to live out our faith. Pray for a movement of new Christian voters this November.
ACT.
We'd like to challenge you to use our Spread the Word page to send our personal voting assistant tool to 10 people, you know. Remind them of the freedoms that hang in the balance of this election!
---
My Faith Votes—is a nonpartisan movement that motivates, equips and activates Christians in America to vote in every election, transforming our communities and influencing our nation with biblical truth. By partnering with national faith leaders, My Faith Votes provides resources to help Christians Pray, Think, and Act to create an America where God is honored in the public square.
Website | www.myfaithvotes.org Twitter | @MyFaithVotes Facebook | My Faith Votes
---
React
---
Comments