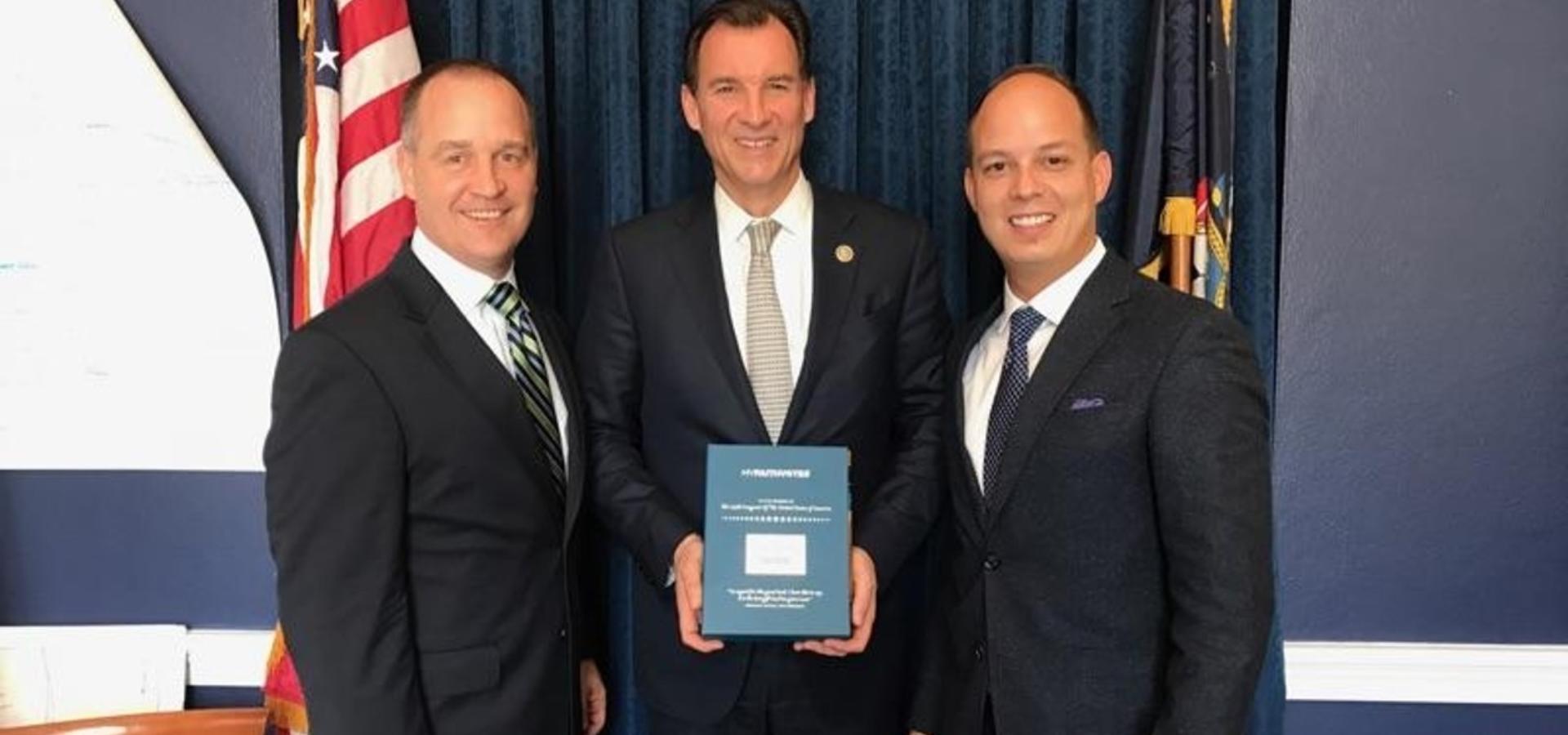 We Went to Congress to Deliver a Letter, but God Had Us There to Pray
**FOR IMMEDIATE RELEASE** April 22, 2017
CONTACT: The KAIROS Company for My Faith Votes | MediaInquiries@theKcompany.co
WE WENT TO CONGRESS TO DELIVER A LETTER, BUT GOD HAD US THERE TO PRAY
This April, My Faith Votes traveled to Congress to personally give Bibles and deliver a letter, which more than 20,000 of you signed.
We wanted to communicate to our lawmakers that to us, as Christians, the Bible is the most important book, and that governing according to it is our first and highest desire. Religious freedom, the sanctity of human life, the defense of the role of family in society, and care for those in need are all Christian principles we want our lawmakers to support.
I had high hopes for this outreach, but I have to tell you it exceeded all my expectations. Let me share with you a few stories.
We were in the office of a Congressman from Louisiana. He felt God had led him to run for office—though, at first glance, you would have thought otherwise. He was running against a sitting attorney general, and his campaign was outspent 27-to-1 in advertising. But God was with him, and he ended up winning by a 12-point margin. Remembering this incredible turn of events, he turned and asked us to pray for him that God would bless him with wisdom—which is just the kind of prayer our God delights to answer. And so we found ourselves on our knees, in the secret space of an office in Capitol Hill, praying.
Another Congressman from Texas told me, "I don't take every meeting, but when I saw My Faith Votes on my schedule, I knew it was a God-thing for this day." In fact, the day before, he and his chief of staff had been praying, and God laid on their hearts to call other members of Congress to seek God's wisdom above all things. The Congressman shared with us a letter he composed to his fellow congressmen, asking them to join him in seeking God in prayer, and then, without need to say a word, we were on our knees again, praying in the intimacy of his office.
We soon realized that being on our knees was going to become the theme of the day.
We prayed with representatives from both parties, and with believers and nonbelievers alike. We prayed in their offices, with their staff, and we asked above all that these men and women might know and love God.
At the end of the day I found myself struck by God's power and knowledge: we had set out to do our work of advocacy, but we found God was already at work in their hearts. We thought we were there to tell Congress what are the most important issues for Christians in our nation, but God had us there to pray.
On the morning the Senate confirmed Neil Gorsuch to the Supreme Court, we gathered with a team of prayer warriors at the American Center for Prayer and Revival. Their office is across from the Supreme Court, near the Capitol, and every day they are rallying people to pray for our country and our leaders. There's no doubt in my mind that God is listening to us, and that our prayers and our work are having a direct impact on our nation's capital.
Thank you for your faithful support and your prayers, and for signing the letter we delivered to Congress. You are making a difference!
Jason Yates
Chief Executive Officer
My Faith Votes

###
My Faith Votes—is a nonpartisan movement that motivates, equips and activates Christians in America to vote in every election, transforming our communities and influencing our nation with biblical truth. By partnering with national faith leaders, My Faith Votes provides resources to help Christians Pray, Think, and Act to create an America where God is honored in the public square.
Website | www.myfaithvotes.org Twitter | @MyFaithVotes Facebook | My Faith Votes
---
React
---
Comments