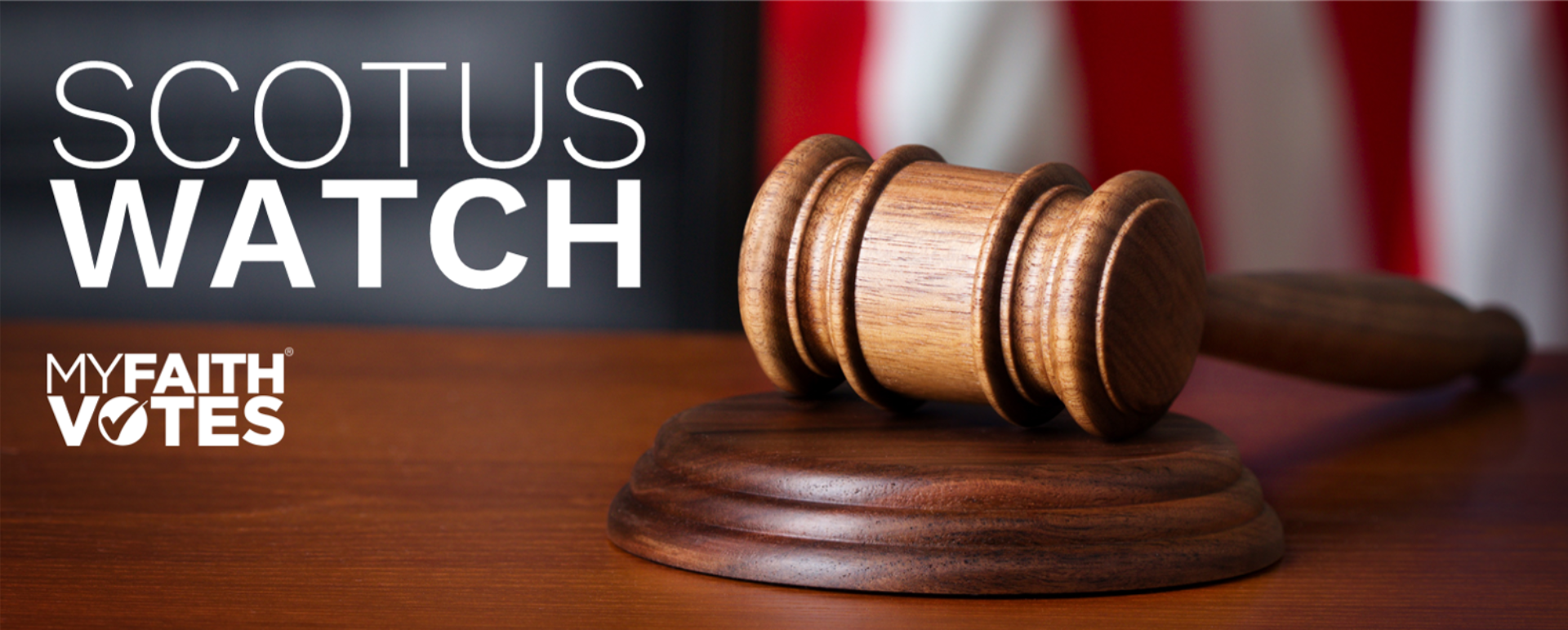 SCOTUS Watch | Oct 25, 2019
The Supreme Court's 2019-2020 session began earlier this month on October 7, 2019, and they will hear a total of 14 cases this month.
It's interesting to note, the Supreme Court receives around 7,000 petitions or more every year and agrees to review roughly 60-70 cases each session. So far this term, the justices have announced 42 cases they plan to review, and they will likely announce another 20 or so cases over the coming months.
The nation should be paying close attention to this term as the Supreme Court considers pivotal issues including gun rights, abortion, sexual orientation and gender identity, and funding of religious school choice efforts, to name a few.
Experts across the nation have described this session, in particular, as monumental for religious freedom with more than a dozen cases focused on the First Amendment alone. Since Justice Kavanaugh and Justice Gorsuch hold a seat on the bench, it's believed religious freedom could be restored to new levels in America.
"We may be well on our way to more religious freedom than many of us have known in our lifetime. The vision of religious freedom imagined by our Founders and enshrined in our Constitution may soon be restored in America."
Kelly Shackelford, President of First Liberty
Here are three cases this month that are worth noting:
R.G. & G.R. Harris Funeral Homes, Inc. v. Equal Employment Opportunity Commission
Bostock v. Clayton City. and GA Altitude Express, Inc. v. Zarda
Kahler v. Kansas
R.G. & G.R. Harris Funeral Homes, Inc. v. Equal Employment Opportunity Commission
In 2013, a 58-year-old biological male funeral director informed his workplace, a Christian funeral home, of his plans to transition from a man to a woman. He would begin by dressing like a woman and changing his name to be called Aimee Stephens. The Christian company had concerns over which bathroom Stephens would use and that he would no longer comply with the company dress code. Overall they were concerned that his transition could be disruptive to grieving clients who came to the Christian funeral home. Because of these reasons, the company fired Stephens and offered him a severance package, which he refused. Stephens then filed a complaint with the Equal Employment Opportunity Commission (EEOC). The EEOC filed a suit against Harris Funeral Homes claiming they violated Title VII of the Civil Rights Act of 1964 by firing Stephens because of his sexual orientation. The U.S. Sixth Circuit Court of Appeals held that the Harris Funeral Home violated Title VII's ban on sex discrimination because it fired Stephens on the basis of his transgender status.
The Supreme Court's ruling on this case will reveal if they believe Congress makes law and the court interprets it or if they think the court can update the language of the law to encompass a broader meaning. This would be the case if they included gender identity, along with sex discrimination in Title VII. During the Obama Administration, the EEOC began interpreting Title VII to include sexual orientation and gender identity, even though it is not included as a protected class under Title VII. In addition, the Supreme Court's decision will prove important for religious freedom because it will either prohibit or permit Christian companies and organizations from hiring and firing according to their sincerely held religious beliefs.

Bostock v. Clayton City and GA Altitude Express, Inc. v. Zarda
These two cases, Bostock v. Clayton City and GA Altitude Express, Inc. v. Zarda were argued in tangent with one another before the Supreme Court earlier this month. Both cases challenge the Civil Rights Act of 1964 because the act does not include gender identity or sexual orientation.
In Bostock v. Clayton City, a gay man named Geral Bostock claimed that during his employment with Clayton County, Georgia, he was discriminated against because of his sexual orientation. He argued he was audited because of his sexual orientation and eventually fired after his employer discovered that he played in a gay softball league. However, Clayton County says Bostock was fired for mismanaging public funds uncovered during an audit. The Eleventh Circuit Court ruled in favor of Clayton City.
In GA Altitude Express, Inc. v. Zarda, Donald Zarda, a gay skydiving instructor, claimed he was wrongfully terminated because of his sexual orientation. However, his employer, Altitude Express, says he was fired because he shared inappropriate information about his personal life with clients making them uncomfortable. In addition, a woman complained to the employer that Zarda touched her inappropriately. Zarda passed away in 2014, but his estate has continued to litigate the case. The Second Circuit Court ruled in favor of Zarda, but Altitude Express argues Title VII does not recognize claims of discrimination based on sexual orientation.
The central question in all of these cases: Does Title VII prohibit discrimination on the basis of gender identity? Oral arguments for these cases were heard on October 8, 2019.
Kahler v. Kansas
In the case of Kahler v. Kansas, the Supreme Court will decide whether the Constitution prohibits states from abolishing the insanity defense. James Kahler was charged with first-degree murder after shooting and killing his estranged wife, two daughters, and grandmother on the Saturday after Thanksgiving in 2009. His defense counsel argued because of job loss and severe depression, he was unable to form the intent and premeditation necessary to be charged with premeditated capital murder. The state's forensic psychiatrist arrived at a different conclusion. The psychiatrist argued he did have the capacity to form intent and premeditation, supported by the fact that he planned the shooting and choose not to kill his son, who was also present. Kahler was convicted and sentenced to death, and the ruling was affirmed by the Kansas Supreme Court.
At the Supreme Court, Kahler argued that the state of Kansas violated the Constitution, both the Fourteenth Amendment of due process and the Eighth Amendment of prohibiting cruel and unusual punishment because Kansas abolished the insanity defense. The state of Kansas argued that it had changed the insanity defense but not eliminated it and believes that it is at the discretion of the states to decide which affirmative defenses to allow.
The central question in this case: Do the Fourteenth and Eighth Amendments of the Constitution allow a state to abolish the insanity defense? Oral arguments for this case were heard on October 7, 2019.
Christians need to keep a close watch on the Supreme Court as it hears cases involving the sanctity of life, gun rights, religious freedom, gender orientation, school choice, and so much more.
We must be faithful to pray for the nine Supreme Court Justices to have God's wisdom as they decide on rulings and set the judicial precedent for our nation, impacting generations to come.
"Those who forsake the law praise the wicked, but those who keep the law strive against them. Evil men do not understand justice, but those who seek the LORD understand it completely. - Proverbs 28:4-5
###
My Faith Votes—is a nonpartisan movement that motivates, equips and activates Christians in America to vote in every election, transforming our communities and influencing our nation with biblical truth. By partnering with national faith leaders, My Faith Votes provides resources to help Christians Pray, Think, and Act to create an America where God is honored in the public square.
Website | www.myfaithvotes.org Twitter | @MyFaithVotes Facebook | My Faith Votes
---
React
---
Comments