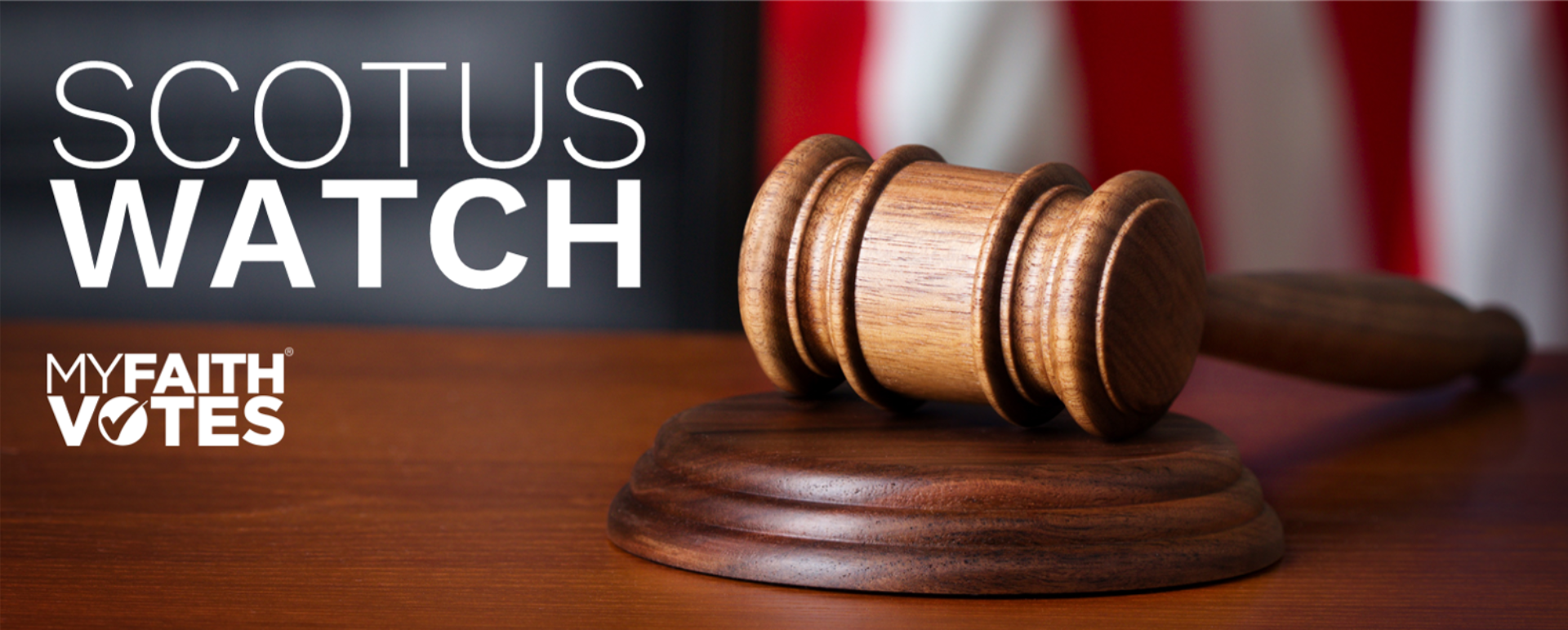 SCOTUS Watch | July 10, 2020
SCOTUS finished the current session's term this week and has issued several significant rulings in the last two weeks. We will be taking a look at the Court's recent rulings, three cases this week, and four cases next week, breaking them down to understand the substantial impact of each one.
In this issue we review the following cases:
June Medical Services LLC v. Russo
Little Sisters of the Poor Saints Peter and Paul Home v. Pennsylvania
Espinoza v. Montana Department of Revenue
The long-awaited Supreme Court decision on the Louisiana abortion law released June 29, and the ruling was not what pro-life Americans had hoped for.

June Medical Services LLC v. Russo
In a 5-4 decision, Chief Justice Roberts joined with the four liberal Justices on the bench and struck down Louisiana's law requiring abortion providers to have admitting privileges at local hospitals.
The state of Louisiana believed if something goes wrong in an abortion procedure, a woman's doctor should accompany her to the hospital where she should be admitted to receive the very best possible care.
To be clear, if something goes wrong in an abortion procedure, most women would hope that the doctor who performed their abortion would take every opportunity, and go to every means, to get her appropriate treatment. Yet, abortion advocates argued this safety requirement placed an undue burden on the abortion industry.
Even though every other doctor performing outpatient surgical procedures is required to have hospital admitting privileges, abortion providers would be held to the same medical standards as every other doctor in similar positions.
You can read the entire ruling here.
The Court Values Unregulated Abortion More Than Women's Health
It is not without cause that Louisiana passed this safety law. Dr. Damon Cudihy is an OB-GYN with twenty plus years of experience helping patients suffering from complications from induced surgical abortions writes:
"In my assessment of patients, precious time was lost while attempting to contact the abortion provider or at least to obtain medical records that would have helped me to better care for this patient who presented to the emergency room." Dr. Cudihy further explained: "With these patients, I was often disappointed to learn that there was no way to contact the doctor or to obtain pertinent medical records that would have provided critical information about what procedures had occurred or what medications were given."
Louisiana State Senator, Katrina Jackson (D), who authored the bipartisan Louisiana law said she was "disappointed" that the court threw out a law that she said would "protect women injured in abortion facilities."
Justice Gorsuch wrote in his dissenting opinion, "Unsurprisingly, [the risks from abortion] are minimized when the physician providing the abortion is competent. Yet, unlike hospitals that undertake rigorous credentialing processes, Louisiana's abortion clinics historically have done little to ensure provider competence…Clinics have even hired physicians whose specialties were unrelated to abortion—including a radiologist and ophthalmologist. Requiring hospital admitting privileges, witnesses testified, would help ensure that clinics hire competent professionals and provide a mechanism for ongoing peer review of physician proficiency."
Justice Robert's Explanation
Justice Robert's justification for his vote has left conservatives concerned.
He wrote, "The legal doctrine of stare decisis requires us, absent special circumstances, to treat like cases alike. The Louisiana law imposes a burden on access to abortion just as severe as that imposed by the Texas law, for the same reasons. Therefore, Louisiana's law cannot stand under our precedents."
The Texas law Justice Roberts refers to is Whole Woman's Health v. Hellerstedt, a similar law the Supreme Court struck down in 2016. Yet, in that ruling, Justice Roberts dissented along with Justice Alito and Justice Thomas. What made Justice Roberts change his mind on the constitutionality of virtually the same state law in Texas and Louisiana?
Roberts said it was the Supreme Court precedent of the 2016 ruling that caused him to strike down the Louisiana abortion law.
While precedent is important, the Supreme Court is by no means bound to adhere to previous court decisions. In fact, if the Court did so, we would never have overturned the 1896 ruling in favor of segregation.
The Court Fails Again to Uphold the Constitution
In Justice Thomas's dissenting opinion, he wrote, "The Court's current formulation of the stare decisis standard does not comport with our judicial duty under Article III, which requires us to faithfully interpret the Constitution." He also said the Court created the right to abortion "out of whole cloth, without a shred of support from the Constitution's text."
Another Constitutional aspect Americans should question not only in this case but every case regarding abortion, is why state rights as protected in the Tenth Amendment are not upheld?
Furthermore, Justice Roberts, and the others on the bench, did not have to rule on Roe v. Wade in this case. This case was far less controversial. It was simply about a state having the authority to apply the same medical standards to all outpatient procedures.
If Texas and Louisiana want to have these health and medical standards in place, require abortion clinics to have admitting privileges at hospitals, and more liberal states like New York and California don't, then so be it. If Justices upheld the Constitution, the Tenth Amendment protects their right to do so; that is until Roe. v. Wade is overturned and the inalienable right to life is protected once again in our country.
No Supreme Court Victories for Life During This Session

The Supreme Court declined to take up several other abortion cases including two laws in Indiana; one that requires an ultrasound an 18-hour waiting period before obtaining an abortion and another that requires parental consent before a minor can obtain an abortion. The Justices also turned away two cases out of Illinois and Pennsylvania challenging whether governments can shield areas in front of abortion clinics from protests.

Little Sisters of the Poor Saints Peter and Paul Home v. Commonwealth of Pennsylvania
In an encouraging Supreme Court 7-2 ruling, the justices protected religious freedom for the Little Sisters of the Poor after a more than 7-year battle
The Affordable Care Act (Obamacare) mandated coverage of women's health benefits which included abortion-inducing drugs. This placed a tremendous burden on religious organizations, employers, and individuals who believe in protecting unborn life. The Little Sisters of the Poor were faced with the decision to either violate their religious beliefs or pay substantial fines for violating the mandate.
Many religious organizations and businesses objected, and in 2014, the Supreme Court ruled in the case Burwell v. Hobby Lobby granting religious businesses relief from the contraceptive mandate. And in 2016, in the case Zubik v. Burwell the Justices sent the Little Sisters of the Poor case, along with many others, back to the lower courts for review in light of their decision.
In 2018, the Trump administration took action to provide much-needed protection for religious businesses and organizations by issuing final rules for the Department of Health and Human Services (HHS) to protect those with moral objections to the Affordable Care Act contraceptive mandate. In response, Pennsylvania and New Jersey challenged President Trump's new HHS rules and the case was brought before the Supreme Court. The states argued that Congress failed to provide statutory authority for HHS to exempt religious businesses and organizations and that the new rules were adopted by HHS in a flawed procedural manner.
Justices Clarence Thomas's Majority Opinion
A majority of the Justices disagreed with the states and ruled in favor of the First Amendment and religious freedom.
Justice Clarence Thomas wrote the majority opinion stating, "For over 150 years, the Little Sisters have engaged in faithful service and sacrifice, motivated by a religious calling to surrender all for the sake of their brother, but for the past seven years, they -- like many other religious objectors who have participated in the litigation and rulemakings leading up to today's decision -- have had to fight for the ability to continue in their noble work without violating their sincerely held religious beliefs."
Justice Thomas continued, "We hold today that the Departments had the statutory authority to craft that exemption, as well as the contemporaneously issued moral exemption. We further hold that the rules promulgating these exemptions are free from procedural defects."
Justice Sonia Sotomayor and Justice Ruth Bader Ginsburg dissented in the case.
Dissenting Opinion
Justice Ginsburg wrote in her dissenting opinion, "Today, for the first time, the Court casts totally aside countervailing rights and interests in its zeal to secure religious rights to the nth degree. Destructive of the Women's Health Amendment, this Court leaves women workers to fend for themselves, to seek contraceptive coverage from sources other than their employer's insurer, and, absent another available source of funding, to pay for contraceptive services out of their own pockets."
Yet, to force all Americans to pay for abortions and contraceptives that violate their religious beliefs would have stripped millions of Americans of the fundamental right to follow the teachings of our faith.
Thank God for Continuing Religious Freedom
The Supreme Court's ruling to allow for religious exemptions for the contraceptive mandate is a huge victory for religious freedom. Christians across the nation should thank the Lord for the blessing in America to live out our faith, and for the continued liberty we have because of the Constitution and Supreme Court decision to uphold it in this ruling.
You can read the entire Supreme Court ruling here.

Espinoza v. Montana Department of Revenue
In a narrow 5-4 ruling, the Court struck down a ban on taxpayer funding for religious schools. This is a fantastic victory for people of faith and those who support school choice. The ruling protects the religious freedom of families who desire to use their tax credit to send their children to religious schools, and it expands choice and opportunity for all students.
Justice Roberts wrote in his opinion, "A State need not subsidize private education. But once a State decides to do so, it cannot disqualify some private schools solely because they are religious."
In Deuteronomy 6:7, parents are commanded to teach their children all the words of the law. In addition to subjects such as history, civics, and law, they were to teach their children moral laws such as the Ten Commandments.
We are blessed to have many religious schools in America that teach biblical principles alongside each school subject. However, many families are not able to afford to send their children to a religious private school. Educational freedom laws, like the Montana tax-credit scholarship program, help provide the opportunity for any family to choose the best school for their child, and the Supreme Court's ruling will hopefully encourage similar laws in more states.
You can read the entire Supreme Court ruling here.
Christians Must Take Notice
These rulings should remind Christians across the country to do two simple things:
Pray. Faithfully pray for our Supreme Court Justices to have God's wisdom and to uphold the Constitution that has given us the longest-running Constitutional Republic in the history of the world.
Vote. The next Supreme Court appointment is critical and there is a very good chance the next President of the United States could appoint one or two new Justices to the bench. If Christians want to see religious freedom and human life protected, we must vote and tell our friends and family to do the same.
###
My Faith Votes—is a nonpartisan movement that motivates, equips and activates Christians in America to vote in every election, transforming our communities and influencing our nation with biblical truth. By partnering with national faith leaders, My Faith Votes provides resources to help Christians Pray, Think, and Act to create an America where God is honored in the public square.
Website | www.myfaithvotes.org Twitter | @MyFaithVotes Facebook | My Faith Votes
---
React
---
Comments