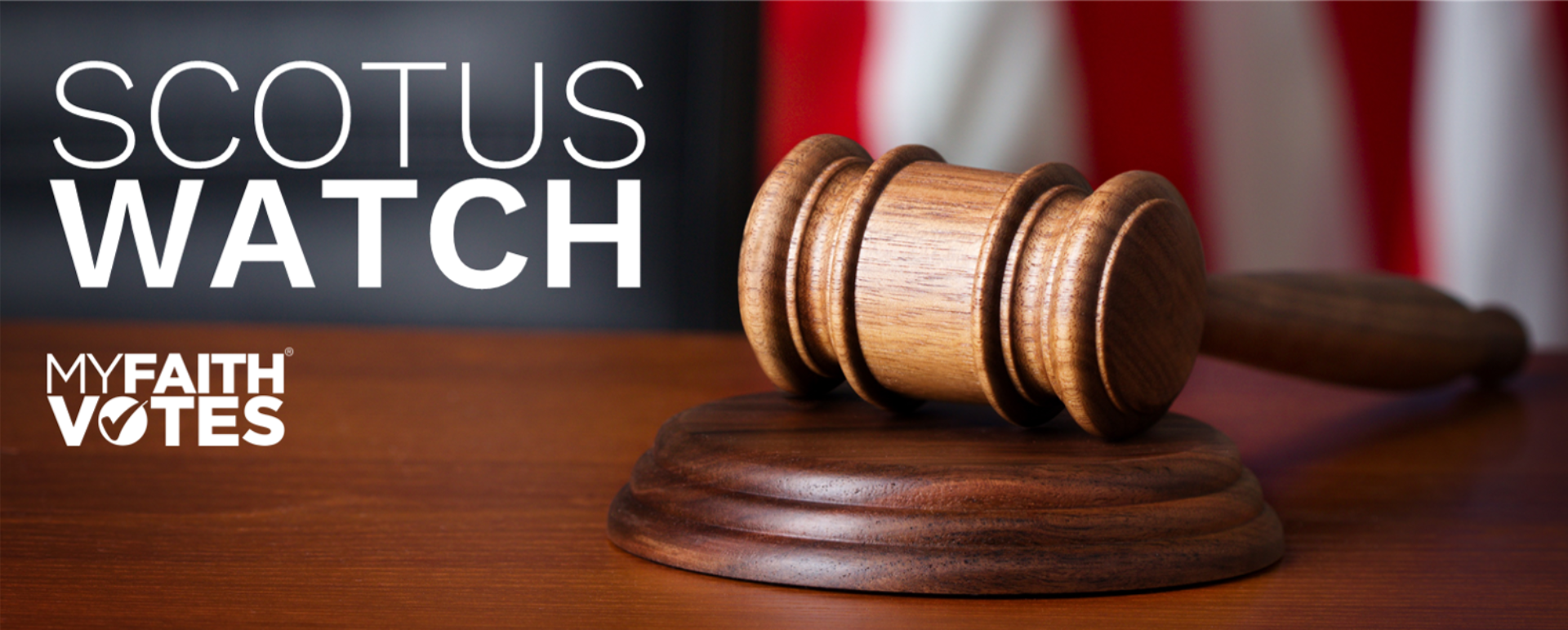 SCOTUS WATCH | Jan 18, 2019
The Supreme Court of the United States (SCOTUS) will hear oral arguments for a total of 11 casesthis month.
It's worth noting Ginsburg is still recovering from a surgery she had on December 21st and has been participating in the court's consideration of cases from home through briefs and transcripts of the arguments.
PRAYER ALERT
This is the first time in 25 years that Justice Ginsburg (age 85) has not been on the bench to hear a Supreme Court Case. Pray for Justice Ginsburg to recover well from the surgery and for her to have wisdom as she works from home on our nation's most important cases. As Justice Ginsburg continues to struggle with health challenges, pray she comes to know Jesus Christ as her personal Lord and Savior.
Also, please be praying now for the Bladensburg Memorial Cross Case. This is an extremely important case for the preservation of religious liberty in our nation. SCOTUS will hear oral arguments for this case on February 27, 2019. We will be providing you with more information on this case next month.
SUPREME COURT CASE UPDATE for JANUARY
Below are three cases SCOTUS recently heard oral arguments for, that are worth highlighting.
Case 1: Tennessee Wine & Spirits Retailers Association v. Byrd
In order to obtain a retail license to sell alcohol in Tennessee, state law requires the individual to live in the state a minimum of two years. This law is now in question because a federal appeals court ruled that it violates the Constitution because it discriminates against out-of-state residents. On the other side, the Trade Association of liquor retailers believes the 21stAmendment provides states with extensive authority to regulate alcohol how they see fit.
The central question in this case: Does the Twenty-first Amendment empower States, consistent with the dormant Commerce Clause, to regulate liquor sales by granting licenses only to individuals or entities that have resided in-state for a specified time?
Oral arguments for this case were heard on January 16, 2019.
Case 2: Azar v. Allina Health Services
The U.S. Department of Health and Human Services (HHS) used a new process to determine Medicare reimbursement rates. They did so because of changes under President Obama's administration to the reimbursements hospitals receive for treating a disproportionate number of low-income patients. The lawsuit is regarding the Department of Health and Human Services implementation of its rule. The hospitals argue that HHS should have required notice and a comment period before requiring Medicare's contract administrators to implement the change. What's at stake is an estimated $3 to $4 billion in reimbursements for hospitals between the time period of 2005 and 2013. Justice Brett Kavanaugh has recused himself from this case because he wrote the lower court opinion when he was serving as a judge on the District of Columbia Circuit Court. You can read Justice Kavanaugh's opinion on the piece here.
The central question in this case: Was HHS required to conduct notice-and-comment rulemaking before changing the Medicare reimbursement formula?
Oral arguments for this case were heard on January 15, 2019.
Case 3: Knick v. Township of Scott, Pennsylvania
The court first heard arguments for the Knick v. Township of Scott case in October but Justice Kavanaugh was not yet on the bench. The Township of Scott, in Pennsylvania, has an ordinance requiring all cemeteries on public or private land to be accessible to the general public during the day. Rose Mary Knick owns 90 acres of property and law enforcement agents claim to have found stones on her property that they believe to be grave markers. Ms. Knick argues there is no existence of a cemetery on her property. She filed suit claiming a Fifth Amendment violation. However, the plaintiff must exhaust all state court remedies first before taking it to the federal level. A 1985 Supreme Court precedent, Williamson County Regional Planning Commission v. Hamilton Bank, requires that plaintiffs must go through the state's compensation procedure first to obtain just compensation before taking their case to a federal court.
The central question in this case: Should SCOTUS overturn the exhaustion requirement established in Williamson County Regional Planning Commission v. Hamilton Bank?
Oral arguments for this case were heard on January 16, 2019.
Please continue to pray for the SCOTUS justices as they determine their decisions on the 11 cases they heard this month. Pray for them to have God's wisdom to issue decisions that uphold the Constitution, value the states' rights, and protect the rights of all Americans.
###
My Faith Votes—is a nonpartisan movement that motivates, equips and activates Christians in America to vote in every election, transforming our communities and influencing our nation with biblical truth. By partnering with national faith leaders, My Faith Votes provides resources to help Christians Pray, Think, and Act to create an America where God is honored in the public square.
Website | www.myfaithvotes.org Twitter | @MyFaithVotes Facebook | My Faith Votes
---
React
---
Comments