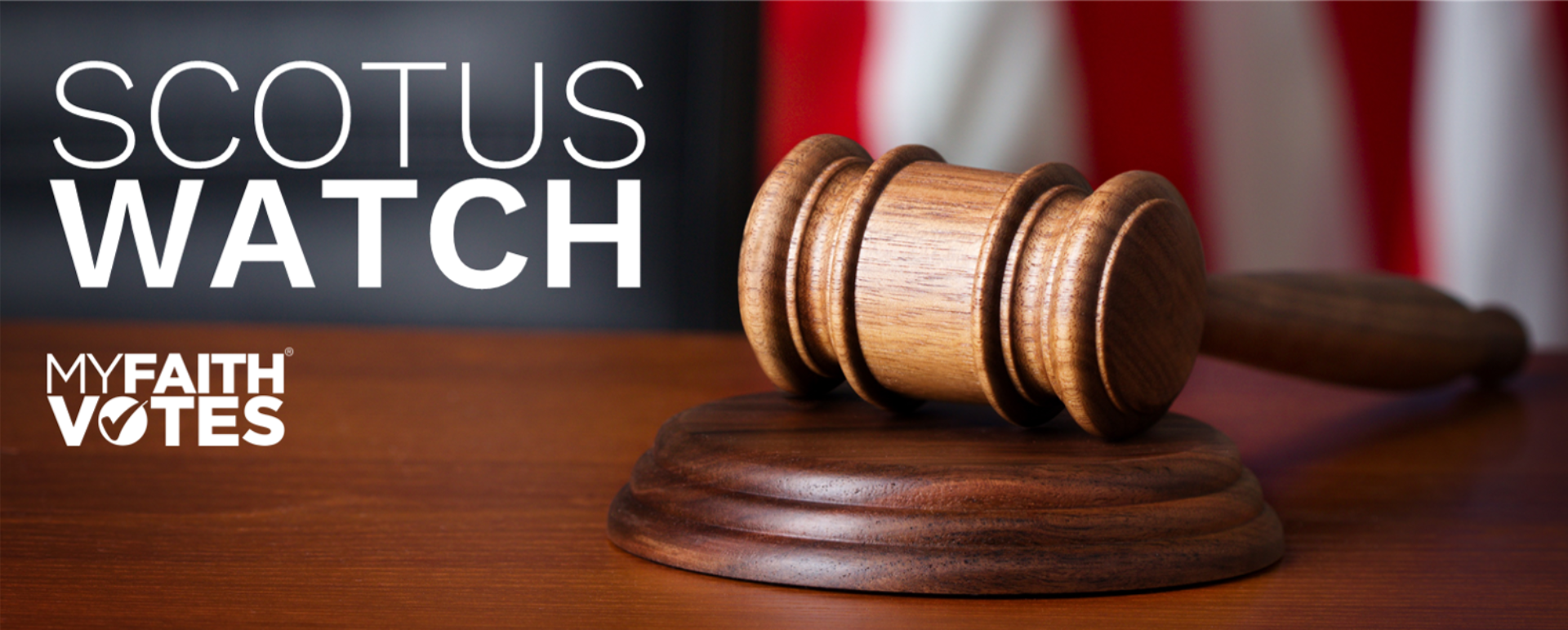 SCOTUS Watch | Feb 22, 2019
The Supreme Court of the United States (SCOTUS) is returning to the bench after its usual four-week winter recess. The recess was marked by noteworthy "shadow docket" actions on the death penalty, abortion rights, and other matters that offered more news than a usual February. SCOTUS will hear oral arguments for a total of 6 cases this session. Justice Ruth Bader Ginsburg, who missed all 11 arguments of the January sitting because of her recuperation from lung surgery, is back on the bench hearing arguments this week.
PRAYER ALERT
Please pray for The American Legion v. American Humanist Association Case. The decision on this case will determine more than whether crosses can remain on public property. The case will set a significant precedent for religious freedom as it relates to interpreting the Establishment Clause found in the First Amendment of the Constitution. Pray for First Liberty's attorneys to have wisdom as they argue this case before the Supreme Court.
SUPREME COURT CASE UPDATE FOR FEBRUARY
Below are three cases worth highlighting for which SCOTUS will hear oral arguments.
Case 1: The American Legion v. American Humanist Association
In Bladensburg Maryland, the American Legion Veteran Organization erected the Bladensburg WWI Veterans Memorial in 1925. The memorial is referred to as the "Peace Cross," and it honors 49 men from Bladensburg who gave their lives in WWI.
It has stood for more than 90 years. In 2014, the American Humanist Association filed a lawsuit claiming the cross-shaped memorial was unconstitutional because the public ownership and maintenance of the memorial violated the Establishment Clause in the First Amendment of the Constitution, which states, "Congress shall make no law respecting an establishment of religion."
First Liberty, a law firm that specializes in religious liberty cases, intervened in the lawsuit on behalf of The American Legion to defend the Bladensburg Memorial Cross. The Fourth Circuit Court of Appeals ruled against the Memorial, and now the case is before the Supreme Court.
A recent survey conducted by George Barna found that an overwhelming number of Americans, 84%, believe the American Humanists should leave the memorial alone. Only 2% of Americans support tearing down the Memorial.
Kelly Shackelford, President and CEO of First Liberty said, "If this gravestone is bulldozed to the ground, it's only a matter of time before the wrecking ball turns on Arlington National Cemetery and the hundreds of memorials like this one across the country."
The central questions in this case: Is a 93-year-old memorial unconstitutional because it is shaped like a cross, and does the public maintenance of a cross-shaped memorial violate the Establishment Clause in the First Amendment?
Oral arguments for this case will be heard on February 27, 2019.
Case 2: Manhattan Community Access Corp. v. Halleck
Content platform companies should closely watch for the decision on this case, as it could substantially limit their power to control the content on their platforms. The Manhattan Neighborhood Network, located in New York City, suspended two of their employees, Melendez and Halleck, from using the network's services or facilities after the employees incited violence against other employees. Melendez and Halleck then filed a lawsuit against Manhattan Neighborhood Network claiming the company violated their First Amendment rights to free speech.
The First Amendment does not apply to private institutions and only applies to state actors. The district court ruled that Manhattan Neighborhood Network was not a state actor, but the Second Circuit Court ruled that since New York City delegated a public function of administering speech in the form of public cable television, then Manhattan Neighborhood Network is, in fact, a state actor. The case is now before the Supreme Court to decide.
The central question in this case: Are private operators of public access channels state actors subject to constitutional liability?
Oral arguments for this case will be heard on February 25, 2019.
Case 3: United States v. Haymond
In 2010, Andre Ralph Haymond was convicted of possessing child pornography and sentenced to 38 months in jail and ten years of supervised release. While on supervised release probation officers found him in possession of child pornography and alleged he had violated five conditions of his supervised release. According to U.S. Law, 18 U.S.C.§ 3583(k), a mandatory minimum sentence of five years is required for possession of child pornography for anyone on supervised release from a crime involving a minor. Convicted felon Haymond appealed. He argued there was insufficient evidence to prove he had knowingly possessed the child pornography and claimed it was a violation of the Constitution to deny him due process.
The Tenth Circuit Court upheld that there was sufficient evidence of Haymond's violations, but they stated, "we agree that 18 U.S.C. § 3583(k) is unconstitutional because it strips the sentencing judge of discretion to impose punishment within the statutorily prescribed range, and it imposes heightened punishment on sex offenders based, not on their original crimes of conviction, but on new conduct for which they have not been convicted by a jury beyond a reasonable doubt."
The central question in this case: Did the court of appeals err in holding "unconstitutional and unenforceable" the portions of 18 U.S.C. 3583(k) that required the district court to revoke the respondent's ten-year term of supervised release, and to impose five years of reimprisonment?
Oral arguments for this case will be heard on February 26, 2019.
###
My Faith Votes—is a nonpartisan movement that motivates, equips and activates Christians in America to vote in every election, transforming our communities and influencing our nation with biblical truth. By partnering with national faith leaders, My Faith Votes provides resources to help Christians Pray, Think, and Act to create an America where God is honored in the public square.
Website | www.myfaithvotes.org Twitter | @MyFaithVotes Facebook | My Faith Votes
---
React
---
Comments