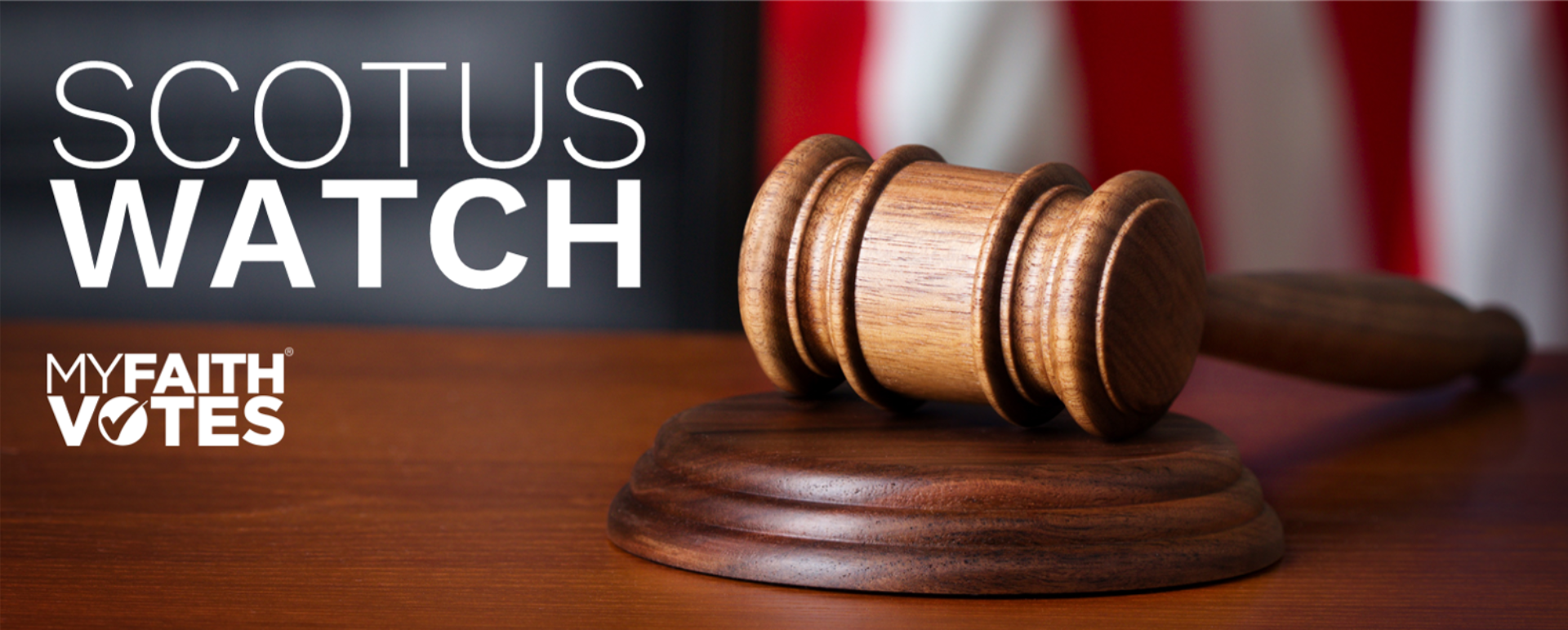 SCOTUS Watch | Feb 20, 2021
On January 11, 2021, the Supreme Court began the second half of its 2020-2021 term. SCOTUS recently made an important ruling on churches' ability to gather. We also cover what's at stake in four of the cases being heard.
In this issue we review the following cases:
South Bay United Pentecostal Church v. Newsom and Harvest Rock Church v. Newsome (Religious Freedom)
Uzuegbunam v. Preczewski (Religious Freedom/Freedom of Speech)
Brnovich v. Democratic National Committee and Arizona Republican Party v. Democratic National Committee (Voting Rights)
Barr v. Dai (Immigration)
Lange v. California (Fourth Amendment)
South Bay United Pentecostal Church v. Newsom and Harvest Rock Church v. Newsom (Religious Freedom)
The issue: On February 5, the Supreme Court ruled on cases brought against California Gov. Gavin Newsom for restricting attendance at houses of worship while allowing some secular businesses to remain open during the COVID-19 pandemic.
The outcome: Although a positive step for churches, the court was divided on specifics. A 6-3 majority blocked the state of California from prohibiting indoor services in counties with the greatest spread of COVID-19, but it allowed attendance caps based on the size of the building to stand. The state may also continue to prohibit singing and chanting during those services, the court said. The justices were divided on the outcomes, filing four separate opinions on the matter.
Chief Justice Roberts wrote, "The State has concluded, for example, that singing indoors poses a heightened risk of transmitting COVID–19. I see no basis in this record for overriding that aspect of the state public health framework," and continued, "At the same time, the State's present determination — that the maximum number of adherents who can safely worship in the most cavernous cathedral is zero — appears to reflect not expertise or discretion, but instead insufficient appreciation or consideration of the interests at stake."
The Chief Justice's opinion marked a middle ground of sorts among the court's conservatives. Justices Neil Gorsuch and Clarence Thomas said they would have lifted California's restrictions in full. While acknowledging that the state has a "compelling interest" in reducing the spread of COVID-19, they said California had effectively given preferential treatment to "lucrative industries" such as the film industry, adding that the state had "openly imposed more stringent regulations on religious institutions than on many businesses."
Justice Amy Coney Barrett, in her first signed opinion since joining the court in October, focused on the state's restrictions on singing and chanting. In an opinion joined by Justice Brett Kavanaugh, Barrett said that it was up to churches to demonstrate that they were entitled to relief from the singing ban, but that in this case, they had not. Still, she said, it remains unsettled as to whether the ban applies evenly across the board in California or if it favors certain sectors.
Justices Stephen Breyer, Sonia Sotomayor, and Elena Kagan said they would have left California's restrictions in place. Writing the dissent for the three, Kagan noted that none of the justices is a scientist, and she accused the majority of substituting its own judgment for the epidemiologists and elected officials who are "desperately trying to slow the spread of a deadly disease." Kagan disputed the notion that the state is somehow treating religious institutions worse than secular entities.
See the rulings here and here.
Uzuegbunam v. Preczewski (Religious Freedom/Freedom of Speech)
The Supreme Court is considering a religious freedom case that will impact every American's First Amendment rights, for better or worse. Chike Uzeuegbunam, a former student at Georgia Gwinnett College in 2016, was distributing Christian literature on campus, sharing his faith, when college officials silenced his speech. They claimed he needed to be in one of the two "speech zones" on campus to be able to speak freely.
Uzeuegbunam complied with their limits, yet when he was speaking in one of the campus' two "speech zones," campus police told him to stop due to complaints received. He was threatened with disciplinary action if he continued to share his faith.
Alliance Defending Freedom represented Uzeuegbunam in a lawsuit against the college, which did eventually agree to change its free speech policies. However, the college argued that it should not have to pay any penalties for violating Chike's First Amendment rights. The court ruled in favor of the college deciding that Chike would not receive any relief. The U.S. Court of Appeals for the 11th Circuit affirms the lower court's ruling. Alliance Defending Freedom petitioned the Supreme Court on behalf of Chike Uzuegbunam.
The Supreme Court will decide matters of mootness and of nominal damages claims. Mootness, as defined by Ballotpedia, is "when further legal proceedings will have no effect on the matter at issue." Nominal damages claims are "when a judge or jury rules in favor of one party to a lawsuit but finds that the damages incurred were of no real harm and awards a small, or nominal, amount of money.
This decision is crucial because if the Court rules against Chike, it will set a precedent moving forward that free speech can be violated with little to no consequence.
Alliance Defending Freedom wrote in part, "the threat to constitutional rights isn't just on public university campuses. It's everywhere. If government officials can simply avoid responsibility for violating someone's constitutional rights by reversing course after the fact, then what is the point of having those rights in the first place?"
The central question in this case: Whether a government's post-filing change of an unconstitutional policy moots nominal damages claims that vindicate the government's past, completed violation of a plaintiff's constitutional right. Oral arguments for this case were heard on January 12, 2021.
Brnovich v. Democratic National Committee and Arizona Republican Party v. Democratic National Committee (Voting Rights)
On March 2, the justices will hear oral arguments in a major voting-rights dispute from Arizona. The two cases have been consolidated for one hour of oral argument.
In 2016, several arms of the Democratic Party (DNC) sued Arizona, claiming its out-of-precinct policy and its ballot-collection law violated Section 2 of the Voting Rights Act. The U.S. District Court denied the DNC's petition, which a divided panel of the U.S. Court of Appeals for the 9th Circuit affirmed. In an en banc rehearing, the 9th Circuit granted a preliminary injunction, which the Supreme Court stayed the next day.
In October 2017, the district court held a trial on the merits, ultimately ruling in favor of the state of Arizona. On appeal, a divided 9th Circuit panel affirmed the district court's ruling. In an en banc rehearing, the 9th Circuit reversed the panel's decision. Arizona Attorney General Mark Brnovich (R), in his official capacity, and the Arizona Republican Party, appealed to the U.S. Supreme Court.
The court will weigh in on the legality of an Arizona policy that requires voters to cast their ballots at the precincts to which they are assigned, as well as a challenge to a state law that bans "ballot harvesting," which is the collection and return of mail-in ballots by a third party.
The central questions in this case: Does Arizona's out-of-precinct policy violate Section 2 of the Voting Rights Act and does Arizona's ballot-collection law violate Section 2 of the Voting Rights Act or the Fifteenth Amendment? Oral arguments for this combined case will be heard March 2.
Barr v. Dai (Immigration)
This case is consolidated with Barr v. Alcaraz-Enriuez and demands close attention from the public as it concerns the issue of immigration. In both of these cases, the immigrants -- Ming Dai from China and Cesar Alcaraz-Enriquez from Mexico -- appealed to postpone their deportation.
The Board of Immigration Appeals (BIA) ruled against the immigrants and upheld judges' previous decisions. Dai and Alcaraz-Enriquez appealed the ruling to the 9th Circuit Court which ruled in their favor. The case was then appealed by the United States Government to the Supreme Court, which will consider the case in light of the Immigration and Nationality Act (INA).
The central question in this case: SCOTUS will determine whether a court of appeals can presume that an immigrant's testimony is credible if an immigration judge or the Board of Immigration Appeals did not specifically find that he was not credible. SCOTUS will also determine whether the court of appeals violated the remand rule as set forth in INS v. Ventura, 537 U.S. 12 (2002) (per curiam), when it determined in the first instance that the respondent was eligible for asylum and entitled to withholding of removal. Oral arguments for this case will be heard on February 23, 2021.
Lange v. California (Fourth Amendment)
The Supreme Court's ruling on Lange v. California concerns the Fourth Amendment to the United States Constitution which states, "The right of the people to be secure in their persons, houses, papers, and effects, against unreasonable searches and seizures, shall not be violated, and no Warrants shall issue, but upon probable cause, supported by oath or affirmation, and particularly describing the place to be searched, and the persons or things to be seized."
The Fourth Amendment requires law enforcement to obtain a warrant before entering into someone's home. There has been one long-standing exception to this constitutional amendment if law enforcement is in pursuit of a suspect or if there is an emergency there have been exceptions made to this rule.
This is the issue under consideration. In California, Arthur Lange was driving home when an officer pursued him for a traffic violation. The officer followed Lange to his home and turned on his overhead lights. However, when Lange pulled into his driveway he claims he did not see the officer and his vehicle's lights and he closed the garage door. The officer, Aaron Weikert, entered the garage in pursuit of Lange and claims he smelled alcohol on Lange's breath. Officer Weikert gave Lange a misdemeanor offense for driving under the influence.
Lange claims that officer Weikert violated his Fourth Amendment rights by entering his home without a warrant. Officer Weikert claims that he has probable cause. The trial court ruled in favor of the officer, yet a civil court ruled against the officer. The California First District Court of Appeal ruled that officer Weikert's actions were unlawful according to the Constitution.
SCOTUS' decision on this case will shape the way the Fourth Amendment is interpreted across the nation. This constitutional right, as guaranteed in the Fourth Amendment, is one of the most fundamental rights that has set America apart from other nations for decades.
The central question in this case: SCOTUS will determine whether the pursuit of a person whom a police officer has probable cause to believe has committed a misdemeanor categorically qualifies as an exigent circumstance sufficient to allow the officer to enter a home without a warrant. Oral arguments for this case will be heard on February 24, 2021.
Pray for the Supreme Court Justices
We encourage you to pray faithfully for the Supreme Court Justices, by name, as they hear oral arguments and issue their rulings in these critical cases in the remainder of their 2020-2021 term.
Psalm 89:14 says, "Righteousness and justice are the foundation of your throne; steadfast love and faithfulness go before you."
Pray for Supreme Court Justices to seek God Almighty for His true wisdom and justice. Pray for all parties involved in these cases and pray for the right thing to be done to preserve rule of law in our nation and to uphold our Constitution.
The Supreme Court Justices are: Chief Justice John Roberts, Amy Coney Barrett, Brett Kavanaugh, Clarence Thomas, Elena Kagan, Neil Gorsuch, Samuel Alito, Sonia Sotomayor, and Stephen Breyer.
###
My Faith Votes—is a nonpartisan movement that motivates, equips and activates Christians in America to vote in every election, transforming our communities and influencing our nation with biblical truth. By partnering with national faith leaders, My Faith Votes provides resources to help Christians Pray, Think, and Act to create an America where God is honored in the public square.
Website | www.myfaithvotes.org Twitter | @MyFaithVotes Facebook | My Faith Votes
---
React
---
Comments