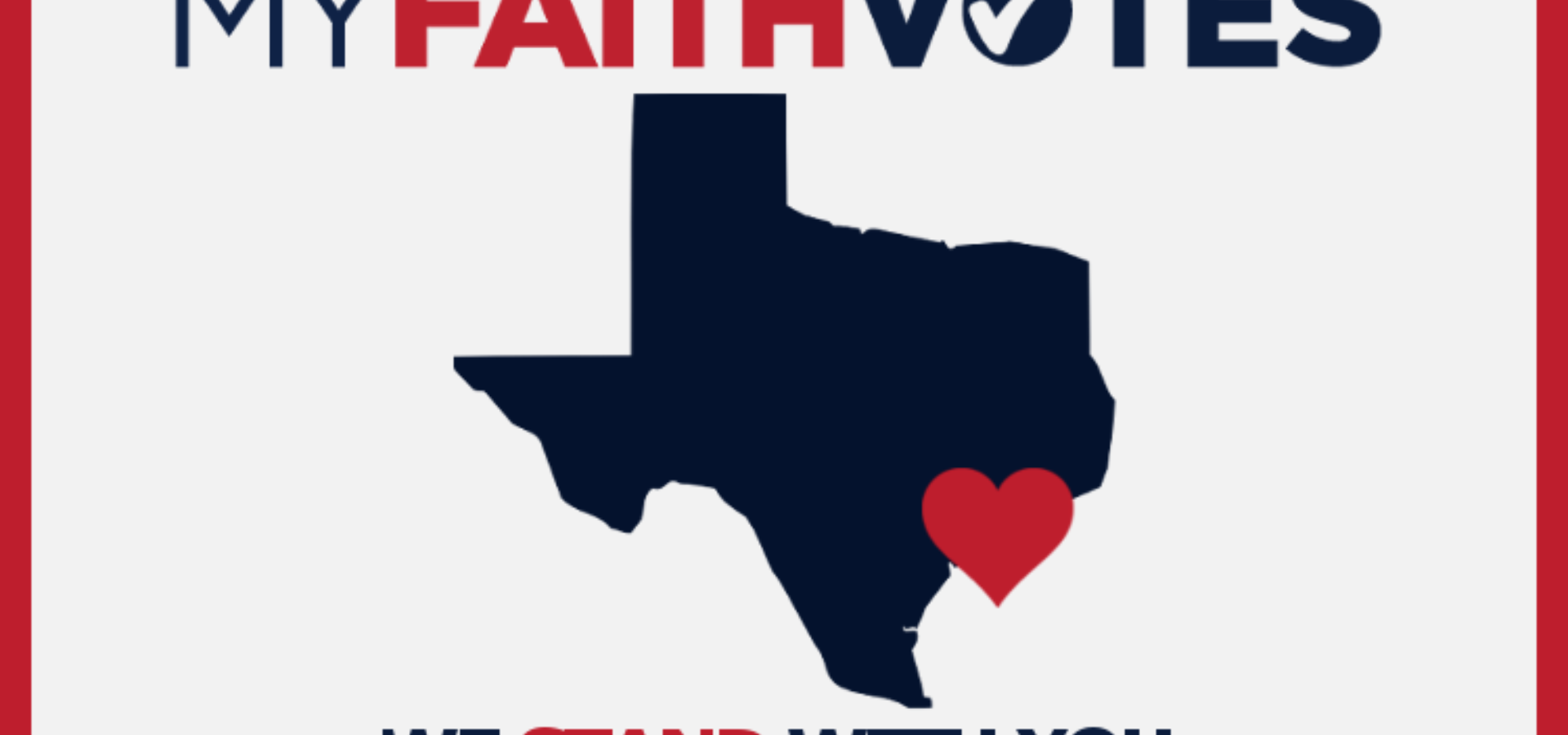 We Stand With You
As we have watched the stunning images and videos coming out of the Texas Gulf Coast area, we are deeply saddened by the devastation and loss that so many are facing from Hurricane Harvey. Leaders are telling us it is the worst disaster in our nation's history let alone the most severe recording-breaking event in the state of Texas.
We have thousands of supporters in the areas affected and our team at My Faith Votes cares deeply about each one. We are lifting them up in prayer and support, long after the news trucks leave and the devastation remains.
Even in the storm, we have seen a light shine through the everyday heroes, the rescuers & responders, and through those praying from the outside looking in. Watching Americans unify and help each other gives us all so much hope.
Story after story of those who are affected remind me of the poignant lyrics by my friend and music artist, Jason Gray:
While I wait for the smoke to clear
You don't even have to speak
Just sit with me in the ashes here
And together we can pray for peace
To the One acquainted with our grief
Texas Governor Greg Abbott made a proclamation that Sunday, September 3rd, is a Texas Day of Prayer. United, we will join him in prayer for healing and hope.
Please use the list below for resources to receive help and to give help:
Local Organizations
Hurricane Harvey Relief Fund (Established by Houston Mayor Sylvester Turner)
Houston Food Bank
Corpus Christi Food Bank
South Texas Blood and Tissue Center (Reporting an immediate need.)
United Way of Greater Houston
Texas Diaper Bank
National Organizations
The American Red Cross
The Salvation Army
Catholic Charities
Legacy Collective Hurricane Harvey Relief Fund
Samaritans Purse
Standing united with you,
Sincerely,

Jason Yates
CEO
My Faith Votes
###
My Faith Votes—is a nonpartisan movement that motivates, equips and activates Christians in America to vote in every election, transforming our communities and influencing our nation with biblical truth. By partnering with national faith leaders, My Faith Votes provides resources to help Christians Pray, Think, and Act to create an America where God is honored in the public square.
Website | www.myfaithvotes.org Twitter | @MyFaithVotes Facebook | My Faith Votes
---
React
---
Comments