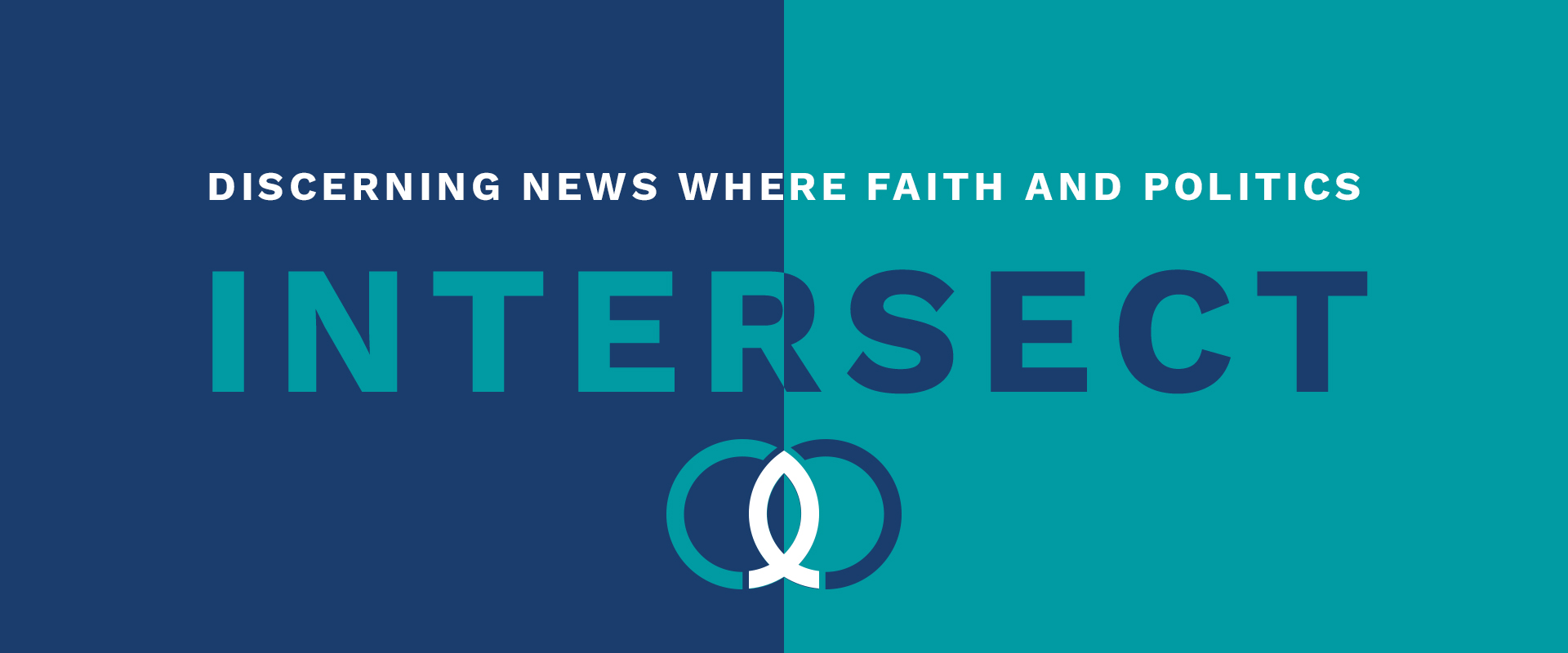 WEEKLY NEWS SUMMARY - SEPTEMBER 30, 2020
In this week's Intersect, read about:
---
Thousands of Christians, Leaders Intercede for America in Washington D.C.
On Saturday, tens of thousands of Christians swarmed Washington D.C. to participate in two prayer events at the National Mall with the purpose of repenting before God, praying for the nation and calling for revival. According to CBN News, one of the two events was The Return: National and Global Day of Prayer and Repentance, led by Messianic Jewish Rabbi, Jonathan Cahn. At the event, Cahn highlighted the gradual omission of God across America. "We drove God out of our hearts, out of our government, out of our ways, out of laws, out of the education of our children, out of the public squares. Out of our businesses, out of our media, out of our culture, out of our lives," Cahn asserted. "And as we drove Him out, we opened up a vacuum into which came a flood of other gods." Other Ministers and prominent evangelical leaders also present at the event offered remarks, led prayers, and read from the Scriptures. Meanwhile, evangelist Franklin Graham led the Washington Prayer March 2020 event in which believers walked from the Lincoln Memorial towards the U.S. Capitol. read more
THINK.
A team from My Faith Votes was honored to attend both events in DC and pray with tens of thousands for our nation. We know it is a great privilege and blessing to freely worship and pray in this great nation because that is not the case in most of the world. Religious and political leaders urged the Church in the West to speak up for persecuted Christians. "There is more persecution worldwide than at any other time in modern history. And there's never been a greater need for action," former Virginia Congressman Frank Wolf said Wednesday night during the In Defense of Christians 2020 digital summit. He cited statistics from the Pew Research Center revealing that 80% of the world's population lives in a religiously repressive environment. Out of all the global religions, Christians are the most persecuted group, he said. But no matter the circumstances, people are still worshiping our God--"rejoicing in hope, patient in tribulation, continuing steadfastly in prayer." (Romans 12:12)
PRAY.
Lord, we pray for all those in authority, that you would give them your wisdom and discernment as they lead. We ask that you appoint strong, faithful men and women to serve this nation and our people. We pray for your great healing on our land. Shine your face on us dear God. We need you now, more than ever before. Our times are in your hands. Thank you that you are rich in mercy and full of grace. Thank you that you are forgiving and merciful. Thank you that you are strong and mighty. Thank you that you are for us and that you fight for us still today. Bring honor to your Name, Oh Lord, for You alone are worthy. For our brothers and sisters around the world who are facing persecution for following you, give them Your peace, Your protection and a boldness to continue to be strong in faith.
ACT.
Take a few moments to watch the powerful prayers that were said at seven different points along the National Mall during the Prayer March Saturday
---
Woman Who Survived Abortion Thanks Trump for Signing 'Born Alive' Executive Order
Abortion survivor and pro-life activist Gianna Jessen is praising President Donald Trump for signing an executive order ensuring babies who survive botched abortions receive medical care. "Thank you, sir," she said. "You are by far the most pro-life, demonstrably pro-life president we have ever had. In recent times, the most courageous." Jessen, who has cerebral palsy, went on to say: "As someone born in an abortion clinic who did not die, I want to thank you. You are mocked all the time. And I will tell you, I will stand up for you." Jessen, born miraculously in the 1970s after her biological mother underwent a failed saline abortion procedure, has been an outspoken advocate for the pro-life movement. In 2015, she appeared before the U.S. House Judiciary Committee, where she asked: "If abortion is about women's rights, then what were mine?" Directing her queries to Planned Parenthood, the nation's largest abortion business, Jessen went on to say: "You continuously use the argument, "If the baby is disabled, we need to terminate the pregnancy," as if you can determine the quality of someone's life. Is my life less valuable due to my cerebral palsy?" read more
THINK.
The full text of the executive order can be read here. The sad truth is that "some hospitals refuse the required medical screening examination and stabilizing treatment or otherwise do not provide potentially lifesaving medical treatment to extremely premature or disabled infants, even when parents plead for such treatment." This was the experience of one Ohio mother whose twin sons were denied life-saving treatment after being born prematurely in 2017. The order states that any hospital currently receiving federal funds will risk losing those funds if they fail to provide the same level of life-sustaining care to a newborn infant that they must give to any other patient. "It is the policy of the United States to recognize the human dignity and inherent worth of every newborn or other infant child, regardless of prematurity or disability, and to ensure for each child due protection under the law." Gianna Jessen's question cuts to the heart of the matter: "Is my life less valuable?" A nation that recognizes the God-given, inherent value of every human being will strive to protect its most vulnerable citizens from violations of their right to life. However, the Born-Alive Infant Protection Act failed to pass in Congress every time it was introduced because we do not have enough Representatives who recognize and are willing to stand for this right. You can change that by urging your pro-life family, friends, and neighbors to make sure they vote for Senate and House candidates that uphold life. The truth about an executive order is that the next president can quickly undo it. That is why Jeanne Mancini, president of the pro-life March for Life, stressed, "Americans overwhelmingly want to see greater protections for the most vulnerable. These protections are a strong step in the right direction and the Senate should move quickly to codify the president's executive order and pass Sen. Ben Sasse's (R-Neb.) Born-Alive Abortion Survivors Protection Act."
PRAY.
Pray for this upcoming election: that Christians would turn out to vote in unprecedented numbers and that the elections would be fair. Also, pray that doctors and medical workers would commit to protecting the lives of all babies.
ACT.
This week, we're partnering with Kirk Cameron and TBN for a special two-part event called "Think, Pray, Vote." Watch October 2 and October 9 at 8/7 PM Central. Learn more here.
---
The Future of Our Court is in Good Hands': Spiritual Leaders Respond to Barrett's Nomination
Religious leaders are lining up in support of Judge Amy Coney Barrett's nomination to the Supreme Court. Rev. Samuel Rodriguez, president of the National Hispanic Christian Leadership Conference said, "As president of the National Hispanic Christian Leadership Conference, I want to give my wholehearted congratulations to Judge Barrett for her nomination to the Supreme Court and I call upon the U.S. Senate to expeditiously confirm her. I would be pressed to find a more fitting candidate. Once again, President Trump has exceeded our expectations by nominating a judge committed to the original intent of the Constitution." Russell Moore, president of The Ethics & Religious Liberty Commission of the Southern Baptist Convention, stated, "I have long respected Judge Barrett, not only as a highly accomplished jurist but also as an adoptive parent active in the advocacy for adoption and for special needs children. As she goes before the Senate Judiciary Committee, I'm confident she will lay out a thoughtful defense of commitment to the constitution and the proper limits of judicial authority in our system of government." Jason Yates, CEO of My Faith Votes said, "On behalf of My Faith Votes and millions of Christians who believe in America's founding Judeo-Christian principles, I want to congratulate Judge Barrett for her nomination to the Supreme Court. President Trump has picked a stellar candidate with a proven track record to uphold God-given inalienable rights as protected in our Constitution, including freedom of religion, the right to live out one's faith in the public square, and sanctity of human life." read more
THINK.
One of Barrett's supporters has garnered significant attention because he is not a conservative. In fact, he disagrees with her on "almost everything". Noah Feldman is a professor of law at Harvard University and was a clerk to U.S. Supreme Court Justice David Souter, one of the court's more liberal justices. Writing for Bloomberg Magazine, Feldman states, "I know her to be a brilliant and conscientious lawyer who will analyze and decide cases in good faith, applying the jurisprudential principles to which she is committed." He also argued that her conservative and Catholic beliefs "should not be treated as disqualifying." This is refreshing to hear after Barrett has recently been criticized for her faith and her teaching position at a Christian school that holds to the Biblical definition of marriage. In an interview with Hillsdale College, she explained that a judge's job is simply to interpret and apply the law, regardless of personal beliefs: "Setting aside moral convictions is a challenge for all people not just religious people . . . so the public should be concerned of all nominees inserting personal bias/opinions into their opinions, not just people of faith." Kelly Shackelford, President of First Liberty Institute, a legal organization that defends religious liberty, praised Barrett for her commitment to upholding the First Amendment: "As a judge, Barrett's opinions have favorably strengthened the critical civil rights of American citizens, including religious liberty, while also serving as a critical check on a burgeoning administrative state." We can look to the book of Judges to learn more about Deborah, a wife, prophetess, and judge of Israel, who was chosen by God to serve His people at a very challenging time. Deborah showed her belief in God and her strength through God as she quietly and obediently stepped into her role. Might Amy Coney Barrett have the qualities of a modern-day Deborah? She will be one to watch.
PRAY.
Pray for Amy Barrett and her family as they endure attacks on their faith and even the adoption of two of their children. Pray for wisdom for Senators as they prepare to conduct her confirmation hearings. Lastly, pray that she will be confirmed.
ACT.
The Senate plays a key role in the confirmation of Supreme Court judges. There are 35 Senate seats up for election in 2020 — including a special election in Arizona — many of which are expected to be highly competitive as Democrats vie for control of the Senate. If you live in one of these states, make sure you are prepared to vote. Use our ballot and voter guide here to learn more about the candidates on your ballot.
---
98% of Americans Who Prefer Socialism Over Capitalism Reject 'biblical worldview': Survey
A full 98% of Americans who hold socialist beliefs reject a "biblical worldview" while a strong majority of those who subscribe to biblical beliefs support conservative policies, according to data released by a research group headed by noted evangelical pollster George Barna. The Cultural Research Center at Arizona Christian University released new findings from their American Worldview Inventory 2020. Data for the report drew from an annual survey of 2,000 U.S. adults performed in January, with an approximate margin of error of plus or minus 2 percentage points. Among the findings, the inventory noted that 98% of respondents who said they "prefer socialism over capitalism" did not subscribe to a biblical worldview. By contrast, 83% of those who hold a biblical worldview responded that they preferred "capitalism over socialism." read more
THINK.
"The 2020 election is not about personalities, parties, or even politics. It is an election to determine the dominant worldview in America," George Barna, the survey author who founded the influential evangelical polling organization The Barna Group, said in a statement. "Come November 3 we will know which worldview has won the hearts of Americans and will then determine the foundation for the nation's values, lifestyles, and public policy for the near future." The same study found that while 6% of American adults in general hold a biblical worldview, millennials (18- to 36-year-olds) were the least likely among all adults to hold a biblical worldview at just 2%. Unfortunately, it seems that many do not even understand what a "biblical worldview" is. A biblical worldview, as previously defined by Barna, includes believing that absolute moral truths exist, and that such truth is defined by the Bible, as well as firm belief in six specific religious views. Those views are that Jesus Christ lived a sinless life; God is the all-powerful and all-knowing Creator of the universe and He stills rules it today; salvation is a gift from God and cannot be earned; Satan is real; a Christian has a responsibility to share their faith in Christ with other people; and the Bible is accurate in all of its teachings. How we consider life and everything on earth is shaped by our worldview, whether that worldview comes from Christianity, Islam, Secularism, Marxism, New Spirituality, Postmodernism, or a host of other views. The choice of that worldview dictates the overarching response to how we interact with others, serve, parent, vote and much more.
PRAY.
Pray to diligently learn, apply, and trust God's truths in every area of your life. Ask God to help you develop a deep, comprehensive faith that will stand against the unrelenting tide of our culture's nonbiblical ideas and be salt and light to an unbelieving world. "Do not conform any longer to the pattern of this world but be transformed by the renewing of your mind" (Romans 12:2).
ACT.
We have just released the first topic in our My Faith Votes Worldview Video Series that helps Christians understand a biblical view of current issues. The first topic addressed is Socialism. Watch the short video and download the accompanying study guide to help you and others think well about this issue here.
---
My Faith Votes—is a nonpartisan movement that motivates, equips and activates Christians in America to vote in every election, transforming our communities and influencing our nation with biblical truth. By partnering with national faith leaders, My Faith Votes provides resources to help Christians Pray, Think, and Act to create an America where God is honored in the public square.
Website | www.myfaithvotes.org Twitter | @MyFaithVotes Facebook | My Faith Votes
---
React
---
Comments