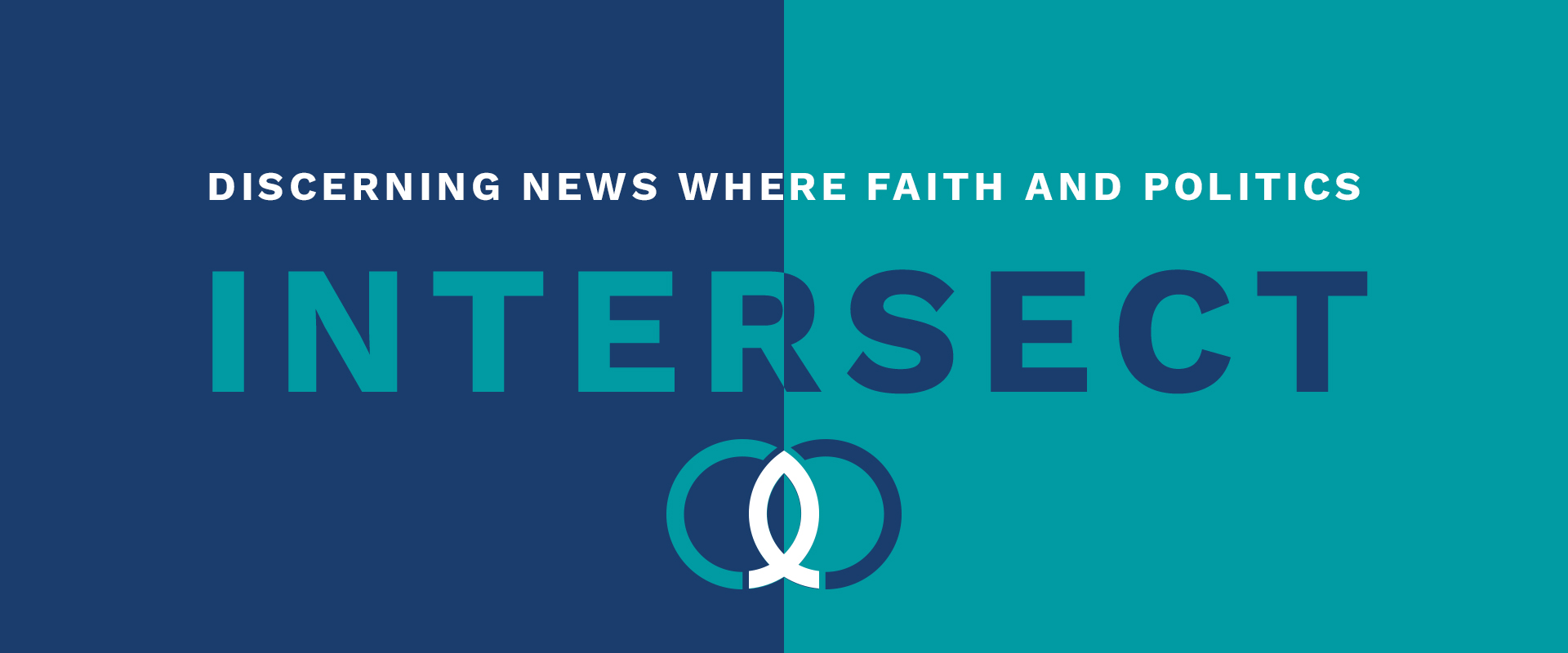 WEEKLY NEWS SUMMARY - SEPTEMBER 6, 2023
In this week's Intersect, read about:
---
Pro-life Activists Found Guilty in Federal Court for DC Abortion Clinic Blockade
"A jury found five pro-life activists guilty of violating federal law in connection with a 2020 blockade of a Washington, D.C., abortion facility, and all of the defendants were taken into custody following the verdict. The jury began deliberations on Friday and took a break on Monday before resuming deliberations on Tuesday, finding activists Lauren Handy, Heather Idoni, William Goodman, John Hinshaw and Herb Geraghty guilty of violating the Freedom of Access to Clinic Entrances (FACE) Act and conspiracy against 'rights.'" read more at the Christian Post
THINK.
According to the DOJ, four of the five activists who were convicted, along with others, of "forcefully entered the clinic and set about blockading two clinic doors using their bodies, furniture, chains, and ropes." While several plan to appeal their cases, each pro-lifer faces up to 11 years in prison—10 for the conspiracy charge and one for FACE Act violations. The FACE Act "prohibits violent, threatening, damaging and obstructive conduct intended to injure, intimidate, or interfere with the right to seek, obtain or provide reproductive health services." All five were immediately incarcerated after the verdict because their actions to physically block the abortion facility were considered a "crime of violence," even though everyone had agreed to remain peaceful.
What was the motive for the pro-life rescue? All the defendants believe that abortion is the murder of innocent human beings. Interestingly, they don't all fit the expected profile of religious conservatives. Lauren Handy describes herself as "a queer Catholic," and Herb Geraghty is a transgender atheist. Both were motivated by an undercover video of the abortionist at the facility which revealed that abortion survivors might be left to die, which is illegal infanticide. However, the judge did not allow that video to be admitted into evidence.
While these pro-lifers were put in jail for a non-violent attempt to stop abortion and infanticide, the abortionist who kills babies every day walks free—and is able to carry on his murderous work. The abortion facility, Washington Surgi-Clinic, has been around since 1973 and aborts babies up until 27 weeks of pregnancy. Since the early days of the pro-life movement, not everyone has believed that our moral imperative to "Rescue those who are being taken away to death," (Proverbs 24:11) includes these kinds of rescues. But all desire to see the day when the real injustice of abortion is abolished.

PRAY.
Heavenly Father, it is hard to see evil go unpunished. Help us to remember that You love justice and will ultimately make all things right. Let us set our hope on You and continue to work and pray for an end to abortion. In Jesus' name, amen.

ACT.
40 Days for Life is a campaign to help save lives by praying for an end to abortion. The next campaign is from September 27 - November 5. The visible, public centerpiece of 40 Days for Life is a focused, 40-day, non-stop, round-the-clock prayer vigil outside a single Planned Parenthood center or other abortion facility in your community. Since 2007, over 23,525 lives have been saved! Visit 40 Days for Life to find out how you can participate.
---
Democracy a Top Concern for U.S. Voters
"More than 80% of voters are worried about democracy in the U.S., according to a new poll. The Bipartisan Policy Center/Morning Consult poll found that 82% of voters are worried about democracy, and 40% said they are 'very worried.' This concern is not limited to one party – 84% of voters in each party said they are concerned about the state of democracy in the country." read more at The Washington Times
THINK.
This poll, which is taking the current temperature of voters, is missing a glaring clarification. What is meant by the term "democracy?" Do those polled know that the word is not in our Declaration of Independence or the U.S. Constitution? It's been a buzzword since President Biden took office and much of the conversation on the left about "threats to democracy" centers on voting.
By definition, a democracy is a government that is ruled according to the will of the majority. A republic is a representative form of government that is ruled according to a charter, or constitution. The main difference is the charter or constitution that limits power in a republic, often to protect the individual's rights against the desires of the majority – which is interesting when you dig a little deeper into how issues, like abortion, are now playing out in states today.
A 2017 Pew Research survey found that 67 percent of those Americans polled considered a system in which citizens voted directly on "major national issues" to be a good thing. Today, you can see it in the way many states are turning to ballot initiatives to affect public policy (see Ohio). There is increased interest in non-republican "solutions" to any supposed obstacles to more democracy, whether it be scrapping the Senatorial filibuster, expanding the number of justices on the U.S. Supreme Court, or developing more immediate ways to express the will of the majority, such as ranked-choice and digital voting. America's Founders saw the problems of direct democracy and explicitly rejected this model—and for good reason. They saw that because ancient democracies lacked any social or institutional forces that could check, refine, or moderate the will of the majority, they were prone to great instability, divided by factionalism, and subject to the passions and short-sightedness of the public. Direct democracies were vulnerable to tyranny.

PRAY.
The Bible tells us that governments are ordained by You, Lord, to punish the wrongdoer and to commend those who do right (Romans 13:3-4; 1 Peter 2:14). In our representative government, thank You that "we the people" have a voice in who we elect to serve the people, unlike many nations in the world. Help us to take this privilege and responsibility seriously and with godly wisdom. Father, we ask You to order the outcome of elections in a way that will best contribute to the flourishing of the Church, the good of the nation, and the fulfillment of the Great Commission.

ACT.
Is your voter registration up to date? Maybe you've moved, had a name change or you simply want to make sure your state has you listed as an "active" voter. Check your registration here. It only takes 1 minute! In every election, we have an opportunity to shine our light by voting according to the biblical values we hold as followers of Christ. Let's not waste that!
---
U.S. Health Agency Recommends Easing Federal Marijuana Restrictions
"The Department of Health and Human Services is formally recommending that the Drug Enforcement Administration ease government restrictions on marijuana, which remains illegal at the federal level even though 40 states allow its use in some form. The move comes 11 months after President Joe Biden ordered the top health agency to conduct a review of the drug. The recommendation is to move marijuana from what's known as a Schedule I drug to Schedule III, under the Controlled Substances Act." read more at NBC News
THINK.
The recommendation by HHS is now in the hands of the Drug Enforcement Administration (DEA), which has the ultimate authority on scheduling substances. The Biden administration had hoped to announce the rescheduling of the drug sometime this fall. The push to ease restrictions is troubling considering numerous studies and research now laying out the detrimental effects including depression, suicide, organ failure, increased human trafficking and organized crime, and so much more. The mind-altering chemicals in commercial cannabis (marijuana) products today are dramatically higher in potency than in years past. Colorado, one of the first states to legalize marijuana, is seeing dramatic impacts, and they are not for the better.
More than 40 million adults – 16 percent of the population – use marijuana, a rate that has more than doubled in the last 10 years amid a seismic cultural shift that sees more acceptance toward medical and recreational use. Why is recreational marijuana more dangerous than you may think? We've laid out a detailed and helpful analysis here.
In 2023, voters rejected a ballot measure to legalize marijuana in Oklahoma. However, in Minnesota this year, the state's legislature voted to legalize recreational marijuana. Voters in Ohio will vote on Issue 2 on November 7th which aims to legalize recreational marijuana. Looking ahead to 2024, NE, FL, OR, ID and MO all face potential measures on marijuana. Where does your state stand? You can see an in-depth look here.
PRAY.
Sovereign Lord, protect our nation from this push for drug legalization and leniency. We want to be a nation of sobriety and holiness. Expose the corporate interests lobbying for this legalization and raise up voices in the younger generation to oppose the legalization. Please open our eyes to see beyond public opinions and truly understand what's at stake.
ACT.
Has your pastor ever spoken on having a biblical perspective on the legalization of drugs, such as marijuana? It's an issue that impacts all of us. We have a letter you can share with your pastor to ensure they are informed and encouraged to address the congregation. You can download the letter here. For those of you in Ohio, we created a specific letter to share with your pastor about the upcoming vote on Issue 2, the ballot measure regarding marijuana. Download and share the Ohio letter here.

---
Coach Joe Kennedy Lauded as 'Hero' After Taking Knee in Prayer for First Time Since Supreme Court Victory
"Football coach Joe Kennedy was praised on social media when he returned to the football stadium to pray, with many calling him a 'hero' for fighting his battle for religious freedom. Kennedy, a football coach at Bremerton High School in Washington state, was fired in 2015 for taking a knee and praying on the field after games, a 'ritual' he told the Washington Examiner began in 2008 and lasted for seven years until school officials told him to cease his silent prayers. After suing the Bremerton School District for firing him in violation of his freedom of religion, which culminated in a 2022 Supreme Court ruling that was in his favor, Kennedy returned to the field on Friday night to resume his tradition." read more at the Washington Examiner
THINK.
So often the news only covers the resolution of court cases. With Coach Kennedy, we now see the practical effect of his Supreme Court victory. His attorney said it "changed the face of American constitutional law." The school district has promised "to treat Mr. Kennedy's personal religious conduct the same way the district treats all other personal conduct by coaches at football games." This is good news for every public school employee.
"Rejoice always, pray without ceasing, give thanks in all circumstances; for this is the will of God in Christ Jesus for you." (1 Thessalonians 5:16-18) When asked what he prayed after his first game back, Kennedy told reporters, "I said 'thank you' probably 30 times…What do you say to the One who got me here to begin with? It was just, 'thank you,' and I had nothing else to say to Him. I've never been great at prayers but I was just so thankful for being part of this, it was just awesome."
Someone who has "never been great at prayers" is still sticking to the covenant he made with God 15 years ago to thank Him after every game. Isn't it encouraging that faithfulness doesn't require skill? However, faithfulness looks for you in your area of influence, remember that "God gave us a spirit not of fear but of power and love and self-control. Therefore do not be ashamed of the testimony about our Lord, … but share in suffering for the gospel by the power of God, who saved us and called us to a holy calling, not because of our works but because of his own purpose and grace, which he gave us in Christ Jesus before the ages began," (2 Timothy 1:7-9).
PRAY.
Lord Jesus, thank You for the religious freedom I still have in this country. Thank You most of all for the spiritual freedom I have in You–freedom from letting the world, the flesh, and the devil keep me from walking with You and being a light to those around me. Show me how to be faithful to You in every area of my life. In your name, amen.

ACT.
Did you know a child in public schools will spend over 15,000 hours from Kindergarten through 12th grade? You hope the people who influence them are like Coach Kennedy! But how can you really know? We've created a free eBook, Know Your Child's School, to help Christians understand the changing landscape of public education. We also provide you with practical steps you can take to identify what is happening in your local schools and position you to influence the governance of your local public school(s) to protect children. Download and share this free eBook today!

---
My Faith Votes—is a nonpartisan movement that motivates, equips and activates Christians in America to vote in every election, transforming our communities and influencing our nation with biblical truth. By partnering with national faith leaders, My Faith Votes provides resources to help Christians Pray, Think, and Act to create an America where God is honored in the public square.
Website | www.myfaithvotes.org Twitter | @MyFaithVotes Facebook | My Faith Votes
---
React
---
Comments