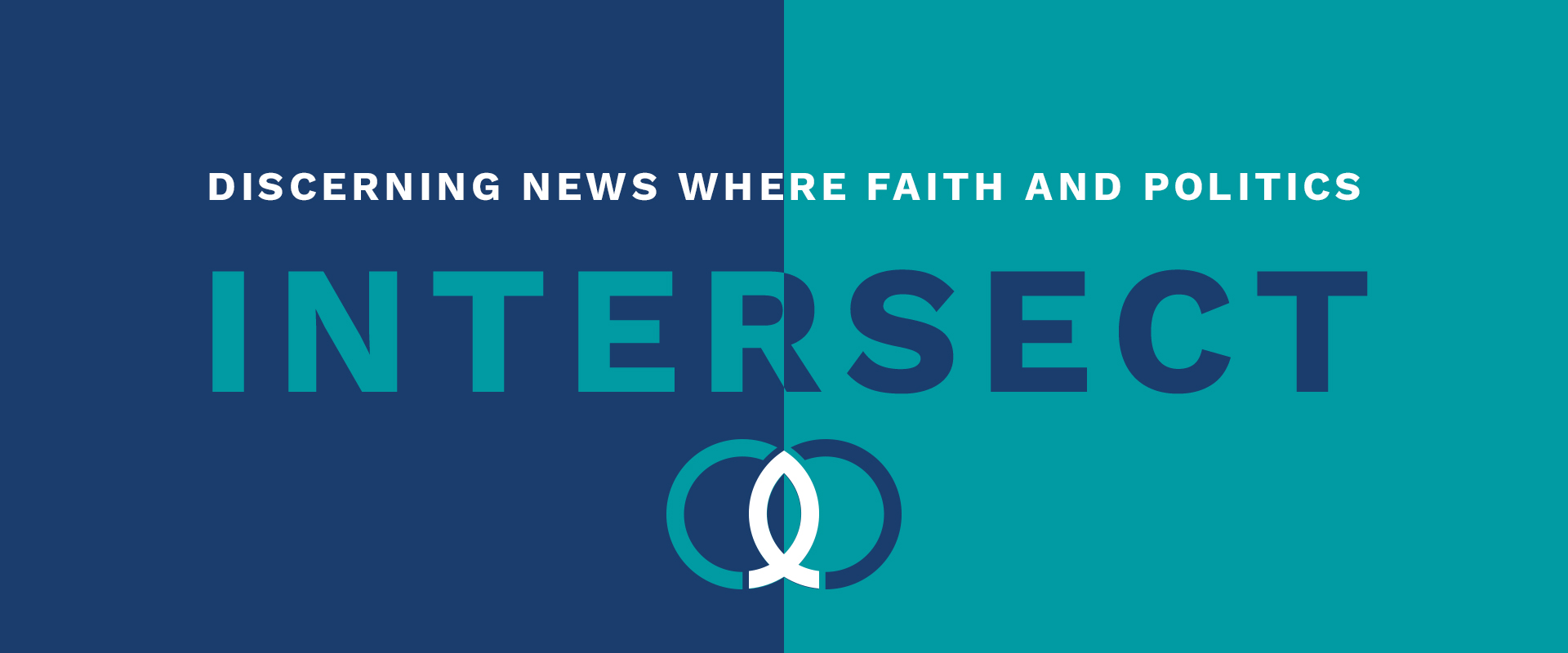 WEEKLY NEWS SUMMARY - SEPTEMBER 22, 2021
In this week's Intersect, read about:
---
Supreme Court to Hear Oral Arguments Challenging Roe v. Wade on Dec. 1
"The U.S. Supreme Court announced Monday that it will hear oral arguments in a Mississippi challenge to Roe v. Wade, the 1973 landmark ruling that effectively legalized abortion in America, on Dec. 1. The case, Dobbs v. Jackson Women's Health Organization, focuses on the 15-week abortion ban in Mississippi and will force the nation's highest court to determine 'whether all pre-viability prohibitions on elective abortions are unconstitutional.' Anti-abortion activists have looked at the case as a legitimate chance to reverse Roe. Marjorie Dannenfelser, president of the Susan B. Anthony List, one of the largest anti-abortion advocacy groups, claimed Dobbs marks 'a landmark opportunity for the Supreme Court to recognize the right of states to protect unborn children from the horrors of painful late-term abortions.'" read more at the Washington Examiner
THINK.
The pressure is heating up. Last week, a group of pro-abortion protestors gathered outside Supreme Court justice Brett Kavanaugh's home in response to the Texas Heartbeat law with a message: "We will not allow *anyone* to deny our rights and our humanity. Respect our existence or expect resistance." The irony is that this statement should be applied to the unborn--if they had the ability to speak. That is why we must speak for them. Proverbs 31:8 says "Open your mouth for the speechless, in the cause of all who are appointed to die." South Dakota Governor Kristi Noem has implemented an executive order mandating that all chemical abortion pills can only be prescribed after an in-person doctor's appointment. The order will remain in place until the legislature passes a law to the same effect. After taking the first abortion pill, mifepristone, many women immediately regret their decision, but it is possible to intervene with treatment in time to save her baby. This month, Google shut down ads by Live Action that directed women to a website where they can find a physician who will reverse the abortion pill. Meanwhile, the Texas Heartbeat law is still saving lives. A U.S. District Judge who was appointed by Obama denied a request by the Department of Justice to prevent the law from being enforced until their court case against the state has been heard. One Texas doctor, however, publicly announced that he performed an illegal abortion on a woman after the baby's heartbeat was detected. With the success (so far) of the heartbeat law and the possibility of a reversal of Roe v. Wade, the attacks against standing for life will only intensify. Albert Mohler notes that while not every moral issue is supposed to be enforced by the government, matters of life and death certainly are. He said, "[Y]ou have several people who are now talking about the pro-life movement as they had supported it as being about changing hearts not changing laws...But the point is, the law is a moral instrument. It is a structure of moral accountability. And you really don't believe in something like the sanctity of human life until you are willing to make it the law. It was important [to] change hearts and minds when it came to Jim Crow's segregation in the United States, but comprehensive change and the right moral posture did not happen until such prejudice was made a matter of the law."
PRAY.
Pray that the Supreme Court justices will be strengthened with courage against threats and intimidation attempts. In the months leading up to the oral arguments, pray that the justices will seek God's wisdom, and take the words of Proverbs 31:8 seriously. Pray for more Christians to realize that the government has a moral obligation to protect innocent life and pray for faithfulness on the part of pro-lifers to continue the effort, no matter the outcome.
ACT.
Are you looking for a way to help women choose life? With the passage of the Texas Heartbeat law, pro-life ministries are experiencing an uptick in women seeking assistance. LoveLine is a wonderful ministry that connects women anywhere in the country with immediate care and ongoing support from ministries in her community. Visit their website to consider opportunities for partnership, prayer, volunteer work, and financial support.
---
Mayorkas Rushes to Texas Border Sector Overwhelmed by Migrants, Admitting 'Challenging Situation'
"Secretary of Homeland Security Alejandro Mayorkas traveled to Del Rio, Texas, on Monday for a briefing on how the Biden administration is responding to a migrant surge in the area. According to the Department of Homeland Security, Mayorkas is meeting with state and local officials to address the situation, in which thousands of predominantly Haitian migrants are flooding the border. Many have set up a de facto camp under a bridge to shelter from the 100-degree heat as their numbers swell and they wait to be processed by Border Patrol. 'We certainly are experiencing a challenging situation, but we are surging resources and we have a multipronged approach to this,' Mayorkas told CNN on Sunday. He said that so far the administration had added 600 agents as part of a surge in the region and was working with the American Red Cross and World Central Kitchen to bring supplies and food to people. read more at Fox News
THINK.
While many Haitians had previously immigrated to South America, dismal situations in Haiti from the earthquake and recent presidential assassination prompted more to leave that country, and it appears the door to illegally enter the U.S. was opened when the Biden administration halted deportation flights back to Haiti earlier this month. On Sunday, the total number reached nearly fifteen thousand people camped in Del Rio, which was already struggling to deal with the immigration crisis this year. Roughly six thousand illegal immigrants were deported as of Monday, mostly consisting of single men. Most families will be allowed to stay in the U.S. for now. Once again, the border is facing a humanitarian disaster. In August alone, the United States detained almost 209,000 at the border, a rate not seen since the year 2000. On a related note, Senate Democrats were hoping to include a pathway to permanent legal residency and perhaps citizenship for several categories of illegal immigrants in their proposed 3.5 trillion dollar 'infrastructure' bill. However, the Senate parliamentarian (who interprets Senate rules) said such provisions would have to be filed separately, leaving them vulnerable to a Republican filibuster. The current administration's rhetoric surrounding immigration has emphasized compassion, yet the results have been catastrophic--for our citizens and the immigrants. Chad Wolf, former acting secretary of the Department of Homeland Security, warned, "Hundreds have been pulled off the line, from defending and safeguarding our borders, to process and care for the flood of illegal aliens apprehended at the border. Cartels and smugglers have taken advantage of our weakness, with record numbers of not just people, but narcotics, pouring across an increasingly undefended border." We know that national boundaries are determined by God, (Acts 17:26) and the government has a responsibility to protect its citizens and maintain order by securing its boundaries so that immigration is orderly and legal. Regardless of how well our government performs this job, however, how can we make the best of this sad situation? We are ambassadors of Christ, who, "when He saw the multitudes, He was moved with compassion for them, because they were weary and scattered, like sheep having no shepherd. Then He said to His disciples, "The harvest truly is plentiful, but the laborers are few. Therefore, pray to the Lord of the harvest to send out laborers into His harvest." (Matthew 9:37-38)
PRAY.
Pray for peace, recovery, and stability for the country of Haiti, and for Christians who are ministering and sharing the Gospel there. Be praying for strength, resolve, and support for our overwhelmed border security officials and humanitarian organizations working to do their best in the middle of this border crisis. God is still at work.
ACT.
In April, we talked with a My Faith Votes volunteer, Deborah, whose family has owned land on the Texas-Mexico border for 100 years. Her personal story demonstrates the dire situation but also gives perspective and ways we can be praying and helping. You can watch our conversation with her here.
---
Ohio Mayor Orders School Board to Resign or Face Criminal Charges Over 'Child Pornography' Taught in Schools
"The mayor of a city in Ohio ordered the school board to either resign or face criminal charges for allowing high school students to be exposed to course material that he described as 'child pornography.' At the Hudson City School District Board of Education meeting Monday, Hudson Mayor Craig Shubert, a Republican, addressed the school board, saying, "It has come to my attention that your educators are distributing essentially what is child pornography in the classroom. I have spoken to a judge this evening; she has already confirmed that. 'I'm going to give you a simple choice: You either choose to resign from this board of education or you will be charged,' he added. The crowd gathered at the board meeting erupted into applause following Shubert's speech. read more at The Christian Post
THINK.
This story created a stir on our Facebook page with over 11,000 reactions. David Zuro, president of the school board of education, indicated in a statement that no one plans to resign. "While we respect the mayor's position within the City of Hudson, in accordance with the State laws of Ohio, the supervision of the public schools of this District is the responsibility of the Board of Education." The Summit County prosecutor says sexual writing prompts aren't child pornography but says the prosecutor's office is continuing to review the Hudson mayor's allegations about questionable material distributed in the school district and the threats that followed those accusations. What would you do as a parent in the district? You can read more about the material in question here and watch a recording of the school board meeting where this was discussed here. On a more positive note, parents and students in a Tennessee city did take action when school officials told district employees they were not allowed to lead students in prayer. That included not only teachers and staff but also coaches of athletic teams. But the threat of a legal action to forbid prayer after the football game was overwhelmed by player-lead prayer, supported by parents and fans. The image taken of the prayer on the football field is powerful. While over 48 million children attend public schools in the US, let's not forget that as Christians, it's the parents, not what's taught in the schools, who are the shepherds to guide their children and to teach them about God. Christianity views parents as the primary people responsible for teaching God's story to their kids and preparing them for a virtuous adult life. With this responsibility comes a heavy burden: parents are accountable to God for performing in their role. That may be a burden but it's also a tremendous blessing.
PRAY.
Father, help us to have the courage to be engaged in our community and to speak up when evil is being promoted. Lead us to lay down our comfort and safety to stand up for our children. You are calling us to walk Your path, and Your Light is a lamp unto our feet. For those of us who are parents, we ask for wisdom, strength, and the resolve to teach our children Your ways. Lord, protect our children. Don't allow them to be turned toward evil; may they seek You in the days of their youth. Restore decency, Father, and above all, glorify Your name among us.
ACT.
Involved fathers are linked to better outcomes on nearly every measure of a child's wellbeing, from cognitive development and educational achievement to identity and social behavior. Stephen Kendrick of the popular Kendrick Brothers (War Room, Fireproof, Overcomer) sat down with us to talk about his new documentary, Show Me the Father Movie, and the upcoming re-release of Courageous. In our conversation with Stephen, he gives behind-the-scenes insights as to why they made the documentary and what he learned about the importance of fathers in society from a biblical perspective. Stephen takes biblical truth and challenges us to think differently about how we view our earthly fathers and how to personally relate to God. Watch our conversation here.
---
New York Gov Says Religious Exemptions Not Legitimate Reason to Forgo COVID Vaccine
"New York Gov. Kathy Hochul (D) said this week she does not believe health care workers in the Empire State should be permitted to forgo vaccination against COVID-19 via religious exemptions. Hochul, a Democrat who took the place of disgraced former Gov. Andrew Cuomo (D), made the comments in response to a court decision temporarily upholding the rights of some in the medical community who have refused the inoculation citing their religious beliefs, according to WAMC-FM. The governor told reporters her administration intentionally excluded religious exemptions from its mandate requiring all healthcare workers receive their shots by Sept. 27. 'I'm not aware of a sanctioned religious exemption from any organized religion,' she said with a slight hesitation in her voice. 'In fact, they are encouraging the opposite. Everybody from the Pope on down is encouraging people to get vaccinated.'" read more at Faithwire
THINK.
It is curious that Governor Hochul seems to believe her duties include judging which religious beliefs are valid, and which are not. This sort of attitude resembles 16th Century England when William Tyndale was executed for printing an English translation of the Bible--an action that was not sanctioned by the dominant religion of that time. Thankfully in NY, a federal judge has issued a temporary restraining order, blocking the mandate from taking effect until October 12. The judge also has the ability to issue a preliminary injunction, which would mean the healthcare workers seeking religious exemption would be protected until the case is decided. It should be very apparent that disagreements exist among members of the same religion, even within the same denomination. Therefore, a religious belief does not have to be sanctioned by organized religion to be valid. In addition, it is a misstatement to claim that "everyone from the Pope on down" encourages vaccination. The Catholic bishops of South Dakota issued a public statement last month, stating "...a Catholic may, after consideration of relevant information and moral principles, discern it to be right or wrong to receive one of the available Covid-19 vaccines. If he or she thus comes to the sure conviction in conscience that they should not receive it, we believe this is a sincere religious belief, as they are bound before God to follow their conscience. We support any Catholic who has come to this conviction in seeking religious exemption from any Covid-19 requirement." Ironically, Creighton University, a Catholic school, denied students any religious exemption from the Covid-19 vaccine requirement. Four students who were disenrolled have filed a lawsuit. Both Pfizer and Moderna are testing a lower-dosage vaccine intended for children under twelve, and Pfizer hopes to apply to the FDA for emergency use authorization by the end of the month. While we wait to see how that develops, we should heed the advice of one attorney to remember to care for the spiritual needs of our children, who are experiencing alarming levels of depression and anxiety. Remind them that our hope is rooted in Christ, who is our life. (Colossians 3:3-4)
PRAY.
Lord Jesus, we thank You for never forsaking us, and walking with us through the valley of the shadow of death, being our good Shepherd who laid down Your life for us so we can have eternal life from the moment we place our faith in You. Help us to walk as Your people, whose consciences and bodies are submitted to You, and who hold fast to an eternal hope which nothing in this world can ever diminish. We pray this in Your faithful name, Amen.
ACT.
We're partnering with the movie GOD'S NOT DEAD: WE THE PEOPLE, a politically riveting story about the fight for freedom that starts in the heart of the country and runs to the corridors of Washington. It ultimately asks: If your individual liberties are threatened, "What Will You Do?" Watch the trailer and get your tickets for the October 4th-6th movie here.
---
My Faith Votes—is a nonpartisan movement that motivates, equips and activates Christians in America to vote in every election, transforming our communities and influencing our nation with biblical truth. By partnering with national faith leaders, My Faith Votes provides resources to help Christians Pray, Think, and Act to create an America where God is honored in the public square.
Website | www.myfaithvotes.org Twitter | @MyFaithVotes Facebook | My Faith Votes
---
React
---
Comments