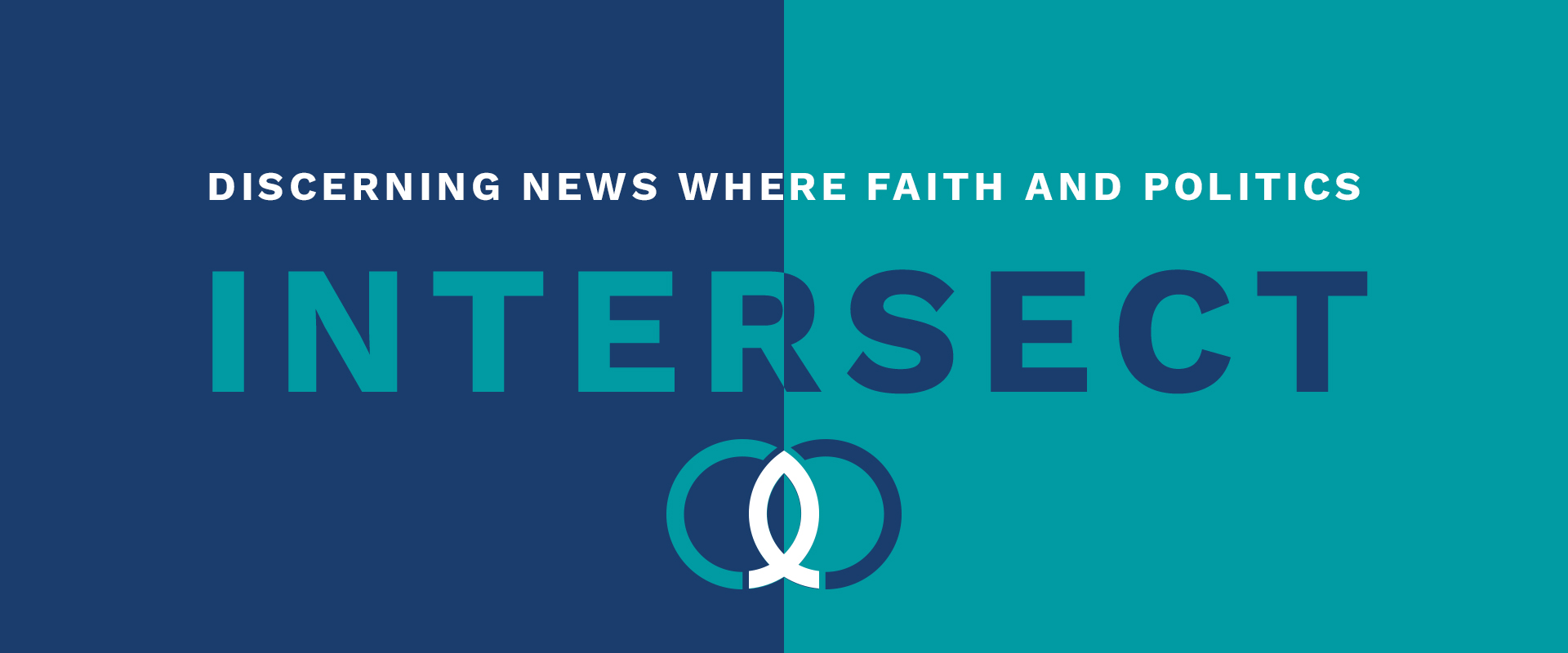 WEEKLY NEWS SUMMARY - October 9, 2019
In this week's Intersect, read about:
---
Supreme Court to Hear Louisiana Abortion Case
The Supreme Court announced it would take up an abortion case from Louisiana, setting the stage for a national fight over a contentious issue during a presidential election year. It will be the first abortion case taken up by the Supreme Court since President Trump's two nominees — Justices Neil Gorsuch and Brett Kavanaugh — were confirmed to the bench. The case centers on the law in Louisiana that would require doctors who perform abortions to have admitting privileges at a nearby hospital, a requirement that critics say is designed to force abortion clinics to close. The Supreme Court in February ruled 5-4 to block the law from taking effect while it was being challenged in court, with Chief Justice John Roberts siding with the liberal justices. But it's not certain whether Roberts's decision in February means he will vote to block the law after the court hears oral arguments. Kavanaugh and Gorsuch sided with Justices Clarence Thomas and Samuel Alito in dissenting. In 2016, the Supreme Court struck down a similar Texas law 5-3, with former Supreme Court Justice Anthony Kennedy siding with liberal justices and Roberts in dissenting. But Kennedy has since retired, and two conservative justices have taken seats at the court. read more
THINK.
In the 2016 elections, millions of Christians turned out to the polls because of one important reason, the Supreme Court. Christians understood that the next appointments to the Supreme Court would have the power to decide issues — abortion, religious freedom, prayer, and family — that would impact generations to come. President Trump promised voters to only appoint Supreme Court Justices from the list he published prior to securing his nomination, a list that contained only pro-life candidates. And through the confirmation processes of both Justice Gorsuch and Justice Kavanaugh, Christians prayed that these two pro-life individuals would be confirmed to the bench. The country will be closely watching and waiting for the Supreme Court to hear oral arguments on this case and issue their decision. The ruling will likely come down to Chief Justice Roberts as the swing vote. Many people believe it is highly unlikely that the Supreme Court would overturn Roe v. Wade, but it would be more likely for the court to reverse previous precedent by allowing individual states to decide their own abortion laws. A recent Gallup poll found that a slight majority of women, 51 percent, consider themselves to be pro-life rather than 43 percent who consider themselves pro-choice. We've made progress to protect unborn life across our country but Christians need to continue to stay in the fight by voting for life at the polls and praying for pro-life rulings and policies in our nation.
PRAY.
Start praying now for each of the nine Supreme Court Justices. Pray they would rule in accordance with the Constitution and the uniquely American principles of life, liberty, and the pursuit of happiness that formed the basis of our Constitution.
ACT.
We encourage you to watch our recent My Faith Votes interview with Lila Rose, Founder and President of the pro-life organization Live Action. We discuss the current landscape for the sanctity life across the nation and what people of faith can be doing to take a stand.
---
Atheist Group Files Complaint About Texas Judge's Bible Gift, Hug to Convicted Murderer
A brother's forgiveness to his brother's killer was in the spotlight as the pair embraced in front of a Dallas, Texas courtroom. Brandt Jean, the brother of Botham Jean, asked during his witness impact statement if he could hug former Dallas Police officer Amber Guyger. The judge granted his request and the pair hugged each other in a moment of forgiveness that was seen around the world. State District Judge Tammy Kemp also gave Guyger a Bible. She read the New Testament's John 3:16 to her: The judge also also hugged her before Guyger was led out of the courtroom. The Freedom From Religion Foundation (FFRF) filed a complaint against Kemp with the Lone Star State government agency who looks into allegations of judicial misconduct, according to the New York Times. The atheist organization headquartered in Madison, Wisc., believes the judge crossed an ethical line after she sentenced Guyger to 10 years in prison. Guyger, who is white, was sentenced for shooting and killing Jean, a black man, in his apartment, which she claimed she mistook for her apartment. Some activists have also criticized Kemp, who is black, saying they wondered if a black defendant would have received the same treatment from the judge. read more
THINK.
Judge Tammy Kemp defended her actions, saying "What I told her is, 'Brandt Jean has forgiven you. Please forgive yourself so that you can live a purposeful life when you get out of prison,'" the judge said. "She asked me if God would forgive her. And I said, 'Yes I believe he will. He will forgive you.' And then she said, 'I don't even have a Bible. I don't know where to begin. I don't even have a Bible.' And I just said, 'I'll get you one.' I saw someone who was really, really hurting deeply. And if a hug was going to help her, I had to extend love and compassion to her." You can watch the video of Judge Kemp here. People across the world witnessed the loving actions by both Judge Kemp and Bradt Jean. Although the sentence left many with questions, Bradt Jean's incredible display of forgiveness and grace left everyone without words. On the stand Bradt Jean said to Amber Guyer, "I want the best for you. That's exactly what Botham would want you to do, and the best would be to give your life to Christ." The Dallas County District Attorney John Creuzot called Brandt Jean's embrace of Guyger an "an amazing act of healing and forgiveness that is rare in today's society…especially for many of our leaders. If your 18-year-old brother can heal and express healing in that fashion, in his words, and in his deeds, I would hope that the greater community, not just Dallas but all of Texas and all of the United States, could gain a message from that." Words fail us when the world overwhelms us. All too often, we lose our words in tragedy. But Brandt Jean and Judge Kemp manifested the ways of God, leaving us at a loss because God's ways are higher than our own. Instead of trying to find words, maybe we can take after Brandt Jean and Judge Kemp. We may not have the right words, but perhaps the world needs our love more than our explanations (Isaiah 55:8-9, Amos 5:24, Romans 5:8, 1 John 3:16).
PRAY.
Pray for Amber Guyger, that she would seek the Lord and trust Jesus Christ as her personal Lord and Savior. Pray for this public display of forgiveness and grace to be an example for our communities and our nation.
ACT.
Most people in Amber Guyger's position don't hear the Gospel in the courtroom when they receive their sentencing, but many have the opportunity to hear the Gospel through incredible Christian prison ministries. Consider volunteering with or supporting a Christian prison ministry. Check out Prison Fellowship and its volunteer opportunities to bring the Gospel inside prison walls.
---

---
Second Whistleblower Comes Forward After Speaking with IG: Attorney
Mark Zaid, the attorney representing the whistleblower who sounded the alarm on President Donald Trump's dealings with Ukraine and triggered an impeachment inquiry, tells ABC News that he is now representing a second whistleblower who has spoken with the inspector general. Zaid tells ABC News' Chief Anchor George Stephanopoulos that the second person -- also described as an intelligence official -- has first-hand knowledge of some of the allegations outlined in the original complaint and has been interviewed by the head of the intelligence community's internal watchdog office, Michael Atkinson. The existence of a second whistleblower -- particularly one who can speak directly about events involving the president related to conversations involving Ukraine -- could undercut Trump's repeated insistence that the original complaint, released on Sept. 26, was "totally inaccurate." read more
THINK.
In Federalist Papers 65, Alexander Hamilton explained that impeachment "will seldom fail to agitate the passions of the whole community. [It] will enlist all their animosities, partialities, influence, and interest on one side or on the other." We have learned of another whistleblower. However, our primary concern is not in the number of whistleblowers but the veracity of their claims. Passions may get agitated, but the truth must be sought. We wait patiently for it while the system pursues after it. It's important to note that only an impeachment injury has launched against President Trump (James 1:19, Mark 4:22). For impeachment to take place, the assigned House Committees will need to determine if the president has committed "treason, bribery, or other high crimes and misdemeanors" according to Article II Section 4 of the Constitution. The committee will then write the "articles of impeachment," and the House will vote on them. However, even if the House obtains a simple majority supporting the articles of impeachment, it is the Senate who conducts a trial to either acquit or convict. Democrats only have 47 votes in the Senate and 67 votes are required to reach the two-thirds vote that would remove a president from office. Regardless of the likelihood of impeachment, our nation certainly needs our prayers as we navigate these divisive times.
PRAY.
Pray for truth and justice to prevail throughout this process (Leviticus 19:15, Proverbs 21:15). And pray for peace and unity in our nation despite the growing political divide (Romans 12:16, 1 John 4:12).
ACT.
It's tempting to want to shove this impeachment issue aside and chalk it all up to partisan politics. However, now that an impeachment inquiry has launched, Christians must be informed and committed to faithfully praying for our nation during this process (1 Timothy 2:1-2). Take a few minutes to access and read through the free My Faith Votes Impeachment Process and Christian's Call to Prayer Guide to help you pray faithfully during this time.
---
NFL Fines Player for 'Man of God' Headband - Is This Different Than the National Anthem Controversy?
The National Football League (NFL) recently fined New Orleans Saints Linebacker Demario Davis for wearing a headband with a message about his faith, despite unresolved controversy over the national anthem protests. Davis wore a headband that read "Man of God" during a game on September 22, violating the NFL's dress code requirements, multiple news outlets report. The fine against Davis raises concern with the NFL penalizing players for headwear, but players are allowed to choose whether to honor other principles. Former Arkansas Gov. Mike Huckabee tweeting, "Why so many empty seats at NFL games? Players who show disrespect for flag & Anthem are defended by NFL & get Nike contracts, but players who express their faith get fined big $$ for 'personal messages.'" Protests over whether players should stand or kneel during the national anthem started in 2016 with then-quarterback Colin Kaepernick. Players choosing to protest and kneel during the national anthem had become a regular occurrence during NFL games. Currently, the NFL allows players who don't want to stand to stay in the locker room during the national anthem, but requires them to stand if they come to the field. Davis plans to sell the headbands and donate the proceeds to a Christian charity, according to USA Today. "I'm hoping to put it out where fans can wear it, and I can wear it through them," Davis said. read more
THINK.
They fined him for his headband, but Mr. Davis shouldn't let the NFL get to his head – literally and figuratively. The NFL has an interesting history regarding fines. They fined former Bears linebacker Brian Urlacher $100,000 for wearing a Vitamin Water hat. Former running back for the San Francisco 49ers, Frank Gore, was fined $15,000 for wearing his socks too low during a game. And then there was Von Miller of the Denver Broncos who was fined $15,000 by his teammates because of his flatulence. These fines may be outrageous, the rules may be silly, but the transgressions are clear. Pharaoh ridiculously called for the murdering of children. King Nebuchadnezzar insecurely demanded worship. The Egyptian midwives were willing to suffer the consequences. Shadrach, Meshach, and Abednego did suffer the consequences. Heavenly stands don't excuse you from earthly punishments. But costly sacrifices do function as perplexing statements to a watching world. You pay a price when you take a stand, and hopefully you have the chance to share how God paid it all so you could stand. (Exodus 1, Daniel 3). Demario Davis isn't the only public figure in the news for sharing his faith. Rapper Kanye West has been in the news for hosting pop-up church services. Adam Tyson, senior pastor of Placerita Bible Church in Santa Clarita, California said, "I spent about three hours just going through the Gospel, making sure he understood clearly about the atonement of Jesus Christ, that God is holy, that we are sinners, that Christ came to die in the place of sinners, that by repenting and believing in him, we can have eternal life," the pastor remembered. "And [West] was like, 'Hey, man. I told you I've been radically saved; I believe that message and I wanna get that message out to the world.'" Be encouraged that God is raising up other voices - even on the football field and in the music industry, who are not afraid to confess and share their faith in Jesus Christ.
PRAY.
Pray for these influencers in our culture to continue to have the boldness to share the truth of the Gospel with others. And pray for God to give you the courage to be an ambassador for His Word and Truth everywhere you go (1 Peter 3:15).
ACT.
"Do you want to live and speak more boldly for Jesus Christ? I do. How badly do we want it? Do we want it enough to ask, seek, and knock until God answers us and to take risks that press on our timidity? Or, if we're honest, would we rather just keep wishing we were bolder — admiring bold people, being inspired by biographies about bold people, talking with our friends and small group members about our struggles with fear of man — all the while staying where we feel safe and relatively comfortable and letting fear go unchallenged?" We encourage you to read this article, Lord, Make Me More Bold, to help you boldly live out your faith.
---
My Faith Votes—is a nonpartisan movement that motivates, equips and activates Christians in America to vote in every election, transforming our communities and influencing our nation with biblical truth. By partnering with national faith leaders, My Faith Votes provides resources to help Christians Pray, Think, and Act to create an America where God is honored in the public square.
Website | www.myfaithvotes.org Twitter | @MyFaithVotes Facebook | My Faith Votes
---
React
---
Comments