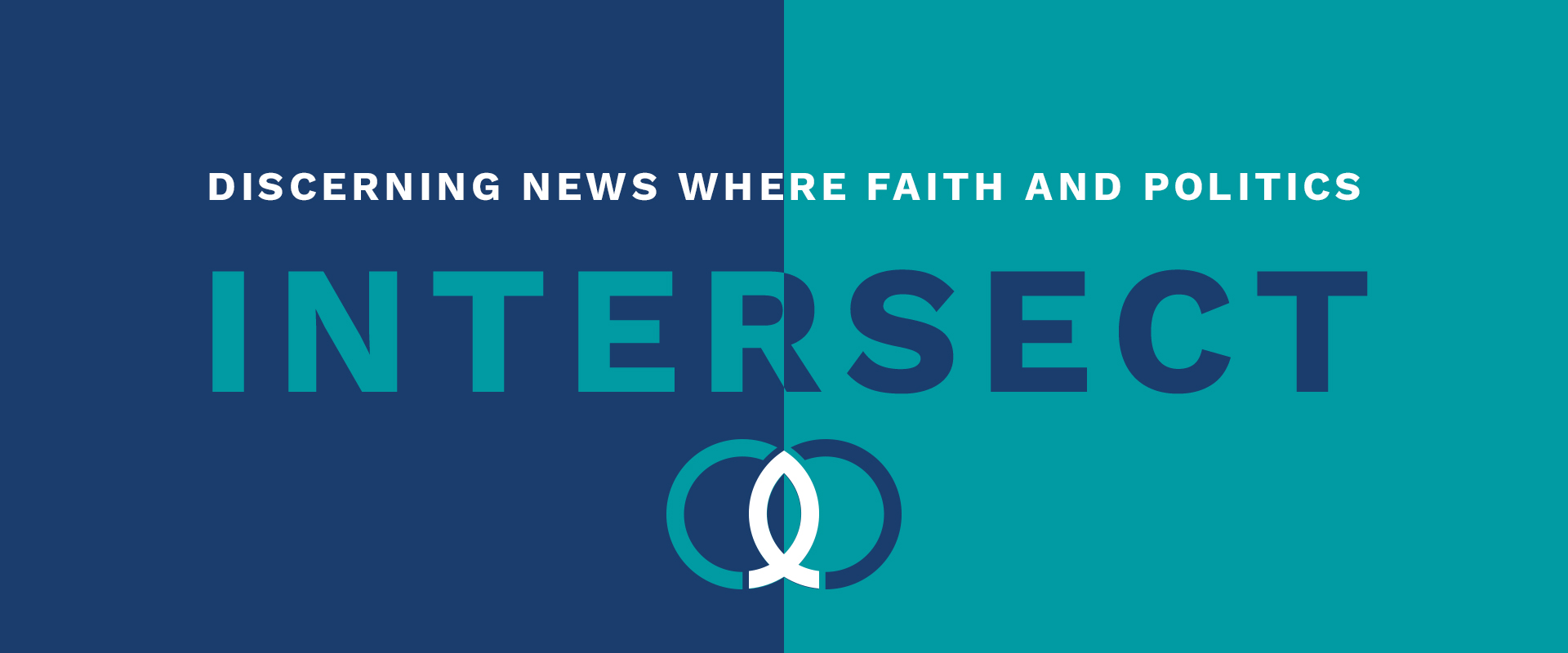 WEEKLY NEWS SUMMARY - October 23, 2019
In this week's Intersect, read about:
---
Americans are Turning Away From Church as Population of Christians Decline, Pew Study Claims
Only 65 percent of Americans now identify as Christian while those who identify as religiously unaffiliated swelled to 26 percent, a new study from the Pew Research Center says. The new data, culled from telephone surveys conducted in 2018 and 2019, show a 12 percent decline in the number of Americans who identify as Christians when compared to the general population 10 years ago. And the decline is visible across multiple demographics, particularly among young adults. "The changes underway in the American religious landscape are broad-based. The Christian share of the population is down and religious 'nones' have grown across multiple demographic groups: white people, black people and Hispanics; men and women; in all regions of the country; and among college graduates and those with lower levels of educational attainment," Pew Research says. "Religious 'nones' are growing faster among Democrats than Republicans, though their ranks are swelling in both partisan coalitions," Pew adds. "And although the religiously unaffiliated are on the rise among young people and most groups of older adults, their growth is most pronounced among young adults." When it comes to rates of attendance at religious services, the share of Americans who say they attend religious services at least once or twice a month dropped by 7 percentage points, while the share who say they attend religious services less often, if at all, rose by the same figure. read more
THINK.
Earlier this year, Lifeway published research regarding reasons why young adults are no longer attending church. The top 4: a move to a new city (34 percent), church members seemed judgmental or hypocritical perception (32 percent), no longer felt connected to the church (29 percent), and disagreements over political or social issues (25 percent). Essentially, for these young adults, something disturbed their status quo and provided them an opportunity to strengthen their commitment or forsake it. When disequilibrium occurs, reprioritization happens. But Rod Dreher makes a great point in his book The Benedict Option: "The first Christians gained converts not because their arguments were better than those of the pagans but because people saw in them and their communities something good and beautiful – and they wanted it. This led them to the Truth." Christians may be losing ground in the U.S., but we must continue to deepen our roots at Calvary. Some may be leaving among us, but God will never forsake any of us (Matthew 28:20, 1 John 2:19). The headlines might declare that Christianity is declining in the United States, but new research shows it's growing faster than the population around the world – and atheism and agnosticism are on a gradual decline. Much of Christianity's growth is due to its surge in other continents. Africa (119 million) and Asia (160 million) each have more Christians than North America (100 million). While the news may be discouraging in the U.S., something very encouraging took place this past week. Awaken the Dawn held their nationwide "Tent America" prayer event on thousands of campuses across America. Christians gathered in tents to worship and pray around the clock for revival in America.
PRAY.
You may not have participated in Awaken the Dawn prayer event, but you can pray for revival. Pray for there to be a hunger for the Gospel in people's hearts across America. Pray for repentance and a return to God's Word and righteousness in America. And then praise God for the tremendous growth of Christianity that is happening across the globe.
ACT.
Some Christians today ask, "does the church still matter?" Take two minutes to watch Pastor Todd Wagner's brief answer to this question and be encouraged to be God's salt and light in our world today.
---

---
Jury Rules Against Texas Dad Fighting 7-Year-Old Son's Gender Transition
On Monday, a jury ruled against a Texas father, Jeffrey Younger, attempting to stop his seven-year-old son from a gender transition being facilitated by Dr. Anne Georgulas, the boy's mother and Younger's ex-wife. "With a consensus of 11 of the 12 jurors, the jury decided not to grant Mr. Younger Sole Managing Conservatorship over his two twin boys," Life Site News reported Monday. "They voted that the current Joint Managing Conservatorship should be replaced by a Sole Managing Conservatorship, but that Mr. Younger should not be that person." According to the LifeSiteNews, Georgulas has been granted authority to move forward with puberty blockers, which can cause chemical castration and, potentially, hormones, if she so chooses. According to reporting from The Texan, Georgulas' lawyers Jessica Janicek and Laura Hayes said the mother does not plan on giving James hormone blockers at this time. However, "no one has stated that she (Georgulas) would not be open to using them when James begins puberty," which would be around age 11 and a half for a boy, the report said. Additionally, with the jury's decision, Mr. Younger will likely be forced to "affirm" his son's new gender identity: a girl named "Luna." ​ read more
THINK.
In 2012, then President Obama launched a fictional storybook ad called "The Life of Julia." The ad campaign followed a cartoon character named Julia from age 3 to age 67. It explained how President Obama's policies would create a better life for Julia. Channeling John Dewey, the Democratic vision emphasizes frequent government support and intervention throughout life. Republicans echo Aristotle and Erickson, stressing the importance of family and friends while limiting government meddling in life. In the Scriptures, we read how parents shoot their children like arrows toward the glory of God, the good of the world, and the joy of the child's soul (Proverbs 22:6, Ephesians 6:4, Psalm 127:3). Parents aim their children and the village supports the child. This case and the fictional storybook character Julia indicate the opposite, where the state aims Julia and the parents must support it. Christians must stop and take notice of this case because what is a living nightmare for Mr. Younger, could become a reality for others if this case sets a precedent in our society.
PRAY.
Pray for Mr. Younger and for his young seven-year-old son. Pray for his attorneys to have wisdom on how to fight for an appeal and fight this case. Pray for protection over this young boy emotionally, physically and spiritually, from the lies of confusion that he is being told that are contrary to God's Word and principles that bring life, peace and true identity.
ACT.
In this case, and many others, parents today are putting their desires before the needs of the child. The boy's mother, Dr. Anne Georgulas, has put her desire to see her son transition from a boy to a girl ahead of his emotional development and ability to decide for himself. There is an amazing organization called, Them Before Us, that is committed to putting the needs of children at the forefront of the battle surrounding the very foundation of our society - marriage and family. Take a few minutes to read some of their powerful true stories, which is one of the best weapons we have to fight against the dangerous ideologies in our culture today.
---
Algeria Forces Christians Out of the Country's Largest Churches
The Algerian government shut down three churches this week, including the two biggest congregations in the North African country. Authorities forced Christians from their buildings and arrested some who continued to protest the crackdown. Members of the largest Protestant congregation in Algeria—the 700-member Church of the Full Gospel in Tizi-Ouzou—were warned their church would be sealed by the government this Wednesday. When they met for prayer and worship on Tuesday, the gathering was raided by the national guard. The crowd at the Church of the Full Gospel panicked as they were ordered to leave. Some refused and were forcibly dragged out. When leaders—including pastor Salah Chalah, head the Protestant churches in Algeria , and pastor Tarek Berki—tried to intervene, they were beaten. The second-largest congregation, the 500-member Source of Life Church in Makouda, was shut down the same day, followed by 100-member Light Church in Tizi Ouzou. At least 15 Protestant churches—out of only about 46 in the country—have been shuttered since January 2018, according to the Christian advocacy group Middle East Concern. The country, home to just 125,000 Christians, fewer than 1 percent of the population, ranks 22nd on Open Doors' World Watch List. read more
THINK.
The Algerian government requires all non-Muslim worship to be approved by the government according to a 2006 law. However, the government has never issued a single approval since the law went into effect. Instead, the government shuts down churches by placing a wax seal on their building and posting a notice that the building is "not authorized" for religious gatherings. Unfortunately, this is not the only story that has been in the news regarding religious persecution. Another Church in China was demolished by the government. Fuyan Christian Church could seat 3,000 people and was part of China's official church network, but that didn't stop the government from demolishing the building while congregants worshipped. China provided no legal documentation for their actions and arrested the pastors, Greg Yimin and Sun Yongyao on suspicion of "gathering a crowd to disturb social order." In Iran, Pastor Matthias Haghnejad was sentenced to five years in prison for sharing his faith and conducting a church service. It is illegal for Iranian Christians to share their faith with non-believers. Christian Solidarity Worldwide (CSW) stated, "Once again it is clear from the brevity of the trial and reported lack of interest of the presiding judge that due process was not observed, and that the judge was not impartial." We cling to God's promise in Matthew 5:10, those persecuted for Christ's sake will inherit the Kingdom of Heaven.
PRAY.
Pray for our brothers and sisters experiencing religious persecution around the world, especially in Algeria, China and Iran today. Pray for the Gospel to spread in these places because of the courageous Christians willing to stand for their faith.
ACT.
There are many ways you can help the persecuted Church across the globe. One way is to connect with Open Doors and their effort to provide a Bible and discipleship material to persecuted Christians around the world. You can help a persecuted Christian for just $7. Take a few minutes to read about their work.
---
Your Tax Dollars Used to Merge Mice with Aborted Human Baby Body Parts: 'Abhorrent on So Many Levels'
Organs, bones and other body parts of aborted babies are being sold and transplanted into lab animals. This isn't a passage out of Frankenstein. It's research happening today and unsuspecting taxpayers are funding it. "It's abhorrent on so many levels," Anthony Bellotti tells CBN News. He's founder and president of White Coat Waste Project, a Washington-based group exposing experiments they consider a waste of life and tax money. Experiments like one in which the reproductive tracts from aborted 13-week-old twin girls were stripped out and implanted into mice. Last year, the National Institutes of Health (NIH) funded 200 similar studies across 50 institutions, mostly universities, in 33 states. This year the NIH estimates it will spend $120 million of taxpayer money on research using aborted baby parts. "This is a crisis now. This problem is growing in spite of Republicans, Democrats, pro-lifers, animal advocates – nobody wants this," Bellotti says. Terrisa Bukovinac runs Pro-Life San Francisco. The bulk of the research happens in her backyard at the University of California San Francisco. "One of the most infamous projects that was recently canceled by the Trump administration was a project that involved humanizing mice and that project required two pristine healthy fetuses between the ages of 18 and 24 weeks per month," she tells CBN News. Nearly 70 members of Congress from both parties are working to expose these gruesome experiments. They've issued a letter demanding information from Secretary of Health and Human Services Alex Azar. Among other things, they want to know the number of different babies used in each project and the gestational ages of each. read more
THINK.
Representative Matt Gaetz from Florida told CBN News, "It is deeply saddening to me that our own government would be part of creating this marketplace for the buying and selling of baby parts." He is one of the members of Congress seeking to draw attention to this issue. Even after the Trump administration took action to prevent the use of fetal human remains in research, loopholes exist that allow much of this research to continue with tax-payer funding. This horrific practice, of using aborted baby remains, encourages the market to perform more and more late-term abortions to meet the research demand. Doctors are actually incentivized to use techniques that preserve all parts of the baby - a practice experts warn is likely to lead to born-alive infants. Rep. Gaetz says, "To our core, to our founding. The recognition of the importance of life is who we are and we can never get away from that." Mother Theresa said it well, "Any country that accepts abortion is not teaching its people to love, but to use violence to get what they want. That is why the greatest destroyer of love and peace is abortion." Our nation made abortion legal, and sadly we are now funding it with American tax-dollars and encouraging it with experimental research. Abortion reveals America's great moral decline and our rejection of God as the creator and giver of life. While this information is extremely upsetting and disheartening, it should spur us on to continue to support the pro-life movement and organizations working tirelessly to see a culture of life alive in America.
PRAY.
Pray that news of this anti-life research would spread, and Americans across the nation would start to take notice and speak out against this. Pray for the 70 members of Congress who have already voiced their outrage, that they would continue to fight on this important issue. Pray for the pro-life organizations from the state level to the federal level who are working faithfully to save babies lives one decision at a time.
ACT.
Our good friend Abby Johnson has launched "Love Line" for pregnant women and young mothers in crisis that will allow others to help meet the needs of women. Take a few minutes to read about this exciting new ministry and pray for God to bless it. See how you can roll up your sleeves and get involved here!
---
My Faith Votes—is a nonpartisan movement that motivates, equips and activates Christians in America to vote in every election, transforming our communities and influencing our nation with biblical truth. By partnering with national faith leaders, My Faith Votes provides resources to help Christians Pray, Think, and Act to create an America where God is honored in the public square.
Website | www.myfaithvotes.org Twitter | @MyFaithVotes Facebook | My Faith Votes
---
React
---
Comments