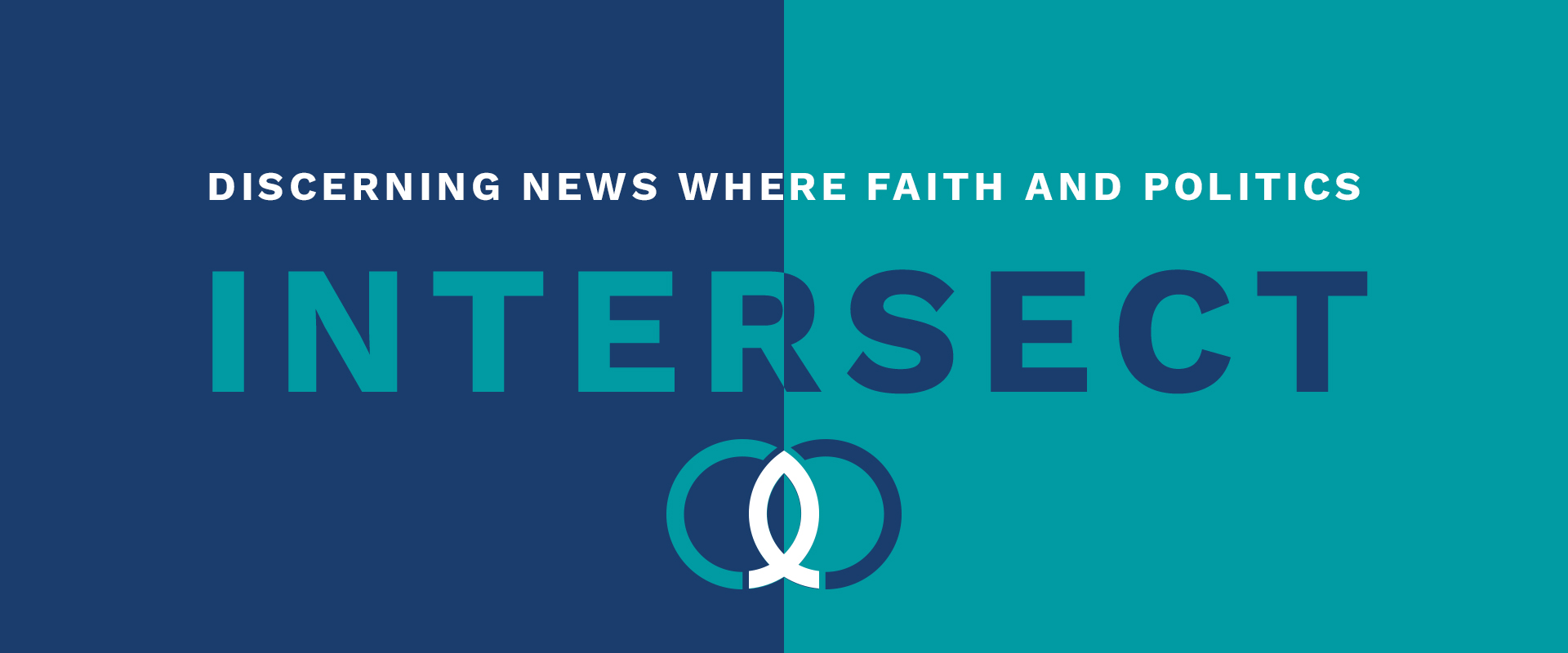 WEEKLY NEWS SUMMARY - OCTOBER 20, 2021
In this week's Intersect, read about:
---
'We Acknowledge God's Sovereignty,' Tenn. Governor Says in Prayer Proclamation
"Tennessee's governor issued a proclamation [last] week that acknowledges 'God's sovereignty,' seeks forgiveness for 'our many transgressions' and invites citizens of the state to pray and fast for God's guidance. It was the third such proclamation from Gov. Bill Lee, who was inaugurated two years ago and issued a similar 'Day of Prayer, Humility, and Fasting' proclamation in 2019 and 2020. This year's Day of Prayer, Humility, and Fasting was held Monday. 'I invite all Tennesseans to join Maria & me as we pause to acknowledge our blessings, seek God's guidance for our state & ask Him for healing, grace & favor for the days ahead,' Lee tweeted, referencing his wife." read more at Christian Headlines
THINK.
This proclamation is based on important scriptural principles. It begins by acknowledging both God's sovereignty and His grace. He is the sovereign King of Kings, and His grace His undeserved kindness which offers us salvation, and without which we and our nation will not succeed in honoring Him. This acknowledgment is a good starting point, for how can we consistently "do justice" and "love kindness" (Micah 6:8) unless we also "walk humbly with [our] God" --which is Lee's second point. The proclamation continues by asking God's forgiveness for sins "so that our hearts and our minds may be renewed". Romans 12:2 contrasts conformity with this world (and its sinful ways) with being "transformed by the renewal of your mind". And what does the Scripture say is the purpose of this renewal? "[T]hat by testing you may discern what is the will of God, what is good and acceptable and perfect." Sadly, there is a shortage of American Christians who have biblically informed knowledge. Only twenty-one percent–according to one survey–of Americans who attend an evangelical church hold a biblical worldview. How can we discern truth from error if our mind is polluted by aspects of false worldviews? George Barna, senior research fellow for the Center for Biblical Worldview at Family Research Council, noted that this is the root cause of our country's self-inflicted troubles: "What America is struggling with the most is a worldview crisis…If we don't solve that crisis, trust me, we are not going to solve any of those other issues." Our leaders need wisdom, and as Governor Lee notes, "Scripture tells us that the beginning of wisdom is the fear of the Lord, and the Lord gives wisdom freely to those who ask for it". (Proverbs 9:10, James 1:5) His proclamation concludes with an acknowledgment of God's blessings–an important aspect since Israel's failure to do so resulted in idolatry and abandonment of godly principles. He also acknowledges "the need to pause…and to seek God's guidance for the days ahead." Let us make this proclamation our sincere prayer as well.
PRAY.
Sovereign Lord, thank You for the mercy You showed me in sending Your Son to die for my sins, removing my guilt and giving me His righteousness through faith in Him. Now, as I follow You, "Make me to know your ways, O Lord; teach me your paths. Lead me in your truth and teach me, for you are the God of my salvation." (Psalm 25:4-5) Let my prayers be sincere (Isaiah 29:13) and let me be a blessing to my countrymen through faithful service to You in every area of life.
ACT.
Why is America slipping from the biblical worldview that shaped our founding? Our conversation with renowned author and social critic, Os Guinness dives into a fascinating look at how our current cancel-culture, the sexual revolution, and Critical Race Theory stem from the French Revolution in the late 1700s. We encourage you to watch and share it with others.
---
Senate to Vote on Sweeping Voting Rights Bill Republicans Promise to Filibuster
"This week could be the last dance for federal voting rights legislation. Senate Majority Leader Chuck Schumer is moving Monday to set up a vote on the Freedom to Vote Act, which is likely to take place Wednesday. Schumer, D-N.Y., who said it has the support of all 50 Democratic-voting senators, said the bill is necessary to 'right the ship of our democracy and establish common sense national standards to give fair access to our democracy to all Americans.' The bill doesn't have the 60 votes it needs to overcome a guaranteed Republican filibuster, meaning it will die unless Democrats nuke the filibuster. They don't have the 50 votes for that, and they'd need something close to a miracle to get them. Senate Minority Leader Mitch McConnell, R-Ky., has promised that the measure 'will go nowhere,' labeling it a 'partisan power grab' to 'micromanage elections across America.'" read more at NBC News
THINK.
As many states across the country are passing election integrity efforts to instill confidence in the electoral process, President Biden and Democrats in the House and Senate have pushed several bills that would federalize our elections and give the Department of Justice nearly limitless power to veto new election integrity laws in every single state. Democratic Leadership has previously introduced two election bills this year that were both blocked called H.R. 1/ S. 1 "The For the People Act" and H.R. 4 "The John Lewis Voting Rights Advancement Act". Now, as part of a compromise, the Senate has put forth a paired down version called S. 2747 "The Freedom to Vote Act." And once again, Senator Manchin from WV holds the key. As a co-sponsor of the Freedom to Vote Act, he has worked on building GOP support for the bill, but acknowledged last week there are currently no Republicans backing the proposal. The Freedom to Vote Act includes many provisions of the For the People Act, which Republicans blocked in June. We believe some states need accountability, transparency, and reforms in the election process, but centralizing power is not the answer. History tells us this will not work. The battle over elections will continue and only intensify. And the filibuster has become the critical chess piece for both parties.
PRAY.
Pray for transparency and pray against corruption. Pray that God will move against any force that would seek to create chaos and unrest in our elections, from the local to the state to the federal level. Scripture says, "Dishonest scales are an abomination to the Lord, But a just weight is His delight" (Proverbs 11:1).
ACT.
Do you know which government official oversees elections in your state? In many states, it is the role of the Secretary of State. And for others, it falls under the job description of the Lt. Governor or an Election Board. It is their duty and responsibility to ensure every legal vote is counted and any fraudulent votes cast out. Join our nationwide letter-writing campaign along with thousands of Christians to urge your election official to stand for election integrity and to safeguard your state election results. Click here to download the letter to be sent.
---
Seventeen Christian Missionaries in Haiti Kidnapped by Gang
"A group of 17 Christian missionaries in Haiti was kidnapped by a gang on Saturday as the religious group was returning from a visit to an orphanage. Christian Aid Ministries released an audio recording stating that men, women, and children in Haiti had been kidnapped by a gang and requesting prayer for the situation. Those kidnapped included staff and some of the staff's family members. Of those kidnapped, 16 are Americans and one is Canadian, according to the Washington Post. 'This is a special prayer alert,' the one-minute message said. 'Pray that the gang members would come to repentance.'" read more at the Washington Examiner
THINK.
Four groups are highlighted through this kidnapping: The citizens of Haiti, the government, the gangs, and the Christians. Haiti has the highest per capita kidnapping rate in the world. Recorded abductions so far this year have spiked six-fold over the same period last year. From January to September 2021, there were 628 kidnappings, including 29 foreigners. Such instability has taken a toll on citizens who are trying to live peaceable lives. Thousands went on strike Monday to protest the lack of security in their country. One of the government's most basic roles is the protection of innocent citizens from evildoers (Romans 13:3-4). The failure to carry out this role is devastating for its people and has led to the unrest we are seeing. U.S. officials are working to secure the missionaries' release amidst a $17 million ransom demand. Who are these gang members? While they have historically stayed away from Americans and religious groups, this gang, known as 400 Mawozo, has changed its ways. 400 Mawozo are raping women, recruiting children, and even kidnapping priests mid-sermon. They have begun to kidnap en-masse, largely to secure greater ransoms. Recently, they have been engaging in armed combat with rival gangs and kidnapping of businessmen and police officers. Pray that these gang members will become like Paul, who realized that "Christ Jesus came into the world to save sinners, of whom I am the foremost." (1 Timothy 1:15) Finally, what about the Christians? Why would God let them suffer in this way? Our friend Jim Denison wrote that God's call sometimes leads us straight into the face of danger: "no place on our fallen planet is truly safe. What happens overseas can happen in the US and vice versa. This is even more true for Christians: Jesus bluntly stated that "in the world you will have tribulation" (John 16:33). He warned us: "If they persecuted me, they will persecute you" (John 15:20). If you're looking for a way to live free from all temptation, problems, and pain, you'll have to wait until heaven (Revelation 21:4). There is no such place in this broken world." As we pray for our brothers and sisters, let us pray that the Holy Spirit will also help us walk in submission to His will, whatever the circumstances.
PRAY.
Christian Aid Ministries has asked for prayer: ​​"Join us in praying for those who are being held hostage, the kidnappers, and the families, friends, and churches of those affected. Pray for those who are seeking God's direction and making decisions regarding this matter." Pray particularly for the children, who range in age from 8 months to 15 years old.
ACT.
Ephesians 6:18 says, "keep alert with all perseverance, making supplication for all the saints." Intercessors for America has produced a prayer guide, "Crisis in Haiti", specifically for these missionaries and this situation. You can receive the prayer guide from their website.
---
'Souls to the Polls': Virginia Churches to Air Pro-McAuliffe Ads Featuring Kamala Harris
"Hundreds of churches across Virginia are set to air a political ad starring Vice President Kamala Harris — a move that has raised eyebrows regarding the legality of bringing political campaigns into houses of worship. Between Oct. 17 and Nov. 2, a video featuring Harris will play during the morning services of over 300 black churches across Virginia. In the video, Harris encourages viewers to vote for gubernatorial candidate Terry McAuliffe in the upcoming election, according to CNN. 'I believe that my friend Terry McAuliffe is the leader Virginia needs at this moment,' Harris says in the video. 'Terry McAuliffe has a long track record of getting things done for the people of Virginia.' The video is only one part of McAuliffe's religiously minded 'Souls to the Polls' media blitz. The 'Souls to the Polls' events will be hosted weekly and are intended to encourage residents to vote on Sundays." read more at the Washington Examiner
THINK.
For the first time, local election officials are now permitted to offer early voting on Sundays in Virginia. And while campaign messages aimed at faith voters are not new, what's striking about the Vice President's video is that it includes an explicit encouragement to vote for a specific candidate, even directing congregants to go to a website paid for by the Democratic National Committee. That's arguably a violation of statutes banning tax-exempt charities and churches from campaigning for or against a political candidate. The Johnson Amendment, passed in 1954, has garnered controversy in recent years by those who believe it curbs the First Amendment rights of nonprofits, particularly churches. In May 2017, then-President Donald Trump signed an executive order that called for the federal government to stop enforcing the Johnson Amendment due to religious freedom concerns. To be clear, churches and other 501(c)(3) organizations can engage in a limited amount of lobbying (including ballot measures) and advocate for or against issues that are in the political arena. However, promoting political candidates directly or indirectly in a Sunday morning church service has long been criticized by left-leaning leaders when congregants are encouraged to adhere to the Bible as they discern a candidate's public policy positions. In light of the double standard that is playing out in Virginia, we would ask the Vice President for clarification on these concerning issues:
The Johnson Amendment has been wielded against Bible-believing churches who espouse the whole counsel of God to silence them during election seasons. Churches are waking up to the truth and now boldly declaring their opposition to abortion on demand, Critical Race Theory, sex-change surgeries, and the redefinition of rights and freedoms, so why is your church service message, Madam Vice President, only directed to promoting a pro-choice, Democrat candidate rather than promoting faithful discernment in casting a vote for the candidate that best upholds the Judeo-Christian virtues our nation was founded upon?
It seems to many people of faith that you encourage prioritizing politics over personal convictions. In past interviews, you have talked about your Baptist upbringing and the influence your faith has on you. What are the tenets of your Baptist faith and how do they lead you to endorse a pro-choice candidate?
With the entire 100-member House of Delegates on the ballot, various local elections, and statewide offices for governor, lieutenant governor, and attorney general, this is a critical election year in the Commonwealth of Virginia and a view into what could happen in the 2022 midterms. According to Real Clear Politics, former Democratic Governor McAuliffe leads Republican challenger Youngkin by just 2.2 points. Unlike other state governors, Virginia governors are not allowed to serve consecutive terms. However, a former governor is permitted to run for a second term in a future election.

PRAY.
"The good influence of godly citizens causes a city to prosper, but the moral decay of the wicked drives it downhill" (Proverbs 11:11). Pray against the mentality that says voting isn't important or that your vote is just one of many and won't make a difference. Pray for an awareness of critical issues that your state, city or county is voting on that could change the moral culture of your community. Ask for God's wisdom as you make the choices on your ballot.
ACT.
Virginians, are you ready to vote all the way down the ballot? Gaining an understanding of the roles and responsibilities of the levels of government may make it easier to understand why our actions and decisions in voting today will determine the future of the Commonwealth of Virginia for our children tomorrow. Understand more about Virginia's government structure here and get your voter guide, party platform guide and election information here.
---
My Faith Votes—is a nonpartisan movement that motivates, equips and activates Christians in America to vote in every election, transforming our communities and influencing our nation with biblical truth. By partnering with national faith leaders, My Faith Votes provides resources to help Christians Pray, Think, and Act to create an America where God is honored in the public square.
Website | www.myfaithvotes.org Twitter | @MyFaithVotes Facebook | My Faith Votes
---
React
---
Comments