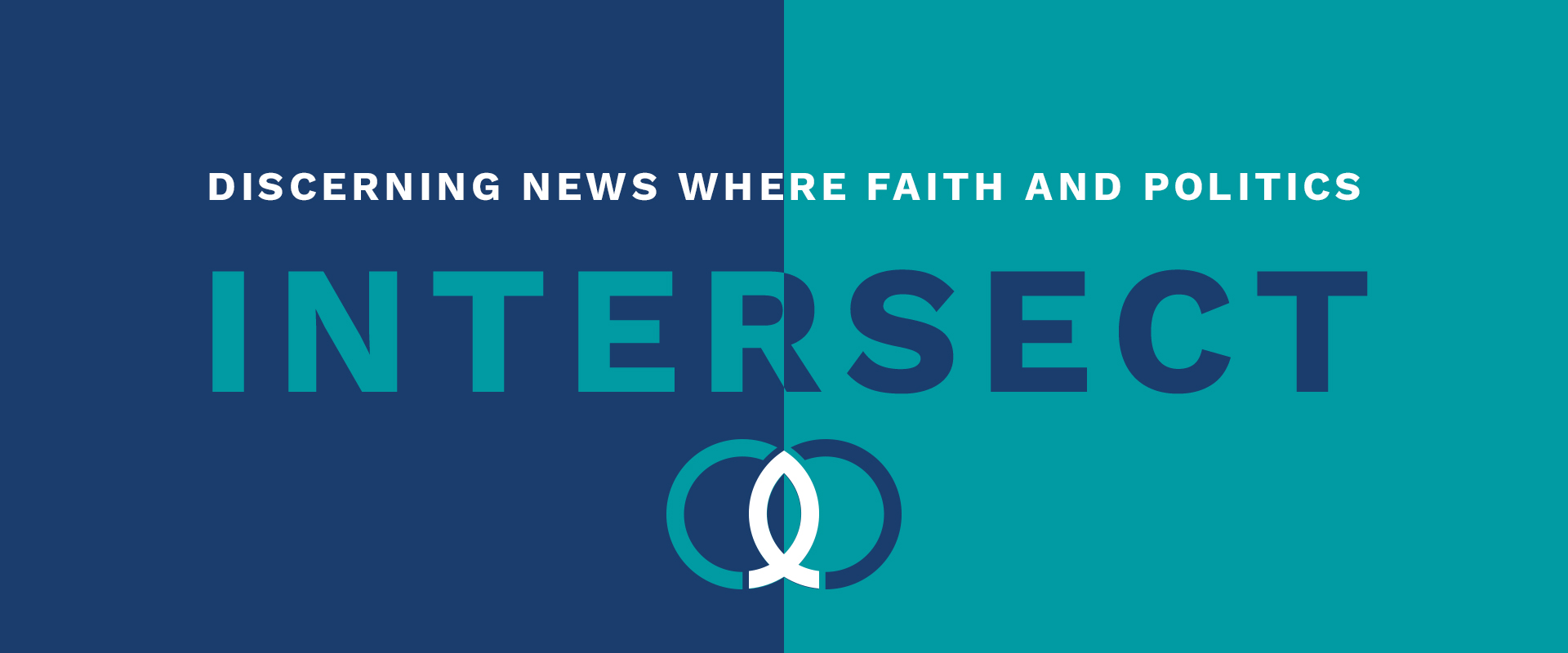 WEEKLY NEWS SUMMARY - OCTOBER 19, 2022
In this week's Intersect, read about:
---
92% of Bible Users Say Scripture Has 'Transformed' Their life: Survey
"A new study finds that the overwhelming majority of those who read the Bible at least three times a year have experienced transformation as a result of their encounters with Scripture, along with a sizable minority of Christians who interact with the Bible less frequently. The American Bible Society released the seventh chapter of its 12th annual 'State of the Bible' report Wednesday, which focuses on 'Bible use.'" read more at the Christian Post

THINK.
According to the survey, a majority (54%) of Americans said they wished they read the Bible more. If this is you, I encourage you to pursue that desire. God has revealed Himself through His word, so as you read His word and obey it, He will transform your heart and actions to be more like Christ's, which will transform the way you engage the culture, which in turn may even transform the culture itself. (Philippians 2:14-16)
The American Bible Society's State of the Bible report says, "Many people who consistently interact with the Bible recognize…The more we dig into Scripture, the more it digs into us." What could happen if more people dug into Scripture on a consistent basis? What would our society look like? How would it change the way people think, pray, act, and vote?
I can personally attest to the fact that reading the Bible transforms how I think about the news and policies that I write about every week. As I try to bring my thinking in line with God's and place my beliefs under His authority, 2 Timothy 3:16-17 proves to be true. "All Scripture is breathed out by God and profitable for teaching, for reproof, for correction, and for training in righteousness, that the man of God may be complete, equipped for every good work."
Here's another good reminder from the report: "Ultimately, Bible Use isn't only about opening a book or an app. It's about interacting with God. And when people connect with God in Scripture, their lives change, their attitudes change, their values change."

PRAY.
Heavenly Father, thank You for not leaving us to guess about who You are, what You've done for us, and how we should respond to You. But You communicated with us through Your word! Help us to faithfully read it so that "[our] love would abound more and more, with knowledge and all discernment, so that [we] may approve what is excellent…" (Philippians 1:9-10a) Help us to use Your word as a lamp for our feet and a light for our path as we THINK, PRAY, and ACT for Your glory. In Jesus' name, amen.

ACT.
There's a problem YOU can help fix. A third of the Christians who attend your church are unlikely to vote in the midterm election November 8th. That's a huge, missed opportunity to apply biblical values when choosing the people and policies governing our nation, states, and local communities. Ask your pastor if they would increase the number of Christians in your church who vote by participating in My Faith Votes Sunday. Here are three things they can do during the service(s) on Sunday November 6.
Play a video - During your worship service(s) play the "Do Good. Go Vote." video from My Faith Votes. In just 30 seconds it explains the importance of Christians voting their biblical values and the difference they'll make when they do.
Ask for a commitment – After the video, ask the people in your congregation to commit to voting according to their faith in the election on November 8.
Ask for prayer - Invite the congregation to pray for the election and stream the My Faith Votes Prayer Event Monday evening November 7 at 8PM ET. https://www.myfaithvotes.live
If your pastor agrees, they can learn more about the program and download resources they'll need by clicking this link https://myfaithvotes.org/sunday
---
5 States to Vote on Marijuana; Outcomes Could be Disastrous
"Voters in Arkansas, Maryland, Missouri, North Dakota and South Dakota will be voting on whether or not to legalize marijuana for recreational use on November 8. With an overwhelming share of U.S. adults (91%) saying either that marijuana should be legal for medical and recreational use according to Pew Research, it seems a forgone conclusion that voters will further open the door to this gateway drug as not only legal but more acceptable. In fact, fewer than one-in-ten (8%) say marijuana should not be legal for use by adults. What voters may not realize is what's at stake and what our society stands to lose when marijuana is made legal. The old saying that marijuana is a gateway drug is truer today than we may have thought. In fact, former 4th Judicial District Attorney Dan May from El Paso County, CO says, 'Marijuana is a gateway to homicide.'" read more at My Faith Votes
THINK.
Marijuana is a trojan horse and it's imperative that we, as Christians, understand what's really going on and why we need to be informed before the disastrous consequences are heaped upon us. The result of allowing "a little sin" will only enable this cancer to metastasize and grow.
Think of it this way: Would you vote for your child to use marijuana? If you legalize it, they probably will. When Colorado legalized marijuana, its use by children ages 12 and older tripled. Legalization dramatically increases drug use. In fact, in the past month in Colorado alone, marijuana use for ages 12 and older increased 26% and is 61% higher than the national average, currently ranked 3rd in the nation. And adult marijuana use (ages 18 and older) increased 20% and is 62% higher than the national average, currently ranked 3rd in the nation.
Would you vote for someone you love to take their own life? Of course not. After Colorado legalized marijuana in 2013, 29% of suicide victims test positive for marijuana in their system. Marijuana is commonly associated with suicide. The percentage of suicide incidents in which toxicology results were positive for marijuana increased from 14% in 2013 (before legalization) to 29% in 2020 (after legalization).
Would you vote to increase deadly traffic accidents? Legalization dramatically increases traffic accidents and fatalities. Since recreational marijuana was legalized in 2013, traffic deaths where drivers tested positive for marijuana increased 138% while all Colorado traffic deaths increased 29%. Since recreational marijuana was legalized, traffic deaths involving drivers who tested positive for marijuana more than doubled from 55 in 2013 to 131 people killed in 2020.
These are some of the questions we need to ask and evaluate when faced with ballot measures that seek to legalize marijuana. The term "marijuana," especially when paired with words like "medical" or "recreational"—makes it seem safe and harmless. But we should always refer to marijuana as a "drug" and understand the real impacts of its use.
The use of recreational marijuana is to have a mind or conscious altering experience. That's the point of marijuana. And Christians need to understand that there is nothing in scripture to justify trying to escape reality. The Bible does not dignify an altered state. In fact, it warns against drunkenness (an altered state) in both the new and old testaments repeatedly. If we don't stop the progression of allowing, decriminalizing and embracing the legalization of marijuana now, be prepared to face the disastrous outcomes that are sure to come our society's way.
PRAY.
Lord, protect our nation from this push for drug legalization. We want to be a nation of sobriety and holiness. Expose the corporate interests lobbying for this legalization and raise up voices in the younger generation to oppose the legalization of marijuana. Please open our eyes to see beyond the headlines and truly understand what's at stake when we vote on issues such as this.

ACT.
If you live in AR, MD, MO, ND or SD, please make sure you are informed and voting on these ballot measures in your state. The featured article above gives more insight into each ballot measure. Your voice and your vote are critical.
Here's where the two parties stand on the issue according to their party platform:
Democrats: "Democrats will decriminalize marijuana use and reschedule it through executive action on the federal level. We will support legalization of medical marijuana and believe states should be able to make their own decisions about recreational use."
Republicans: "In many jurisdictions, marijuana is virtually legalized despite its illegality under federal law. At the other end of the drug spectrum, heroin use nearly doubled from 2003 to 2013, while deaths from heroin have quadrupled. All this highlights the continuing conflicts and contradictions in public attitudes and public policy toward illegal substances. Congress and a new administration should consider the long-range implications of these trends for public health and safety and prepare to deal with the problematic consequences."
---
Voters Break Toward Republican Candidates in Big Swing from September: Poll
"More likely voters say they plan to vote for a Republican than a Democrat in the midterm elections, according to a poll Monday that shows persistent concerns about the economy and inflation are bolstering the GOP in the last weeks of the campaign. The New York Times/Siena College poll found that 49% of likely voters will back a GOP candidate for Congress on Nov. 8, compared to 45% who will vote for a Democrat. It is a flip from September, when Democrats held a 1-point edge." read more at the Washington Times
THINK.
Abortion is not the determining factor in most of these likely voters' choice of candidates, even if they disagree with the overturning of Roe v. Wade. According to the New York Times, women who identified as independent voters in their September poll "favored Democrats by 14 points. Now, independent women backed Republicans by 18 points — a striking swing given…how intensely Democrats have focused on that group…" Only five percent of all likely voters, male and female, said abortion would be a top issue for them this November.
Another recent survey of swing voters reflects this revelation of voters' priorities: "Sixty-four percent of those surveyed said they would support a candidate who focuses on economic issues compared to 27% who would prefer a candidate prioritizing societal issues."
The economy is on everyone's mind because it affects everyone personally. Still, many people haven't made the connection between their vote and their grocery bill. You can help them see that voting affects our ability to provide for ourselves, our family, and those who need help. (Acts 20:34-35 and 1 Timothy 5:8)
The people we elect will create policies which can greatly impact our economy through raising or lowering taxes, increasing or cutting regulations, and hindering or freeing up energy production, among other actions. Therefore, voting with this in mind is one application of the command to love our neighbors as ourselves.
Our neighbors include senior citizens, who just received the steepest increase in forty years to their Social Security benefits in order to offset inflation's higher costs. It also includes families who can ill-afford the rising prices caused by bad policies. The Labor Department's inflation report showed total food prices increased 11.2 percent over the last 12 months and energy prices rose nearly 20 percent over the year.
Your vote also impacts the work of the Body of Christ, where fifty-two percent of protestant pastors say the economy is having a negative effect on their church. It is encouraging, however, that seven in ten still reported that their congregation's offerings are at or above what the church budgeted. If we give our money, time, and talent for the kingdom of God and the good of our neighbors, why not give our vote as well?

PRAY.
Heavenly Father, I ask that You provide for me, my family, and for those who are struggling financially. Help me to be diligent in the work I can do and give me wisdom as I vote for candidates who will steward our government. Help me be a faithful and wise steward of my vote. And please guide my elected officials to seek Your wisdom and work for our good.

ACT.
435 seats in the U.S. House; 34 seats in the U.S. Senate; 36 Governor seats, 6,166 state legislature seats, tens of thousands of local seats for city council, and 81,000 school board seats all have one thing in common: they affect your pocketbook. Where do the candidates you'll select from stand on the economy? My Voter Hub covers elections in every zip code across the US. See your sample ballot and learn about the candidates you'll be voting for.
---
Chase Bank Allegedly Shutters Bank Account of Religious Freedom Nonprofit, Demands Donor List
JPMorgan Chase Bank allegedly closed the bank account of a religious freedom nonprofit and demanded a list of its donors as a condition to have the account reinstated. The bank account of the National Committee for Religious Freedom (NCRF), which is a nonpartisan, multi-faith nonprofit founded by former U.S. Ambassador-at-Large for International Religious Freedom Sam Brownback, was recently closed without explanation, Brownback told FOX Business. Read more at Fox Business
THINK.
As I was writing this week's Intersect to notify you of the new video release of our conversation with former U.S. Ambassador-at-Large for International Religious Freedom, Sam Brownback, I received notice that the organization he leads abruptly had their accounts closed and canceled by Chase Bank.
Why were they canceled? They were informed that "a note in the file read that Chase employees were not permitted to provide any further clarifying information to the customer." Chase then contacted the organization's executive director and said that Chase would be willing to reconsider doing business with the National Committee for Religious Freedom if the nonprofit would provide its donor list to the bank, a list of the candidates it would be endorsing, and an explanation of the criteria by which NCRF would choose to endorse candidates. This should be concerning to every American.
· In an Op-ed featured in the Washington Times, Ambassador Brownback shared his concerns saying, in part, "Unfortunately, we do not believe this was the first time an organization has found itself facing sudden and unexplained account closures. Religious institutions, houses of worship, and people of all faiths should be greatly concerned that their business, credit, or even personal or private bank accounts could likewise be terminated for any or no reason at all."
During the past several years, public companies have come under increasing pressure from investors and society at large to use their resources and influence for broad social impact. But what does this mean for those who don't adhere to these social standards? The term ESG is an approach that seeks to ascertain potential risks and rewards inherent within an investment based on Environmental, Social, and Governance criteria. Unfortunately, ESG has become weaponized to push forward political agendas that end up canceling those who don't fall under social standards that often pertain to race, gender, voting laws, climate change, abortion access and more.
How does ESG fit with religious freedom? As discussed in our interview with Brownback, religious freedom is the foundational cornerstone for human rights. "If you get religious freedom right, then you can build freedom of assembly, freedom of speech, freedom of press from it. If you get it wrong, however, these other freedoms generally deteriorate."

PRAY.
"It is religion and morality alone which can establish the principles upon which freedom can securely stand," said John Adams, second President of the United States. Lord, we thank you for the freedom to worship, as we know that many throughout the world do not have that same freedom. We pray for perseverance in the face of persecution, knowing that whatever may come, You are sovereign, You are in control and that true freedom comes only through You. May we remain steadfast in Your word and to You alone.

ACT.
If you're as appalled at this story as I am, here are two things you can do:
Watch our conversation with Ambassador Brownback to learn about the incredible work that his organization is doing and why they should not be censored.
Click here to send an email to Jamie Dimon, the CEO of JP Morgan Chase & Co. and ask him these simple questions:

"Why are you canceling Ambassador Brownback and the NCRF?""
"Does Chase oppose religious freedom?"
"Should America's 90 million Christians bank elsewhere?"
---
My Faith Votes—is a nonpartisan movement that motivates, equips and activates Christians in America to vote in every election, transforming our communities and influencing our nation with biblical truth. By partnering with national faith leaders, My Faith Votes provides resources to help Christians Pray, Think, and Act to create an America where God is honored in the public square.
Website | www.myfaithvotes.org Twitter | @MyFaithVotes Facebook | My Faith Votes
---
React
---
Comments