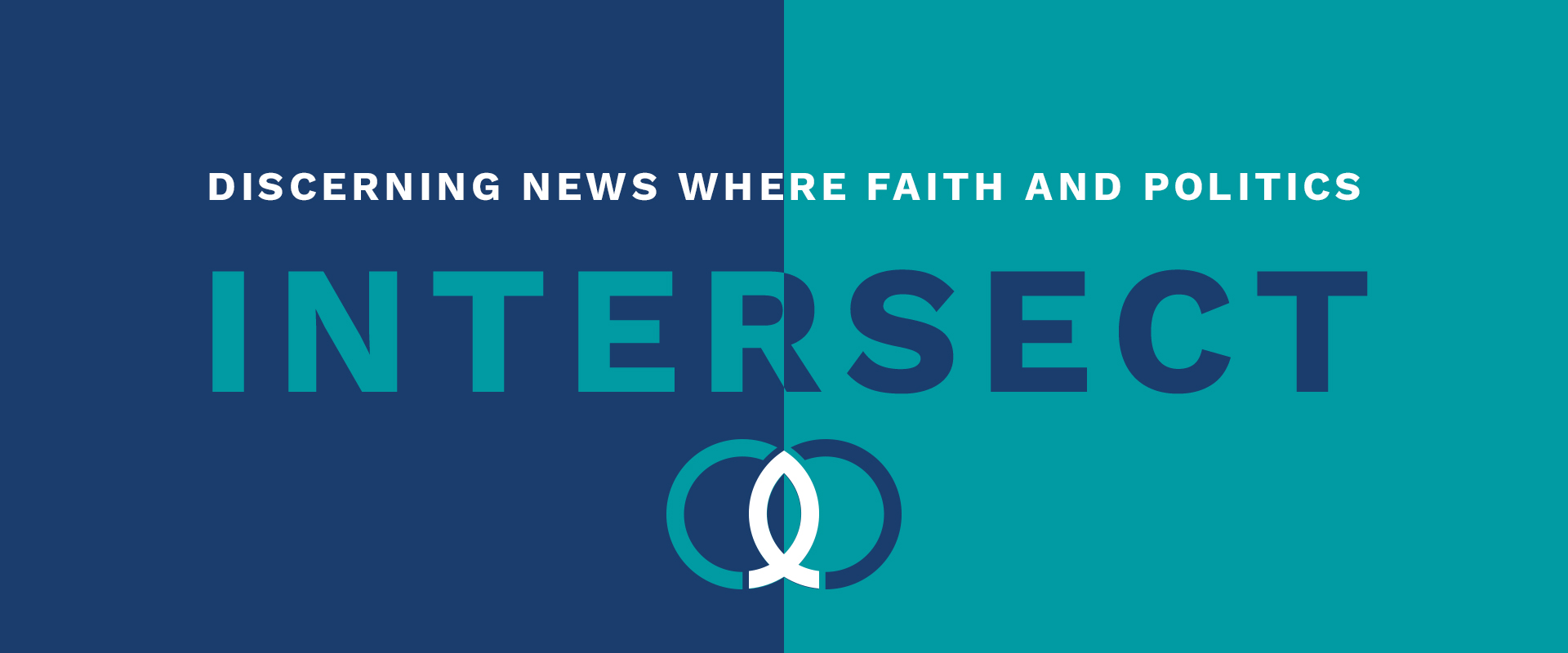 WEEKLY NEWS SUMMARY - OCTOBER 11, 2023
ELECTION ALERT: Those of you in PA, LA, VA, OH, KY and NJ have important elections coming up in November. We have helpful election fact sheets specifically for your state. Make sure you save and share these resources as you prepare to vote. Visit My Voter Hub and click on your state to get started.
In this week's Intersect, read about:
---
Biden Administration Waiving 26 Federal Laws to Allow Border Wall Construction in Texas
"The Biden administration announced Wednesday that 26 federal laws were waived to allow border wall construction in Texas, marking the administration's first use of an executive power often used by former President Trump to fund projects along the southern border. The waived laws will help expedite the construction of barriers and roads in Starr County, Texas, which is experiencing 'high illegal entry,' the Department of Homeland Security (DHS) said in a statement posted to the U.S. Federal Registry." read more at The Hill
THINK.
The Trump administration constructed roughly 450 miles of border wall but President Biden, upon taking office, halted construction. After promising there will "not be another foot" of border wall constructed, he is now waving environmental laws to build roughly 20 miles of barriers in the Rio Grande Valley Sector. Construction of the wall will be paid for using already appropriated funds earmarked specifically for physical border barriers. "We have repeatedly asked Congress to rescind this money, but it has not done so, and we are compelled to follow the law," Homeland Security Secretary Alejandro Mayorkas said. When Biden was asked whether he believes the border wall works, he answered, "No."
Immigration was the second highest concern for American voters this month (the economy is number one), and it has consistently been in the top three concerns among voters polled by My Faith Votes in the last few years. The effects of illegal immigration impact every state as criminals, drugs, and human trafficking make their way throughout the country. It's not just the southern border, either. The New York Post reported in September that more illegal immigrants were apprehended at our northeastern border over the past 11 months than in the previous 10 years combined.
The human cost of not enforcing immigration laws and failing to maintain secure national boundaries is enormous. The Apostle Paul pointed out that God "made from one man every nation of mankind to live on all the face of the earth, having determined allotted periods and the boundaries of their dwelling place, that they should seek God, and perhaps feel their way toward him and find him." (Acts 17:26-27) God determines nations, periods, and boundaries, so that people from every nation will seek Him. Let's pray that our country would be a place with strong boundaries where citizens and legal immigrants can seek God in freedom and safety.
PRAY.
Pray for those hurt by illegal immigration. Pray for the thousands of women and children who are trafficked. Pray for our law enforcement who deal with this humanitarian crisis every day. Pray for the individuals and families who have lost loved ones, and the people in cities with strained resources. And pray that everyone–including the illegal immigrants–would seek God.
ACT.
Can you imagine living on the border, knowing illegal drugs are being trafficked into the country through your land? I encourage you to watch and share this interview with Deborah, a volunteer with My Faith Votes whose 100-year-old family farm is inside the Rio Grande Valley Sector. The interview was not recent, but Deborah's story is compelling, and her advice to ask questions and hold our elected officials accountable is just as relevant today. It's a conversation I won't soon forget.
---
Netanyahu Vows Massive Response in 'War to Ensure Our Existence'
"Israeli Prime Minister Benjamin Netanyahu said Monday that his military has "only started" its massive counterattack against the Hamas militants who rampaged through his country on Saturday, likening the Iran-backed Palestinian group to the Islamic State jihadi movement and saying its fighters committed terrorist acts such as tying up and executing innocent children. In a nationally televised address shortly after Israel announced a 'complete siege' of fuel, water, food and other vital supplies into Gaza, Mr. Netanyahu cast Israel's war against the Gaza-based Palestinian group as a war for his country's very survival, contending that Israel faces its greatest threat in decades." read more at The Washington Times
THINK.
Israel declared war for the first time since the Yom Kippur War 50 years ago. Arab forces have had only success against Israel through surprise attacks during Israeli holidays, as in the Yom Kippur War which began October 6, 1973. And so, they struck again last Saturday during Simchat Torah, the end of the weeklong Jewish celebration of Sukkot also known as the Feast of Tabernacles. The Feast of Tabernacles begins and ends with a special Sabbath day of rest. During the days of the feast all native Israelites were "to dwell in booths" to remind them that God delivered them out of the "land of Egypt" and to look forward to the coming Messiah, Jesus Christ, who would deliver His people from the bondage of sin. This feast, like all the feasts of Israel, consistently remind the Jews and should remind Christians as well that God has promised to deliver His people from the bondage of sin and deliver them from their enemies. Part of God's deliverance for the Israelites was His provision and protection of them for the 40 years they wandered in the wilderness, cut off from the Promised Land.
Israel is a small country, about the size of New Hampshire, with the population of New Jersey. A thousand civilian deaths in such a country are difficult to fathom. Israel's current death toll is akin to 25 times that of America's 9/11. The atrocities being reported are unfathomable. President Biden finally make remarks yesterday and announced 14 Americans had been killed and there are US citizens among the hostages.
There is an unconditional biblical covenant that guarantees the continuation of the Jewish people. Any effort to exterminate them or remove them is both futile and will put you at odds with the decree of God. This does not mean Israel is immune from judgment and discipline; it does mean anyone who purposes to destroy Israel will incur God's wrath and discipline. God will accomplish all His promises for Israel. The unfulfilled promises suggest that both Israel's worst and best days are ahead of them (Revelation 6-21). While it is amazing that Israel is currently physically in the "Promised Land," until they recognize Jesus as their Messiah, they will not have sustained peace or live peaceably there. Less than .5% of people in Israel today recognize Jesus as Messiah. May we pray for their salvation.
PRAY.
How should Christians pray for Israel? Pray for repentance to Christ (Rom 11:26-27), for the peace of Jerusalem (Ps 122:6), for their protection and safety (Ps 121:4), wisdom for leaders (Prov 21:1), for blessing and prosperity (Gen 12:3), for justice (Amos 5:24) and reconciliation (Matt 5:9). For those of us watching from afar, remember God says in His Word that everything that can be shaken will be shaken. But those who stand with the Lord need not fear. Do what He calls you to do in this hour and do not fear. For more prayer points for Israel, click here.
ACT.
How can we help as Hamas wages a wicked war against Israel? First, we can pray. Second, we can support those in need. In 2006 our friend and respected journalist Joel Rosenberg established The Joshua Fund to help provide food, bring the Gospel and provide pastoral training to Israel and her neighbors. Watch his video from Israel and consider supporting their Rapid Response Fund at this critical time.
---
Over 100 Black Pastors Oppose Ballot Initiative to Enshrine Abortion in Ohio Constitution
"More than 100 black faith and community leaders in Ohio are urging Ohioans to vote against an upcoming ballot measure that would place a right to abortion in the state constitution, arguing that the issue is a 'life-or-death' matter for the black community. The bipartisan group of black faith leaders organized by Choose Life Ohio released a joint letter Tuesday in opposition to Issue 1, the ballot initiative Ohioans will vote on in November. The faith leaders argued that the issue is not partisan or a 'party-line vote,' highlighting the impact abortion has had on black women and families." read more at The Christian Post
THINK.
Why is this story significant? The letter from pastors estimates that nearly 40% of women who seek abortions are Black, which is astounding, considering this demographic made up just 13.6% of the population at the time of the 2020 census. This likely means that over 20 million black babies have been aborted during the past 50 years alone. In Ohio, a new report from the Ohio Department of Health shows that 48% of induced abortions in 2022 were performed on Black women but just 13% of the state's population is Black. "What is the No. 1 killer of us? It's not the police," Bishop Patrick L. Wooden Sr. said in a video posted. "It's abortion."
Polls show that if the church in Ohio shows up to vote, the amendment can be defeated. This week, My Faith Votes sent letters to 8000 pastors and church leaders in Ohio, encouraging them to speak to their congregations about Issue 1 and how they can help defeat it. We included a number of resources including the powerful short video from the voice of a child who was saved from an abortion attempt on his life.
Ohio Issue 1 is one of the most radical abortion expansions in history. It enshrines the killing of preborn infants at any age, by any method, for any reason as a constitutional right while outlawing commonsense restrictions. It makes Ohio like China and North Korea. But Issue 1 goes beyond abortion, subtly including language to remove parental consent among other things. The Ohio General Assembly cannot pass a bill that alters or bypasses the words of the Constitution. So, the accurate meaning of every word of this proposed Amendment truly matters. If passed by the voters, the words of this Amendment will be binding upon all the people living in Ohio.
PRAY.
Let's cover Ohio in prayer. Join us and thousands across the nation to pray county-by-county for the people of Ohio as they prepare to vote on Issue 1, November 7, 2023. Simply click here to select a county to pray for. Refresh the page to see the colors change as your prayers are added.
ACT.
Absentee voting and early in-person voting begins today in Ohio. However, it's not too late to impact voters before November 7, encouraging them to vote and equipping them with the information they need. Many of you have already signed up (thank you!) but we need more to cover all those we want to reach with a handwritten letter. Sign up for Write Now Ohio and we'll give you all the details needed to send a letter to voters in OH. You don't have to live in Ohio to participate. You just need to be willing to equip and motivate fellow voters!
---
RFK Jr. Announces He Will Run as an Independent Candidate
"Presidential candidate Robert F. Kennedy Jr. said on Monday he is abandoning his bid for the Democratic nomination for the White House in 2024. 'I'm here to declare myself an independent candidate for president of the United States,' Kennedy announced to a crowd of supporters at Independence Mall in Philadelphia. 'We declare independence from the cynical elites who betray our hope and who amplify our divisions. And finally, we declare independence from the two political parties.'" read more at Politico

THINK.
How does the presence of an independent candidate affect your ballot? The U.S. Constitution leaves each state to make their own ballot access laws for presidential candidates. Generally, independent candidates must submit a petition in each state with a certain number of signatures from registered voters in order to be listed on the General Election ballot. Presidential primary elections only concern the party candidates, so independent candidates like RFK Jr. will not appear in primary elections and caucuses.
Remember that presidential elections are not based on the popular vote. When you vote in the presidential election, you are really voting for electors who will elect the president in the Electoral College. Although Ross Perot earned a staggering 19% of the vote in the 1992 presidential election, no independent or third-party candidate has won an Electoral College vote since 1968. Last week, the Iowa Democratic Party announced it will hold a caucus on January 15 but won't release the results until early March, attempting to retain their state's leadoff spot on the presidential nominating calendar without violating a new national party lineup that has South Carolina going first for 2024.
According to a new Gallup poll, 63% of U.S. adults currently agree with the statement that the Republican and Democratic parties do "such a poor job" of representing the American people that "a third major party is needed." This reflects a 7% increase from a year ago and the highest since Gallup first asked this question in 2003. Do you agree? Is our primary problem that the will of the people isn't being represented, or that God's principles aren't being represented?
PRAY.
"Blessed be the name of God forever and ever, to whom belong wisdom and might…. he removes kings and sets up kings; he gives wisdom to the wise and knowledge to those who have understanding…" (Daniel 2:20-21) Lord, as we exercise the responsibility You've given us to elect our leaders, give us Your wisdom; help us to have understanding. In Jesus' name, amen.
ACT.
Did you know elections are happening right now in 11 states? Make sure you always know when elections are happening in your area so you can stand for biblical values. Register to vote, check your registration, and get election reminders right here. Then forward this link to a friend!
---
My Faith Votes—is a nonpartisan movement that motivates, equips and activates Christians in America to vote in every election, transforming our communities and influencing our nation with biblical truth. By partnering with national faith leaders, My Faith Votes provides resources to help Christians Pray, Think, and Act to create an America where God is honored in the public square.
Website | www.myfaithvotes.org Twitter | @MyFaithVotes Facebook | My Faith Votes
---
React
---
Comments