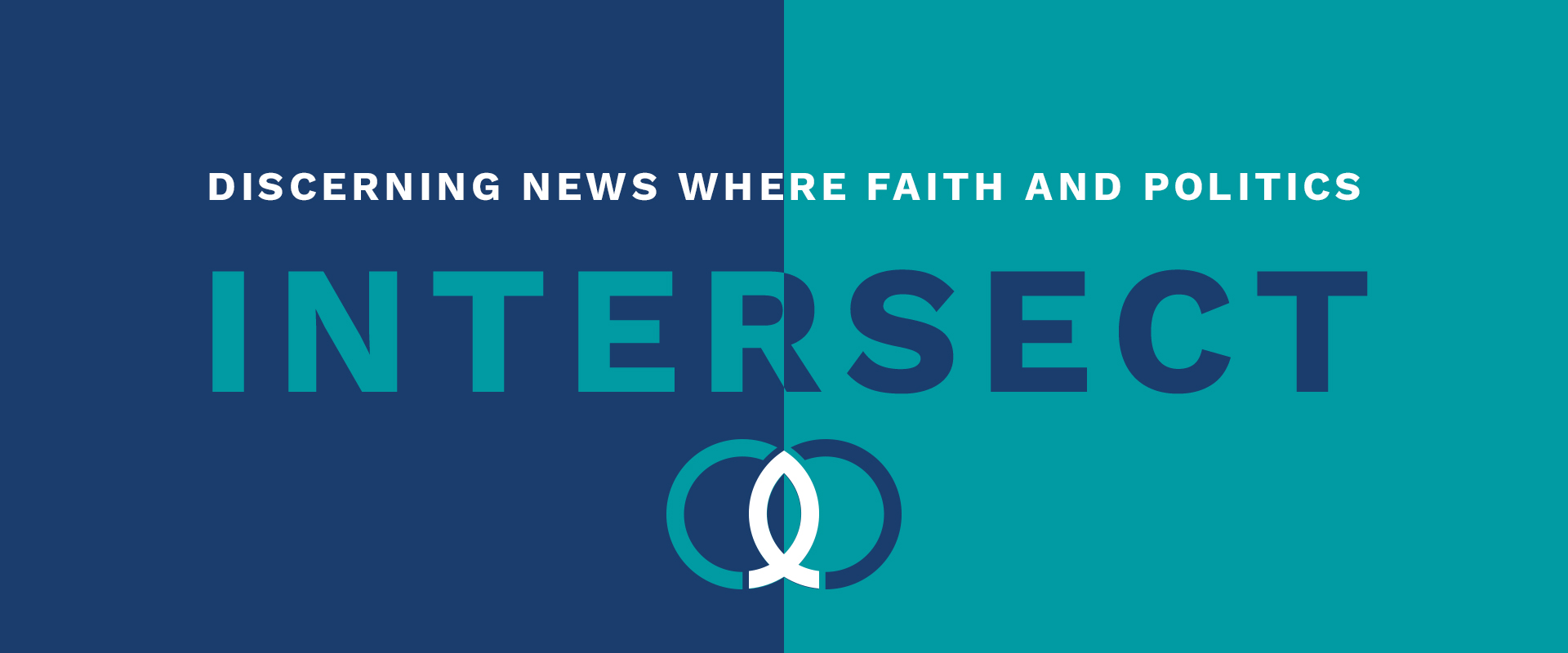 WEEKLY NEWS SUMMARY - NOVEMBER 4, 2020
In this week's Intersect, read about:
---
Trump, Biden battle for 270: Key Swing States Still Counting Votes in Tight Race
With more than 100 million votes counted, the 2020 presidential election remains too close to call as of early Wednesday morning, several hours after the first polls closed. Due to the widespread use of mail-in ballots as a result of the coronavirus pandemic, it could take days for a winner to be declared. Several swing states, including Iowa, Minnesota, Nevada, North Carolina, Ohio, Pennsylvania, and Texas, will be accepting and counting mail-in ballots days after the election as long as they are postmarked by Election Day. For these reasons, winners have yet to be projected in several swing states. With the outcome uncertain in many of the states that will decide the election, neither candidate has accumulated the 270 electoral votes needed to clinch the presidency. According to Decision Desk HQ, President Donald Trump has accumulated 213 electoral votes, while his Democrat challenger, former Vice President Joe Biden, has accumulated 238 electoral votes. In addition to winning all of the states that he won by double digits in 2016, Trump won the states of Florida, Iowa, Ohio and Texas, which boast a combined 85 electoral votes. read more
THINK.
You can view the electoral college map here. President Trump addressed the nation early Wednesday morning raising concerns of voter fraud and condemned election officials in numerous states where Democratic election officials stopped counting ballots. Trump stated, "This is a fraud to the American public. This is a fraud on the nation. This is an embarrassment to our country. We won this election," he said. "Frankly, we did win this election. We will be taking this to the US Supreme Court. We will win this, and as far as I'm concerned, we've already won it." Former Vice President Biden also addressed supporters saying, "Your patience is commendable. We knew this was going to go long, but who knew we were going to go into maybe tomorrow morning, maybe even longer. But look, we feel good about where we are, we really do. I am here to tell you tonight we believe we're on track to win this election." It could be days or weeks before the American people have election results. A critical swing state, Nevada, announced it will not update election results until Thursday as thousands of mail-in ballots have yet to be counted. The governor of Pennsylvania also said the total count in Pennsylvania would likely not be known today. Biden has taken a slim lead over President Trump in Michigan and Wisconsin. Some people have raised concerns of voter fraud in Michigan. One thing is certain; the race is far from over with so many swing states still undecided. Amid all of the uncertainty, we hold to the hope within the Gospel and the truth of God's Word. Proverbs 21:1 says, "In the LORD's hand the king's heart is a stream of water that he channels toward all who please him." Daniel 2:21 says, "He changes times and seasons; he deposes kings and raises up others. He gives wisdom to the wise and knowledge to the discerning."
PRAY.
Continue to pray for the integrity of the elections as states count the votes in the coming days. Pray for every vote to be counted and protected. Pray against any voter fraud and for a fair election in every country and swing state that has yet to be called.
ACT.
If you turned in an absentee ballot and want to make sure your ballot was counted, you can select your state and track it here.
---
Senate Majority Hangs in the Balance in These yet-to-be Determined Races
A handful of too-close-to-call races in battleground states are expected to tip the balance in the fight for control of the United States Senate. At least for now, it appears that Republicans are on track to hold their majority. Here are some of the key senate races that have yet to be called. Michigan: Republican John James is running ahead of the Democratic incumbent Sen. Gary Peters (Mich.) 49.3% to 48.8% with 92% of the votes reported, according to the Associated Press. With roughly 10% of the vote still left to be counted, the race has not been called. It's possible that outstanding votes are primarily made up of absentee ballots which have tended to favor Democrats, so the race could still turn in Peters' favor. North Carolina: Despite doubt that he could retain his seat, Republican incumbent Sen. Thom Tillis (N.C.) is currently leading Democratic challenger Cal Cunningham 48.7% to 46.9% with 93% of the vote reported. A Tillis win would be another sign of relief here as the race was considered a toss-up coming into Election Day. Georgia: Republican incumbent Sen. David Perdue (Ga.) is hanging onto a narrow 50.8% to 46.9% lead against Democratic challenger Jon Ossoff with 91% of the vote reported. But Ossoff, who worked as an investigative journalist before running for office, is still holding out hope. Should neither candidate garner 50% of the vote, the race would go to a run-off. Maine and Alaska: The two other Senate races that have not yet been called are in Maine and Alaska. In Maine, Republican incumbent Sen. Susan Collins is leading Democratic challenger Sara Gideon 50.8% to 42.6% with 85% of the vote reported, and in Alaska, Republican incumbent Sen. Dan Sullivan is beating Democratic challenger Al Gross by a margin of 63.1% to 31.8% with 45% reported. While Alaska's race is nearly a sure victory for Republicans, Collins' chances in Maine were much more in doubt. The incumbent trailed by a sizable margin in the polls ahead of Election Day. If Collins holds Maine, it would be another surprise victory for Republicans.
If all of the races outlined above remained the way they are and the GOP won in each, it would be a stunning victory for Republicans. It would mean they retained their 53-47 majority in the Senate, which is the way things stood coming into the election. Even if Democrats were to turn the tables and snatch victory in two of the races, it would still result in a 51-49 majority for Republicans in the Senate. If three of the six go to Democrats, that's where it gets tricky because the vice president breaks ties in the chamber and that gives a de facto majority to the party who controls the Executive Branch. read more
THINK.
You can view all the senate race results here. Senator Lindsey Graham held his senate seat in South Carolina against Democrat Jaime Harrison. Harrison raised a stunning $107.6 million the most of any Senate candidate in U.S. history. Fox News predicted early in the evening yesterday that Democrats will maintain control of the House of Representatives. One interesting race worth noting, Republican Madison Cawthorn won his election to represent the 11th congressional district in North Carolina and will become the youngest member of Congress at just 25 years old. While we continue to wait for the remaining senate races to be called, we encourage you to read this powerful article by our friend Dr. Jim Denison. Why the 2020 Election has been so Divisive, how Christians can Respond Redemptively. Dr. Denison not only outlines the key reasons the 2020 elections have been especially vitriolic, but he also provides specific biblical priorities and guidance for Christians today. If you feel overwhelmed with the election results or the lack of election results, this article gives practical insight for Christians today.
PRAY.
Pray that Christians would lead and shine God's light during these challenging political times in our nation (Phillipians 3:20-21).
ACT.
Do all you can today to stand for truth, share the Gospel, and spread God's love and kindness to others. Look for God-given opportunities to reach across the aisle to those who may have voted differently from you. Consider reaching out to a neighbor, a co-worker, or a family member, and send a note or a text of encouragement (2 Corinthians 13:11).
---
Louisiana Voters Pass Pro-life Amendment: Abortion Is Not A Constitutional Right
Louisiana voters approved a bipartisan constitutional amendment declaring abortion is not a constitutionally enshrined right. "Nothing in this constitution shall be construed to secure or protect a right to abortion or require the funding of abortion," Amendment 1 reads. According to the Associated Press, the Love Life Amendment passed 65 percent to 35 percent with almost 96 percent of the state's precincts reporting. Pro-life Democrat State Sen. Katrina Jackson penned the amendment which was co-sponsored by people on both sides of the political aisle. According to Jackson, the amendment grants more power to the legislators when it comes to evaluating abortion policy. "It's important to understand that Amendment 1 is not a ban on abortion. It simply keeps abortion policy in the hands of our legislators rather than state judges," Jackson wrote. "Our body of pro-life laws ensure that women are empowered with the truth about their pregnancy prior to an abortion, that minors seeking an abortion have parental consent, and that babies born alive following a botched abortion receive immediate medical care. Our law also makes sure that not a dollar of your state tax dollars fund abortion. Yet these laws and others are at risk unless we pass Amendment 1," Jackson said. read more
THINK.
Alliance Defending Freedom Senior Counsel Denise Burke responded, "Louisiana voters have taken an important step toward strengthening a culture of life and ending abortion on demand in their state." Pro-life activist Lila Rose called this amendment "historic." And, Benjamin Clapper, Executive Director of Louisiana Right to Life said, "We encourage other states to pass their own version of the Love Life Amendment. For too long, activist judges around the nation have usurped the power of state legislatures and declared a right to abortion-on-demand. It's time we changed this in every state across America." It's encouraging to see legislators from both sides of the aisle come together to protect human life. Scripture is clear on the issue of the sanctity of human life (Psalm 139). And Deuteronomy 30:19-20 reminds us that we each have a choice before us to choose life. In America, we not only have the freedom to make that choice in our own lives, but we also have the privilege to make the choice with our votes as the people of Louisiana did yesterday.
PRAY.
Praise God for this historic and tremendous pro-life victory in Louisiana. We pray for every mother who will be influenced by this Amendment, and we pray that they would choose life for their children. We also pray against any attacks that will come against this Louisiana constitutional amendment and ask God to thwart the devil's plan who comes to kill. We pray for life to be protected in Louisiana and for other states to follow in their lead.
ACT.
If we hope to see more pro-life victories like we saw in Louisiana yesterday, we must first begin with prayer. We encourage you to spend some time in prayer today for your state. Get the My Faith Votes pro-life prayer guide here and pray for a culture of life to be advanced in your state. And, if you live in Louisiana, this guide is still for you. Pray for the pro-life awakening in your state to continue and strengthen.
---
Gunmen Storm Kabul University, Killing 22, in Second Deadly Attack on Students in just over a Week
Gunmen stormed Kabul University, killing at least 22 people including students in their classrooms, on Monday and Islamic State militants claimed responsibility for what President Ashraf Ghani called a "despicable act of terror". In a video message, Ghani, who once lectured at the university, announced a national day of mourning to honor the victims and offered his "condolences and profound sympathies to the nation" and the families of the victims."My heart is still beating for this academic institution," he said. "Today's attack has left us grief-stricken." Gunmen barged into Kabul University in the morning, killing students in their classrooms and firing on others as they fled, officials and witnesses said, in what was the second attack on an educational institution in the capital in just over a week. The three attackers killed at least 22 people, including students, and wounded 22 others before Afghan security forces shot the gunmen dead, the health ministry said. The attack was claimed by Islamic State, the jihadist group's Amaq News Agency said. Amaq said the gunmen targeted a gathering being held to mark the completion of a training course at the university. "This is the second attack on educational institutions in Kabul ... Afghan children & youth need to feel safe going to school," NATO Senior Civilian Representative to Afghanistan Stefano Pontecorvo said in a statement. read more
THINK.
The people of Kabul Afghanistan have suffered tremendously at the hands of radical Islamic extremists. This most recent terror attack is yet another heartbreaking example. According to Open Doors International, the persecution in Afghanistan is rated "extreme." Isalm is the official religion of the country, and Christianity exists in secret. We hold to the truth found in Proverbs 11:21 that God will not let evil go unpunished. We pray that even in this horrific crisis, people will accept Christ's free gift of eternal life that was made possible only by Jesus's death and resurrection on our behalf. In other important news, American Navy SEAL Team Six successfully rescued an abducted American missionary in Nigeria in a precision military operation. Philip Walton, a 27-year-old missionary, was kidnapped by six gunmen on October 27 while at home with his wife, young daughter, and his brother. President Trump tweeted on October 31, "Last night, our Country's brave warriors rescued an American hostage in Nigeria. Our Nation salutes the courageous soldiers behind the daring nighttime rescue operation and celebrates the safe return of yet another American citizen!" Nigeria is ranked 12th on Open Doors' 2020 World Watch List of countries where Christians suffer the most persecution.
PRAY.
Pray for the families who lost their loved ones in this terror attack in Afghanistan. Pray for God to reveal Himself to them and that they would enter into a personal relationship with Jesus Christ as their Lord and Savior.
ACT.
Take some time to shift your focus from the election results to our brothers and sisters in Christ living under extreme religious persecution around the world. Open Doors has a great outreach that allows you to write a letter directly to someone who is being persecuted for their faith. Write a letter today. 1 Corinthians 12:26 says, "If one member suffers, all suffer together; if one member is honored, all rejoice together."
---
My Faith Votes—is a nonpartisan movement that motivates, equips and activates Christians in America to vote in every election, transforming our communities and influencing our nation with biblical truth. By partnering with national faith leaders, My Faith Votes provides resources to help Christians Pray, Think, and Act to create an America where God is honored in the public square.
Website | www.myfaithvotes.org Twitter | @MyFaithVotes Facebook | My Faith Votes
---
React
---
Comments