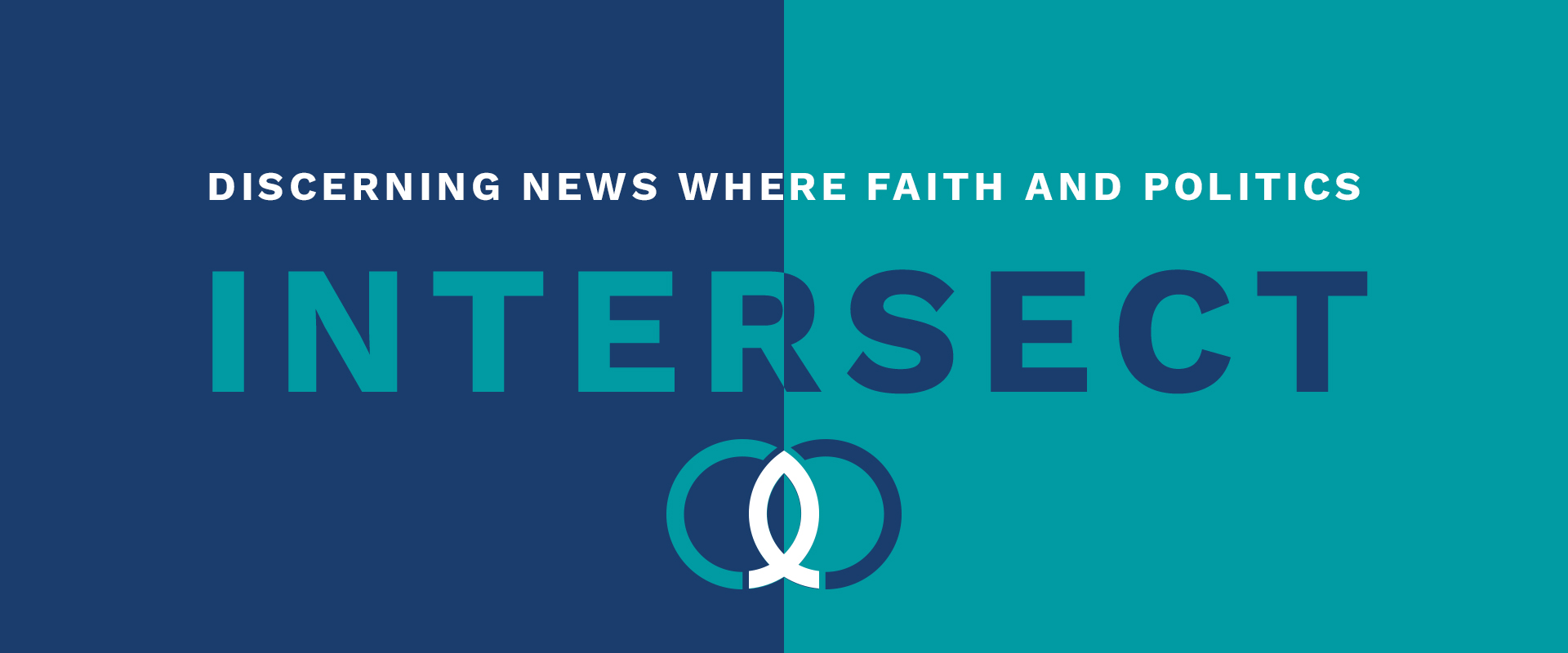 WEEKLY NEWS SUMMARY - NOVEMBER 3, 2021
In this week's Intersect, read about:
---
Supreme Court Stops New York State from Forcing Christians to Fund Abortions
"The Supreme Court issued an important ruling today stopping New York state from forcing Christians to fund abortions in their health care plans. The ruling comes on the same day SCOTUS is holding oral arguments related to two pro-abortion lawsuits seeking to block the Texas abortion ban. In its ruling today, the Supreme Court just ordered New York courts to reconsider Diocese of Albany v. Emami, a case challenging New York's coercive abortion mandate that requires employers to cover abortions in their health insurance plans—even if the employers are religious groups." read more at LifeNews.com
THINK.
The reason New York state didn't grant religious exemptions for these ministries is that they served the public in addition to fellow Christians. Religious exemptions were only available to ministries serving members of their own religion. The state failed to recognize that public work is an essential aspect of a Christian's duty to "love your neighbor as yourself." Other government bodies, thankfully, do not hold such an artificial divide between the 'sacred' and 'secular' aspects of life. Mason, Ohio, recently became the second pro-life sanctuary city in the state. Mike Gilb, the vice mayor, stated, "I'm not just here to decide how bright the streetlights should be or where the next roundabout goes. Those things are certainly important issues but they're not as fundamental as protecting life." Cities are not the only local governments stepping up; Lee County in Arkansas passed a resolution declaring itself to be a pro-life county–the eleventh in the state. Such measures demonstrate the importance of local elections and offices. Both voters and local elected officials should view such political engagement not as 'secular' enterprises, but as a way to serve God. Other cities, however, have a different view regarding abortion. Portland, Oregon, extended its bereavement policy to apply to city employees who have elective abortions. "Granting this type of leave following an abortion is a tacit admission of the humanity and family membership of the one who has been aborted — something abortion advocates almost never do," pro-life organization Live Action noted. Sadly, the Illinois state legislature passed a bill repealing the requirement that parents be notified before their daughter has an abortion. There is good news from California, however. A U.S. District Court temporarily blocked a law restricting pro-life sidewalk counselors from speaking to women entering abortion facilities. As these incidents demonstrate, states and cities have vastly different policies regarding the sanctity of human life, and it often depends on the values of their voters. Because of this disagreement, federal taxpayer money–which comes from people in every state–should not be used to fund abortion. Right now, eleven states are suing the Biden administration for allowing taxpayer-funded family planning clinics to refer for abortions–a policy that existed under President Obama but was repealed by President Trump. Do your city, county, and state officials view their office as a way to serve God by advancing the sanctity of human life?
PRAY.
If you don't know them already, find out the names of your local elected officials and pray that they will be obedient to God in public service. Keep your state officials and members of Congress in prayer. We have a tool you can use to let them know you are praying for them. Remember that the battle for life is a spiritual battle first, and prayer is a powerful way to engage.
ACT.
A unique pro-life ministry we had the opportunity to partner with on the Kirk Cameron American Campfire Revival Tour last month is called Love Life. They are working to unite and mobilize the church to create a culture of love and life that will result in an end to abortion and the orphan crisis in our nation. Learn about their work and join one of their prayer walks happening around the nation here.
---
Glenn Youngkin Wins Virginia Governor's Race, Riding Enthusiasm Wave on Education Issues
"Glenn Youngkin flipped the Virginia governorship to Republican control, pulling off a win by embracing hot-button education and cultural issues and signaling trouble for Democrats nationwide heading into 2022. He led what appears to be a Republican sweep, with Winsome Sears winning the lieutenant governor's office, Jason Miyares leading incumbent Democratic Attorney General Mark Herring, and Republicans appearing to flip the state House of Delegates from Democratic to Republican control by a single seat." read more at the Washington Examiner
THINK.
Pro-life Republican Winsome Sears made history last night, becoming Virginia's first woman lieutenant governor. "I didn't run to make history, I just wanted to leave it better than I found it," said Sears. "Hold on Virginia, help is on the way, the cavalry has arrived!" Sears is an immigrant from Jamaica who became the first Black woman Republican elected to the VA House of Delegates. She served there from 2002 to 2004. She is also a veteran of the U.S. Marine Corps. As lieutenant governor, she will be president of the state Senate. Glenn Youngkin's victory is the first statewide win for the Republican Party in Virginia in 12 years – in what some saw as a referendum on Biden's presidency and his legislative agenda pending in Congress. Youngkin recently shared about coming to Christ in his 20's and why that led him to running for governor here. In another notable election, voters in Minnesota's largest city have rejected what would have been an unprecedented move to dismantle the police department after calls for reform following the death of George Floyd. The measure asked voters if they favored amending the city's charter to replace the Minneapolis Police Department with a Department of Public Safety. The initiative would have removed language from the charter related to the agency, including minimum funding requirements, and would have divided control of public safety between the mayor and City Council. And as of this press time, the race for New Jersey governor is in a surprising dead heat with Republican Jack Ciattarelli behind Democratic Gov. Phil Murphy by a mere 1600 votes. Every vote matters.
PRAY.
In Paul's teaching on prayer in 1 Timothy 2:1–4, one of the major thrusts is praying for those in authority. According to Paul's reasoning, we want a good government that allows us to live "peaceful and quiet lives"—ultimately freeing us to evangelize those who are lost. Paul would have been amazed that Christians could someday take part in selecting those leaders…but he would have been appalled that many don't even bother to get involved in selecting leaders who will fulfill God's purposes. Pray for a renewed commitment to pray for our leaders, to be engaged and aware of the issues at hand, and to follow through with action.

ACT.
Elections never stop. In 369 days, the 2022 midterm elections will be upon us. All 435 House seats are up for election, 34 Senate seats, 36 gubernatorial positions, 30 State Attorney General positions, 26 Secretary of State Seats, 6166 of 7383 state legislative seats (84%), 85 state supreme court seats, 284 intermediate appellate court seats, 60 state ballot measures and thousands of municipal and school board seats. That's a major opportunity to make an impact with your vote. Use our easy tool to be notified of every election you are eligible to vote in here and share the tool with others so they are informed as well!
---
The Largest Municipal Force in the U.S. has Thousands on Unpaid Leave Over Vaccines
"Thousands of New York municipal workers, including police officers and firefighters, have chosen unpaid leave rather than getting inoculated against COVID-19, as the city's vaccine mandate went into effect. Speaking on Monday, Mayor Bill de Blasio, a Democrat, said he expected no disruptions as a result of some 9,000 city employees, or about 6% of the 378,000-strong workforce, getting put on unpaid leave for failing to get a shot. Those workers must show proof of at least one dose of a vaccination to return to work, according to the Oct. 20 order." read more at NPR
THINK.
A recent headline stated the rising concern, "Worker Rebellion Swells Over Vaccine Mandates." And it's happening across the nation. According to Newsmax, in Wichita, Kansas, nearly half of the roughly 10,000 employees at aircraft companies Textron Inc and Spirit AeroSystems remain unvaccinated, risking their jobs in defiance of a federal mandate, according to a union official. "We're going to lose a lot of employees over this," said Cornell Beard, head of the local Machinists union district. Many workers did not object to the vaccines as such, he said, but were staunchly opposed to what they see as government meddling in personal health decisions. In Chicago, a Cook County judge gave the Fraternal Order of Police a partial victory in granting a temporary restraining order to block a vaccine mandate for union members. The order blocks the city from firing members of the police union who don't meet the city's December 31 vaccination deadline until the union's arguments are heard by an arbitrator. While the judge granted the temporary restraining order, it left in place the vaccine status reporting mandate that the FOP had been fighting to block. Police said as of Monday, 73% of the department had complied with the reporting mandate. Mayor Lori Lightfoot's mandate for city workers to get vaccinated survived a separate court challenge last week. While this "worker rebellion" plays out in the courts, a rebellion is occurring at the federal level–by the executive branch. Despite a judge's order, the Biden administration says they will move forward with firing unvaccinated military personnel who were waiting on pending religious exemptions. The judge had asked the Biden administration to agree that "active duty military plaintiffs, whose religious exemption requests have been denied, will not be disciplined or separated during the pendency of their appeals." With supply chains already under extreme stress, public safety potentially compromised and many businesses struggling to find workers after a record 4.3 million Americans quit their jobs in August alone, the looming December 8 federal vaccine mandate deadline could put the nation in a precarious situation. Eric Hoplin, president and CEO of the National Association of Wholesaler-Distributors, an influential trade group that represents an industry of nearly 6 million stated, "If tens or hundreds of thousands of employees are terminated just two weeks before Christmas...the result could be nothing short of catastrophic for the newly unemployed and their families and for the US economy."
PRAY.
Father, guide government and business leaders to honor the dignity of everyone. May they enact policies that properly protect Life, Liberty, and the Pursuit of Happiness amid society's health concerns. May we have a proper perspective that the biggest problem is not dying from a virus but dying without Jesus Christ. Thank You for loving us so much that You gave Your Son so that whoever believes would not die but have eternal life with You (John 3:16).
ACT.
Recently, My Faith Votes donors had the opportunity to have an exclusive LIVE conversation with Nebraska Governor Pete Ricketts. One of the main topics covered was vaccine mandates. You can watch the replay of the insightful conversation here.
---
Biden Administration Announces Plan to Tighten Regs on Oil, Gas Sector, undo Trump Rollbacks
"The Biden administration is launching a wide-ranging plan to reduce methane emissions, with the centerpiece an upcoming Environmental Protection Agency rule to tighten such regulations on the oil and gas sector. The plan is being announced Tuesday as President Biden concludes two days at a United Nations climate summit in Scotland where he pledged to work with the European Union and other countries to reduce overall methane emissions worldwide by 30% by 2030, according to the Associated Press. The upcoming EPA regulation was laid out in one of Biden's first executive orders. The proposed rule would be the first that targets existing U.S. oil and gas wells, instead of focusing only on new wells as previous regulations have done." read more at Just the News
THINK.
The aim of such regulations is to eventually reach "net zero emissions." Steve Koonin, a physicist who served in the Department of Energy during the Obama administration, explained that President Biden's goal is to "decarbonize the electrical system, the electrical grid, to eliminate all emissions from electrical generation by 2035," despite the fact that only thirteen percent of total emissions is generated by the US. Right now, energy prices are soaring in France and Germany, and China is rationing electricity. In addition to already-high gas prices, it is anticipated that US households will spend thirty percent more on heat this winter. E. J. Antoni, an economist at the Texas Public Policy Foundation, noted, "The White House has repeatedly begged OPEC+ [Organization of the Petroleum Exporting Countries] to pump more oil, while hamstringing production here at home through its promises of more regulations and taxes on the oil, coal, and natural gas industries. With these impending costs, domestic producers of reliable energy have little reason to expand capacity, drill new wells, refine more oil into gasoline, dig more coal, or invest in their businesses." Even CNN admitted, "In theory, the Biden administration could encourage more domestic production by relaxing environmental regulations. But such a move would take time to impact supply as well as undercut Biden's climate agenda, the most progressive in US history." It begs the question; can Biden's plan really be considered 'progressive' if it makes people struggle to afford to fill up their tank? Climate change is often phrased as a "moral problem." While true, those who use that term often forget that the moral equation includes people who are hurt by cutting back on fossil fuels. This energy source is still the cheapest and most reliable, which is especially important for developing countries who can't afford to experiment with alternatives like wind and solar. Why is this administration focused on eliminating fossil fuels, given the consequences? Albert Mohler points out that environmental policies spring from a broader worldview, and there is a big contrast between biblical and secular views of the earth. According to the Bible, God made the earth for humans to inhabit, fill, and subdue for His glory. A secular worldview, in contrast, views the earth and humans as products of random processes–a "cosmic accident." With a Creator, humans are stewards over His creation. Without a Creator, we are intruders interfering with nature. This secular worldview also includes a "judgment day" of its own. "You have warnings of catastrophe, of a judgment that is to come, but the judgment is not coming by a holy and righteous God. The judgment is coming by an angry cosmos and a frustrated planet," Mohler notes. A biblical view can balance stewarding creation with caring for our neighbors, because through our Creator we understand our purpose and the earth's purpose.
PRAY.
Lord God, You are the Creator of the world, the Provider of our needs, and the Savior of our souls. We pray that our leaders would make decisions that recognize Your purpose for the earth and humanity. Help us to steward Your creation in a way that brings You glory. Give us zeal to share Your gospel of salvation until the day when even "the creation itself will be set free from its bondage to corruption and obtain the freedom of the glory of the children of God." (Romans 8:21)
ACT.
Most students learn the secular worldview regarding creation in public school. A great place to learn the biblical view is the Creation Museum. "This family-friendly attraction near Cincinnati explores creation science with stunning exhibits, dinosaur bones, fossils, botanical gardens, a planetarium, zoo, zip line course, and more." We encourage you to plan a visit or recommend it to your friends, especially if they have children.
---
My Faith Votes—is a nonpartisan movement that motivates, equips and activates Christians in America to vote in every election, transforming our communities and influencing our nation with biblical truth. By partnering with national faith leaders, My Faith Votes provides resources to help Christians Pray, Think, and Act to create an America where God is honored in the public square.
Website | www.myfaithvotes.org Twitter | @MyFaithVotes Facebook | My Faith Votes
---
React
---
Comments