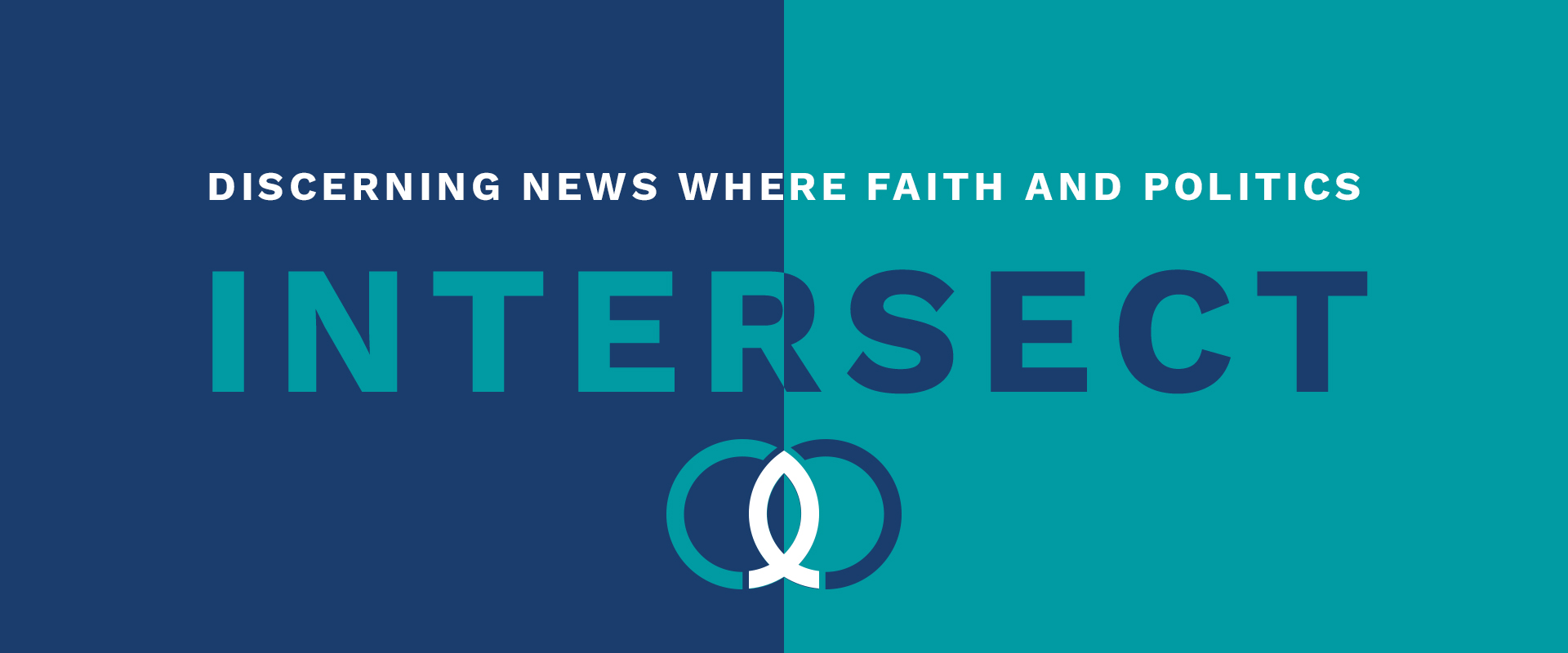 WEEKLY NEWS SUMMARY - NOVEMBER 1, 2023
In this week's Intersect, read about:
---
Christian Conservatives Cheer One of Their Own as Mike Johnson Assumes Congress' Most Powerful Seat
"Evangelical Christian conservatives have long had allies in top Republican leadership in Congress. But never before have they had one so thoroughly embedded in their movement as new House Speaker Mike Johnson, a longtime culture warrior in the courthouse, in the classroom and in Congress. Religious conservatives cheered Johnson's election Wednesday, after which he brought his Bible to the rostrum before taking the oath of office. 'The Bible is very clear that God is the one that raises up those in authority … each of you, all of us,' he said." read more at the Associated Press
THINK.
Johnson, who was little-known before being elected Speaker, has been reviled in the media for the past few days. Several people, including Representative Jared Huffman (D-CA) and former White House Press Secretary Jen Psaki, took issue with Johnson's statement that God raises up those in authority. He has been called an "extremist," in a New York Times opinion piece, a "religious fanatic" by television show host Bill Mahar, and mocked for being in a covenant marriage (which makes it legally more difficult to get a divorce).
Mike Johnson is not being attacked for simply believing in the Bible and calling himself a Christian. It's mainly because he has applied those biblical morals and principles to law and policy–particularly in support of the traditional family, religious liberty, and the sanctity of life. "I am a Bible-believing Christian. Someone asked me today in the media, they said people are curious, what does Mike Johnson think about any issue under the sun? I said, Well, go pick up a Bible off your shelf and read it. That's my worldview, that's what I believe and so I make no apologies..." Johnson said in an interview on Fox News.
1 Peter 3:14-16 urges Christians to have "gentleness and respect" as we are "zealous for what is good" and defend our faith. Mike Johnson is a prime example of this, as Albert Mohler pointed out that he "has somehow pulled off the task of being very convictional…and at the same time considered to be respectful and gracious even well-liked by members of his own party, and presumably by members of the other party as well." Yet, 1 Peter warns, people will still slander us. "It does not matter how polite or winsome one may be. To believe the Bible can bear on public life in today's culture is to be met with derision," writes Andrew Walker. "We should recognize the play, ignore it, and carry on with witnessing to the truth of Biblical Christianity as the only source for objective morality and human flourishing."
PRAY.
"First of all, then, I urge that supplications, prayers, intercessions, and thanksgivings be made for all people, for kings and all who are in high positions, that we may lead a peaceful and quiet life, godly and dignified in every way. This is good, and it is pleasing in the sight of God our Savior, who desires all people to be saved and to come to the knowledge of the truth." (1 Timothy 2:1-4) As you thank God for our new Speaker, pray that in everything he does, he will reflect our Savior. Pray for wisdom to lead the House, continued courage, and favor with those around him as he seeks to do God's will for the good of the country.
ACT.
Does your representative know that you are praying for them? They could use your encouragement to model the leadership qualities found in the Bible! Send a message encouraging them to model Speaker Johnson's strong leadership qualities and let them know you are praying for them.
---
Abortion Rights Supporters Far Outraise Opponents and Rake in Out-of-State Money in Ohio Election
"Supporters of a ballot measure that would enshrine abortion rights in the Ohio Constitution far outraised their anti-abortion opponents in the months leading up to the November election, bringing in nearly $29 million from donors since Sept. 8, the campaign's latest filings show. The effort against Issue 1, which would amend the constitution to protect abortion rights, raised just under $10 million in the same period, according to Thursday's filings." read more at the Associated Press
THINK.
For the November 7 election, a large chunk of pro-abortion funding is coming from out-of-state abortion extremists, including those associated with the leftist billionaire George Soros. Amy Natoce, press secretary of Protect Women Ohio, a pro-life group, criticized the outside funding for Issue 1 in a statement to The Associated Press. "It's no surprise the ACLU is dumping millions of dollars into Ohio to cement its radical anti-parent amendment in our constitution," she wrote. "Whether voters are pro-choice, pro-life or somewhere in between, Issue 1 goes just goes [sic] too far and is too radical for Ohioans."
Virginia's elections are being closely watched as well. It is one of only two states in the nation where different parties each control one house of the legislature (Pennsylvania is the other). This election could determine if the state becomes a Republican trifecta (where one party holds the governor's office plus both houses of the legislature). A pro-life grassroots advocacy organization is spending more than $1.5 million on the upcoming state legislative races in Virginia to support candidates vowing to help Republicans pass a 15-week abortion ban. The impact from the 2023 elections will likely carry over to 2024 with Virginia being described as a bellwether of what might happen in the next presidential election.
If you have an election next week, what will you do with the opportunity God has given you? "There's a sizeable contingent of Christians who avoid politics because important political issues can seem divisive or discouraging (no argument there)," Emily Washburn writes. "Unfortunately, disliking politics doesn't excuse believers from voting whenever they can .… There's too much at stake to justify tuning out."
PRAY.
"And let us not grow weary of doing good, for in due season we will reap, if we do not give up. So then, as we have opportunity, let us do good to everyone, and especially to those who are of the household of faith." (Galatians 6:9-10) Lord, we pray that Christians in the states with an election next week would take the opportunity You have given them to do good.
ACT.
Do you have an election next week? Do your friends? Go to MyVoterHub to find out. You can also click the button to receive a reminder to vote. Please share this resource with as many like-minded people as possible and encourage them to vote on or before November 7!
---
The Israel-Hamas War Has Entered a 'New Phase.' Here's What to Expect.
"Israel has entered 'a new phase in the war' against Hamas in Gaza, Israeli Defense Minister Yoav Gallant said on Saturday. The Israel Defense Forces (IDF) has sent tanks and other ground forces into Gaza and kept them there while continuing its intense artillery attacks and aerial bombardment, but for now it has held off on an all-out ground invasion. It is not clear if there will ever be a formal D-day for such an operation, but Israel is steadily increasing its ground operations within Gaza, conducting raids into the strip and severing telecommunications there." read more at Foreign Policy
THINK.
Three weeks after Hamas attacked Israel on October 7th, the Israeli Defense Force (IDF) has launched its ground operation into Gaza to neutralize Hamas and rescue hostages. Operating in Gaza—a densely populated area—poses numerous challenges. The IDF must navigate tunnel fighting, tightly packed buildings, snipers, booby traps, and so much more.
In the United States, the House and Senate are considering sending funding to Israel. However, Democrats and Republicans are split over whether to pass a joint spending bill with aid for both Ukraine and Israel or a stand-alone bill for Israel. Speaker Mike Johnson's package would include $14.3 billion in aid which would be offset by deducting that amount from the IRS's budget.
That innocent lives will be lost is a tragic reality of war. As Israelis enter Gaza, the loss of life will only increase on both sides. As things intensify, we must pray for the hearts of all Arabs and Jews in the middle of this conflict, most of whom do not know Christ as their Lord and Savior. We must pray for the salvation of the Arab and Jewish people. We can send them both military and humanitarian aid, but the only One who can save them is Jesus.
PRAY.
Lord, we pray for the peace of Jerusalem, but most importantly, we pray for the salvation of all Israeli citizens—Palestinian and Jewish alike. We pray that this conflict would lead them straight into Your arms, and that Your name would be magnified above it all. Amen.
ACT.
The media coverage around this conflict can be confusing to say the least, and many of us are left not knowing who or what to believe. As you consider what is happening and hear reports from all sides, there are many biblical truths we can find hope in. This article from Jewish Voice outlines several of those truths. Read and share it with friends and family who are also struggling with how to respond to this war.
---
Vermont's Largest School District Unanimously Codifies Trans Rights for Students
"Just last week, Champlain Valley School District, the state's largest [school district], explicitly and comprehensively codified rights for transgender students within its jurisdiction. The new policies passed unanimously and endeavor to go above and beyond even the state level protections that Vermont offers trans students in the state. Although the policies were previously informally practiced, codifying them explicitly allows trans students to know that their school district has their back." read more at Truthout
THINK.
While some, like the source above, characterize this policy as supporting students, it is truly not in their best interest. This three-page policy—affecting thousands of students—circumvents the Vermont state legislature to dramatically expand the state policy. It allows students to control who knows about their struggles with gender dysphoria, consequently cutting parents out of the equation. It will also allow students to change their name on past school records without having to file a legal name change with the state.
Perhaps most alarming, this policy uses "mandatory language." This means that men pretending to be women must be allowed to use women's restrooms and locker rooms. Individual schools and students within the district will have no recourse if they disagree with the policy or are adversely affected by it.
Ironically, one LGBTQ advocate expressed excitement over the policy claiming that "all" students would now be protected. It would be interesting to interview one of the female athletes now forced to share a locker room with a male because of this policy. One has to wonder if she would say that she feels protected by this policy.
PRAY.
Pray for the protection of all the students in this school district who will be negatively impacted by this policy. Pray that God's definition of gender would be the only definition that prevails in our nation today.
ACT.
The Champlain Valley School District's actions highlight the power of school boards and the importance of voting for the right school board members. Unfortunately, it can be difficult to find information on school board candidates. That is why My Faith Votes has developed an Avoiding the Wrong School Board Members resource. It provides you with critical questions to ask candidates so that you can ensure you elect candidates that will protect your children.
---
My Faith Votes—is a nonpartisan movement that motivates, equips and activates Christians in America to vote in every election, transforming our communities and influencing our nation with biblical truth. By partnering with national faith leaders, My Faith Votes provides resources to help Christians Pray, Think, and Act to create an America where God is honored in the public square.
Website | www.myfaithvotes.org Twitter | @MyFaithVotes Facebook | My Faith Votes
---
React
---
Comments