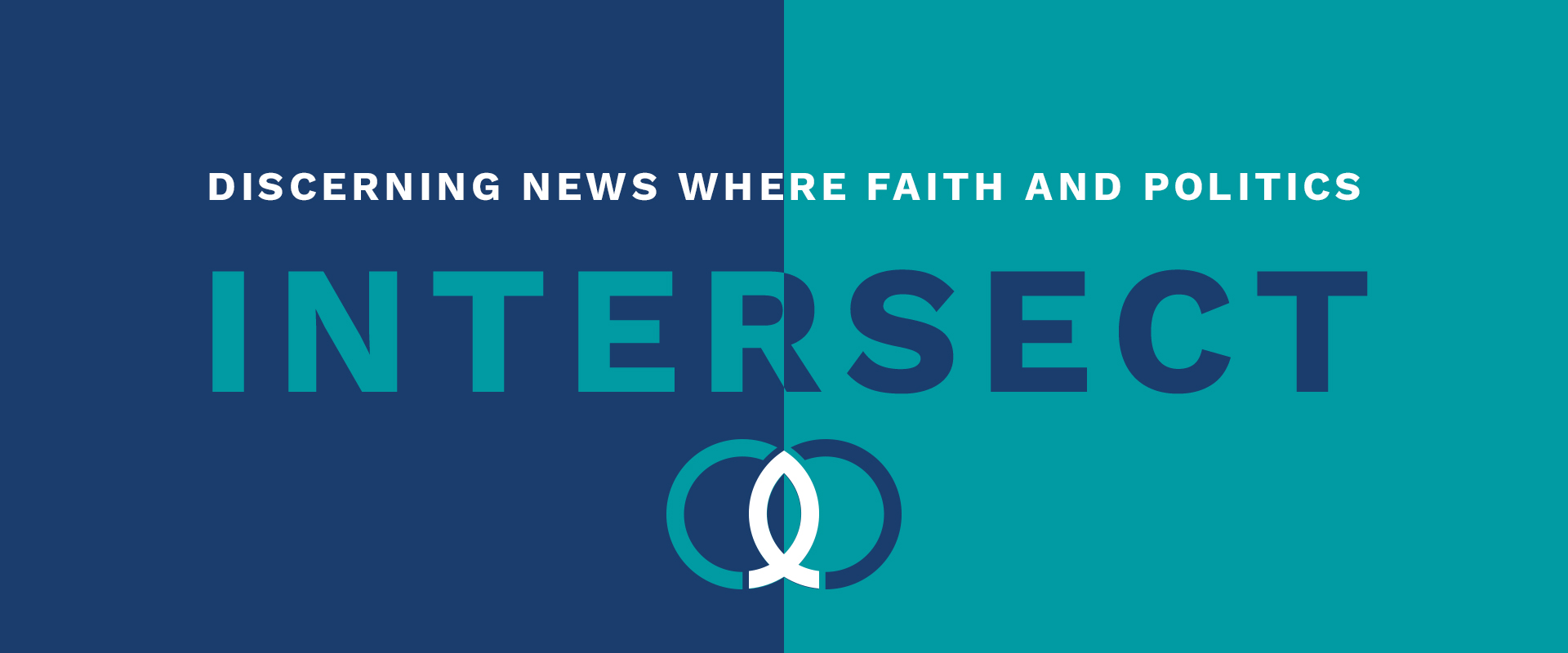 WEEKLY NEWS SUMMARY – May 8, 2019
In this week's Intersect, read about:
---
Abby Johnson Amplifies her Baby's Heartbeat with 4D Ultrasound in Times Square
Abby Johnson, the subject of the pro-life film Unplanned, amplified her unborn baby's heartbeat for bypassers to hear as she underwent a 4D ultrasound in New York City's Times Square. "This right here is a baby," Johnson said while patting her stomach. She appeared on stage on Saturday after the ultrasound and declared that "life is winning." She said, "We will see a day when abortion in this country is unthinkable." She was speaking at Focus on the Family's "Alive From New York" event, set up as a reaction to the state's controversial abortion legislation signed earlier in 2019. The host of the live stream indicated that the ultrasound — broadcast on a large screen on the "Alive From New York" stage —showed the baby yawning. Vice President Pence highlighted the ultrasound on Saturday with a tweet. "As Democrat Governors in NY & VA advocate for late term abortion & even infanticide - & Democrats in Congress refuse to allow a vote on the Born-Alive bill - TODAY in Times Square an ultrasound will be shown for all to see, demonstrating the miracle of life," he said. read more
THINK.
My Faith Votes was at the "Alive from New York" pro-life event in Times Square and there were thousands of people standing for life! You may have seen one of our live videos on Facebook. Three personal testimonies from individuals who had survived failed abortions, pro-life advocate Abby Johnson, and retired National Football League player Ben Watson gave powerful speeches. "As families across our country are being destroyed and as lives are being extinguished, we must expose the lies that are being told. We must peel back those layers of deceit," Watson said. He continued, "We have to be men who are willing to step into that boldly and with confidence because we were made to be protectors and providers. You have what it takes to be the man God designed you to be." Unfortunately, there was a threat near some of the screens showing the ultrasound, so the New York Police asked everyone to leave the area around two of the main screens in the middle of the ultrasound, before the event concluded. We are thankful for the New York Police Department's cautious action and that everyone was safe. We hope you will be encouraged to know that despite New York's aggressive abortion law, there are thousands of people who believe in advancing a culture of life in our nation.
PRAY.
Please continue to pray for the sanctity of life in America to be valued and protected. Download our My Faith Votes Pro-Life Prayer Guide to help you as you pray.
ACT.
The "Alive from New York" event should remind each of us that we must be taking steps in our communities to help protect the most innocent in our society. We've compiled 20 Ways for you to Stand for Life. Check out this guide and ask the Lord to show you how you can take action!
---
More than 600 Rockets Fired at Israel from Gaza, Death Toll Rises
The death toll continues to rise Sunday on both sides of the Israel-Gaza border in one of the most intense flare-ups of violence in the region in years, shattering a month-long lull in attacks. Palestinian militants in the Gaza Strip fired more than 600 rockets into southern Israel in less than 24 hours, killing at least four Israelis and leaving several more in critical condition. Israel has retaliated with dozens of airstrikes against militant sites in Gaza. More than a dozen Palestinians, including a pregnant woman and her 14-month old niece, have also been killed. According to Haaretz, four Israeli men and 16 Palestinians were killed so far since tensions increased along the border on Friday. Four Israelis were also wounded as rockets fell on the Israeli south on Saturday. read more
THINK.
Anne Frank noted that we first make choices, and then our choices make us. Over the weekend, the decisions of a few detrimentally shaped the region as a whole. The latest round of violence began on Friday when an Islamic Jihad sniper fired at Israeli troops, wounding two soldiers. Some believe Iran had a hand in this, trying to get Israeli forces to focus on Gaza while Iran continues to strengthen their position in Syria. Because of threats from Iran, the U.S. deployed an aircraft carrier strike group to the Middle East on Sunday. Working in conjunction with Iran is Hamas, a terrorist group which boasts an organizational charter that calls for the murder of every Jew in the world. When Israel pulled out of Gaza in 2005 as part of the plan to improve security, conditions worsened – especially when Hamas took power in 2007. Hamas fires countless rockets at civilian areas throughout Israel, uses civilians as human shields, and builds elaborate tunnels to try to murder innocent Jews or capture Israeli soldiers. According to a 2015 CIA report, "the Gaza Strip could become uninhabitable by 2020 unless steps are taken to address Gaza's economic and humanitarian situation." And all of this happens as Ramadan began on Monday. Muslims fast and pray throughout this holy month, attempting to draw closer to Allah.
PRAY.
Pray for the leadership in Israel, that they would have God's tactics and strategy for the battle. Pray for the protection of soldiers fighting and pray for the protection of civilians on both sides. Pray that as Muslims in the Middle East and across the world fast and pray to seek Allah during this month, they would ultimately see and find the One True God.
ACT.
30 Days of Prayer for the Muslim World, is an international movement that calls Christians to make a deliberate and respectful effort to learn about, pray for and reach out to our Muslim neighbors, both here and around the world. The 30 days of prayer coincides annually with the Islamic month of religious observation — Ramadan. We encourage you to learn more about Ramadan and participate in this prayer movement for Muslims with us.
---
Are U.S., Russia and Cuba Going to Work to Break the Impasse on Venezuela?
Venezuela's critical situation is at a standstill: While pressure is mounting for its president Nicolás Maduro to step down, opposition leader Juan Guaidó's recent push to oust Maduro failed to trigger the military defections needed to take control of institutions such as the country's security forces. Since Guaidó invoked the constitution in January to assume the interim presidency, the U.S. has thrown its full weight behind him while Russia and Cuba have increased their support for Maduro, creating a clash among the powers. According to a State Department spokesperson, the department's officials met April 29 with Carlos Fernández de Cossío, Cuba's director-general of U.S. affairs, in Washington, D.C., but the meeting was described as a courtesy call at the working level. "They're not averse to opening conversations with countries that are allied to Maduro," Michael Shifter, president of the Inter-American Dialogue, said. "The U.S. wants to get supporters of Maduro to back off." Meanwhile, some analysts think Russia and the U.S. are engaging more on Venezuela after spending months accusing one another of interfering in the South American country. On Friday, Trump and Putin spoke on the phone for an hour. The two leaders spent much of the call focused on Venezuela, the White House said. read more
THINK.
Venezuela's dictator, Nicolás Maduro, remains in power while severe food shortages are leaving the Venezuelan people in crisis. There has been increased discussion regarding what role the United States should play in the situation. National Security Advisor John Bolton, Secretary of State Mike Pompeo, and acting Defense Secretary Patrick Shanahan met at the Pentagon on Friday to review a "comprehensive set of options" for the U.S. involvement in Venezuela. Many in Congress are concerned that military options to support opposition leader Juan Guaidó may be on the table. Republican Senator Todd Young called for the Senate Foreign Relations Committee to hold a hearing to discuss military intervention with Trump administration officials. Congressman Young said, "The brutal Maduro Regime has caused unspeakable suffering amongst the citizens in Venezuela and I commend the brave Venezuelans who are standing up for their freedom and for their basic human rights. However, I am concerned by reports of possible U.S. military intervention in Venezuela." Benjamin Franklin observed that justice will not be served until "those who are unaffected are as outraged as those who are." As Christians, we are aware of the brokenness in the world but also resolutely hopeful in the Creator of the world (Hebrews 6:19). Justice may be delayed, but it is inevitable (Romans 12:19).
PRAY.
Pray for the people of Venezuela as they trust God for their most basic needs of food and water and live in extreme political unrest. Pray for Maduro to peacefully step down from power and for the people of Venezuela to be treated fairly under new leadership.
ACT.
Consider donating to help with the food crisis in Venezuela. In Columbia, a soup kitchen has been set up to serve 1,000 meals a day to Venezuelan refugees coming across the border. Thanks to Christian Aid Ministries and their partners, these refugees are being fed and, most importantly, hearing the Gospel message.
---
Terrorists Execute Six Christians in West African Protestant Church
Six Christians were executed in a West African church on Sunday after they refused to convert to Islam. According to Christianity Today, several armed motorcyclists opened fire on the Assemblies of God church in Burkina Faso on Sunday killing six people, including the church's long-time pastor, Pierre Ouédraogo, after they refused to deny their Christian faith. Christianity Today reports that the gunmen also looped the church and burned its pulpit. The Assemblies of God church in Burkina Faso was founded in the 1980s and is considered one of the oldest Protestant congregations in the region. Pastor Ouédraogo had served as the pastor of the Burkina Faso Assemblies of God church since it was founded. Reportedly, before the attack, the pastor feared that the church might be in danger since it is located near the Mali border, which has been a center for conflict for some time. Despite this, Ouédraogo was determined to stay in the community and continue to share the Word of God in the Burkina Faso village. read more
THINK.
A new report, commissioned by British Foreign Secretary Jeremy Hunt, concluded that global Christian persecution is now so severe that it is close to reaching the international definition of "genocide." The report revealed that one in three people suffer religious persecution, and Christians made up the overwhelming majority (80 percent). The increasing severity is leading many to note that the Christian faith is at risk of disappearing - especially overseas - if action is not taken. The reports should force many to wonder, why have we been blind for so long? The Trump Administration is beginning to take action, calling out the offenders and providing concrete action to combat the issue, according to a recent press release. Governments who crack down on religious minorities must be held accountable (Romans 13:3-4). "The freedom to believe as one's conscience dictates is a fundamental human right," USCIRF Chair Tenzin Dorjee said, noting that it is also "vital to the security, stability and economic vitality of any state or region." Governments can no longer be silent, and Christians cannot sit on the sidelines while our brothers and sisters around the globe are persecuted for their faith (Hebrews 13:3).
PRAY.
Pray for the growing Christian persecution around the world. Pray for God's protection, but also pray for steadfast faith amid dangerous hardships. Pray that God would open the eyes of those who are blind to the issue. Pray for governments across all nations to take action for religious freedom.
ACT.
Christian persecution is on the rise around the globe, and it will continue to increase. But we can take action and help from here. The National Christian Foundation provides resources for Christians to become a united front, to strengthen the church and global mission amidst persecution. Read this article to see how you can respond to the growing issue.
---
My Faith Votes—is a nonpartisan movement that motivates, equips and activates Christians in America to vote in every election, transforming our communities and influencing our nation with biblical truth. By partnering with national faith leaders, My Faith Votes provides resources to help Christians Pray, Think, and Act to create an America where God is honored in the public square.
Website | www.myfaithvotes.org Twitter | @MyFaithVotes Facebook | My Faith Votes
---
React
---
Comments