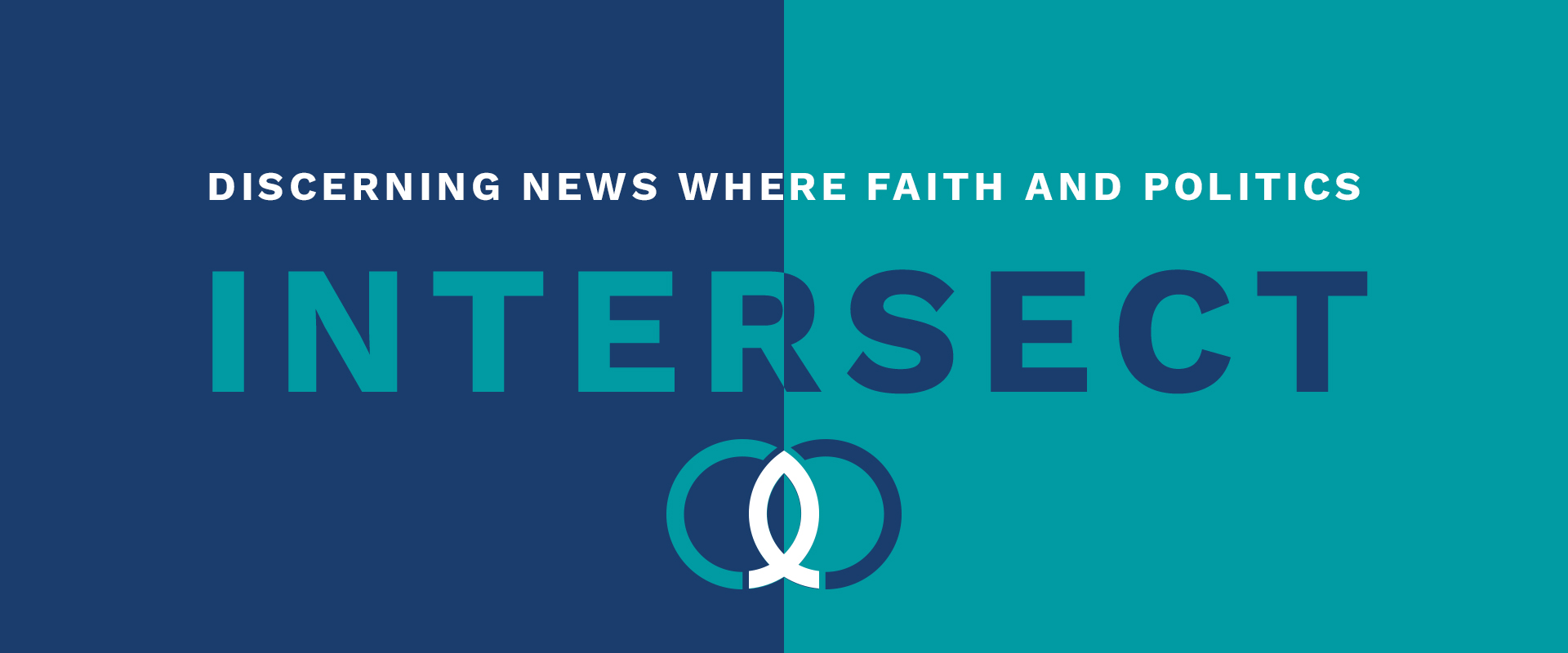 WEEKLY NEWS SUMMARY – May 22, 2019
In this week's Intersect, read about:
---
AL Governor Signs Sweeping Abortion Ban Into Law: 'Every Life Is a Sacred Gift from God'
The governor of Alabama has signed the toughest abortion bill in the country into law. Gov. Kay Ivey says the bill stands as a powerful statement to Alabamians' deeply held belief that every life is from God. "To the bill's many supporters, this legislation stands as a powerful testament to Alabamians' deeply held belief that every life is precious and that every life is a sacred gift from God," the Republican governor said in a statement.
The bill makes abortion at any stage of pregnancy a felony, punishable to 10 to 99 years or life in prison, for the abortion provider. There's no exception for rape or incest, only for the woman's health being at serious risk. The law doesn't go into effect for six months but is expected to face legal challenges to stop it. And that's the goal – to go to the Supreme Court to overthrow Roe versus Wade, the 1973 decision that legalized abortion nationwide. "The sponsors of this bill believe that it is time, once again, for the US Supreme Court to revisit this important matter, and they believe this act may bring about the best opportunity for this to occur," Ivey said. read more
THINK.
Televangelist Pat Robertson called Alabama's new abortion ban "extreme," saying on his show that the state legislature has "gone too far." However, Franklin Graham disagrees saying in a Facebook post, "I'm thankful for Governor Kay Ivey—she's a governor who's got guts! And I'm grateful for every Alabama lawmaker who was bold enough to vote for this legislation enacting a near-total ban on the killing of babies by abortion in their state." There are a number of false narratives being talked about in the media, so it's important to understand the facts of the law. A National Review writer, David French, said it this way, "For two generations the Roe decision has distorted American politics. Have 20 years of political activism been in vain?" He concludes: "Moral declarations have their own value. Roe has inflicted a serious injury on American democracy. It's time for another fundamental challenge to the "right" to kill a child." Soon after the passage of the Alabama law, the Missouri senate passed a heartbeat bill that the governor is expected to sign into law. Today, 2,408 women will get an abortion. This should create urgency within us, but it should also cause us to seek God's plan first. A rash decision ended Saul's reign. However, the incremental approach didn't bode well for Absalom (1 Samuel 15, 2 Samuel 17-18). Some want to move quickly, others incrementally, but God wants us to walk with him. His ways are higher, and his love is greater (Isaiah 55:8-9, James 1:5, Ephesians 3:18).
PRAY.
Continue to pray that more states across the nation would pass pro-life policies, and pray for Roe v Wade to be overturned. Pray for politicians to have God's wisdom as they seek to protect the sanctity of life in their states. And pray for our nation to value a culture of life that honors the sanctity and dignity of all life.
ACT.
While governmental leaders take action on the abortion issue, we must be in faithful prayer for a culture of life to be advanced in our nation. Download the My Faith Votes Pro-Life Prayer Guide to help you get started.
---
SAT to Use 'Adversity Score' for Students Applying to College
The College Board, which oversees the SAT exam used by most U.S. colleges during the admissions process, plans to introduce an "adversity score" which takes into consideration the social and economic background of every student. The move is likely to reignite the debate over race and class in college admissions. The new adversity score is being calculated using 15 factors, including the crime rate and poverty level from the student's high school and neighborhood, The Wall Street Journal first reported. Students won't be privy to their scores, but colleges and universities will see them when reviewing applications. So far, 50 colleges have used it in making a decision about a prospective student's chances. The College Board plans to expand that to 150 higher learning institutions in the fall. The goal is to use it broadly by 2021. read more
THINK.
As to be expected, opinions vary on the adversity score. While some believe this is a step up, others argue this sets some up for failure. In their book Mismatch, Richard Sander and Stuart Taylor note: "Racial preference policies often stigmatize minorities, reinforce pernicious stereotypes, and undermine the self-confidence of beneficiaries." According to an article by the Foundation for Economic Education, the new adversity score could actually undermine individual achievement. Many believe a 5 point adversity score will fail to measure an individual's actual adversity level by considering facts, like one's zip code, and fails to focus on individual achievement. But others disagree, believing this is a step up for a better future. Lewis Iwu argues that this would strengthen "an organization's claim to be meritocratic." Iwu believes this is just another data point, joining the likes of test scores and extracurricular activities. Leah Schafer at Harvard argues that "everyone benefits from a range of perspectives in the classroom." As Christians, some argue that God was for a type of affirmative action. However, others point out that God does not lower his standards for anyone (John 14:6). Opinions vary, but as Christians, we shouldn't favor anyone, but we should extend grace to everyone (James 2, 2 Corinthians 9:8).
PRAY.
As we are in the midst of the graduation season across the nation, take some time to specifically pray for the young graduates in your life or your community. While the world discusses SAT scores, we know a more serious issue is at hand - a spiritual battle for the hearts and minds of the next generation. Pray that they would seek the Lord, discover His truth, and grow in it.
ACT.
It's vital for all of us to keep a biblical perspective in mind when it comes to higher education. Consider reading this article, 4 Things to Remind the Grads in Your Life, and sharing it with someone graduating this year.
---
Trump Unveils Plan to 'Transform' America's Immigration System, Focus on High-Skilled Workers
President Trump unveiled a long-awaited immigration overhaul that would dramatically alter how the U.S. accepts people into the country, upending the system in order to favor admissions based on merit rather than family ties. "If adopted, our plan will transform America's immigration system into the pride of our nation and the envy of the modern world," Trump said from the Rose Garden. The proposal would judge immigrants with a points-based system that would favor high-skilled workers -- accounting for age, English proficiency, education and whether the applicant has a well-paying job offer. Currently, only about 12 percent of immigrants are admitted based on employment and skills, while 66 percent are admitted based on family connections inside the U.S. Administration officials estimate that those numbers would flip to 57 and 33 percent, respectively, under the Trump plan. "Currently 66 percent of legal immigrants come here based on random chance, they're admitted solely because they have a relative in the United States, and it doesn't really matter who that relative is," Trump said. He said the plan would help recruit "top talent." read more
THINK.
The new plan would move toward a "merit-based system" that prioritizes high-skilled workers over those with family already in the country. Currently, more than 3.6 million people are waiting in family-based immigration preference backlogs. Though the number of immigrants allowed into the country would not change, the composition would change. Currently, 66 percent of people obtain green cards and citizenship based on family connections, 12 percent based on "employment and skill," and 22 percent enter for humanitarian reasons. Under the new plan, 57 percent would be admitted for employment and skill, 33 percent for family connections, and 10 percent for everything else. As citizens, we know entry to this country is a privilege, not a right. But as Christians, we know privileges require stewardship. Much has been given to this country of immigrants and much is expected of this country toward immigrants (Genesis 2:4 - 3:24, Romans 13:1-7, 1 Peter 2:17). While the government has a role to play, the church has an opportunity to seize. Alexis de Tocqueville was right: "[W]hat is great [in America] is above all not what public administration executes but what is executed without it and outside it."
PRAY.
Pray for President Trump and Congress to come together to solve the serious problems in our nation's immigration system. Pray for the Church and for Christians to see the immigrant and refugee community as an opportunity to extend Christ's love and share the Gospel with those all around us.
ACT.
We often hear conflicting opinions and facts about President Trump's Immigration Plan, which is why it's essential for us to read it ourselves to know exactly what he has laid out. Read the White House's fact sheet on President Trump's new immigration plan.
---
Four in 10 Americans Embrace Some Form of Socialism
Americans today are more closely divided than they were earlier in the last century when asked whether some form of socialism would be a good or bad thing for the country. While 51% of U.S. adults say socialism would be a bad thing for the country, 43% believe it would be a good thing. Those results contrast with a 1942 Roper/Fortune survey that found 40% describing socialism as a bad thing, 25% a good thing and 34% not having an opinion. The Roper/Fortune survey is one of the oldest trend questions measuring attitudes on socialism in the U.S. Gallup's update of the question in an April 17-30 survey finds Americans more likely to have an opinion on the matter now, as well as a smaller gap in the percentage calling socialism a bad thing vs. a good thing. read more
THINK.
Socialism is on the rise with political leaders such as Bernie Sanders and Alexandria Ocasio-Cortez leading the charge to advance this economic system. Dr. Lee Edwards from the Heritage Foundation has a great article explaining What Americans Must Know About Socialism. Dr. Lee explains that socialism has been tried and always failed time and time again throughout world history. Karl Marx was an atheist who believed in a utopian society. But as Christians, we know that sin will always be part of our world on earth, and our only hope for perfection will not come from a perfect economic system but comes from Jesus Christ and his death on the cross for our sins. It is this simple point that is at the core of these two competing worldviews. Many Christians refer to Acts 2-5 which describes Christians selling their possessions and having "all things in common." However, as Dr. Lee says, "But there is a critical distinction between Christians and socialists: Jesus urged his followers to give up their possessions while socialists want to give away the possessions of others." In the Bible, Paul is sometimes quoted saying "money is the root of all evil." What he actually wrote in a letter to Timothy was that "the love of money is the root of all kinds of evil."
PRAY.
Pray for Americans to understand the truth about socialism and more importantly, realize the compassion and charity that capitalism has unleashed across the globe. Pray for Christians to read God's word and seek out His principles as they form their opinion on capitalism and socialism.
ACT.
Since a shocking 43 percent of the American population believes socialism is good for the country, it's crucial that we know how to explain the dangers of socialism and the benefits of capitalism to our friends, neighbors and family. Take a few minutes to watch this PragerU video, Capitalism vs. Socialism, and then have a conversation this week with someone in your life about this critical issue.
---
My Faith Votes—is a nonpartisan movement that motivates, equips and activates Christians in America to vote in every election, transforming our communities and influencing our nation with biblical truth. By partnering with national faith leaders, My Faith Votes provides resources to help Christians Pray, Think, and Act to create an America where God is honored in the public square.
Website | www.myfaithvotes.org Twitter | @MyFaithVotes Facebook | My Faith Votes
---
React
---
Comments