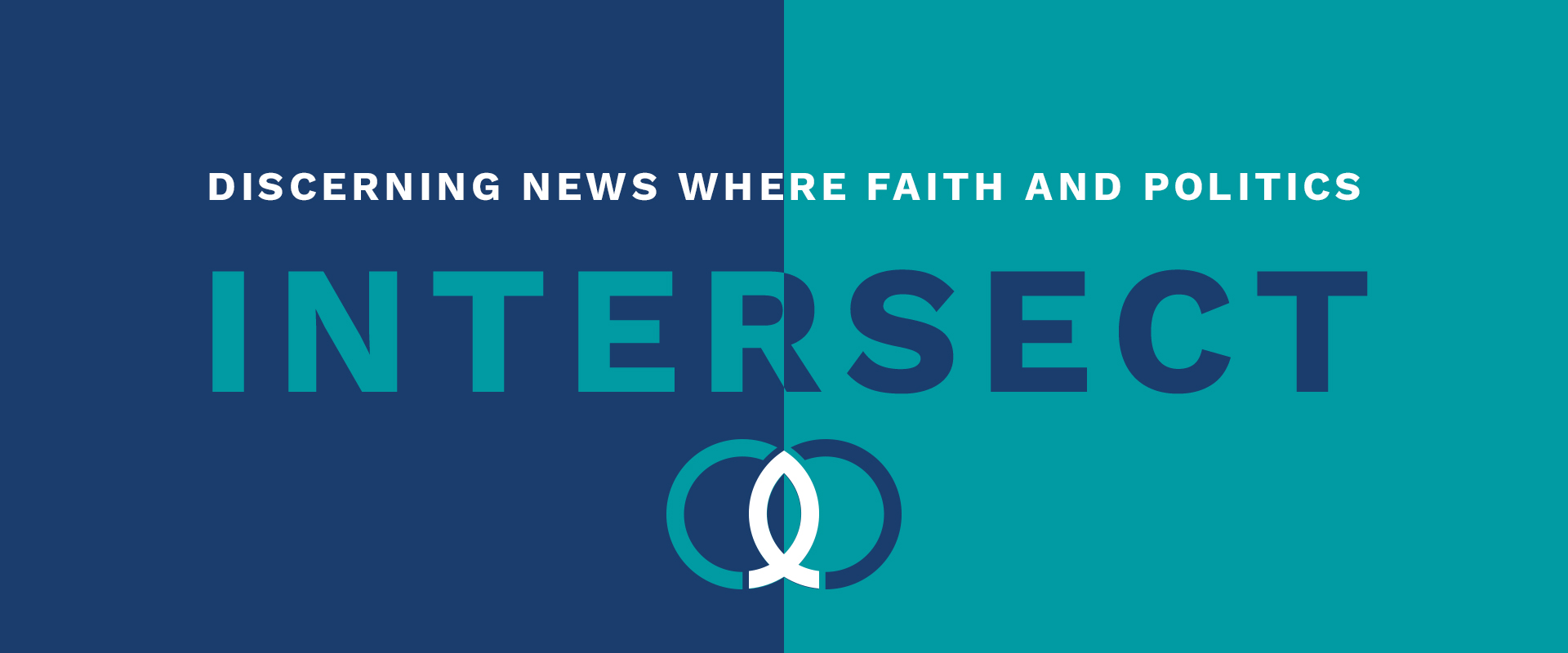 WEEKLY NEWS SUMMARY - MAY 19, 2021
In this week's Intersect, read about:
---
Manchin, Murkowski, Seek to Steer Senate Toward Bipartisan Voting Rights Bill
"Sens. Joe Manchin and Lisa Murkowski teamed up Monday to call on top lawmakers to take up a bipartisan reauthorization of the Voting Rights Act, a move aimed at steering Democrats away from a partisan and sweeping election overhaul bill that is stalled in the Senate. Manchin, a West Virginia Democrat, and Murkowski, an Alaska Republican, wrote to the top leaders in both parties in Congress urging them to push the Voting Rights Act reauthorization through the House and Senate and pass it with the support of both parties. 'Congress must come together — just as we have done time and again — to reaffirm our longstanding bipartisan commitment to free, accessible, and secure elections for all,' Manchin and Murkowski wrote. The letter is another signal that Senate Democrats do not have enough support to pass a much more sweeping election reform bill that Republicans characterize as a political measure aimed at ensuring Democratic victories in future elections. Manchin has already indicated he will not back the House-passed For the People Act, which allows same-day voter registration, curtails voter ID requirements, and changes campaign laws to curb the influence of outside spending on elections. No Republicans support the bill. Democrats cannot pass it in the Senate unless they gut the filibuster, a procedural move Manchin also opposes." read more at the Washington Examiner
THINK.
What is the Voting Rights Act of 1965? The legislation aimed to overcome legal barriers at the state and local levels that prevented African Americans from exercising their right to vote as guaranteed under the 15th Amendment to the U.S. Constitution. It was signed into law on August 6, 1965, by President Lyndon Johnson and it outlawed discriminatory voting practices that had been adopted in southern states after the Civil War, including poll taxes, intimidation, and literacy tests as a prerequisite to voting. The VRA also required certain states to submit their proposed voting changes to the federal government to determine that the changes do not have the purpose or effect of "denying or abridging the right to vote on account of race or color or [membership in a language minority group]." The formula used to determine which states were subject to review was aimed at states with a history of disenfranchising voters based on their ethnicity. In 2013, the Supreme Court ruled that this formula was outdated, saying it was unconstitutional to force states to get federal clearance to change election laws. Manchin, according to one of his aides, favors requiring all fifty states to receive clearance from the federal government before changing election laws. What should a Christian's goal be concerning voting rights and election integrity? Proverbs 28:21 says, "To show partiality is not good, but for a piece of bread a man will do wrong." Providing a reasonable opportunity for everyone to vote while guarding their vote from being negated by fraud is a God-honoring pursuit. The next question is, "Who can best be trusted to fulfill this goal: the federal government or the state governments?" If a man will do wrong for a mere piece of bread, what will he do for political power? S1, the "For the People Act", consolidates power with the federal government and strips many of the voting safeguards enacted by the states. Therefore, we oppose it. James Madison based the need for separation of powers on his observation of human nature: "Ambition must be made to counteract ambition...What is government itself, but the greatest of all reflections on human nature? If men were angels, no government would be necessary...In framing a government which is to be administered by men over men, the great difficulty lies in this: you must first enable the government to control the governed; and in the next place oblige it to control itself."
PRAY.
One of the most powerful things we can do is to pray for our elections, asking God to protect and deliver trustworthy results. Pray for our electoral process to be fair and true in its results. Pray also for integrity for election officials at all levels. Pray for transparency, accuracy, and exposing of wrong. Lastly, pray that the media would report the truth and that Christians would be discerning as we seek the truth. Download our new prayer guide to receive Scripture for each prayer point regarding elections.
ACT.
We reject the idea that we cannot have secure elections AND increase voter turnout. We can do both. In response to the threat from the "For The People Act", also known as HR1 and S1, we have launched an election integrity website, where you can take action. This website enables you to easily contact your senators and state legislators, send a letter to your election officials, and volunteer in your community's elections. Visit ElectionIntegrityNow.org
---
Supreme Court Will Hear Direct Challenge to Roe v. Wade
"The Supreme Court announced on Monday that it will reconsider the right to an abortion it established almost 50 years ago, agreeing to review Mississippi's ban on the procedure after 15 weeks of pregnancy. The court's decision to take a case directly challenging Roe v. Wade, the landmark 1973 decision that legalized abortion nationwide, suggests that the court's new 6-3 conservative majority is ready to eliminate or, more likely, curtail the right to terminate a pregnancy. In a one-line order, the court said it will review just one question that cuts to the heart of Roe: whether all bans on abortion before a fetus can survive outside the womb are unconstitutional. The Supreme Court will likely hear arguments on the case in the fall, meaning a ruling could come down in summer 2022 — just a few months ahead of midterm elections that will decide party control of the narrowly divided House and Senate. The decision to take the case also sets up a clash between a new presidential administration supportive of abortion rights and red states intent on limiting or banning the procedure outright." read more at Politico
THINK.
SCOTUS granted the review of the state of Mississippi's petition in the case of Dobbs v. Jackson Women's Health Organization. That case involves a 2018 law passed in Mississippi called the Gestational Age Act, which allows abortions after 15 weeks of gestational age only in medical emergencies or instances of severe fetal abnormality. The law was blocked by lower courts as inconsistent with current judicial precedent that legalizes access to abortion. What is interesting to note is that SCOTUS justices repeatedly rescheduled the case – that is, put off considering it at their private conference – before finally considering the state's petition for review for the first time at their Jan. 8, 2021, conference. The justices then considered the petition 12 more times before finally announcing they would take up the first question presented in the state's petition: whether all pre-viability bans on elective abortions violate the Constitution. Viability refers to the stage of development at which an unborn child is capable of living under normal conditions outside the uterus. In 1973, when Roe v. Wade was decided, the age of viability was different than it is today because of our current technological advances. Biomedical researcher G. H. Breborowicz explains, "Viability exists as a function of biomedical and technological capacities, which are different in different parts of the world. As a consequence, there is, at the present time, no worldwide, uniform gestational age that defines viability." Despite being arbitrary and incoherent, the viability standard is the primary prop supporting federal legal precedents regarding abortion. "It is well past time for the Court to revisit the wisdom of the viability bright-line rule," Mississippi Attorney General Lynn Fitch wrote in a brief filed with the justices. Many have been waiting for this day for a long time. But there is no doubt the rhetoric and attacks from the abortion lobby will only intensify leading up to the hearing in the fall. In a statement, Center for Reproductive Rights President Nancy Northup said, "Alarm bells are ringing loudly about the threat to reproductive rights." Northrup went on to say, "The consequences of a Roe reversal would be devastating. Over 20 states would prohibit abortion outright. Eleven states —including Mississippi — currently have trigger bans on the books which would instantaneously ban abortion if Roe is overturned." For Christians who stand for the sanctity of life, it is time to pray.
PRAY.
Lord, thank you that SCOTUS will finally hear a case that has clearly disordered our nation. We pray you would be working in the hearts and minds of the justices, even now, as they will be hearing and deciding on a law that has allowed for the killing of millions of lives. Forgive us for becoming a culture that has demanded the death of innocent life to be a "right." We pray for a culture of life to permeate throughout this land.
ACT.
In 1977, Melissa Ohden's biological mother was a 19-year-old college student when she had a saline infusion abortion that was meant to end Melissa's life. But she survived. Now, Melissa is the Founder and Director of The Abortion Survivors Network, the only healing and advocacy organization for abortion survivors. My Faith Votes talked with Melissa to get her perspective on the state of pro-life legislation and initiatives as well as her important work with survivors.
---
Christian Student Fights Back Against University's Vaccine Mandate, Cites Religious Exemption
"A Christian student at the University of Alabama-Birmingham has challenged the university's mandatory vaccine policy after being blocked from registering for classes this semester despite having been allowed to register past semesters with no vaccinations. Jackie Gale has never had a single vaccination because she believes that the Bible commands Christians to honor God regarding how they care for their bodies and not inject extra chemicals into one's body, according to a letter to UAB President Ray L. Watts and the university's lawyer John Daniel from First Liberty Institute attorney Christine Pratt. The university told her that she had to submit proof of her immunizations to register for classes. In response, Gale uploaded a state-issued religious exemption certificate that she had used previously. She was then told that the certificate was not valid at institutions of higher learning, but the university relented and removed the administrative hold, and she was able to enroll and finish the semester in-person with no issues. Yet when she tried to register for fall classes for her sophomore year, she encountered the same hurdle, only this time the university refused to allow her to proceed. A UAB official reportedly told her that the university would not recognize her religious exemption. First Liberty Institute contends in its letter to UAB that 'Jackie Gale is entitled to continue receiving a religious exemption to UAB's mandatory vaccine policy so that she can register for and attend in-person classes.' 'UAB's refusal to recognize Ms. Gale's religious exemption violates both federal and state law, and UAB should revise its policies to provide religious exemptions to students who hold such religious convictions,' First Liberty Institute adds." read more at the Christian Post
THINK.
The letter by First Liberty explains: "Under its current policy, UAB is treating a comparable secular activity—the act of declining vaccines for medical reasons—more favorably than when a student performs the same activity because of her religious convictions." More students may be in Jackie's situation this fall, as over 180 colleges and universities are requiring students to produce proof of vaccination in order to attend in-person classes, regardless of whether they have already had the virus. Vaccine hesitancy is causing some states to push unconventional means to incentivize Americans. Ohio Governor Mike DeWine has announced a lottery to give away one million dollars to five adults who produce proof of vaccination, and five full-ride scholarships to vaccinated students. What is the government's role in matters of conscience? Think: to whom are you accountable for your conscience? God alone. Therefore, if a government agency (like a state university) denies the validity of your religious actions, isn't it sitting in judgment over your conscience in the place of God? An exception would be if a person's religious beliefs compelled them to do evil. The government has a duty to stop this according to Romans 13. What is a Christian's role in matters of conscience? The early church had its share of disagreements over issues not pertaining to salvation or clear matters of doctrine, which are documented in several New Testament books, including Romans 14-16, and 1 Corinthians. The guiding force in our interactions and decisions is love, both for our brothers and sisters, and for unbelievers. 1 Corinthians 10:31 says, "So, whether you eat or drink, or whatever you do, do all to the glory of God." Ask yourself, am I seeking to honor God and others based on truth and in love? "For none of us lives to himself, and none of us dies to himself.... Each of us will give an account of himself to God." (Romans 14:7)
PRAY.
Heavenly Father, protect Your church from the schemes of the evil one, who takes advantage of any potential for division to weaken our effectiveness. Help us to walk in love, truth, and grace. We pray for humility for our governing officials; may they fulfill the duties You gave them, while enabling us to live quiet and peaceable lives.
ACT.
For further information, this episode of First Liberty Live seeks to answer some common questions you may have about religious exemptions from the vaccine.
---
Israel Targets Hamas Terror Tunnels, Biden Expresses Support for Ceasefire
"Israel unleashed a new wave of airstrikes on the Gaza Strip Tuesday morning as the fighting between Israel and Hamas rages on for the second week. There was a rare pause in rocket fire overnight, but Gaza terrorists resumed their attack on Israeli civilians Tuesday at dawn, the Israeli military said. There were no immediate reports of injuries or casualties. Israel said it struck approximately 65 terror targets in the Gaza Strip overnight, including Hamas' tunnel system, the houses of five commanders, rocket launchers, and other terror infrastructure. On Monday, Israel carried out heavy airstrikes on terror targets in the coastal enclave, destroying the homes of nine Hamas commanders and miles of underground tunnels built by the terror group. Terror groups in Gaza also continued to fire barrages of rockets and mortars at Israeli civilians. International calls for an immediate ceasefire are growing." read more at CBN News
THINK.
Our friend, Jim Denison helps to put it in perspective: "Hamas" means "zeal" in Arabic and forms an acronym (spelled backward) for "Islamic Resistance Movement." Its official charter calls for the destruction of Israel and raising "the banner of Allah over every inch of Palestine." When it attacks Israel, it is doing what it was created to do. The story behind the story, however, is Iran's support for Hamas. It backs Hamas and Hezbollah (the terrorist organization that dominates Lebanon to the north of Israel) as it seeks to extend its influence across the Middle East. Iran is Shiite and Persian; it is locked in a geopolitical conflict with Saudi Arabia and other Sunni Arab nations. Israel's recent peace accords with some of these countries threaten Iran's dominance of the region. By empowering Hamas to attack Israel, it has provoked an Israeli response that it can caricature as an attack on all Muslims. Since the Qur'an requires Muslims to defend Islam, Iran may be hoping that the present conflict will rally all Muslims in opposition to the Jews, defeating Israel's peace initiatives with the Sunni world. Iran also believes that engendering such conflict and chaos prepares the way for the coming of the Mahdi, its Messiah. Hamas has taken advantage of tensions over the possible expulsion of six Palestinian families from East Jerusalem and the Jerusalem Day march that coincided with a significant Muslim holiday. Its leaders have also sought to position themselves to win Palestinian legislative elections scheduled for May 22 (but now indefinitely postponed). With Iran's help, it has developed more extensive rockets and other weaponry than ever before and is using these munitions to target civilian populations more than ever before. Of the nine million people who live in Israel, two million are Arab. (Another two million Palestinians live in Gaza and 2.7 million in the West Bank.) Most Jews and Arabs in Israel have learned to live peaceably as neighbors since the State of Israel was founded in 1948. However, the country is now experiencing the worst internal Jewish-Arab conflicts since the last Palestinian Intifada ("uprising") in 2000. The Times of Israel reports that "scenes of unrest, rioting, hate rallies, and growing social chaos spread throughout numerous cities, some of which were once seen as symbols of coexistence." Social media platforms are being used to encourage and inflame street protests as activists on both sides take out their pent-up anger and frustration on the other.
PRAY.
Pray for Jewish, Palestinian, and world leaders (1 Timothy 2:1–2). Ask God to give them wisdom and practical guidance. Pray for God's shalom, the Hebrew word for peace (Psalm 122:6). It is far more than the cessation of violence—it is true and lasting peace with God, others, and us. Most importantly, pray for Jews and Muslims to turn to Jesus as their Messiah and Savior. He is the only path to the peace all people seek (John 16:33).
ACT.
In 2019, we had a powerful conversation with Pastor Allen Jackson about Israel, why Americans should stand with Israel, and why we should also be praying for the people of Palestine. You can watch the 16-minute conversation here.
---
My Faith Votes—is a nonpartisan movement that motivates, equips and activates Christians in America to vote in every election, transforming our communities and influencing our nation with biblical truth. By partnering with national faith leaders, My Faith Votes provides resources to help Christians Pray, Think, and Act to create an America where God is honored in the public square.
Website | www.myfaithvotes.org Twitter | @MyFaithVotes Facebook | My Faith Votes
---
React
---
Comments