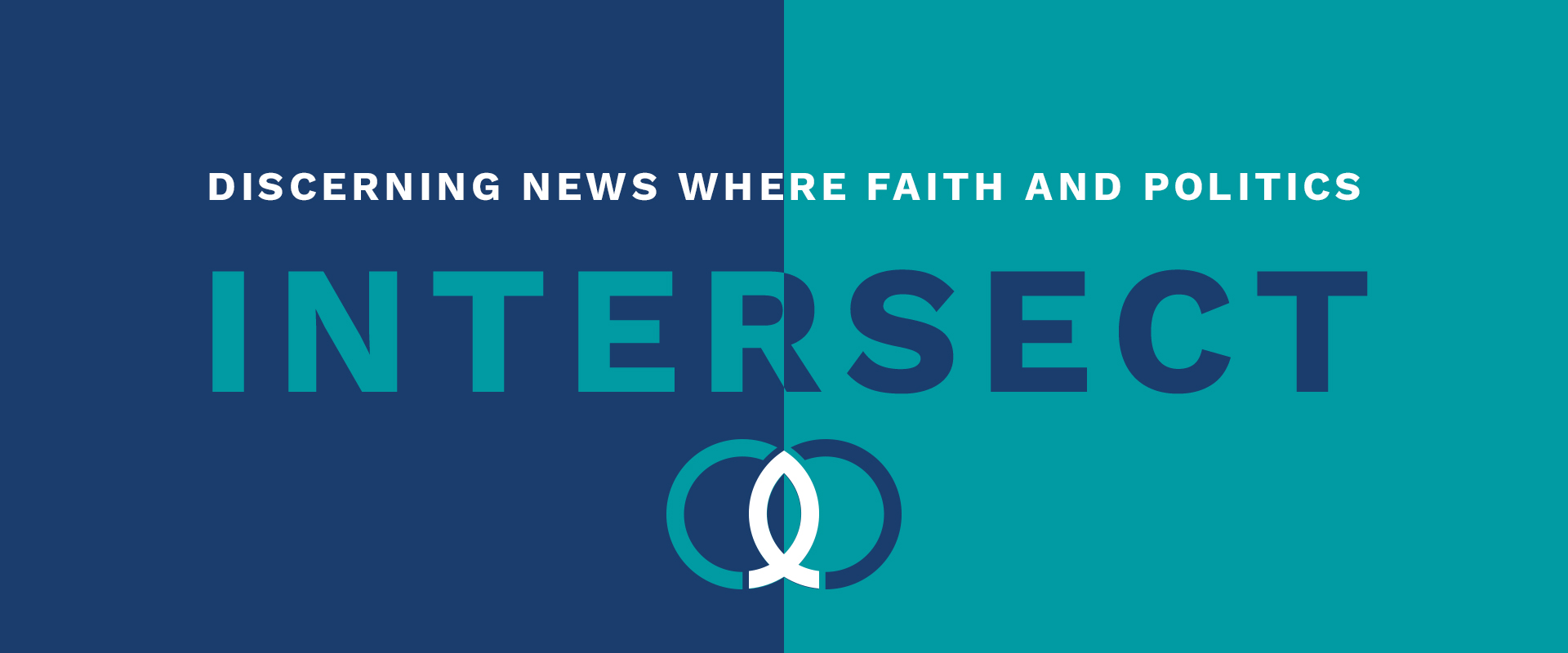 WEEKLY NEWS SUMMARY - MAY 11, 2022
In this week's Intersect, read about:
---
Despite Pandemic Holdups, Christians Keep Shifting Foster Care Approach
"For tens of thousands of vulnerable children whose lives and families were already unstable before COVID-19 hit, the pandemic brought further disruption, unpredictability, and loss. Prior to 2020, the child welfare system in America had begun to adjust its approach. The focus among Christian ministries, advocates, and government programs had increasingly turned to prevention and early intervention for at-risk families to get the support they need. There's been a 'huge shift' recently, according to Cheri Williams, senior vice president of domestic programs at Bethany Christian Services, as systems work to find ways to 'keep kids safe and protected with their [biological] families.'" read more at Christianity Today
THINK.
In many states, the foster care system was already struggling before COVID-19. Last year, a shocking study reported that 978 children went missing from Missouri's foster care system in 2019. The state is not an outlier. Gen Justice, an organization that exists to protect and represent vulnerable children, found that 20,000 children "disappear" from foster care every year nationwide. Some fear many of the missing may be getting trapped into the sex trafficking industry. Studies out of the University of Connecticut found that half of sex trafficking victims had been part of the child welfare system or juvenile justice system at some point. Jedd Medefind, president of Christian Alliance for Orphans, said the stories of missing children are a heartbreaking glimpse into the foster care system and a call to the church to step into a "vital role." May marks National Foster Care Month. The church "can't outsource" the responsibility they have to help "provide caring homes and supportive communities" for those within the child welfare system, Medefind says. Could the church be the difference? Currently, over 400,000 children are in the U.S. foster care system where the average age of a foster child is 8. There is an urgent need for foster homes for older children (ages 11-17) and sibling groups. But there are nearly 400,000 churches in America and if just one family from every church chose to foster or adopt a child from foster care, every waiting child would have a stable home. While not everyone can be a foster parent or that adoptive parent, we all have something we can offer. Consider Carly and her husband in Las Vegas, Nevada who adopted 5 children and began a foster care ministry at their church. Their impact is being felt by thousands. "The spiritual battle in the foster care system is unlike anything I've ever seen, and we must stand in the gap for these families. Their eternity depends on it," Carly says. It's not just a temporary need that she sees being fulfilled by fostering kids. The end game - the long-term goal - is to reach Las Vegas for the Gospel and it's happening through kids. She continued, "Isn't it just like Jesus to use a child to reach an adult, even bringing foster families to Christ?"


PRAY.
Lord, Your Word instructs us to care for orphans (James 1:27). Lord, ignite the church to bear one another's burdens by serving hurting families in their communities. Raise up more to fill the gap where a safe, stable and loving home is needed for children who have been removed from their home. We pray that each child will have a safe and caring adult to speak into their life, pointing them to You and that they will know they have a purpose, that You are able to take everything in their life and shape a future for them. Help them to know they aren't defined by their past or a label that has been assigned to them, but that their identity is in You.

ACT.
Does your church have an adoption or foster care ministry? If not, consider starting something at your church. Promise 686 and Wait No More (a ministry of Focus on the Family) are organizations equipping and mobilizing churches to take action. Learn more and join one of their upcoming virtual informational meetings here and here.
---
Update on Mother's Day Threats: New incidents Reported
"Catholics across the U.S. kept a wary vigil Sunday for pro-abortion activists to follow through on a threat to disrupt Masses on Mother's Day. While the weekend proved mostly peaceful, there were incidents of violence, vandalism, and aggression in some parts of the country: In Madison, Wisconsin, the headquarters of a pro-life organization — Wisconsin Family Action — was set ablaze in an apparent arson attack, police said Sunday. No one was hurt. Graffiti left outside the building said, 'If abortions aren't safe, you aren't either.' In Denton, Texas, a pro-life pregnancy center called Loreto House was defaced with graffiti that read, 'Not a clinic,' and 'Forced pregnancy is murder.' In a tweet, Bishop Michael Olson of Fort Worth said, 'Please pray for the person who perpetrated this, for their interior healing and moral conversion.'" read more at Catholic News Agency
THINK.
Protestors also picketed outside the homes of Chief Justice John Roberts, Justice Brett Kavanaugh, and Justice Samuel Alito. A pro-abortion activist group, Ruth Sent Us, posted maps of the Justices' homes. Their website states, "We must rise up to force accountability using a diversity of tactics." Even though federal U.S. code 1507 prohibits picketing "with the intent of influencing any judge…in the discharge of his duty," it has been noted that U.S. Attorney General Merrick Garland has not taken any action against the protestors. Such protests are evidence of how law has taken a backseat to power in the minds of many. The reversal of Roe v. Wade would mean the question of abortion would be decided by the citizens in each state through their duly elected representatives, rather than unelected federal judges. Erick Erickson notes that polling shows Americans' opinions on the legality of abortion appear to be somewhat contradictory. A recent Fox News poll showed sixty-three percent of registered voters want Roe v. Wade to stay. However, fifty percent also favor a six-week abortion ban, which is not allowed under Roe v. Wade. A YouGov poll showed only eleven percent of U.S. adults believe the Supreme Court should be the decider of abortion's legality. Many Americans do not understand what that Roe decision truly means. "The bottom line," Erickson states, "is that most Americans do favor restrictions on abortion and do not favor the Supreme Court being the arbiter of abortion policy, which puts Justice Alito and the court majority firmly on the side of majority American opinion." Despite the narrative that we are on the wrong side of history, this knowledge should give us confidence as we advocate for pro-life laws and educate voters on the facts of abortion. Another tactic being attempted is to pass a federal law sanctioning abortion. Today, the U.S. Senate is voting on the Women's Health Protection Act, which would codify Roe v. Wade and override many existing state pro-life laws. Jennifer Popik, director of federal legislation at National Right to Life, said the bill "creates a right to abortion, all nine months of pregnancy [and] it would invalidate pretty much all state legislation that's been passed." The bill is not likely to pass given that Republicans could filibuster it, so why vote on it? Senate Majority Leader Chuck Schumer made it clear that the purpose is so "every American will see how every senator stands." It is clearly being leveraged to influence voters in the upcoming midterm elections. "This is not just one vote and then this issue goes away. You will hear a lot from us through the next month all the way through November." Schumer stated. Fellow Christians need to hear from you as well. In the primaries and upcoming General Election, voters need to know that the next legislators they elect could make life or death decisions for many unborn babies in their state. As we say at My Faith Votes, "Let history record that our stand gave a voice to the unborn."
PRAY.
Our CEO, Jason Yates, said outside the Supreme Court last week, "Sometimes it's hard to know what to pray…We need to seek how the Lord would pray. And He taught us how to pray. He gave us His prayer…His prayer is about His purposes, His kingdom here on earth." You can watch his prayer at the Supreme Court here and pray along with us.

ACT.
With abortion policy on many people's minds, it's helpful to equip yourself to navigate these conversations with grace, and perhaps prompt someone to rethink their position. Christian author and apologist Natasha Crain has written a helpful blog exposing the logical fallacies behind many popular pro-choice arguments. Live Action has also produced several short videos to help you address the most common arguments against life. We encourage you to take advantage of these resources and share them with others.
---
Museum of the Bible Welcomes President of Ghana for Inaugural Africa Lecture on National Day of Prayer
"Washington D.C.'s Museum of the Bible welcomed His Excellency President Akufo-Addo of Ghana as the guest of honor and a keynote speaker Thursday, coinciding with the observance of the National Day of Prayer (NDOP). The Museum's Africa Lecture recognizes individuals on the continent who embrace biblical principles in their careers. 'I am a Christian in politics who is unashamed of asserting my faith," said President Akufo-Addo. 'It is my Christian faith that has animated my vision to move Ghana to a situation beyond aid by putting our country on the road to self-reliance, sustained progress, and prosperity. The Museum of the Bible celebrates the most enduring book of all time, and it is my honor to speak at the inaugural Africa Lecture.'" read more at CBN News
THINK.
I was honored to be in attendance for President Nana Addo Dankwa Akufo-Addo's inaugural lecture on the National Day of Prayer. In full disclosure, I had no idea what to expect to hear from the President of a nation I know so little about. But his stirring words were encouraging, motivating and poignant. How ironic that as this small nation's President is working to make Ghana a beacon of Christianity to the world, our nation in many ways is choosing to remove God from the public square and threaten religious liberty. With a population of over 31 million, Ghana is considered one of the more stable countries in West Africa since its transition to multi-party democracy in 1992. Formerly known as the Gold Coast, Ghana gained independence from Britain in 1957, becoming the first sub-Saharan nation to break free from colonial rule. A relatively small country, Ghana is bordered to the north by Burkina Faso and to the south by the Atlantic Ocean. Over 70% of the population is Christian. In 2020, construction began on the National Cathedral and Bible Museum. Of the building, President Akufo-Addo stated, "As a deeply religious nation, the Cathedral provides a historic opportunity to put God at the centre of our nation's affairs and serves as a symbol of our eternal and continuing gratitude to Him for the blessings He continues to shower and bestow on our nation. Conceptually, the National Cathedral represents a vision of a society which is, firstly, dependent on God, and whose aspirations are captured by the opening words of our National Anthem: God bless our homeland Ghana and make our nation great and strong!" On the same day as President Akufo-Addo's lecture, President Biden issued a proclamation for the National Day of Prayer stating, "Across our diverse and cherished beliefs, on this National Day of Prayer, no matter how or whether we pray, we are all called to look outside ourselves. Let us find in our hearts and prayers the determination to put aside our differences, come together, and truly see one another as fellow Americans." Will America be a nation whose God is the Lord?

PRAY.
Lord, thank You for the work you are doing in the nation of Ghana. Thank You for raising up a President who serves You, worships You and puts You at the forefront of his life, both personally and in his role as President. May we have the same courage and conviction to proclaim Your truth wherever we live and work. We pray for our own nation. As John Adams explained this in 1798 "We have no government armed with power capable of contending with human passions unbridled by morality and religion. Avarice, ambition, revenge, or gallantry would break the strongest cords of our Constitution as a whale goes through a net. Our Constitution was made only for a moral and religious people. It is wholly inadequate to the government of any other." May we put You first, as individuals and as a nation.
ACT.
On the National Day of Prayer, My Faith Votes hosted a fascinating conversation about the role of the American Justice Systems and how we can be praying for our judges. You can watch the replay and download the free prayer guide here.
---
Where the Action Is: The Battles for our Freedom are Increasingly Occurring at the State Level
"It has long been said that lawmakers in Washington can't get much of anything done—and the sentiment is understandable. Congress is frequently plagued by razor-thin majorities, partisan bickering, and distracted politicians campaigning for reelection or higher offices. Gallup polling reveals a decadeslong trend of strong disapproval of Congress. For example, the results from this March alone showed that 76 percent of Americans disapprove of the way Congress is handling its job." read more at WORLD
THINK.
Responsible stewardship requires us to be wise in where we focus our action. In her article, Kristen Waggoner, general counsel at Alliance Defending Freedom, goes on to say that "Given this environment, it's dangerous for Christians and Americans of other faiths to rely solely on Congress to pass legislation that will protect our fundamental freedoms from the growing attacks of far-left-wing interest groups….Arguably, the work to protect freedoms doesn't happen primarily in Congress—much of the most important action happens at the state level." She is correct. This truth reflects the way our founders set up our federalist system of government, and where much of our focus needs to be at the voting booth. For instance, states carry significant weight in education and parental rights. State legislatures enact education policy, which is enforced by the local elected school boards who make many decisions specific to their own schools. Parents have been waking up to the importance of these races over the last two years. In the Texas school board races last week, conservative candidates won big in the Fort Worth area. The Texas Tribune noted, "The North Texas school board races are microcosms of larger fights playing out statewide." Abortion is another significant issue at the state level, and given the upcoming Supreme Court decision, state legislatures will become an even greater focus of both pro-life and pro-abortion groups. A benefit, Waggoner points out, is that "state legislatures are much more accessible and responsive to constituent influences than Congress." Not only can their actions influence us more directly, but our voice can have a greater influence on them than on our members of Congress. We therefore have an increased responsibility to make informed votes and communicate with our legislators. "That's why it's hard to see many Christians stand idly by, simply watching policymaking happen instead of taking an active or even supportive role in its creation and enactment," Waggoner laments. "If Christians don't show up, rest assured that those hostile to the gospel and the freedoms that flow from it will. Part of what it means to love our neighbors is to support laws and policies that will benefit our communities and stand against the ones that will truly harm them."
PRAY.
Lord, You have placed us right where we are, at this time in history, so that we may play a role in Your perfect plan. In all that we do, we are to do it for Your glory (1 Cor. 10:31). Give us the courage and wisdom to bring our faith into everything we do, including the voting booth.

ACT.
While several states have already conducted their primaries, many more are coming up in the next few months. Eighteen state primaries will occur in the month of June alone! You can view the calendar of upcoming primaries here. Our Voting Resources and Assistance page contains voting information for every state. Please share it with your fellow church members, friends, and family who have not yet voted.
---
My Faith Votes—is a nonpartisan movement that motivates, equips and activates Christians in America to vote in every election, transforming our communities and influencing our nation with biblical truth. By partnering with national faith leaders, My Faith Votes provides resources to help Christians Pray, Think, and Act to create an America where God is honored in the public square.
Website | www.myfaithvotes.org Twitter | @MyFaithVotes Facebook | My Faith Votes
---
React
---
Comments