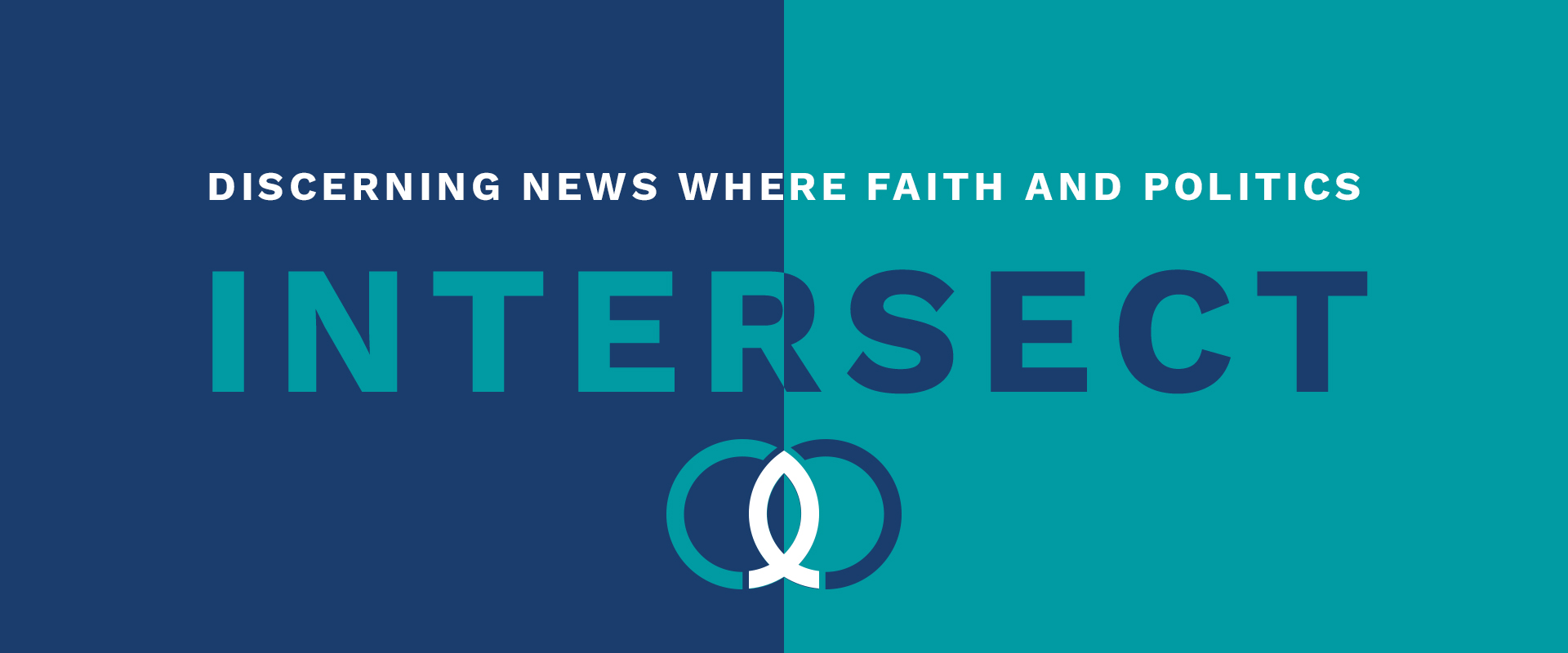 WEEKLY NEWS SUMMARY – Mar 6, 2019
In this week's Intersect, read about:
---
UNITED METHODIST CHURCH VOTES TO MAINTAIN OFFICIAL POSITION ON HOMOSEXUALITY
The United Methodist Church will maintain its official position that homosexuality is contrary to Christian teaching, in a decision following days of contentious debate over the issue. For the past several years, the UMC has been embroiled in an emotional debate over whether to change its stance, as outlined in its Book of Discipline, labeling homosexuality "incompatible with Christian teaching." Delegates at the UMC special session of General Conference, representing all of the global denomination, voted Tuesday to reject a measure called the "One Church Plan," which would have allowed regional bodies of the denomination to determine their position on homosexuality. Instead, delegates approved the "Traditional Plan" in a vote of 438-384. The Plan maintains the denomination's stance against homosexuality, gay marriage, and the ordination of noncelibate homosexuals while promising to better enforce those rules. read more
THINK.
This decision caused strain on many of the relationships among the members of the United Methodist Church. Methodists from outside the U.S., who favor more traditional positions on sexuality, made up 41 percent of the delegates at the general conference. This position may have growing unpopularity in the U.S., but the truth is not contingent upon popularity. Recently, the internet-famous mascot for Brigham Young University penned an op-ed about same-sex attraction. Essentially, he came out on a national stage. "I wore another mask while I was at BYU — a mask to cover the shame I felt for being different." He continued. "The same community that made me feel like a superstar often simultaneously made me feel broken, unloved and defective." This morning, countless individuals still wear a mask, wondering if the love they receive has strings attached to it. In the Scriptures, love has no strings (Ephesians 4:32). Our agreement does not determine the amount of love we show. Certain truths in Scripture may be hard to accept (1 Corinthians 6:9-11), but the God of Scripture loves us greater than we can imagine (Romans 5:8).
PRAY.
Pray for the United Methodist Church as the members strive to seek unity during this time. Pray for the members who feel angry or isolated by the decision to find healing and reconciliation. Pray for Christians to understand biblical truth and be able to demonstrate love through truth and grace.
ACT.
It's important to understand the truths found in scripture regarding homosexuality. Check out Sean McDowell's podcast on Breakpoint as he dives into what the Bible says about homosexuality.
---
UTAH PASSES BILL BANNING ABORTION OF DOWN SYNDROME BABIES
Utah's state Legislature passed a bill Thursday banning abortion solely based on a Down Syndrome diagnosis. The Down Syndrome Nondiscrimination Abortion Act, also known as HB166, includes exceptions for incest, rape, and medical emergencies that put the mother's life at risk. It's now headed to the desk of Republican Gov. Gary Herbert. The bill also comes with a "trigger" provision stipulating that it would not become law, if signed by the governor, until after a court rules on its constitutional standing. "This is somewhat of a message bill from the standpoint that we are saying if that is the reason that you want an abortion, that is probably not a good reason," Herbert said. read more
THINK.
According to Healthline, 67 percent of babies diagnosed with Down Syndrome in the United States are aborted. In Denmark, 98 percent of babies with Down Syndrome are aborted, and in Iceland, the number is shockingly near 100 percent. Although the Utah bill will not become law until after the court rules on its constitutional standing, it is a step in the right direction. Also in the news this week, the Department of Health and Human Services announced it will extend its contract with the University of California at San Francisco to create "humanized mice." This project is immoral as they use human tissue taken from late-term aborted babies and implant it into the mice. To make matters worse, this research project is funded by taxpayers. The three-month government extension for the project will provide the UCSF with $521,082 which brings the total amount of federal dollars spent on this research project to $10,596.960 since 2013. Despite this horrific news, other states have made valuable progress for life this week. The Missouri House passed a bill last Wednesday, H.B. 126, that would ban abortions when a baby can feel pain and when a heartbeat is detected. The bill is expected to pass since both the Senate and the governorship are controlled by Republicans. What makes the bill unique is that it states, "God is the author of life." This is powerful pro-life language to include in legislation, and it's encouraging to see a shift towards creating a culture of life in many states across the nation.
PRAY.
Please take a few minutes today to pray for your state's sanctity of life laws. Specifically, pray for the legislators in your state to stand for life. If you need help learning your state representatives, you can use this website as a tool.


ACT.
If you are not already involved in the pro-life cause in your local community, take action today! One idea is to connect with the organization Embrace Grace. They help support and encourage pregnant women who have chosen life. Check out their "Love Box" initiative and get involved now.
---
NETANYAHU FIGHTS INDICTMENT CHARGES, VOWS TO REMAIN ISRAEL'S PRIME MINISTER
Israeli prime minister Benjamin Netanyahu fought back after Israel's attorney general Avichai Mandleblit announced he planned to indict Netanyahu on charges of bribery and breach of trust. The charges put Netanyahu, the second longest-serving prime minister in Israel's history, in the fight of his political life. Netanyahu appeared on Israeli media and said the indictment was an attack from the political left. "The left is doing this because they know they can't beat us in the ballot box. They simply can't beat us at the ballot box. For three years, they have been carrying out a political pursuit against us, an unprecedented hunting expedition with one goal, to topple the right-wing government led by me, and to bring to the power the leftist party of Lapid and Gantz." Retired General Benny Gantz and Yair Lapid are the leaders of Israel's new Blue and White party and will challenge Netanyahu's Likud party in Israel's national elections on April 9. read more


THINK.
This is historic news as it is the first time a sitting Israeli prime minister has been formally indicted. According to CBN, Israel's Attorney General, Mandleblit, announced that he would indict Netanyahu on bribery and breach of trust charges as the result of three separate corruption investigations that have been underway. The charges are not formally laid until a hearing takes place. One of the most serious issues of the investigation is an accusation surrounding Netanyahu's firing of Israel's communications ministry director in exchange for favorable coverage in one of Israel's top news sites. Netanyahu is running for re-election to serve his fifth term as Prime Minister of Israel. Netanyahu appointed Mandleblit to the post of Attorney General and believes the investigations and indictment are all for political causes. "The left understands that they will not beat me at the ballot box," Netanyahu said. "They exerted extraordinary pressure on the attorney general to issue an indictment even though there is nothing, in order to influence the elections and to crown a left-wing government." Netanyahu is not required to step down by Israeli law unless he is convicted of the indictment charges. The indictment hearing is not expected to take place until after the April general election.
PRAY.
Pray for Israel and their upcoming election in April (Psalm 122:6). Pray for the Israeli people to have wisdom as they cast their vote. And pray for Prime Minister Netanyahu. Pray for God to guide him in the coming months as decisions are made surrounding the indictment.
ACT.
Have you ever thought about the importance of Jesus being Jewish? Our friends at The Chosen, who are creating the first-ever tv series about the life of Jesus, gives unique insight to this question. Watch the short clip here.
---
ALABAMA TORNADO KILLS AT LEAST 23
First responders aided by drones and search dogs hunted for survivors Monday after a devastating tornado killed at least 23 people, injured dozens more, smashed homes, snapped power lines and toppled a massive steel cell tower. The tornado was part of a powerful storm system that also ripped through parts of Florida, South Carolina, and Georgia. The National Weather Service in Tallahassee confirmed the system spawned multiple tornadoes in Alabama and others in Leon County, Florida, and Cairo, Georgia. In Alabama, Lee County Sheriff Jay Jones said searchers on Monday sifted through the most severely damaged areas of this rural community less than 10 miles from sprawling Auburn University. No additional victims were found, but he said the search was continuing. read more
THINK.
Sunday marked the nation's deadliest day for tornadoes since May 20, 2013, when a tornado took the lives of 24 people in Oklahoma. Among those killed this past Sunday were two children. The Torah has a unique word to describe the loss of a child: shakul. When Jacob's sons returned without their brother Simeon, Jacob said: "you have bereaved (shakul) me of my children" (Genesis 42:36). Twenty-two years prior, Jacob lost his son Joseph. Upon hearing of Joseph's supposed death, Jacob became the first person in the Scriptures to tear his garments (Genesis 37:34). Jewish tradition holds that the tear symbolizes an indescribable pain that never leaves. You never recover from it, finding yourself forever changed by it. For those families, the pain may be indescribable, but God's love is unfathomable (Ephesians 3:19). Romans 8 tells us that words may fail but the Spirit doesn't. The weather makes us acutely aware of our powerlessness and intimately acquainted with His powerfulness. We may never know why He allowed such a thing, but we do know that God can redeem such a thing (Exodus 22:36). Amid tragedy, we can always look for the hand of God. See this incredible example from a burned church in West Virginia.
PRAY.
Pray for the victims and their families as they mourn the loss of their loved ones. Pray for the people in the affected areas as they strive to rebuild their lives after such a devastating loss. Pray that these people would know the comfort of Jesus during this time.
ACT.
President Trump has pledged federal support for the recovery efforts, but you can donate to the American Red Cross of East Alabama, which is providing shelter, food, and water for the families. For those in the affected areas, you can list yourself "safe and well" on the Red Cross website or call the Family Connect line at (866) 535-5654. Check out the Lee County, Alabama Emergency Management Agency's website to see local opportunities to help.
---
My Faith Votes—is a nonpartisan movement that motivates, equips and activates Christians in America to vote in every election, transforming our communities and influencing our nation with biblical truth. By partnering with national faith leaders, My Faith Votes provides resources to help Christians Pray, Think, and Act to create an America where God is honored in the public square.
Website | www.myfaithvotes.org Twitter | @MyFaithVotes Facebook | My Faith Votes
---
React
---
Comments