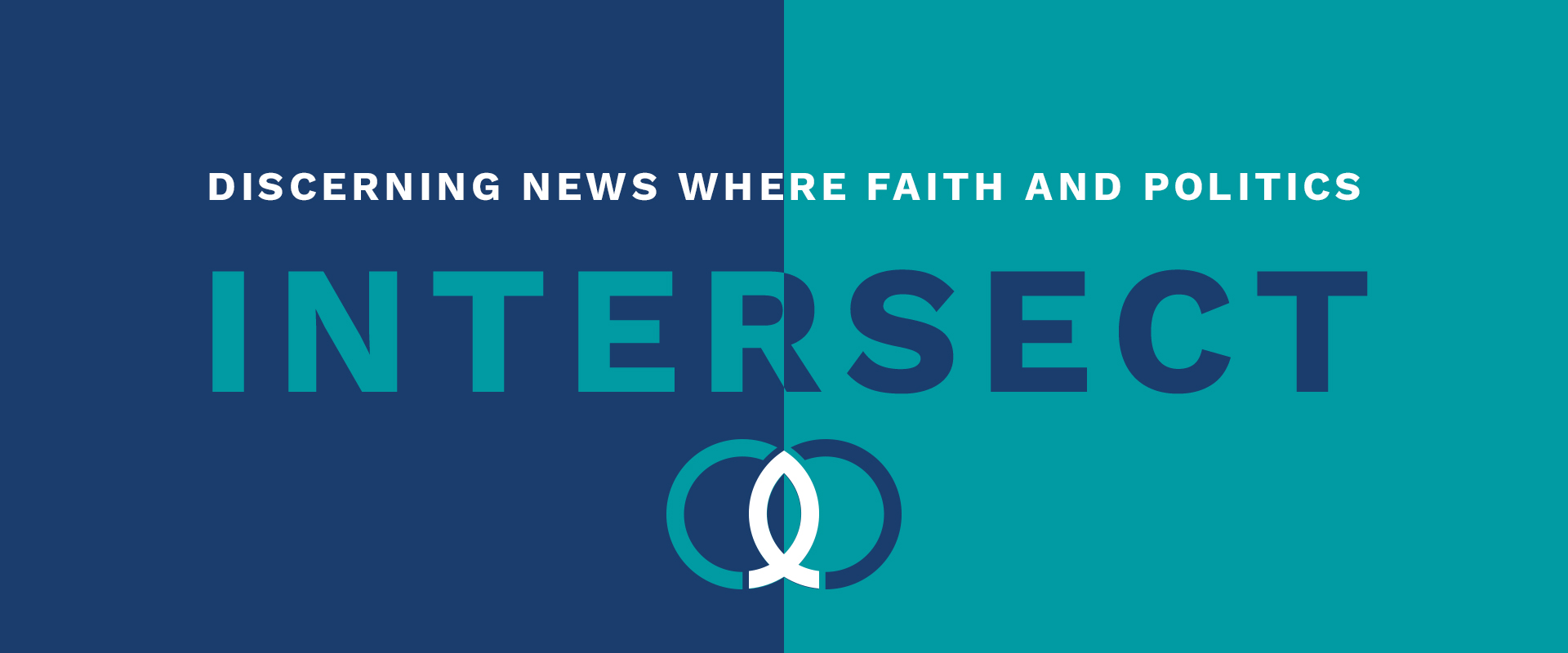 WEEKLY NEWS SUMMARY - MARCH 29, 2023
In this week's Intersect, read about:
---
House Republicans Pass Parents Bill of Rights
"House Republicans passed an education bill on Friday that emphasizes parental rights in the classroom, leaning into a hot-button, culture war issue that has gained popularity in GOP politics across the country. The legislation, titled the Parents Bill of Rights, passed in a 213-208 vote, and it now heads to the Senate for consideration. It is highly unlikely, however, that the Democratic-controlled chamber will take up the measure, with House Democrats dubbing the bill the 'Politics over Parents Act.'" read more at The Hill
THINK.
What's in the bill? The measure would require schools that receive federal funds to, among other provisions: publish their curricula publicly, mandate that parents be allowed to meet with their children's teachers, and make schools give information to parents when violence occurs on school grounds. It would also mandate that parents receive a list of books and reading materials accessible at the school library and give parents a say when schools are crafting or updating their policies and procedures for student privacy. Representative Lauren Boebert (R-CO) added an amendment to inform parents if their school allows students to participate in sports or use restrooms based on their gender identity rather than biological sex.
Since the bill likely won't pass the Senate or be signed into law, why does it matter? Its proposal touches on a big, fundamental issue, and the title says it all: Parents Bill of Rights. The very definition of parental rights is up for debate in our country; the opposition to these common-sense provisions reveals this reality.
Parental rights are not bestowed on us by any level of government. They are God-given, fundamental rights which the government must protect. But just as we used to take for granted that the right to freely exercise our religion meant teachers and coaches can say personal prayers at school, we easily take parental rights for granted. It should not be controversial to say parents are the primary decision-makers when it comes to their child's education, or that they deserve to know if their child is questioning his or her gender or can access pornography in their school library. Yet these rights are being called into question right now.
The powerlessness of parents in the public-school setting has many wanting protection from the government. However, these protections will only be as good as the leaders who have the authority to oversee and define them. Remember this as the next election rolls around. One way My Faith Votes is standing for parental rights is by joining an amicus brief with Advancing American Freedom and other conservative organizations in a case where parents are suing a Massachusetts school district for keeping their children's gender identity and same-sex attraction struggles a secret from the parents.
This is not a one-and-done fix. Just like we have to keep exercising our right to religious liberty–even with the First Amendment and federal and state protections–parents have to keep exercising their rights, even when good laws are passed at the state or federal level.

PRAY.
Heavenly Father, You ordained the family, and gave parents their authority. Let our laws reflect that truth and let our school districts respect the rights and authority of parents. Help me be a good steward of the responsibilities You have given me for my children, and also my civic responsibility to protect my parental rights. In Jesus' name, Amen.

ACT.
What are your school district's policies when it comes to hiding information from parents? One organization, Parents Defending Education, is compiling a list of school districts by state with policies that openly state that district personnel can or should keep a student's transgender status hidden from parents. The list is not complete, however. See if your district is on it, and if you are aware of a district policy that is not on the list, make sure to notify Parents Defending Education.
---
Six Killed in Shooting at Nashville Christian School
"Three children and three adults were shot dead on Monday morning at a small Christian school in Nashville, Tenn. Police said the shooter was a 28-year-old woman, Audrey Elizabeth Hale, who formerly attended the school. Authorities said the shooter, who identified as a man, surveilled two different schools before attacking The Covenant School because it had less security. The shooter died after officers shot her. Surviving students were walked to the safety of a nearby church to reunite with their parents." read more at World News Group

THINK.
Nashville Police Chief John Drake said during a press briefing that investigators, in a post-shooting search of Hale's residence, uncovered maps of the school and a manifesto that revealed the shooting had been meticulously planned. While a motive has yet to be definitively determined, police did confirm the attack was targeted.
A ministry of Covenant Presbyterian Church, the Covenant School is a private Christian school with 33 teachers and up to 210 students starting in preschool through 6th grade, according to the school website. One of the children killed, 9-year-old Hallie Scruggs, is the daughter of the Pastor of Covenant Presbyterian Church who said in a statement shared with reporters, "Through tears we trust that she is in the arms of Jesus who will raise her to life once again."
Tennessee was also part of a cluster of states impacted by devastating weather last Friday. Catastrophic tornados caused massive destruction and took the lives of twenty-six souls. The pictures are tragic; among the victims were a one-year-old and her father. One meteorologist at a local station offered a spontaneous prayer on air as he saw the tornado heading straight for Amory, Mississippi saying, "Dear Jesus, please help them. Amen." More severe weather struck the region over the weekend, including tornadoes in Georgia that injured multiple people and caused the Governor to declare a state of emergency.
As these tragedies demonstrate, we are all just one moment from eternity. We have only today to turn to the One in whom "all things were created" and "all things hold together" (Colossians 1:16-17) in our broken world (Romans 8:22). And we have only today to help those we influence turn to Him as well.

PRAY.
Evil beyond imagination, destruction beyond repair and grief beyond words. 2 Corinthians 1:4-5 says that the Lord "comforts us in all our tribulation, that we may be able to comfort those who are in any trouble, with the comfort with which we ourselves are comforted by God. For as the sufferings of Christ abound in us, so our consolation also abounds through Christ." Bring every worry to God through prayer. Our team would be honored to pray for you or those you know who have been impacted by these tragedies. If you have a prayer request for yourself or for someone else, please let us know here.

ACT.
The loss is real but so is our generosity. In Alabama, the Yellow Shirt Army, a group of Southern Baptist Disaster Relief workers, clad in their signature yellow shirts, have been helping assist in the tornado recovery efforts. In Mississippi, Samaritan's Purse has already sent 18-wheelers full of supplies to the disaster zone and they are asking for more volunteers to help. Volunteer Mississippi also has a list of ways to volunteer or donate supplies to areas hardest hit.
---
Israeli PM Netanyahu Announces Pause on Controversial Judicial Overhaul to 'Avert a Civil War Through Discussion'
"After 13 weeks of mass protests, Israeli Prime Minister Benjamin Netanyahu announced on Monday that he will halt the controversial judicial reform legislation that has stirred up turmoil in the country. Netanyahu reiterated his pledge to do everything within his power to achieve a solution to the crisis. 'We are not facing enemies, but brothers,' Netanyahu noted. 'I say it here and now: We must not allow for a war between brothers. We are on a dangerous collision course of Israeli society, in the midst of a crisis that endangers the basic unity between us, and such a crisis calls for all of us to act responsibly.'" read more at All Israel News

THINK.
Over the weekend, an estimated 600,000 Israelis – approximately 6.5% of the national population – took to the streets to protest the current version of the judicial reform legislation. The country has been in chaos with Israel's main international airport shut down, all public schools closed in protest, workers at Israel's commercial ports going on strike shutting down all export and import trade, banks, malls and universities closed and major highways blocked by protesters. Tensions rose further when Prime Minister Benjamin Netanyahu abruptly fired Defense Minister Yoav Gallant over his opposition to the planned overhaul, prompting more mass street protests and widespread strike action.
At its core, the judicial overhaul would give the Israeli parliament, the Knesset, and therefore the parties in power, more control over Israel's judiciary. From how judges are selected, to what laws the Supreme Court can rule on, to even giving parliament power to overturn Supreme Court decisions, the changes would be the most significant shakeups to Israel's judiciary since its founding in 1948. Israel has no written constitution, only a set of quasi-constitutional basic laws, making the Supreme Court even more powerful. But Israel also has no check on the power of the Knesset other than the Supreme Court. Business leaders, top economists and former security chiefs have all come out against the plan, saying it is pushing the country toward an autocracy.
Is this about more than just judicial reform? Israeli Middle East expert Amir Tsarfati explained, "So, we are definitely seeing something that is going to intensify and…the attempt here is to throw the Netanyahu government and to…have the left ruling with the immunity that it will get from the Supreme Court." Tsarfati believes powerful interests want to maintain the power of the Supreme Court. And others share the concern that the national protests are growing because of the direction the new government wants Israel to take saying, while "the majority may indeed have voted for traditional values, they didn't vote for sweeping, dramatic societal changes."

PRAY.
Joel Rosenberg, editor-in-chief of All Israel News issued this plea: "Please stop everything and take time to 'pray for the peace of Jerusalem,' according to Psalm 122. Usually, we pray for God to protect Israel from external enemies. But right now, we need to pray that God will show mercy to Israeli citizens who are more deeply divided than any time in the last 75 years of the modern state."
ACT.
The upcoming Easter season is an opportune time to talk about the meaning of Jesus' resurrection and to invite friends to Easter services at your church. So, here's a thought experiment: What cost would you pay to make your faith public? In Israel, a bill was introduced in January that would punish Christians who "solicit conversion of religion" with jail time. If they sought to lead an adult to Christ, they would serve a year in jail; if they shared their faith with a minor, they would serve two years. Prime Minister Netanyahu announced last week, "We will not advance any law against the Christian community," indicating that the bill has no chance of becoming law. But what if it did? What if similar legislation were to pass in the US? What price would you pay to fulfill Jesus' Great Commission?

---
Iowa Becomes 10th State to Ban Gender Transition Surgeries for Minors
"Iowa has become the latest state to ban chemical and surgical gender transitions for minors as concerns about the long-term impact of such interventions persist. The office of Iowa's Republican Gov. Kim Reynolds announced that she signed several bills into law Wednesday, including SF 538, summarized as 'a bill for an act relating to prohibiting activities regarding gender transition procedures relative to minors.'" read more at the Christian Post
THINK.
PRAY.
Oh Father, lies are damaging and destroying vulnerable children. We know who is ultimately behind every lie. I thank you that You are greater and far more powerful than the devil and all his work. With that confidence, help me not to shy away from speaking the truth in love. Thank you for elected officials who are fighting against this evil. May more states follow their example and protect children. Help parents to wade through the lies and be equipped to do what is best for their children. In Jesus' name, Amen.
ACT.
My Faith Votes is launching a new national pledge and it is critical that common sense Christians are fully engaged. Across the country, courageous governors and state legislators are starting to ban doctors from offering "gender-affirming care" for minors, the horrifying new trend of giving children life-altering puberty blockers and engaging in chemical castration and genital mutilation because they may feel "trapped in the wrong body." But now, President Biden has declared his support of federal legislation that would MANDATE that states allow hormone therapy and sex change operations for children. This is no time to sit on the sidelines. We're putting out a national call for Christians who will voice their opposition to this lunacy. Will you be one of the first 3,000 Christians across America to add your name now? You can sign here.
---
My Faith Votes—is a nonpartisan movement that motivates, equips and activates Christians in America to vote in every election, transforming our communities and influencing our nation with biblical truth. By partnering with national faith leaders, My Faith Votes provides resources to help Christians Pray, Think, and Act to create an America where God is honored in the public square.
Website | www.myfaithvotes.org Twitter | @MyFaithVotes Facebook | My Faith Votes
---
React
---
Comments