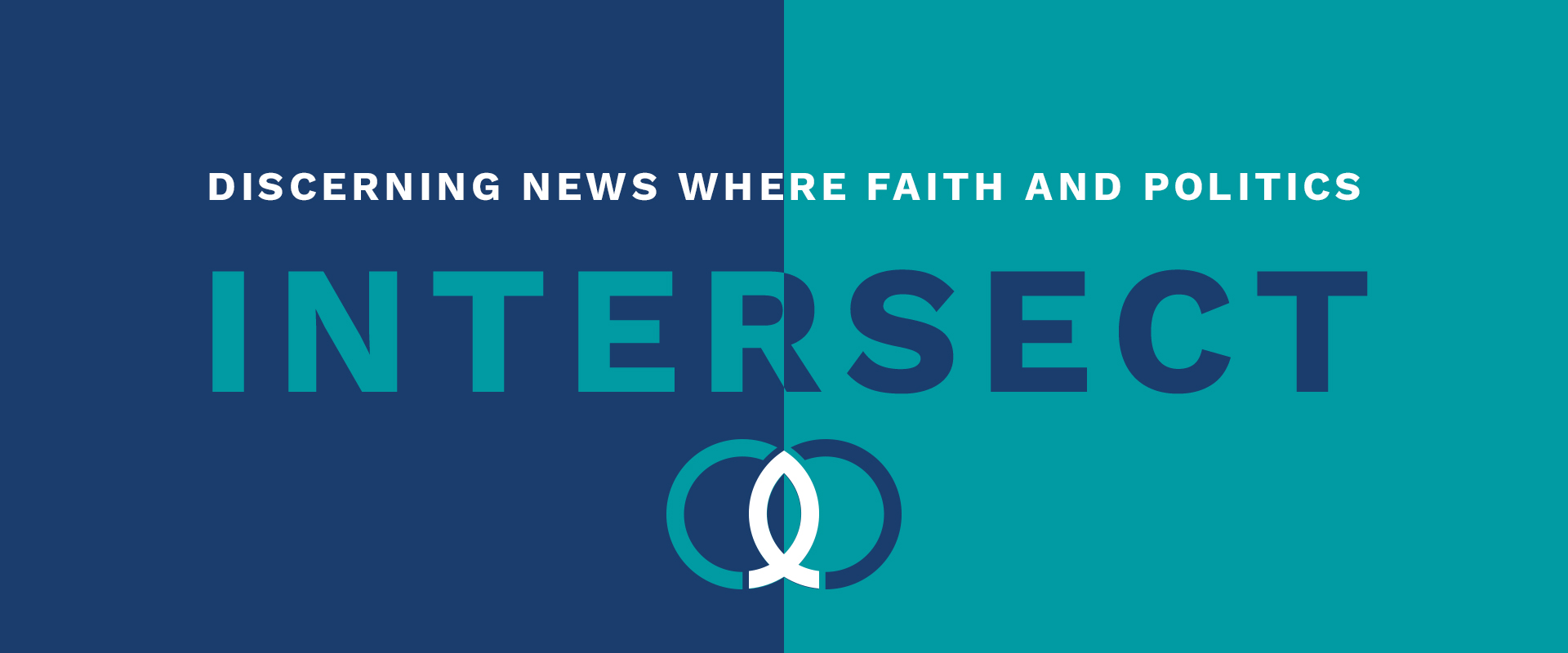 WEEKLY NEWS SUMMARY - MARCH 16, 2022
In this week's Intersect, read about:
---
Colorado Bill Would Legalize Abortions for All 40 Weeks of Pregnancy
"Colorado Catholic bishops are urging pro-lifers to fight against a radical pro-abortion bill that would allow unborn babies to be aborted for any reason up to birth. The Democrat-controlled state legislature almost certainly will pass pro-abortion House Bill 1279 this spring, and Gov. Jared Polis said he supports it. The bill would make abortion a "fundamental right" under state law and deny all rights and legal protections to any "fertilized egg, embryo or fetus." However, outrage is growing. Republican lawmakers held a record-breaking debate to delay the bill before it passed the state House, and hundreds of pro-lifers protested Saturday at the Capitol." read more at LifeNews
THINK.
We are seeing an increase in state-level legislation that would go even farther than what the failed radical federal Women's Health Protection Act would have done to promote abortion. These state-level bills enshrine into law a full range of abortion options. The Dobbs case has caused the truth about abortion to spread far and wide across America - and when the light of truth shines, those working in darkness panic. That is why we see abortion activists, in anticipation of the SCOTUS decision, ramping up their efforts to enshrine abortion into state law as a fundamental right in every state with a left-leaning legislature. And the federal government is working hard to protect abortion as well. In New Hampshire, HHS Secretary Xavier Becerra gave $500,000 in federal tax dollars to a New Hampshire Planned Parenthood last week, thwarting state efforts to defund the abortion chain. In January, the New Hampshire Executive Council voted 4-1 to reject contracts with Planned Parenthood and several other abortion groups, defunding them of more than $1 million in state taxpayer dollars. Galatians 6:9 says, "Let us not become weary in doing good, for at the proper time we will reap a harvest if we do not give up." There is good happening in states like Texas and Idaho. On Friday, The Supreme Court of Texas ruled in the federal challenge to the Texas Heartbeat Act. The court found that state agencies are not authorized to enforce the law, and thus, recommended the abortion industry's lawsuit against certain state officials be dismissed. And in Idaho, a bill that seeks to prevent most abortions has just passed in the state legislature and is heading to the governor's desk. The bill is the first in the country to be modeled after the recent law passed in Texas that bans abortions after six weeks. Republican Gov. Brad Little is expected to sign.
PRAY.
Lord Jesus, we ask for you to have Your way in the hearts and minds of state legislators so they will be receptive to Your truth. We pray that legislation that seeks to destroy the lives of the unborn will be revised, amended, or completely thrown out. Lord, we ask that the mind, will and emotions of those who are deceived by the enemy and desensitized to human life in the womb be invaded with compassion and understanding of the destruction they are causing. We pray for the media to take notice and shine the light of truth on the abortion issue and for citizens in every state across the nation to be captivated by the truth. We ask that You inspire a fortitude to well up within Your church so that Christians will not back down from standing up for the most innocent of society.
ACT.
For those of you in Colorado, your voice is needed NOW! Colorado's attempt to pass one of the most radical pro-abortion laws in the country has moved forward to the State Senate. Even after hundreds of concerned Coloradans showed up on Saturday to support pro-life legislators who fought 24-hours straight on the House floor to try to stop HB22-1279, Democrats turned a deaf ear and stood in solidarity voting along party lines to support the mass destruction of unborn babies. Send a message to the Senate Judiciary Committee to stop this legislation. We've made it easy to do right here.
---
Congress Passes $1.5 Trillion Consolidated Appropriations Act
"Congress approved the massive FY 2022 $1.5 trillion omnibus spending package that also includes $13.6 billion in military and humanitarian aid for Ukraine on Thursday, March 11, 2022. The legislation moved at the congressional version of warp speed, passing the House late Wednesday, less than a day after it was introduced, and clearing the Senate 24 hours later. The 2,741-page bill next goes to the White House where President Biden is expected to sign it into law. The House conducted two separate votes late Wednesday, approving the military spending portion by a vote of 361-69 and, a few minutes later, approving the non-defense part by a vote of 260-171. The Senate passed the bill in bipartisan fashion, 68-31." read more at Investopedia
THINK.
Signed into law by the President yesterday afternoon, the 2022 spending package was more than 5 months late. It will only fund the government through September 30, 2022. In 2011, Republicans ended Congress' practice of slipping projects requested by members for their districts into spending bills. The so-called earmarks were beloved by lawmakers eager to bestow them on constituents, and by party leaders to finagle rank-and-file support for legislation. But the practice was a symbol of wasteful spending that was steered by cronyism, not actual need. This year, Democrats controlling Congress brought the earmarks back and rebranded them as "community projects." While 4,000+ earmarks in this year's omnibus spending bill are a lot, the total is still fewer than the 9,000 earmarks included in the fiscal year 2010 appropriations bills that passed before House Republicans adopted an earmark ban after taking over the lower chamber in the 2010 midterm election. A list of all the earmarks attached to the bill spans 367 pages by itself. Citizens Against Government Waste (CAGW) will be releasing their annual "Congressional Pig Book" shortly, but have already highlighted items taxpayers are being forced to fund. Surprisingly, Democrats failed in their effort to strip a decades-old amendment from the bill that blocks people from using Medicaid or other federal health programs to cover abortion services amid fierce opposition from Republicans. Senate Democrats previously omitted the provision, also known as the Hyde amendment, from legislation to fund the Labor, Health and Human Services and Education departments last year. It marked the first time in decades that Senate Democrats removed the amendment from their annual government appropriations bills. The Hyde amendment prohibits use of federal funds for abortions in most cases. The rider has been included in annual appropriations bills since it was introduced by then-Rep. Henry Hyde (R-Ill.) in the 1970s. The fact that it remained in this bill is one thing to be thankful for.
PRAY.
Pray for wisdom for our elected officials in dealing with the budget, taxes, spending, debt, and "community projects" that impact all Americans. Pray for clarity, wisdom and unity for the nation when it comes to being good stewards of the gifts given through God. As Psalm 50 says, God owns the cattle on a thousand hills which is another way of saying that everything belongs to God. May we keep that perspective.
ACT.
The United States operates primarily on capitalism. The question has arisen in recent years, should the US continue with capitalism or adopt socialism as its means to provide for its citizens? Several years ago, this question would have seemed far-fetched, however recent politicians and more Americans, primarily younger generations, have embraced the concepts of socialism. Watch our insightful biblical worldview video on understanding socialism and what the Bible says about the topic. Pastor Todd Wagner breaks it down in this 9 minute video.
---
Disney CEO Apologizes for Not Taking 'Stronger' Stance against Florida LGBT Bill
"Walt Disney CEO Bob Chapek issued an apology to Disney employees for not taking a stronger stance on a new Florida education bill, HB 1557, which critics have dubbed the 'Don't Say Gay' bill. 'It is clear that this is not just an issue about a bill in Florida, but instead yet another challenge to basic human rights,' Chapek said in a statement. 'You needed me to be a stronger ally in the fight for equal rights, and I let you down. I am sorry,' he added." read more at Christian Headlines
THINK.
The misinformation, mis-labeling, and false narrative regarding this bill is incredible. Here is what the bill actually says regarding what is taught in school: "Classroom instruction by school personnel or third parties on sexual orientation or gender identity may not occur in kindergarten through grade 3 or in a manner that is not age appropriate or developmentally appropriate for students in accordance with state standards." Seeking to protect young students from information that is a distraction from their academic studies and an invasion into the personal value-system they may be learning at home is not "another challenge to human rights," as Chapek said, it is responsible government action that would prevent activist agendas from entering the classroom. It is worth noting how a law designed to protect young children from inappropriate instruction has been framed as an attack on children and youth. One might think Disney would be on the side of age-appropriate content for children, but one of their newest movies suggests otherwise. Turning Red, an animated movie made by Pixar, which is owned by Disney, is a coming-of-age story about a 13-year-old girl who turns into a giant red panda when her emotions run high. Parents have expressed their dismay at the film's sexual undertones, as well as the underlying encouragement to rebel against parental restrictions. When discussing a scene showing the girl drawing "sexy" pictures of her crush, the film's director said, "I just want people to discover that girls can be as weird and pervy and strange as boys can be with this movie." In an age with rampant sexual exploitation of young girls through sex trafficking, it is appalling that the film's director is drawing young children into a world of "pervy". This new fad of psychologically apprehending the minds of children through film and then tearing down the role of parents that have the best interest of their children in mind has gone too far. Children are increasingly being pushed toward believing that parents are bad for their well-being and that rebellion, sexual exploration, self-gratification, and selfishness is the path to personal happiness. The movie's message reflects the fundamental difference between those on opposite sides of the Florida parental rights bill and makes it even more clear why sound-minded legislators are standing up to say "enough". Allie Beth Stuckey stated in an article defending the bill, "Let this serve as a wake-up call, parents: Someone is always seeking to disciple your children with their worldview. There is no neutral ground, particularly when it comes to education." As C.S. Lewis argued, "Every square inch, every split second is claimed by God, and counterclaimed by Satan."
PRAY.
Lord Jesus, our children are growing up in a culture that opposes innocence, godliness, and self-control. We know Your heart on this, for You said, "Woe to the world for temptations to sin! For it is necessary that temptations come, but woe to the one by whom the temptation comes!" (Matthew 18:7) Forgive us for when we have contributed to the temptation or been careless about what we allow to influence our children. Help us stand up for the freedom to "bring [our children] up in the discipline and instruction of the Lord." (Ephesians 6:4)
ACT.
Whose Children Are They? is a documentary "featuring brave teachers, empowered parents, and front-line experts who pull back the curtain about what is truly happening in our public schools today. This film will be the starting point for a full cultural conversation about the need to return to the original intent of education, not indoctrination." You can host a showing of this documentary at your church or school from March 15 to April 14.
---
Harris County TX Finds 10,000 Uncounted Ballots from Primary Day
"About 10,000 mail ballots were tabulated but not counted in Texas' most populous county on the day of last week's election, officials said, adding to the delay in determining some winners in the nation's first primary of the 2022 midterms. Election officials in Harris County, home to Houston, said late Saturday that an 'oversight' led to 10,000 ballots not being counted. Those votes -- 6,000 Democratic and 4,000 Republican -- will be added to the final tallies Tuesday. "While the votes were scanned into our tabulation computer, they were not transferred and counted as a part of the unofficial final results as they should have been," the Harris County Elections Office said in a statement." read more at NBCDFW
THINK.
This major oversight has led to the resignation of the county election administrator, and a lawsuit from the Harris County Republican Party. The importance of election integrity has garnered pushback from those trying to federalize elections, but if you were to ask any first-generation American about the importance of true, accurate, and verifiable election results they would readily tell you how important it is that elected officials do everything they can to ensure transparency and accuracy in every step of the election process. While the existence of our fallen, sinful nature is enough to justify concerns regarding the integrity of our elections, this incident in Texas is a physical example of why it needs to be a priority. Still, the validity of this concern is often dismissed. An election integrity scorecard is a helpful tool to assure voters that elections in their states are well-run and reliable. The Heritage Foundation has created this much needed tool to assess the status of state laws needed for election fairness and security. A March 2021 threat assessment prepared in part by the Department of Homeland Security noted that "sociopolitical developments such as narratives of fraud in the recent general election… will almost certainly spur some [domestic violent extremists] [sic] to try to engage in violence this year." To be sure, some may justify unlawful activity (going back to the acknowledgment of fallen, sinful human nature). However, such extremists do not nullify the claim of election fraud any more than arsonists who burn down abortion clinics nullify the pro-life movement–though it does damage its public image. There are many ways to fight for election integrity without physically fighting. One big push is for pro election integrity candidates to run for Secretary of State (SOS), which has a hand in the administration of elections in all but ten states. A recent article noted, "The once-sleepy, down-ballot elected office has suddenly become one of the most vital roles in the nation." This year, twenty-seven states will hold elections for Secretary of State. Do you know if the position is up for election in your state?
PRAY.
Heavenly Father, we know You delight in just scales, but dishonest measures are an abomination to You. (Proverbs 11:1) Through the Holy Spirit, help each of us to walk before You in integrity, with no deceit. Let this also be true of every Christian who is an elected official or running for office. Let honest, God-fearing candidates be elected by informed voters, as You convict our public servants to do what is right.
ACT.
It's time for Americans across the country to get involved in local efforts to ensure election integrity. You can receive free training on the role of an election observer and learn the importance of volunteering in your local county as ballots are tabulated this election year. Visit your State Secretary of State's website to better understand your state's measures for election validation. Being informed and personally engaged lifts the load off a limited number of individuals and positions additional oversight and scrutiny to eliminate errors like the one we saw in Harris County, Texas. My Faith Votes has made it easy for you to contact your election officials with letters compelling them to fulfill their job duties and champion election participation AND integrity. In an age of social media and email, we believe physical letters can be very influential. Use this form on our website to receive an emailed letter that you can sign and mail to your secretary of state.
---
My Faith Votes—is a nonpartisan movement that motivates, equips and activates Christians in America to vote in every election, transforming our communities and influencing our nation with biblical truth. By partnering with national faith leaders, My Faith Votes provides resources to help Christians Pray, Think, and Act to create an America where God is honored in the public square.
Website | www.myfaithvotes.org Twitter | @MyFaithVotes Facebook | My Faith Votes
---
React
---
Comments