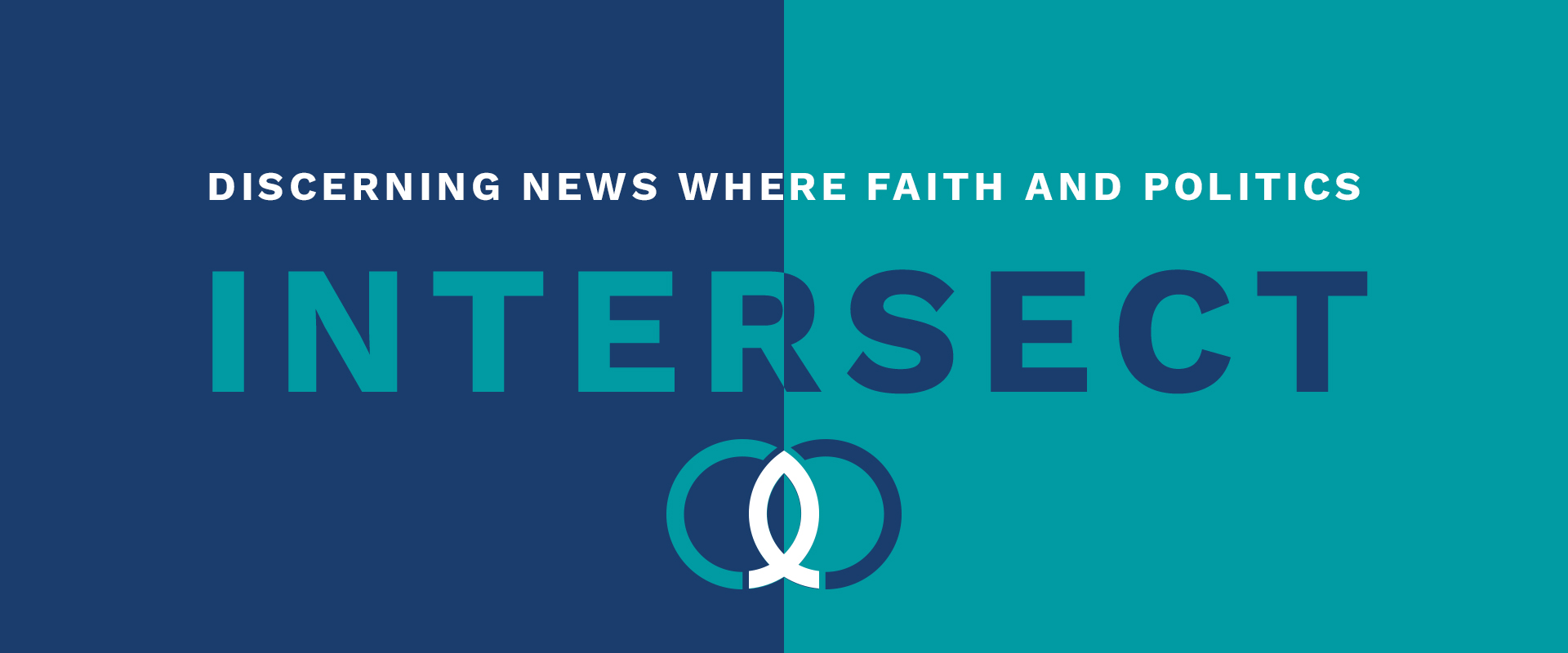 WEEKLY NEWS SUMMARY - JUNE 30, 2021
In this week's Intersect, read about:
---
Justice Department Sues Georgia Over Voting Law
"Attorney General Merrick Garland accused Georgia Republicans of rushing through legislation he claims discriminates against African American voters. He announced Friday that the Department of Justice is suing the state over the voting law for alleged Voting Rights Act violations. Georgia Secretary of State Brad Raffensperger promised to defend the reforms, and Republican Gov. Brian Kemp accused the Biden administration of spreading misinformation about the law. Civil rights and election integrity groups have filed seven other lawsuits challenging the changes." read more at WORLD
THINK.
According to the Justice Department, an election procedure violates the Voting Rights Act if, in the totality of the election process, it has "the result of denying a racial or language minority an equal opportunity to participate in the political process." What parts of the Georgia law allegedly burden black voters disproportionately? The lawsuit challenges the prohibitions on distributing unsolicited or duplicate absentee ballot applications. The law also requires a driver's license number or another form of identification—even a utility bill is sufficient—to verify an absentee ballot. It also shortens the time period to request an absentee ballot and limits the number of absentee ballot drop boxes, restricting them to voting locations or board of elections offices where they can be supervised. It also bans any organization from providing food and water to voters waiting in line, although election officials are allowed to do so. Lastly, the requirement to vote in the precinct in which a person lives is also being challenged. The question that must be answered is, "Under the totality of circumstances, do these challenged provisions deny black voters an equal opportunity to participate in the electoral process due to historical or current race discrimination?" In order to appreciate the context of Georgia's law, it is helpful to compare it with other states' voting laws. Some provisions are more generous than other states. A more in-depth report on the law and its effects can be found here. Voting--the act of choosing who will make the laws we live under--is one of the most important checks on the abuse of power; it protects our liberty. Protecting liberty requires us to provide opportunities for every eligible citizen to vote, while guarding against fraud. Contrary to popular narrative, we can do both. Regarding voting, here is something else to think about: last week, the Vermont legislature overrode the Governor's veto of a bill allowing non-citizens to vote in municipal elections in two cities. These legal residents can also run for local office. What might be the possible effects if this policy is implemented on a broader scale?
PRAY.
Pray faithfully for our election system to remain lawful, fair, and free in America. The Supreme Court will soon announce their decisions on several election-related cases. Pray for just rulings. Pray that God will move against any force that would seek to create chaos and unrest in our elections, from the local to the state to the federal level.
ACT.
Visit our Election Integrity Now website for ways you can protect sound and secure elections in America.
---
Supreme Court Rejects Transgender Restroom Case
"A Virginia school board lost its fight to keep single-sex restrooms and locker rooms divided between biological girls and boys. Gavin Grimm, born female, began identifying as a male while attending high school in Gloucester County, Va. The principal initially allowed Grimm to use the boys restroom, but school policy required students to use facilities according to their biological sex. The school gave Grimm the option of a single-stall restroom, and Grimm sued for sex discrimination in 2015. Lower courts ruled in favor of Grimm in 2019 and 2020. On Monday, the Supreme Court declined to hear the school board's appeal. Justices Samuel Alito and Clarence Thomas said they would have heard the case." read more at WORLD
THINK.
Since the school already provided several single-user restrooms that Grimm could use, why did the 4th Circuit Court rule that they were practicing unlawful discrimination? Last year the Supreme Court's Bostock v. Clayton County decision redefined the word "sex" in federal anti-discrimination law to include sexual orientation (who a person is attracted to) and gender identity (a person's belief about their gender, regardless of their biological sex). Even though this was only meant to apply to employment decisions, the 4th Circuit applied it to school restrooms as well. Last week, the U.S. Department of Education released a "Dear Educator" letter to guide teachers in providing an environment "free from sex discrimination in all forms," including separating restrooms and sports based on biological sex. This is like the Obama administration's guidelines, which the Trump administration reversed four short years ago. When considering the dizzying turn of events, remember that God's design does not change, even when our government attempts to deny it and restructure our societal systems around their new worldview. Consider California's recent decision to ban state-funded travel to five more states which introduced laws to keep male and female sports separate. "We're in the midst of an unprecedented wave of bigotry and discrimination in this country," California Attorney General Rob Bonta stated. How can it be bigoted to keep a biological male from competing against a female? If you redefine sex in one area of society, you must apply that redefinition to all areas. When confronted with this absurdity, our culture faces two choices: reject the wrong idea or redefine reality so the idea does not appear to be absurd anymore. As Carl Trueman says, "If the church is to stand firm against the cacophony of identities now engulfing our world—of which gender chaos is just one example—she needs to be a strong community where people feel a deep sense of belonging and where, therefore, the deepest sense of self is shaped and fostered. That involves a clear-cut adherence to biblical teaching in the areas of identity (our identity is found in Christ) and sexuality (sexual desires or our inner convictions about gender are not ultimately constitutive of who we are)."
PRAY.
Heavenly Father, Your design for human sexuality is good, and we thank You for it. Help us to consistently live in obedience to You, whether our culture and government is tolerant of our beliefs or not. Give us grace and wisdom to assist those who are struggling with their identity; help them to find it in You alone. In Jesus' name, amen.
ACT.
This new "debate" over equality is perhaps the biggest threat to biblical values that our generation will ever face. Sign-up here to receive our series of articles breaking down the Equality Act (HR 5) legislation and why Christians who hold to a biblical worldview must oppose it.
---
Nancy Pelosi and Democrats Block Bill to Ban Tax-Funded Abortions for 20th Time
"Over the last week, Speaker Nancy Pelosi and House Democrats have blocked a bill to ban taxpayer-funding of abortions 20 times. Each day over the last week, multiple pro-life Republican House members have asked the House for unanimous consent to bring the pro-life bill to the floor for a vote. Each time, Democrats have refused. On Monday, Rep. Stephanie Bice (R-OK), Rep. Buddy Carter (R-GA), Rep. Glenn Thompson (R-PA), and Rep. Bill Huizenga (R-MI) asked for unanimous consent to get a floor vote on H.R. 18, The No Taxpayer Funding for Abortion Act. As they had 16 times previously, Democrats refused a vote to protect taxpayers from being forced to fund killing babies in abortions. The bill would make the Hyde Amendment permanent law and protect taxpayers from being forced to fund the killing of unborn babies in abortions." read more at LifeNews
THINK.
The Hyde Amendment was first enacted in 1976 following the U.S. Supreme Court's decision in Roe v. Wade, the landmark ruling that, along with its partner decision Doe v. Bolton, legalized abortion through all nine months of pregnancy. The amendment prohibits the use of federal taxpayer funds for most abortions and has been included in every federal budget since 1976 — until now. The Hyde Amendment, which has strong public support, prohibits taxpayer funding for elective abortions in Medicaid and other federal programs. Since 1976, it has saved an estimated 2.4 million babies' lives, including about 60,000 each year, according to the Charlotte Lozier Institute. Along with the House member's attempt to bring forth a bill, 22 Republican state attorneys general issued a letter on Monday urging Congress to reinstate the Hyde Amendment in the 2022 budget proposal issued by President Biden. In related news, North Carolina Governor Roy Cooper has vetoed the Human Life Non-Discrimination Act, a bill that would have made it illegal to abort a child based on his or her race or disability, including Down syndrome. And Middle school students in Tacoma, WA were given a flyer detailing their legal rights on sex-based issues, including their ability to get an abortion without informing their parents. The flyer distributed by an 8th-grade teacher at Stewart Middle School frustrated parents who thought the subject matter was inappropriate. The school has since apologized and said the document was put together by Planned Parenthood, not the individual teacher. The world's most premature baby, who was given zero chance at surviving, just celebrated his first birthday. Born at 21 weeks weighing just 11.9 ounces and so tiny that he fit in the palm of a hand, baby Richard is now thriving and happy. The survival of Richard, while exceptional, brings to the forefront of the abortion discussion questions about the point of fetal viability, and even about whether viability should be used as a determinant of abortion law. The question carries added weight in the United States since Roe v. Wade held that states cannot ban abortion before fetal viability. Nineteen states consider fetal viability to be the point at which abortion is banned, although they legally mark viability at different points during gestation. In 1992, Casey v. Planned Parenthood determined that 24 weeks was the age of viability — set back from 28 weeks during the less technologically advanced time of Roe v. Wade. University of Iowa pediatrics professor Dr. Edward Bell told The New York Times in 2015 that he considers 22 weeks to be the new age of viability. Baby Richard shows that our changing standards of viability should not determine whether we can needlessly take an unborn baby's life. Instead, this should be our standard: "For you formed my inward parts; you knitted me together in my mother's womb. I praise you, for I am fearfully and wonderfully made." (Psalm 139:13-14a)
PRAY.
Prayer is powerful. We have developed a prayer guide containing nine focused prayer points so that you can pray with others across the nation for a culture of life. Download and pray through each point here.
ACT.
The normalization of sex without boundaries, gender fluidity and abortion are being taught in public schools to very young ages. It Takes a Family, is a great organization informing parents of what is taught and how to stand against it from a biblical worldview. Founded by Monica Cline, she is a former Title X (family planning) Training Manager and volunteer educator for Planned Parenthood who taught comprehensive sex education (CSE). But after questioning the practices and being told she had to be pro-abortion, she now exposes the truth behind what's being taught.
---
Church Clings to Hope as 9 Families Missing After Champlain Towers South Building Collapse
"Parishioners at the Saint Joseph Catholic Church in Miami Beach, Florida, are still clinging to hope as members of at least nine families that lived in the Champlain Towers South in Surfside remain missing after its catastrophic collapse last Thursday. 'We still have that faith because you never know. We've seen it in other tragedies where the most miracles have happened, and even the most difficult situations people have survived for days. So we still have hope. We still do,' Gypsy Lodos, the church's director of faith formation, told The Christian Post Monday. Since half of the 13-story Champlain South Towers building collapsed Thursday, more than 150 residents remain unaccounted for, CNN reported. Miami-Dade County Mayor Daniella Levine Cava also revealed Monday that at least 11 people had been confirmed dead as rescue officials indicate chances of finding more survivors are dwindling by the day. At a press conference Monday night, the mayor warned that the death toll 'numbers are very fluid.'" read more at The Christian Post
THINK.
While a city official said the building was in good shape, a 2018 engineering report indicated otherwise. In the 2018 report, a consultant found alarming evidence of "major structural damage" to the concrete slab below the pool deck and "abundant" cracking and crumbling of the columns. At a November board meeting of the Champlain Tower South Condominium Association, a building official from the city, according to the minutes, said the building "is in very good shape." More than 300 emergency personnel, including teams from Israel and Mexico, are working around the clock, and the U.S. Army Corps of Engineers has been called in to help search. As the search continues, hope endures. One family says it has received 16 calls from a landline in the condo belonging to their grandparents, who are among the unaccounted for. "We are trying to rationalize what is happening here. We are trying to get answers," a grandson said. And then there is Lee Soto, who is waiting and hoping his high school friends are rescued from the rubble. "The hope is that there are going to be miracles." C.S. Lewis observed that miracles are a "retelling in small letters of the very same story which is written across the whole world in letters too large for some of us to see." In the Scriptures, we read about a God who parted the sea to rescue his people, brought a little girl back to life, and resurrected a crucified man. We don't know if there will be a miracle, but we do know our God has the power to bring about miracles. (Ps. 115:3, Ex. 14, Mt. 9) These things should remind us that everyone, every human on this planet hangs by a thread at all times, that at any given moment we all face the enormity of eternity and whether we've accepted or rejected salvation through Jesus. As empathetic pain has a hold upon our hearts, we must remember clearly the singular mission given us by our Lord. (Mt 28:19-20, Luke 13:1-5)
PRAY.
Father, have mercy on all the people who are waiting to hear about their loved ones and those who already are grieving loss. Give the families Your peace that passes all understanding. Thank You for the help and compassion from those assisting. Bless them and protect them. Thy will be done, in Jesus' name.
ACT.
Several organizations are stepping in to help with the needs of families impacted by the building collapse. Check out this list to learn where to help with goods and donations. And pray for those ministering to survivors and the community impacted, with spiritual and emotional care.
---
My Faith Votes—is a nonpartisan movement that motivates, equips and activates Christians in America to vote in every election, transforming our communities and influencing our nation with biblical truth. By partnering with national faith leaders, My Faith Votes provides resources to help Christians Pray, Think, and Act to create an America where God is honored in the public square.
Website | www.myfaithvotes.org Twitter | @MyFaithVotes Facebook | My Faith Votes
---
React
---
Comments