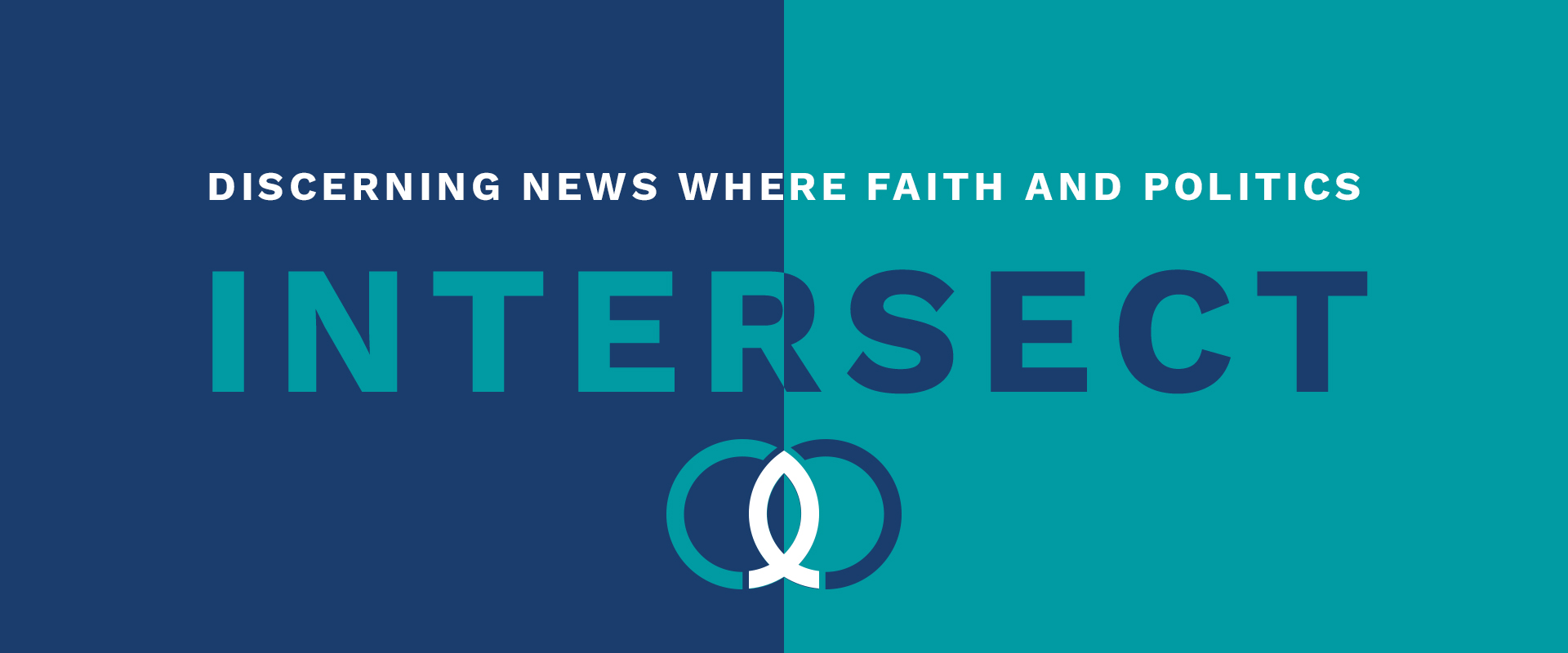 WEEKLY NEWS SUMMARY - JUNE 29, 2022
In this week's Intersect, read about:
---
Independence Day from the Old State House
"On July 18, 1776, the Declaration of Independence was read for the first time from the balcony of the Old State House and has been read there every year on July 4th since then. It is our founding principles, as so eloquently outlined in the Declaration of Independence, that we hold to and celebrate today. We reflect on the unique history that birthed this great nation and the freedom it has bestowed on generations of Americans. And we acknowledge together that it is our dependence on God that brings true independence and freedom." read and watch at My Faith Votes
THINK.
On July 2, 1776, Congress voted to approve a complete separation from Great Britain. Two days afterwards – July 4th – the early draft of the Declaration of Independence was signed. John Adams wrote two letters to his wife, Abigail, the day after Congress approved the Declaration. The first was short and concise, jubilant that the Declaration had been approved. The second was much longer and more pensive, giving serious consideration to what had been done that day. Adams cautiously noted: "This day will be the most memorable epic in the history of America. I am apt to believe that it will be celebrated by succeeding generations as the great anniversary festival." Adams contemplated whether it would be proper to hold such celebrations, but then concluded that the day should be commemorated, but in a particular manner and with a specific spirit. As he wrote to Abigail: "It ought to be commemorated, as the Day of Deliverance by solemn Acts of Devotion to God Almighty. It ought to be solemnized with Pomp and Parade, with Shews, Games, Sports, Guns, Bells, Bonfires and Illuminations from one End of this Continent to the other from this Time forward forever more." The Founders of the American Experiment crafted a government whose authority, at its heart, flowed from certain fundamental, biblical truths, not a person or personality. In a letter to Thomas Jefferson — the author of the Declaration of Independence — our second president, John Adams, said "the general principles on which the Fathers achieved independence were the general principles of Christianity." How wonderful that a Founding Father admitted that the truth of Christianity, not secular humanism or any other religious system, provides the bedrock upon which this great nation has been built. Ultimately, it is God's truth, not man's system of government or laws, that we must be rooted in. As we celebrate this Independence Day, let the history of our nation's founding remind us to be vigilant to think, pray and vote according to our Christian faith.

PRAY.
Thank You, Lord, that in our nation today, we are free to worship. We are free to pray. We are free to read Your Word. We are free to speak. For this, we are incredibly grateful. Yet, we understand how quickly these freedoms can be taken away. Give us an increased awareness of the spiritual battle we are in. Help us to stand strong in You and for Your purposes. Thank You that as believers, we can be assured, You will never leave us, and are with us always. Thank You for Your truth that says, who the Son sets free is free indeed. We know that in You alone, true freedom is found.

ACT.
Standing at a towering 81 feet tall and made of solid granite, the little-known National Monument to the Forefathers in Plymouth, Massachusetts, holds the key to America's freedom and success. Inspired by Kirk Cameron's Monumental documentary, we created a short-clip video series and accompanying digital e-book for you to explore the monument up close! By studying the monument, much can be learned by young and old alike about the principles and virtues of the Pilgrim settlers. These principles and virtues were ultimately carried over into the writing of America's Declaration of Independence and Constitution. Watch and download the free e-book here and be sure to share with others.
---
Supreme Court Overturns Roe v. Wade: It Was 'Egregiously Wrong from the Start'
"In a historic culmination of a five-decade effort by the pro-life movement, the U.S. Supreme Court on Friday overruled Roe v. Wade and sent the issue of abortion back to the states, declaring that the Constitution is silent on abortion and that Roe was 'egregiously wrong from the start.' It was one of the most significant decisions in the nation's 246-year history. 'It is time to heed the Constitution and return the issue of abortion to the people's elected representatives,' Justice Samuel Alito wrote for the majority. The vote was 5-4 to overturn Roe and 6-3 to uphold the Mississippi law at the center of the case. Justices Clarence Thomas, Brett Kavanaugh, Neil Gorsuch and Amy Coney Barrett joined Alito in the majority opinion. Chief Justice John Roberts concurred in the judgment, saying he would not have overturned Roe but would have upheld the Mississippi law, which prohibits abortion after the 15th week of pregnancy." read more at Christian Headlines
THINK.
On the first page of the ruling it states, "The Constitution does not confer a right to abortion." Yet for nearly 50 years the Roe v Wade decision assuaged women to believe that abortion was a fundamental reproductive healthcare "right" framed as "choice." And 63 million lives have been lost because of it. Friday's ruling does not make abortion illegal, but it turns the decision back to the will of the people in every state. My Faith Votes CEO, Jason Yates, released the following statement: "Today, it is abundantly clear that elections have consequences. For years, we have been praying that the Lord's kingdom come on earth, that the most vulnerable would be protected in our nation. The Supreme Court took a major step forward in that direction, proving that when people unite and stand for what is right, we have real influence on the world around us. Now, we must take this influence into the vital elections happening in each state. We celebrate this massive victory and continue fighting for life for all humankind." As of today, 13 states have now banned abortion as a result of the Court's decision on Friday because of "trigger laws" already on the books in their states. Estimates vary, but experts predict as many as 26 states will ban abortions now that Roe is no longer in the way. The law has changed, but not necessarily mindsets. The Church must lead the way in the fight for life by first reversing the faulty language being used in the public narrative. We must use language that represents a biblical worldview and not language common in our culture that manipulates the truth. Here are a few examples: 1. Revive the term "procreation" in place of "reproduction." Babies are special creations, not products. 2. A human life in the womb is a child not merely an embryo or fetus. 3. The heartbeat of the child is not embryonic cardiac activity. 4. Conversations should be discussed around the rights of the baby instead of the reproductive rights of the woman, since the baby has already been created. 5. Prenatal care should replace reproductive healthcare. 6. Protection of the unborn child is the focus rather than a woman's bodily autonomy. Friday's decision returns the issue to the states and even bigger battles will face us. We can celebrate this ruling, but the battle is not over. We will have to redouble our efforts, refine our arguments, stand alongside women in crisis, honor the family and stand for life for the rest of our lives. Christians are called to engage our faith in every aspect of life. And we must remain steadfast in prayer and action as we bring biblical values into the public square. Let history record that our stand gave a voice to the unborn.

PRAY.
Lord, so many have been praying for decades for the courts to overturn such a destructive decision. Thank You for answering our prayers! We take on the role to lead our nation in the fight for life in our states. We reject the lie that doctors or judges determine the beginning point of life, and instead acknowledge that You alone determine when life begins and ends. We reject the lie that protecting life means women must give up their rights. Instead, help us to understand that Your biblical design for sexuality protects us. We reject the lie in thinking that we are disqualified for doing the right thing now because we may have a sinful past. Thank you, Lord, for Your forgiveness and freedom as we commit to the stand for the sanctity of all life.

ACT.
It's time we all knew where our nearest Pregnancy Resource Center is located. With over 2,700 centers across all 50 states, there's likely one close to you. Pledge to donate diapers and we'll notify you of the center closest to you as well as provide you with a prayer guide to help you pray unceasingly for a culture of life. Encourage others who stand for life to do the same!

---
New York Supreme Court Strikes Down Law that Allowed Non-Citizens to Vote
"New York City's City Council approved a measure in January to give non-citizens the right to vote in local elections. But after a suit was brought by the GOP lawmakers, the New York Supreme Court ruled that no, non-citizens do not have the right to vote. The plan would have added some 800,000 New Yorkers to the voting rolls, and would have allowed them to vote for mayor, public advocate, city council, borough presidents, and school boards." read more at The Post Millennial
THINK.
Some attacks on the Constitution come from activist judges. Others come from activist legislators and other law-making bodies. This ruling by the New York Supreme Court is yet another win for the Constitution–in this case, the New York State Constitution. In order to guard against radical changes in public policy by a few in power, the Constitution must be amended before passing a law that conflicts with it. Even good policies, such as suffrage for women, had to go through this process. In granting voting rights to non-citizens, the New York City Council decided to ignore the Constitution of their state. "The New York State Constitution expressly states that citizens meeting the age and residency requirements are entitled to register and vote in elections," Justice Ralph Porzio wrote. A city council member who had opposed the voting measure responded, "shame on those who thought they could skirt the law for political gain. Opposition to this measure was bipartisan and cut across countless neighborhood and ethnic lines, yet progressives chose to ignore both our constitution and public sentiment in order to suit their aims." In related news, a significant and widespread shift in political affiliation is occurring across the country. According to voter registration data and statistical modeling reported by the Associated Press, over one million voters switched their political affiliation to Republican over the last year. In contrast, an estimated 630,000 switched to the Democrat Party–a reversal from when President Trump was in office. Notably, the shift was most apparent in the suburbs, which is also a reversal from previous years. The Associated Press noted that some of the switch is due to Democrats who crossed over to vote against Trump-backed candidates in the Republican primaries. However, the article pointed out that "the scope and breadth of the party switching suggests something much bigger at play." It is likely that many are appalled at the radical policies pushed by the federal government and progressive policy makers over the past year and a half. Elections always have consequences, and many are feeling the hard-hitting effects in their daily lives. Justice Porzio stated, "voting is a right so many citizens take for granted." We see it as an opportunity to "do good to everyone, and especially to those who are of the household of faith." (Galatians 6:10)

PRAY.
Heavenly Father, thank You for the gift of citizenship in a free country with the right to vote. May our recognition of our citizenship in Heaven make us better citizens here on earth. We pray that godly candidates would honor You in their campaigns, win their upcoming primaries, and that many believers would take this opportunity to think biblically, pray earnestly, and vote wisely. May You be glorified, in Jesus' name.
ACT.
Do you know someone who needs to register to vote? Request a mail ballot? Do you need information on your upcoming election? All of that and more can be found on the Voting Resources & Assistance page on our website. Important dates are coming up next month, including registration deadlines for the August primary elections in many states. These resources have been created for you to use and share!
---
'Tremendous Victory': Supreme Court Sides with Football Coach Who Was Fired for Praying
"In a landmark ruling for religious liberty, the U.S. Supreme Court on Monday officially overturned a 51-year-old legal precedent known as the "Lemon Test" while siding with a football coach who had been fired for praying. The high-profile case involved Joseph Kennedy, who was not retained as a coach by Bremerton (Wash.) High School after he conducted post-game public prayers, multiple times, in violation of a district policy. Many of the prayers took place at midfield as he kneeled, alone, with no one around." read more at Christian Headlines
THINK.
"My Faith Votes celebrates with people of faith across America upon learning the Supreme Court upheld our constitutional rights to both free exercise and free speech in Kennedy v. Bremerton School District," Jason Yates, CEO of My Faith Votes, stated. The First Amendment states that "Congress shall make no law respecting an establishment of religion, or prohibiting the free exercise thereof; or abridging the freedom of speech…" Recent SCOTUS decisions like this have a common thread woven throughout - returning to the Constitution and rising above activist agendas. It is both refreshing and exciting. The Lemon Test, which was created by a 1971 Court decision, misinterprets the Establishment Clause of the First Amendment and has been a thorn in the side of religious liberty. It is monumental that this decision rejects the Lemon Test and upholds a historical understanding of the First Amendment. "Respect for religious expressions is indispensable to life in a free and diverse Republic," Justice Gorsuch wrote, "whether those expressions take place in a sanctuary or on a field, and whether they manifest through the spoken word or a bowed head." A flawed legal precedent has been overturned, and believers are freer to let our light shine before others, so that they may see our good works and give glory to our Father who is in heaven. (Matthew 5:16) But there is more work to be done in the fight for religious liberty. These decisions highlight the drastic changes that can take place with a shift in the balance of judicial ideologies on the Court. Therefore, laws that clearly protect religious liberty are essential. In 1993, President Clinton signed into law the Religious Freedom Restoration Act (RFRA) after a 1990 SCOTUS decision made it harder for people of faith to claim religious exemption from legislation or regulations based on the First Amendment's guarantee of religious freedom. However, a 1997 SCOTUS ruling determined the federal RFRA was an unconstitutional intrusion into state authority. As a growing number of citizens are now experiencing infringement on their religious rights from within their own state, like Coach Kennedy, it is imperative that all fifty states pass their own state-level Religious Freedom Restoration Act. Twenty-one of our fifty states have passed a state-level RFRA. Washington state, Coach Kennedy's home state at the time his rights were violated for praying mid-field, has not. This November, the composition of 88 state legislative chambers in 46 states will be determined. It will take state legislative bodies filled with constitutionally focused legislators to make sure all states pass their own state-level RFRAs.

PRAY.
Sovereign Lord, Judge of the whole earth, we praise and thank You for our justices who are restoring freedom once again to our nation. Thank You for courageous servants like Joe Kennedy, who paved the way for this victory by his faithfulness to You. Thank You for attorneys who are passionate about defending the Constitution and true liberty. Since we are so blessed with this freedom, help us use it to serve You in love, wisdom, and truth, bringing every aspect of our life and work under Your Lordship, for Your glory and kingdom.

ACT.
Today, we see everything that has to do with life and godliness being arbitrated through the court systems, which is why a basic understanding of how our judicial branch works is critical. To this end, My Faith Votes created A Christian Voter's Resource Guide to Understanding the American Justice Systems. This brief PDF provides an easy overview of our federal and state courts, ideas on how to pray for your judges, and a description of the role you play in determining who sits in those seats. Please make use of this free resource and share it with others!
---
My Faith Votes—is a nonpartisan movement that motivates, equips and activates Christians in America to vote in every election, transforming our communities and influencing our nation with biblical truth. By partnering with national faith leaders, My Faith Votes provides resources to help Christians Pray, Think, and Act to create an America where God is honored in the public square.
Website | www.myfaithvotes.org Twitter | @MyFaithVotes Facebook | My Faith Votes
---
React
---
Comments