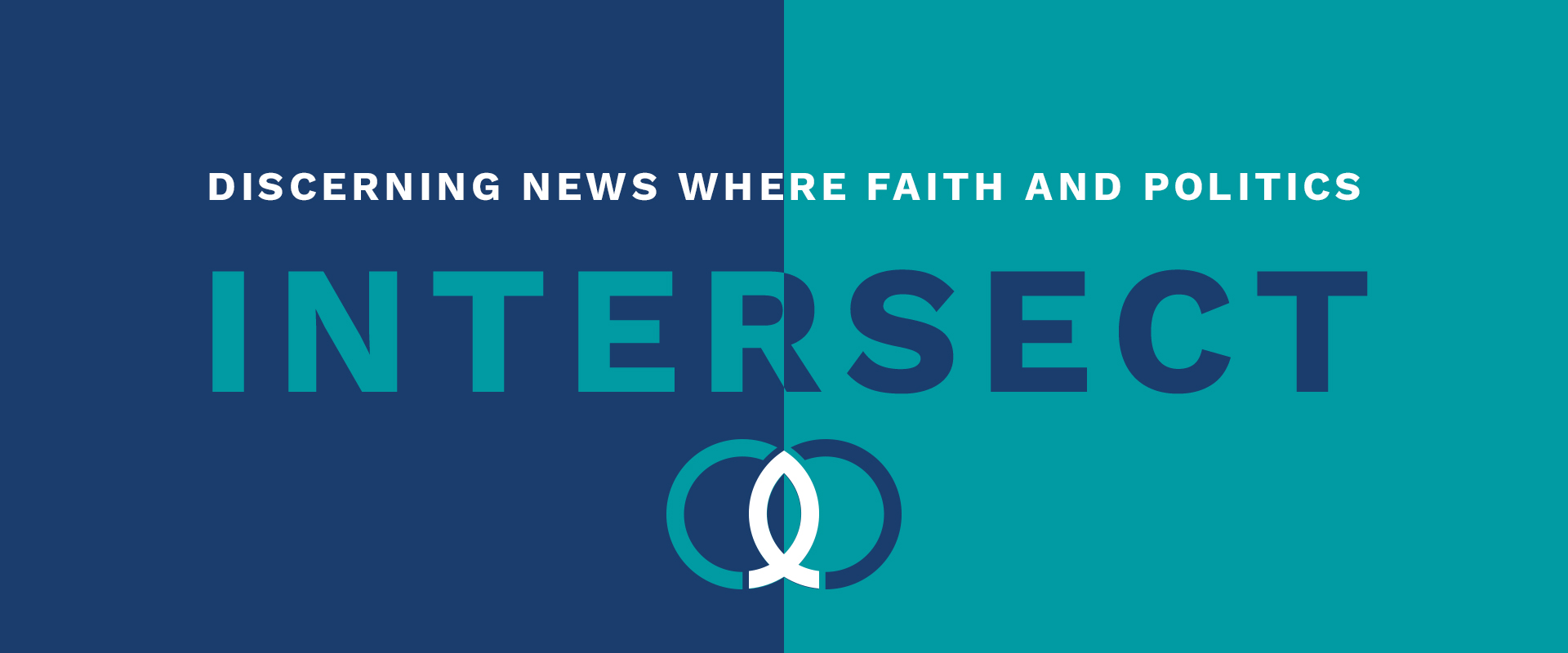 WEEKLY NEWS SUMMARY - JUNE 28, 2023
In this week's Intersect, read about:
---
Hunter Biden Pleads Guilty to Criminal Tax Charges, Unlawful Firearm Possession
"Hunter Biden, the son of President Joe Biden, who has garnered much attention over his personal scandals, has pleaded guilty to federal criminal tax charges. The president's son entered a pretrial diversion agreement in which he pled guilty to one charge of 'possession of a firearm by a person who is a user or addict of illegal drugs,' reported CNBC on Tuesday morning. Chris Clark, who is serving as a criminal defense lawyer for Hunter Biden, said in a statement that the guilty pleas should mark the resolution of a five-year investigation into the president's son." read more at the Christian Post


THINK.
Is the investigation over or not? Contrary to Hunter Biden's lawyers, a statement by the prosecutor said, "the investigation is ongoing." It is up to the judge whether or not to accept the plea deal.
Is there evidence of preferential treatment? In addition to the unusually lenient agreement, two IRS employees who worked on Hunter Biden's tax evasion case are claiming the Justice Department hampered the investigation. The whistleblowers publicly testified before the U.S. House Ways and Means Committee a few weeks ago. "Whistleblowers describe how the Biden Justice Department intervened and overstepped in a campaign to protect the son of Joe Biden by delaying, divulging, and denying an ongoing investigation into Hunter Biden's alleged tax crimes," the committee stated. "The testimony shows tactics used by the Justice Department to delay the investigation long enough to reach the statute of limitations, evidence they divulged sensitive actions by the investigative team to Biden's attorneys and denied requests by the U.S. Attorney to bring charges against [Hunter] Biden."
Perhaps even more concerning, this testimony could mean that U.S. Attorney General Merrick Garland committed perjury. Under oath in Congress, the Attorney General denied that the Justice Department politically interfered in the investigation of the president's son. House Speaker Kevin McCarthy (R-CA) threatened impeachment proceedings against Garland if the whistleblower allegations are found to be true. U.S. Senator Ted Cruz (R-TX) declared, "The Department of Justice needs to appoint a special counsel to investigate Merrick Garland for obstruction of justice and perjury." The U.S. House has authority to impeach federal officials, and the Senate has authority to convict. (U.S. Constitution, Article I, Sections 2 and 3)
Government corruption is a serious offense against God, the righteous Judge. (Exodus 23:1-8, Isaiah 59) Our founding fathers knew this and therefore set up checks and balances–like Congress's authority to impeach and convict federal officials–to restrain corruption. This is yet another reminder of the importance of our vote.
PRAY.
Heavenly Father, we pray for truth to come to light regarding this case and all the allegations. We ask that You raise up men and women in our government who are committed to righteousness, so that justice is not obstructed, and our country can flourish.

ACT.
We're thrilled to partner with Patriot Academy again to offer you a FREE course called Biblical Citizenship. This eight-week online course gives you the tools you need to defend your freedom and your faith in these dark and uncertain times. You'll gain more constitutional knowledge than 99% of Americans and learn tangible action steps for preserving liberty. Be entertained, inspired, and educated…with a few special guests too! You can still join the current session which started on June 15. Sign up to join us here.
---
Sound of Freedom Film Premieres in Washington to Highlight Human Trafficking Crisis
"Sound of Freedom premiered Tuesday night at the Museum of the Bible in Washington, D.C. The film is based on the true story of Tim Ballard, a former federal agent who quit his job and risked his life to save a young girl from sex slavery in South America. Actor Jim Caviezel plays Ballard in the film, and he told the Washington Examiner he chose to take the role because he is worried for the state of the United States amid a rise in cases of human trafficking. 'My country I was really concerned about, especially with the south border," he said. "By definition, you have to have borders to have a country, and we don't have one right now.'" read more at the Washington Examiner


THINK.
My Faith Votes had the privilege of attending the premier in Washington, D.C. Based on a true story, Sound of Freedom shines a light on the dark world of child sex trafficking--the fastest growing crime in the world and the United States is the epicenter. The movie tells the story of Tim Ballard, portrayed by actor Jim Caviezel, best known for his role in The Passion of the Christ. After working as a special agent for years at the Department of Homeland Security, Ballard quit his job and embarked on a mission to save child-trafficking victims. Today, he runs the organization Operation Underground Railroad and works with law enforcement to rescue children from the darkest recesses of our world. According to Thorn, the United States remains one of the largest producers and consumers of child abuse content in the world.
Caviezel stressed the connections between sex trafficking and pornography, open borders and abortion. He hopes the movie will shake viewers from apathy into action to aid victims of human trafficking across the globe. As he said, "The greatest threat to freedom in this world is Christians pretending to care and doing nothing."
Is the subject matter too difficult for viewing? Our friends at Movie Guide said this: "Despite its heavy subject matter, THE SOUND OF FREEDOM offers a voice to the voiceless in this inspiring true story. Tim is motivated by hope and the biblical idea that 'God's children are not for sale.' This becomes the movie's anthem, and the message the filmmakers want to convey to audiences." The film is rated PG-13.
PRAY.
Lord, we call on Your powerful and strong name on behalf of children worldwide being persecuted by sex trafficking. Their bodies and minds are enslaved unjustly by the strongholds of this present evil. Give strength to those on the front lines who investigate and prosecute traffickers. Our words cannot express what our minds can barely comprehend, and our hearts feel when we hear of children deceived and transported to unknown places for purposes of sexual exploitation. We cry out against this horrific evil and pray for it to end. Just as You helped Moses and Aaron as they spoke boldly to Pharaoh on behalf of the Hebrew slaves in Egypt, help us speak up for modern-day slaves around the world.
ACT.
We asked Jim Caviezel to share his thoughts on the movie and how Christians can help. Watch our brief video conversation and hear directly from him. Let's help Jim reach his goal of bringing the movie to 2 million people—one for each of the 2 million trafficked children. Go see Sound of Freedom in theaters July 4-11. The more people who see it opening week, the more theaters will put it on their screens which will raise awareness. You can find a theater near you and buy tickets here.


---
Supreme Court Rules Against North Carolina Republicans Over Election Law Theory
"In a major election-law decision, the Supreme Court ruled on Tuesday that although the Constitution gives state legislatures the power to regulate federal elections, state courts can supervise the legislature's exercise of that power. By a vote of 6-3, the court rejected the so-called "independent state legislature theory," holding that the North Carolina Supreme Court did not violate the Constitution when it set aside a congressional map adopted by the state's legislature. Justice Clarence Thomas dissented, in an opinion joined by two of his conservative colleagues, Justices Samuel Alito and Neil Gorsuch." read more at SCOTUSblog
THINK.
Seen as one of the most important rulings of this session, this case involves basic constitutional questions: Do state legislators have the power, under the elections clause of the U.S. Constitution, to draw the boundary lines of congressional districts (and establish rules for such elections) under the ultimate supervision of Congress? Or do state courts have the authority to take that power away from state legislatures and dictate both boundary lines and election rules? We covered some of the intricacies of this case in May.
Writing for the majority, Chief Justice John Roberts said the Constitution's Elections Clause "does not insulate state legislatures from the ordinary exercise of state judicial review." Justices Clarence Thomas, Samuel Alito, and Neil Gorsuch dissented, saying the ruling unnecessarily committed the Federal Judiciary to an "uncertain path."
The "independent state legislature" theory has been used in legal arguments to defend purportedly gerrymandered congressional districts and to oppose state court rulings on absentee ballot policies during the 2020 election. If the Supreme Court had accepted it, it could have allowed state legislatures to pass election policies with little oversight from courts.
GOP advocates argue the case could have implications on the security of elections nationwide, as a decision siding with the North Carolina Supreme Court could give additional authority to state and federal courts to intervene in future election proceedings. But many on the other side of the aisle viewed the "independent state legislature" theory as too broad, arguing the end result could "negatively affect democracy" and open the door to further gerrymandering in a political climate with low voter trust.
PRAY.
Pray faithfully for our election system to remain lawful, fair, and free in America. Pray that God will move against any force that would seek to create chaos and unrest in our elections, from the local to the state to the federal level.
ACT.
Today, we see everything that has to do with life and godliness being arbitrated through the court systems. It's challenging to understand how judges and justices are placed into positions of authority and how they've come to have so much influence over our daily lives. Download and share this free resource we've created for you that helps you understand and pray for the American Justice System.


---
'Enough': Fewer Republicans and Democrats Believe Homosexuality is Moral, Poll Finds
"In the latest sign the LGBT agenda is losing support, the number of people who view same-sex relationships as 'morally acceptable' tumbled last year — a sign 'people are beginning to connect the dots' between legalizing same-sex marriage and indoctrinating schoolchildren in the LGBT agenda, a prominent pro-family leader says. Overall, support for homosexual relationships fell this year by 7%, the largest decrease of any of the moral issues posed by Gallup pollsters in their annual Values and Beliefs poll, conducted each May." read more at the Washington Stand
THINK.
The reversal in social acceptance of homosexual relations is driven by Republicans, whose support dipped by 15 points over the last year, from 56% to 41%. Yet support for homosexuality also fell a significant 6% among Democrats, from 85% to 79%. This is noteworthy given the Democratic Party's support for homosexuality. You can view a comparison of the party platforms on this issue here.
While a majority of Americans (64%) view homosexuality as morally acceptable, this is a significant drop from last year's all-time high of 71%. Or phrased another way, a growing percentage of Americans agree with God's design for sexual relations, at least on this issue.
Why? Could it be that God's purpose for human sexuality is an attractive contrast to the increasingly aggressive "pride" promotions? Are people beginning to see that celebrating sin carries consequences not just for themselves, but for their children and the environment they are growing up in?
As your friends may start to question the dangerous road our country went down when we embraced the sexual revolution, be ready to give them an alternative. If they recognize that homosexual behavior is dishonorable (Romans 1:26), it's an opportunity to magnify how God's purpose for our bodies is honorable (1 Thessalonians 4:2-8). He really is a good, loving God. The only consistent place to stand our moral ground is within His boundaries.

PRAY.
Heavenly Father, help Your church to shine in the darkness of our sin-sick society. Help us to think on what is true, honorable, just, pure, and lovely, and put those things into practice. (Philippians 4:8-9) And if we suffer for doing good, help us to honor Christ the Lord as holy, and be ready to give a reason for our hope with gentleness and respect. (1 Peter 3:13-17)
ACT.
If your pastor has ever preached the truth about God's purpose for sex and gender, he has likely received opposition. Don't let those who can't endure sound teaching be the only ones speaking into his life. Forward this news story to him today with an encouraging message: "Keep preaching the whole counsel of God. You're making a difference."
---
My Faith Votes—is a nonpartisan movement that motivates, equips and activates Christians in America to vote in every election, transforming our communities and influencing our nation with biblical truth. By partnering with national faith leaders, My Faith Votes provides resources to help Christians Pray, Think, and Act to create an America where God is honored in the public square.
Website | www.myfaithvotes.org Twitter | @MyFaithVotes Facebook | My Faith Votes
---
React
---
Comments