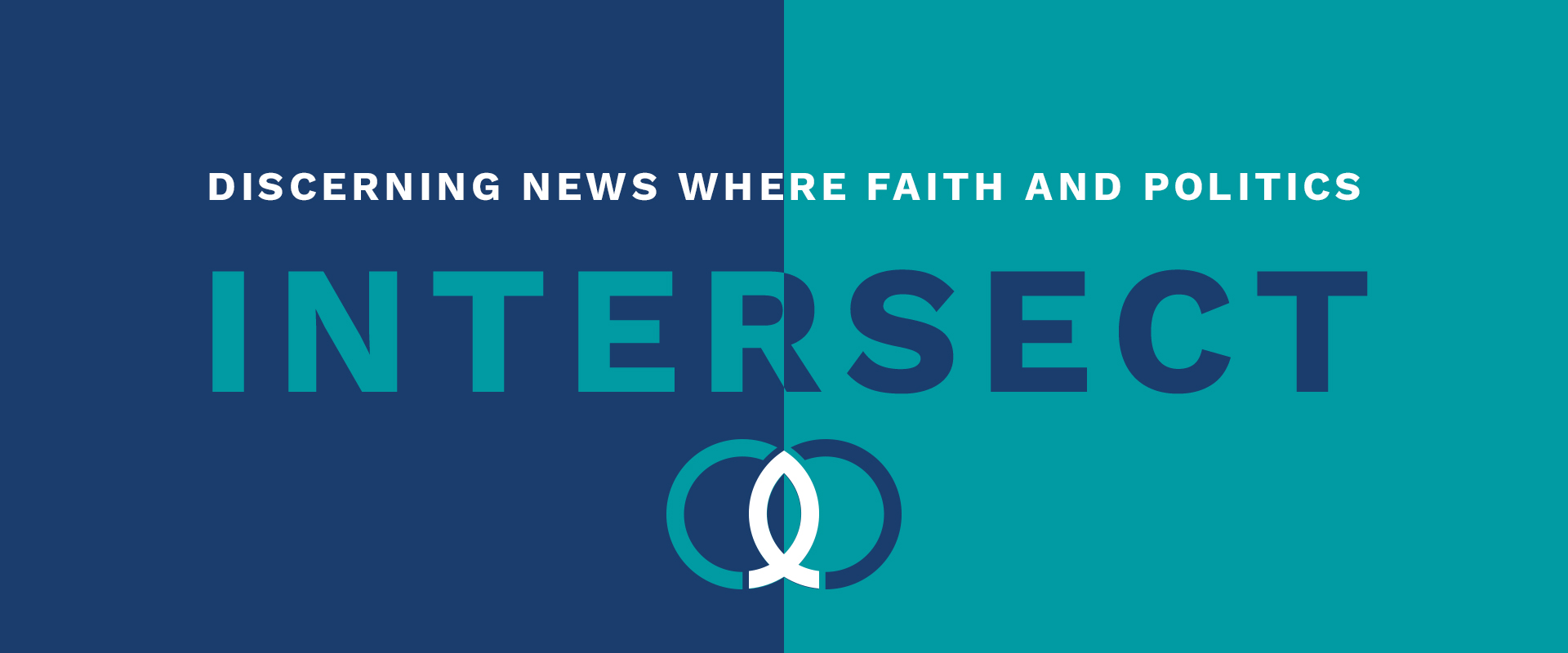 WEEKLY NEWS SUMMARY - JUNE 23, 2021
In this week's Intersect, read about:
---
Supreme Court Rules 9-0 for Catholic Social Services, Can't Be Forced to Violate Their Faith
"The U.S. Supreme Court has ruled that Philadelphia was wrong to reject Catholic Social Services because the group said it wouldn't violate its religious beliefs about sexuality. The city had limited ties with the Catholic agency which had declined to place children with same-sex couples. The court has ruled in the case, Fulton v. City of Philadelphia, 'The refusal of Philadelphia to contract with CSS for the provision of foster care services unless CSS agrees to certify same-sex couples as foster parents violates the Free Exercise Clause of the First Amendment. The City's actions burdened CSS's religious exercise by forcing it either to curtail its mission or to certify same-sex couples as foster parents in violation of its religious beliefs,' the high court ruled. The city of Philadelphia created an issue where there wasn't one because Catholic Social Services says no same-sex couples ever asked to work with them. CSS says if that did happen they would refer the couple to another group. Due to its biblical beliefs, the Catholic agency also does not certify unmarried couples." read more at CBN News
THINK.
This ruling means that because Catholic Social Services can continue partnering with the city to provide foster and adoption services, more children will ultimately be placed in loving homes. That is something to celebrate! Sadly, some who disagree with the court's ruling include self-proclaimed Christians. While the case was still being considered, over 400 religious leaders filed a brief in support of the city. Their argument revealed a belief that religious convictions must bend to the government's nondiscrimination ordinance. While this is a significant victory, it was hoped that this case would be used to overturn a previous court ruling that has been a hindrance to religious liberty for years: Employment Division v. Smith. This 1990 decision held that the government can restrict religious liberty if the restriction equally applies to secular activity. Unfortunately, this case still stands, even though justices Alito, Thomas, and Gorsuch believed it could have been overturned by Fulton v. City of Philadelphia. This article by National Review provides a more in-depth explanation of the judges' opinions. These three justices have also signaled that another case might be an opportunity to overturn Employment Division v. Smith. A high school football coach who was fired for praying on the 50-yard line after a game will be appealing to the Supreme Court. If the court decides to take his case, they may find it to be a better opportunity to overturn Smith and deliver a significant religious freedom victory. In other news, the Ninth Circuit Court of Appeals, which is one step beneath the Supreme Court, has ruled against Colorado cake baker Jack Phillips yet again. Phillips is being sued for declining to bake a custom cake celebrating a gender transition. You can watch my recent conversation with Jack here. He is an inspiring example of faithfulness in everyday life, even under pressure.
PRAY.
Praise God for the victory that enables faith-based foster and adoption agencies to operate in accordance with their religious beliefs and continue serving vulnerable children. Continue to pray for our judges and the decisions they make. Lastly, pray that more Christians will take the opportunity to care for orphans (James 1:27) and be a physical example of our spiritual adoption into God's family (Romans 8: 15-16).
ACT.
With over 400,000 children in foster care in the U.S., it's an extraordinary opportunity for churches to step in to care for these children. Promise 686 is a great organization equipping churches to support local foster and adoptive families, and biological families in crisis. Learn more about their work and find out how you can get involved here. Maybe you can be the catalyst to encourage your church to take action.
---
In Third Filibuster, Senate GOP Blocks Partisan Election Overhaul Bill
"Senate Republicans blocked a measure authored by Democrats that would overhaul election and voting laws, calling the legislation a partisan power grab. Democrats voted unanimously to begin debate on the For the People Act, a bill they framed as critical voting rights legislation. But the party only controls 50 votes in the Senate, and the measure did not win any of the 10 GOP votes needed to launch a debate on the measure. It marked the third time the GOP filibustered a major Democratic initiative since Democrats regained the majority in January. The vote was 50 Democrats in favor and 50 Republicans against. Democrats consider the measure a top priority, and the White House signaled its importance by sending Vice President Kamala Harris to preside over the debate even though she would not be able to cast a vote on the bill." read more at The Washington Examiner
THINK.
HR1 may be done for now, but the battle over elections will only intensify and the filibuster will become the critical chess piece for both parties. The filibuster means Democrats must either rewrite the bill to win GOP support or find enough votes in their own party to get rid of the filibuster. Several Democrats either oppose ending the filibuster or are hesitant. Democrats on Tuesday had secured last-minute support from centrist Democrat Joe Manchin of West Virginia by agreeing to allow a vote on his alternative measure, which would add a voter ID requirement and make Election Day a national holiday, among other changes. Democrats have repeatedly sought to cast the filibuster as "racist" to pressure senators to abolish it so they can push through President Joe Biden's agenda. But Democrats repeatedly used the filibuster to stop Republicans from advancing legislation under former President Donald Trump and Republicans had to hold "time-sapping roll call votes to break a filibuster and end debate on nominees a whopping 314 times" under Trump, compared to a total of 244 times under all previous presidents combined, according to Politico. Senate Majority Leader, Chuck Schumer, a New York Democrat, is weighing the idea of breaking the bill into smaller parts that might pass with some Republican support. In other voting news, yesterday New York City for the first time used Ranked Choice Voting for their mayoral primaries. The method, which allows voters to rank candidates by preference rather than selecting just their top choice, has gained some traction throughout the country, pushed by reformers who say it's a better election system. As of May 2021, 21 jurisdictions used Ranked Choice Voting in their most recent elections. Just two states — Maine and Alaska — have switched to it for both statewide and presidential elections, while a few more used it for 2020 presidential primaries. It had a serious impact on a 2018 Maine congressional race. A Republican had the most first-choice votes and was leading the Democrat narrowly by a couple of thousand votes. But two independent candidates also received a number of votes, and when their second-choice votes were redistributed, the Democrat wound up winning by a few thousand. No matter what, we need to stay vigilant in how our votes are counted. But more importantly, we need to simply show up to vote. As Dwight Eisenhower said, "Our American heritage is threatened as much by our own indifference as it is by the most unscrupulous office or by the most powerful foreign threat. The future of this republic is in the hands of the American voter."
PRAY.
Pray that God will move against any force that would seek to create chaos and unrest in our elections, from the local to the state to the federal level. Scripture says, "Woe to those who call evil good, and good evil; Who put darkness for light, and light for darkness; Who put bitter for sweet, and sweet for bitter" (Isaiah 5:20).
ACT.
While federal election reform hangs in the balance, there is still so much that can be done at the state and local levels to not only increase voter turnout but to mitigate election fraud. We have established an Election Integrity Now website for you to learn more and to be able to take action right now.
---
Florida Gov. DeSantis Signs Bill Requiring 'Moment of Silence' for School Prayer
"Florida's Republican Governor Ron DeSantis has signed a bill that would require at least one minute of silence, and possibly more, in public schools at the beginning of every day, so children can pray or meditate. DeSantis signed HB 529 known as the 'Moment of Silence in Public Schools' bill into law on Monday. Under the law, public-school principals will be required to direct first-period teachers to institute moments of silence, according to WFLA.com. 'It's something that's important to be able to provide each student the ability, every day, to be able to reflect and to be able to pray as they see fit,' DeSantis said. 'The idea that you can just push God out of every institution, and be successful — I'm sorry, our founding fathers did not believe that.' The governor added he was signing the measure to help protect religious freedom in the state. The new law, which covers all K-12 public school classrooms, says teachers can't make suggestions to students about what they will reflect on during the moment of silence. But teachers should encourage parents to have that conversation with their children. read more at CBN News
THINK.
The bill points out that the hustle and bustle of everyday life can make it difficult for people to find time to reflect in silence. "The Legislature finds that in today's hectic society too few persons are able to experience even a moment of quiet reflection before plunging headlong into the activities of daily life. Young persons are particularly affected by the absence of an opportunity for a moment of quiet reflection," the bill states. "The Legislature finds that our youth, and society as a whole, would be well served if students in the public schools were afforded a moment of silence at the beginning of each school day." School-sponsored prayer, in which students recite a prayer authored by a governmental authority, has been decreed unconstitutional by the U.S. Supreme Court since its ruling in Engel v. Vitale. That case, decided in 1962, ruled against a school district in New York that directed its principal to "cause the following prayer to be said aloud by each class in the presence of a teacher at the beginning of each school day: 'Almighty God, we acknowledge our dependence upon Thee, and we beg Thy blessings upon us, our parents, our teachers and our Country.'" In the 6-1 ruling, the Supreme Court found that this violated the First Amendment's Establishment Clause. In Wallace v. Jaffree (1985) the Supreme Court struck down an Alabama "moment of silence" law because it was enacted for the express purpose of promoting prayer in public schools. At the same time, however, the Court indicated that a moment of silence would be constitutional if it is genuinely neutral. Opponents of the Florida bill say the measure mandates school-sponsored prayer. However, though the brief amount of reflection time could be used for prayer, the bill expressly states that a teacher cannot make suggestions as to how a student should use the moment of silence. The Florida Governor is also making news after he topped a recent straw poll which showed that conservative voters preferred him over former President Donald Trump as their presidential candidate for 2024, 74 to 71 percent. According to the same poll, the two most important issues on the minds of voters are immigration and election integrity.
PRAY.
Lord, we pray that this "moment of silence" in schools will be a catalyst for students to recognize You as their Creator and Sovereign Lord. As we all are surrounded by tension, division and strife, help us to live out the words of Matthew 11:28-29 which says, "Come to me, all you who are weary and burdened, and I will give you rest. Take my yoke upon you and learn from me, for I am gentle and humble in heart, and you will find rest for your souls. For my yoke is easy and my burden is light."
ACT.
It's not just kids who need an intentional moment of silence to be able to pray. Adults do too. John Eldredge, author of the popular book Wild at Heart, created a simple yet profound tool to help you stop in the chaos of everyday life and focus on Jesus through an App called One Minute Pause. You can download the app here.
---
IRS Denies Tax Exemption to Christian Group, Associates Bible With GOP
"A top Internal Revenue Service official told a Christian group that "Bible teachings are typically affiliated" with the Republican Party as a rationale for denying its application for tax-exempt status. The Texas-based Christians Engaged filed an appeal on Wednesday to the IRS' denial, objecting to the tax agency's assertion that it is partisan. In a May 18 denial letter, IRS Exempt Organizations Director Stephen A. Martin said Christians Engaged is involved in "prohibited political campaign intervention" and "operate[s] for a substantial non-exempt private purpose and for the private interests of the [Republican Party]." A "legend" at the top of the letter shows nine letters of the alphabet being used as shorthand to represent something. In this letter's example, oddly, "D" represented "Republican." "Specifically, you educate Christians on what the Bible says in areas where they can be instrumental, including the areas of sanctity of life, the definition of marriage, biblical justice, freedom of speech, defense, and borders and immigration, U.S. and Israel relations," Martin wrote. 'The Bible teachings are typically affiliated with the D party and candidates. This disqualifies you from exemption under lRS Section 50I(c)(3).'" read more at the Daily Signal
THINK.
What God cares about, we should care about. If you tell someone what the Bible says about the sanctity of human life and encourage them to apply this to their political actions, are you automatically advocating on behalf of a political party? Clearly not. You are advocating on behalf of Biblical principles, which may or may not be upheld by a political party. First Liberty Institute, which filed a letter of protest on behalf of Christians Engaged, pointed out that while tax-exempt organizations cannot endorse for or against a political candidate, they do not have to remain neutral on public policy issues. This, by the way, is how My Faith Votes conducts our organization, which is a 501(c)(3) tax-exempt charity. We educate and advocate on behalf of policies, not political candidates, or parties. In related news, the U.S. Conference of Catholic Bishops overwhelmingly voted to draft a document providing guidelines on communion, or the Eucharist. The Catholic Church teaches that anyone who is "obstinately persevering in manifest grave sin are not to be admitted to holy communion", and also considers abortion to be a grave sin. For that reason, this document seeks to clarify whether politicians who advance legalized abortion can be denied communion. In response, U.S. Representative Jared Huffman (D-CA) suggested that the tax-exempt status be revoked for churches who deny communion to pro-abortion politicians--what he framed as an attempt to "politically weaponize religion." This sort of language is often used to discourage Christians from faithfully applying Biblical commands to all aspects of their life, including political engagement. However, there should be no dissonance between our private convictions and public actions. Does our Christian walk only apply to our private life, or to our political life as well? Is Jesus just as relevant in the halls of Congress as He is in church? Is He Lord of your entire life, or just your 'spiritual' life? Remember the admonition to the church in Colossae: "And whatever you do, in word or deed, do everything in the name of the Lord Jesus, giving thanks to God the Father through him." (Colossians 3:17)
PRAY.
Heavenly Father, I acknowledge you as Lord of all creation, and over all aspects of my life. Help me, as well as Your church, to walk carefully in faithfulness to You, doing good to everyone, and making the most of every opportunity because the days are evil. (Galatians 6:10, Ephesians 5) Let truth prevail in the legal case of Christians Engaged, and give us courage to speak Your Word with boldness.
ACT.
You may appreciate this article from My Faith Votes CEO, Jason Yates: Three Reasons Why Christians Should Vote. For more information on applying a Biblical worldview to your political engagement, check out the Biblical Worldview page on our website.
---
My Faith Votes—is a nonpartisan movement that motivates, equips and activates Christians in America to vote in every election, transforming our communities and influencing our nation with biblical truth. By partnering with national faith leaders, My Faith Votes provides resources to help Christians Pray, Think, and Act to create an America where God is honored in the public square.
Website | www.myfaithvotes.org Twitter | @MyFaithVotes Facebook | My Faith Votes
---
React
---
Comments