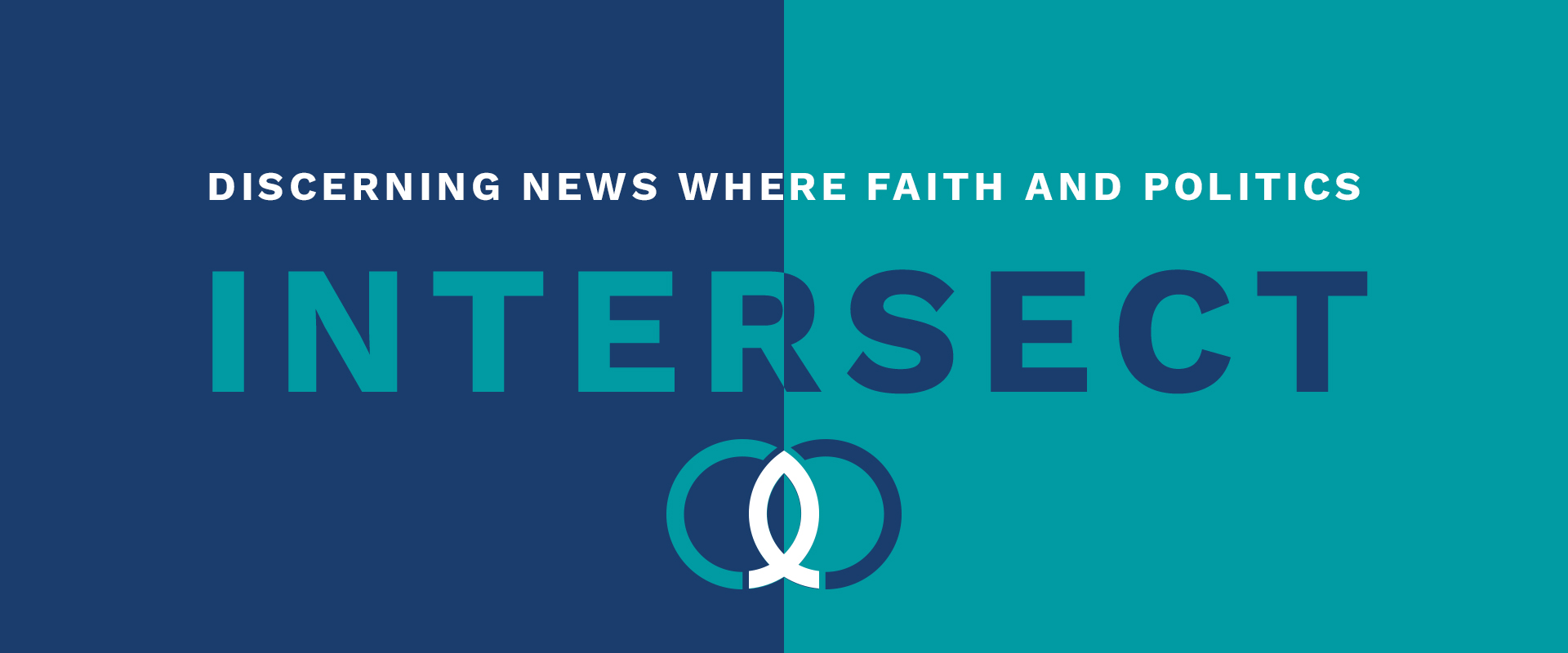 WEEKLY NEWS SUMMARY - JUNE 21, 2023
In this week's Intersect, read about:
---
Christians Who 'Heavily Engage' with the Bible 'Flourish in Every Domain,' Study Finds
"The American Bible Society says that Christians who 'heavily engage' with the Bible are among those who 'flourish in every domain of human experience.' In Chapter 3 of the State of the Bible 2023 report released last week, the American Bible Society said in its 'Flourishing and Hope' report that data showed more than 2,700 responses from U.S. adults." read more at Christian Headlines
THINK.
The Human Flourishing Index scored responses to questions about respondents' happiness, life satisfaction, mental and physical health, meaning and purpose, character and virtue, financial and material stability and close societal relationships. A second aspect of the survey, the Persevering Hope scale, asked people how they responded to life's difficulties. You can view the report here.
"While these scripture-engaged Christians go through the same hardships as everyone else, the difference is they experience life's ups and downs through a worldview shaped by the Bible's message of hope," John Farquhar Plake, who works for the American Bible Society, said. "No matter the circumstances, those who trust in God and connect with him through Scripture are happier than those who haven't yet sought God in his Word."
The study revealed a difference between those who actively practiced their faith versus those who did not. On the Human Flourishing Index as a whole, practicing Christians received an average score of 7.8 compared to 6.9 for non-practicing Christians and 6.7 for non-Christians. This is not surprising given the encouragement in Scripture to "be doers of the word, and not hearers only, deceiving yourselves…the one who looks into the perfect law, the law of liberty, and perseveres, being no hearer who forgets but a doer who acts, he will be blessed in his doing." (James 1:22,25)
PRAY.
According to the study, prayer was another contributing factor to human flourishing. Hebrews 4:16 encourages us, "Let us then with confidence draw near to the throne of grace, that we may receive mercy and find grace to help in time of need." Prayer and Scripture are also defenses against the schemes of the devil. (Ephesians 6:17-18) Spend some time praying for yourself, your family, the church, our country, and the world today.


ACT.
You can help put a Bible in the hand of every US Representative and Senator. Can you think of a more powerful reminder to them that with their position comes an obligation to serve you, to renew and preserve our Judeo-Christian principles, and to rededicate themselves to the United States of America as "one nation under God?" Join the My Faith Votes campaign called Bibles for Congress. Your donation here will enable our team to hand-deliver a Bible to every member of Congress this fall.
---
Supreme Court Sides with Feds, Tribes in Challenge over American Indian Adoptions
"The Supreme Court batted down a challenge Thursday from non-Indian families hoping to adopt American Indian children with a ruling supporting a federal law that says Indian children generally should be placed with their tribes. The 7-2 ruling rejected claims that the Indian Child Welfare Act, which was drafted to protect tribal children from being taken outside their communities, stretches beyond Congress' powers and violates the Constitution's 10th Amendment by forcing states to place children with tribes even when judges don't believe it's in the best interest of the child." read more at the Washington Times
THINK.
At stake is the future of a little girl whose biological mother wants her to be placed in the same adoptive family as her half-brother, yet the girl's native tribe is contesting the adoption efforts because that family is not Navajo. Both her biological mother and foster parents were plaintiffs in this case, challenging the federal law that gives the tribe authority to intervene in this girl's placement.
Federal vs. State Authority: Justice Alito agreed with the plaintiffs that the Indian Child Welfare Act (ICWA) "treads on the States' authority over family law. Domestic relations have traditionally been governed by state law; thus, federal power over Indians stops where state power over the family begins." Justice Thomas agreed. "The Constitution confers enumerated powers on the Federal Government. Not one of them supports ICWA," he wrote. In short, these two dissenting justices argued that the ICWA is a disturbing overreach of federal authority.
Tribal Sovereignty: In contrast, a joint statement by representatives of several Indian nations applauded the ruling, saying, "We hope this decision will lay to rest the political attacks aimed at diminishing tribal sovereignty and creating instability throughout Indian law that have persisted for too long." It is worth noting, however, that ICWA allows a native tribe to intervene in child custody cases that involve children who do not live on tribal land, simply because of their Native American ancestry.
Racial Discrimination: The plaintiffs argued that under the ICWA, non-Indian families are purposely discriminated against based on race in violation of the U.S. Constitution. The Court said the question of racial discrimination should be brought up in a state court instead, and the attorney representing one of the foster families has said he will do so.
Children's Rights: "Whatever authority Congress possesses in the area of Indian affairs, it does not have the power to sacrifice the best interests of vulnerable children to promote the interests of tribes in maintaining membership," Justice Alito wrote in his dissenting opinion.
If you're not a foster or adoptive parent, why should you care? Because caring for orphans is a significant duty of Christians, and this decision affects our ability to do this. (James 1:27) I have a family member who is a foster mom and shared her perspective on the ruling: "It's been important to introduce Indian culture to my native children, but it's been more important to love them as my own. Limiting adoption will impact thousands of native children by keeping them from families who can (and want) to provide them just that - a family."
PRAY.
Pray for the children in our foster care system who are waiting to be reunited with their biological parents or to find a loving adoptive family. Pray that they will find hope in the "Father of the fatherless," (Psalm 68:5) and that our adoption processes would be a help, not a hindrance, to their best interests.
ACT.
Interested in the topic of foster care or adoption? Wondering what you can do to help families who are undertaking this journey? Read our article on one mom's story of helping her church start a ministry to meet the needs of foster children and families. Then, I encourage you to check out Focus on the Family's ministry, Wait No More to plug into ways you can fulfill James 1:27.
---
No One Participates in Politics More than Atheists
"The last forty years of politics and religion has been focused squarely on the ascendancy of the Religious Right…A motley crew of white evangelicals and traditional Catholics locked arms on some social issues, started voting in large numbers for Republican candidates, and changed American politics forever…Here's what I believe to be the emerging narrative of the next several decades: the rise of atheism and their unbelievably high level of political engagement in recent electoral politics." read more at Graphs About Religion
THINK.
Looking through Political Scientist Ryan Burge's eye-opening graphs, atheists are more likely to donate to political candidates, put up yard signs, and contact public officials than any other religious group. Likewise, atheists are significantly more involved than evangelicals, often seen as the country's most politically active religious group. In total, Burge calculates, "the average atheist is about 65 percent more politically engaged than the average American."
While it's true that evangelicals outnumber atheists, as Burge points out, atheists are a growing force in electoral politics while evangelicals are shrinking as "nones" (no religious affiliation) continue to rise. This shift will fundamentally change American religion and politics. And very few people seem to be paying attention.
In a thoughtful opinion piece that reflects on Burge's data, there's a fundamental misunderstanding of the issue. It's not that conservative Christians are now lagging behind atheists in the "Effect Political Change" race. We have always been running entirely different races aimed at different finish lines. The atheist's aim is earthly, and that's it. The Christian's aim is heavenly, and that changes everything. For atheists, there is no King above earthly kings and no kingdom that will be left standing when all earthly kingdoms melt. To use systems of power to rid the world of injustice and sorrow, their urgency is now because no one is coming to the rescue, and now is the only time there is.
Christians, as the article points out, love our neighbors with our votes and advocacy, but we are not urgently trying to restore a paradise that won't otherwise be restored. Christ is the restorer. Our faith in Christ has something essential to contribute to the world around us, even in politics. There will never be a perfect candidate or perfect party because we live in a sinful world. But Jesus never excuses our apathy or inaction as a response to reality. God commands us to stand firm in our faith despite the culture around us (1 Peter 5:9); to faithfully fulfill our obligations to family and community (1 Timothy 5:8), and to use every opportunity to do good to those around us (Galatians 6:10). He calls for our obedience to Him.
PRAY.
Pray against apathy and indifference, and instead, pray for Christians to put their faith into action in the voting booth. Pray for the mission of My Faith Votes to continue to equip and motivate Christians to bring the light of their Christian influence into the darkened corners of culture, including the voting booth. He can do more with our votes than we imagine. He is, after all, a sovereign God who chooses to work through His image bearers.
ACT.
Activate Christians in your church by educating and equipping them to put their faith into action. How? Host a voter registration event at your church. It's easier than you might think. Just download the toolkit to get started. It will help you address some of your most pressing questions in conducting your voter registration event as well as help you understand how to make it a success. There are even teaching resources for your pastor.
---
Oregon Republican Walkout Ends with Parental Rights Restored and Infanticide Stopped
"Oregon Senate Republicans ended their historic walk-out Thursday after Democrats agreed to several compromises on two radical pro-abortion bills, including one that would have stripped parents of their right to be involved in their children's abortion decisions. Since May 3, Republican lawmakers blocked the Democrat-controlled Senate from passing legislation because of House Bill 2002, a radical pro-abortion bill that would allow girls as young as 10 to have abortions – or be coerced by an abuser – without their parents' knowledge. This week, the two parties reached an agreement to amend the pro-abortion bill and kill a second, Senate Joint Resolution 33, which would have amended the state constitution to create a 'right' to unrestricted abortion on demand, according to Oregon Right to Life." read more at LifeNews
THINK.
This isn't the first time. The Republican walkout, the sixth since 2019 and the longest in the 163-year history of the Oregon legislature, prevented a quorum in the Senate, freezing debates and floor votes on over 100 bills. Oregon requires two-thirds of legislators to be present for a quorum instead of a majority.
Last November, Oregon voters approved Ballot Measure 113 by an almost 70% margin aimed at stopping the walkouts. Lawmakers with 10 or more unexcused absences would be disqualified from reelection in the next term. Some say there is ambiguity in the measure and Republican senators are expected to file court challenges if the secretary of state's elections division bars them from registering as candidates in September.
Do the ends justify the means? "Because pro-life senators walked out, courageously putting their political careers on the line, HB 2002 was reined in," Oregon Right to Life executive director Lois Anderson stated. "Though the amendments do not resolve all our concerns, the changes to HB 2002 retain protections for parents and children, born and unborn, that would have been removed."
Saturday, June 24, marks the first anniversary of the U.S. Supreme Court's Dobbs ruling that overturned Roe v. Wade and returned the abortion decision back to the states. According to FiveThirtyEight, there were almost 94,000 fewer abortions in states that implemented bans post-Dobbs, between July and March alone. Abortions rose by 70,000 in states without bans, but that wasn't enough to make up for the decline. Overall, there were 24,000 fewer abortions in the U.S. between July of 2022 and March 2023, compared to a pre-Dobbs baseline. While the news is encouraging, data also points to huge shifts in how abortion is obtained in America, most notably through "abortion tourism" and a rise in chemical abortions. So, our work continues. And yet, it is obvious that elections matter.
PRAY.
Pray for women considering a decision between abortion or life for their pre-born baby, that they would choose life. Pray for men and women affected by abortion, that they would experience God's forgiveness and healing. Pray for God to open the eyes of the abortion workers, that the veil of deception would be removed, and their hearts would be softened to receive truth. And pray for legislators making decisions where life and death hangs in the balance.
ACT.
Use our simple and easy tool to send a message to your representatives in Congress, state legislators and Governor. Let them know that you stand in support of life and urge them to protect all life. There are 90 million Christians in the United States and millions more who believe in the sanctity of life for every pre-born baby. When we act together, our voices cannot be ignored.
---
My Faith Votes—is a nonpartisan movement that motivates, equips and activates Christians in America to vote in every election, transforming our communities and influencing our nation with biblical truth. By partnering with national faith leaders, My Faith Votes provides resources to help Christians Pray, Think, and Act to create an America where God is honored in the public square.
Website | www.myfaithvotes.org Twitter | @MyFaithVotes Facebook | My Faith Votes
---
React
---
Comments