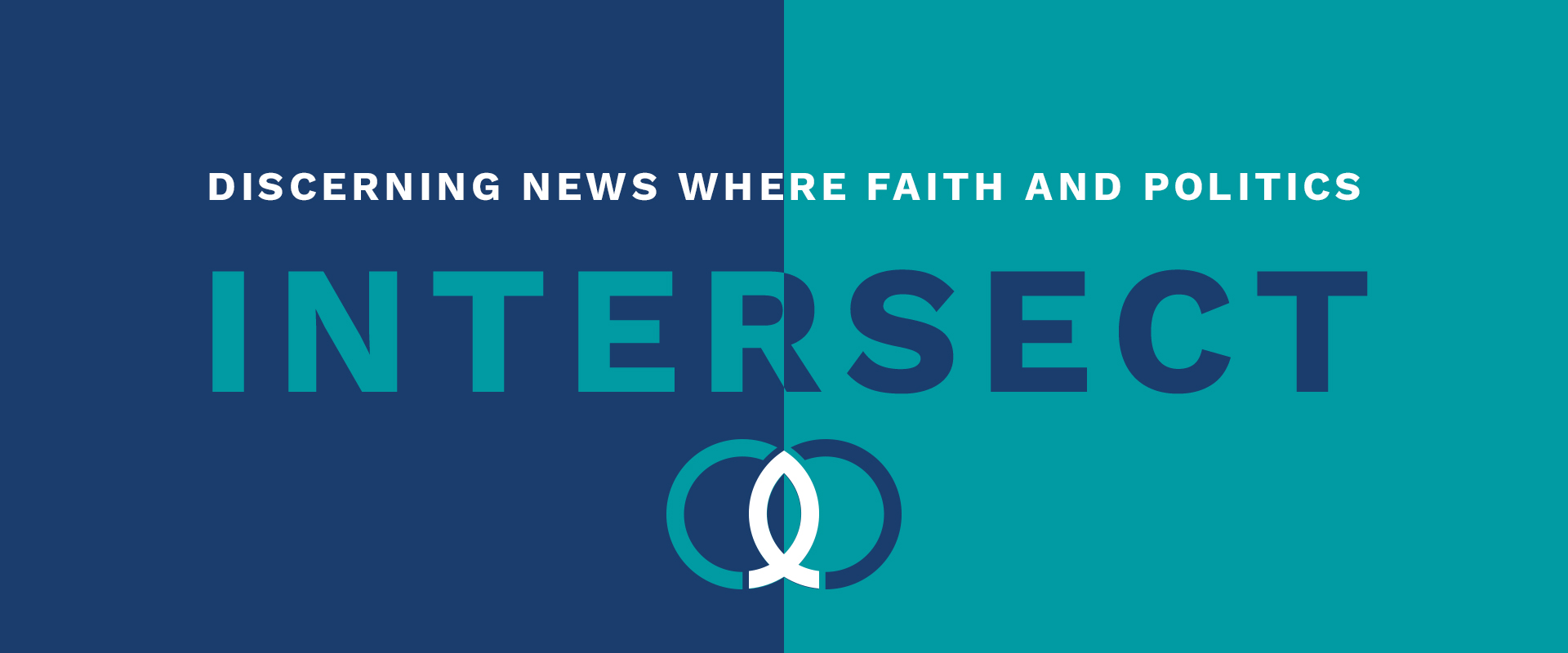 WEEKLY NEWS SUMMARY - JUNE 2, 2021
In this week's Intersect, read about:
---
'I'm a Teacher but I Serve God First': Virginia Teacher Placed on Leave After Refusing to Kowtow to Trans Ideology
"An elementary school in Virginia has placed a physical education teacher on leave after he told the school board that he wouldn't affirm transgender identities because it's tantamount to lying and child abuse, and stressed, 'I'm a teacher but I serve God first.' Leesburg Elementary School in Loudoun County placed the teacher, Byron 'Tanner' Cross, on leave Thursday, Fox News reported. The decision was made two days after Cross explained at a Loudoun County School Board meeting on May 25 why he wouldn't 'affirm that a biological boy can be a girl and vice versa.' 'My name is Tanner Cross and I am speaking out of love for those who suffer with gender dysphoria,' he told the board. 'We condemn school policies like 8040 and 8350 because it would damage children, defile the holy image of God,' he continued." read more at the Christian Post
THINK.
A public draft of Policy 8040 states that teachers would be required to use a student's preferred pronouns. "LCPS staff shall allow gender-expansive or transgender students to use their chosen name and gender pronouns, regardless of the name and gender recorded in the student's permanent educational record," the policy says. Policy 8350 states: "LCPS staff shall allow gender-expansive and transgender students to participate in such activities in a manner consistent with the student's gender identity." But Tanner Cross expressed in a short but moving speech (see here at the 1:48:14 mark), "I love all of my students, but I will never lie to them regardless of the consequences. I'm a teacher but I serve God first and I will not affirm that a biological boy can be a girl and vice versa because it's against my religion. It's lying to a child, it's abuse to a child, and it's sinning against our God." His statement is counter to the messaging that is now bombarding us, as "Pride Month'' officially began yesterday. President Biden gave his proclamation, stating: "While I am proud of the progress my Administration has made in advancing protections for the LGBTQ+ community, I will not rest until full equality for LGBTQ+ Americans is finally achieved and codified into law." Secretary of State Antony Blinken has authorized U.S. diplomatic missions across the world to fly the rainbow pride flag. The messages of "pride", "equality", and "transgenderism" are being heavily pushed on children this month as well. The Lego Group unveiled "Everyone is Awesome," its first LGBTQ-themed set for pride month. The Disney company has an entire website dedicated to rainbow "pride gear" and messaging, and Kellogg's Cereal unveiled its new "Together With Pride" rainbow edition cereal that donates $3 from every box to the LGBT group, GLAAD, as well as encourages children to "create your own gender" on the side of the cereal box. And the Nickelodeon's children's show "Blue's Clues & You" has released a video featuring a drag queen singing with gay, transgender, and non-binary animals during a parade for Pride Month. To the tune of the children's song, "The Ants Go Marching," drag queen, Nina West, urges the young audience to celebrate gay, lesbian, pansexual, transgender, non-binary, and bisexual parents. Two creations of God have been twisted by our culture: the family, and the rainbow. The promise God made to Noah and his descendants is found in Genesis 9:8-17. It is God's unconditional promise to never flood the entire earth again. This promise is not conditional in any way or dependent on us, but it serves to reveal God's faithfulness to His creation. The rainbow is the symbol God purposely used to remind us of this promise. The world will use the rainbow this month to symbolize hedonism and immorality. We know as believers the rainbow is given to us a reminder of God's faithfulness. Do not let the world tell you otherwise.
PRAY.
Lord, help me to not be taken in by worldly pressure, by social media, by the ad campaigns, by the multitude of voices that are telling us to abandon biblical principles. Help me to be attentive to hear Your voice. As Romans 12:2 says, "Do not be conformed to this world, but be transformed by the renewal of your mind, that by testing you may discern what is the will of God, what is good and acceptable and perfect." May I not have blurred reasoning, or distorted, delusional, or other worldly thinking. May I not be walking in fear of man, but be fearless in walking in Your way, oh Lord, the good, right, straight, paths of righteousness. Help me to find my identity not in a label, but in You alone.
ACT.
One of the most powerful interviews we have had is with Becket Cook, a former gay man who worked in the world of fashion and lived a promiscuous lifestyle until he had a transforming encounter with Jesus Christ which led him to walk away from homosexuality and surrender his life to Christ. His perspective on "pride parades" is worth watching. Watch his testimony here.
---
Biden Unveils Largest US Budget in History Fueled by Massive Social Spending
"President Biden on Friday released his massive $6 trillion budget for fiscal 2022 pushing a surge in spending on social programs and broadly defined infrastructure through tax hikes on businesses and higher-earners. The budget — which would set the US on course for higher spending as a percent of the economy than ever before and continue to balloon the national debt — calls for a 16-percent increase in non-defense spending. But it's also an aspirational document that requires Congress to enact it. Critics of Biden's first budget say it would undermine the economic recovery with higher taxes and inflation as COVID-19 fades." read more at The New York Post

THINK.
President Joe Biden on Friday unveiled a $6 trillion budget for next year that's piled high with new safety net programs for the poor and middle class, but his generosity depends on taxing corporations and the wealthy to keep the nation's spiking debt from spiraling totally out of control. Republican Senator Chuck Grassley of Iowa, who sits on the Senate Finance and Budget committees, calls the budget "reckless" and the timing "one of the oldest tricks in the book," suggesting the administration was hoping no one would notice, heading into a three-day holiday weekend. "Biden's budget would shatter previous records for spending and debt," Grassley says. "Under his plan, debt would reach 117% of gross national product. That's well beyond World War Two levels, even adjusted for inflation." Acting White House budget chief Shalanda Young said the Biden plan "does exactly what the president told the country he would do. Grow the economy, create jobs and do so responsibly by requiring the wealthiest Americans and big corporations to pay their fair share." This year's projected deficit would set a new record of $3.7 trillion that would drop to $1.8 trillion next year — still almost double pre-pandemic levels. The national debt will soon breach $30 trillion after more than $5 trillion in already approved COVID-19 relief. As a result, the government must borrow roughly 50 cents of every dollar it spends this year and next. Multi Trillion-dollar spending plans were not always viewed as political winners. Comparing the current moment to the 2008 financial crisis, when leaders were crafting recovery plans then, there was a recognition that a trillion dollars was a threshold they did not want to cross. But the COVID-19 packages have aided in changing that perception. Once you cross that threshold, it becomes normalized. Most people have no sense of a trillion anything, much less a trillion dollars. President Biden's proposed budget omits mention of the Hyde Amendment, opening the door to publicly funded abortions. Biden, who is Catholic, was a supporter of the amendment since it was enacted in 1976 — when he was a first-term US senator from Delaware — and included in federal spending bills since then. The Hyde Amendment bars federal funding of most elective abortions in Medicaid. It is not permanent law and is attached as a rider to budget bills specifying that the healthcare funding therein cannot be used for elective abortions except in cases of rape, incest or when the life of the mother is at stake. Like all presidential budgets, Biden's plan is a proposal. It would be up to Congress to implement it through tax and spending legislation and annual agency budget bills.
PRAY.
Pray for wisdom for our government officials in dealing with the budget, taxes, spending, debt, and social programs. Pray for clarity, wisdom, and unity for the nation as a whole when it comes to debt and the national budget.
ACT.
How do you put that amount of money into perspective? Here are some stats to ponder. In 2020, the federal government spent $18 billion per day. One million hours ago was the year 1885. One billion minutes ago was just after Christ was crucified. One million pennies stacked would stand 5,228 feet tall, but one trillion pennies stacked on top of each other would measure 986,426 miles high.
---
Ohio City Declares Itself 'Sanctuary' for the Unborn, Calls Roe a 'Lawless' Act
"An Ohio city of 20,000 people this week became the first in the state and one of the first in the Midwest to declare itself a 'sanctuary' for the unborn. The city council of Lebanon, Ohio, unanimously voted on Tuesday to declare itself a 'sanctuary city for the unborn' as part of an ordinance prohibiting abortion within the city limits. Lebanon is located about 30 miles northeast of Cincinnati. The town has no abortion clinics, according to The Cincinnati Enquirer. 'We are clearly saying in our community we do not think it is in our best interest to open a clinic or a hospital that does abortions,' said Amy Brewer, Lebanon's mayor. 'We are elected to make decisions based on what's good for our community today.'" read more at Christian Headlines
THINK.
Lebanon's ordinance language calls Roe v. Wade, the landmark 1973 Supreme Court ruling that permitted abortions, a "lawless and unconstitutional act of judicial usurpation." The Lebanon City Council voted unanimously for the ordinance after the lone council member to oppose the vote, Krista Wyatt, resigned Tuesday afternoon, citing what she described as a hyper-partisan political faction that has "hijacked" Lebanon's legislative agenda. Twenty-eight other cities in the United States have passed similar sanctuary city laws effectively banning abortion. A group called Sanctuary Cities for the Unborn is behind the movement, giving insights and resources on how to bring the ordinance to your own city. While communities are taking a stand to value life, the scientific community is seeking to extend the time experimentation can be done on human embryos. Tragically, the already accepted standard for experimenting on a living human embryo is up to 14 days (the equivalent of a woman being 5-6 weeks pregnant) but that could soon be extended, proposing to grow human embryos beyond two weeks which would be considered on a case-by-case basis. No limit has been defined and it opens a whole host of issues. In the US, the federal government is prohibited from funding research involving human embryos. But that kind of research can be done with private money. The National Institutes of Health has been waiting for the new guidelines to help decide whether to lift a moratorium on government funding of research involving embryos. Science without morality only asks "can," never "should." In China, population control policies have had a devastating effect and now the nation faces an underpopulation problem. The Chinese population is growing old and increasingly male after decades of oppressive population control measures so the Chinese Communist Party will ease birth limits to allow all couples to have three children rather than two, according to government mouthpiece Xinhua News Agency. China's one-child policy, which began in 1980, eased in 2015 to two children per couple. Approximately 23 million unborn babies are aborted in China every year. Last year it was reported that the Chinese government was using abortion and forced sterilization among Uighurs and other minorities as part of a sweeping campaign to curb its Muslim population. "Behold, children are a heritage from the LORD, the fruit of the womb a reward." (Psalm 127:3) Nations that ignore this wonderful truth lose a blessing and end up hurting themselves.
PRAY.
Pray for your own city. Pray for those in leadership positions to take actions that protect life, whether that be through outlawing abortion, supporting churches and organizations that provide resources for families and children or creating awareness and support from the community to stand for life. Pray for the scientific community, that they would adhere to God's laws of nature, having regard to the safety and well-being of the natural order. And pray for the people of China, for a renewed value of life.
ACT.
LoveLine is a great ministry that connects pregnant or single moms in need to the proper resources. Sometimes that means public assistance or private donations or simply a community of like-minded people who will come around her in prayer. Often, it is some combination of all three. You can find out how to volunteer and get involved here.
---
Texas Democrats Stage Walkout to Block Passage of Sweeping Election Overhaul Package
"Texas Democrats walked off the state House floor late Sunday night to prevent the passage of a massive overhaul of state elections procedures that would add new impediments to voting in future elections and limit the availability of certain types of voting predominantly used by low income and handicapped people. The late-night drama came after hours of debate and procedural objections on Senate Bill 7, which had passed the state's upper chamber early Sunday morning and looked to be headed to Gov. Greg Abbott's (R) desk for his signature. The Texas Tribune reported that Democrats appeared to be slowly leaving the floor throughout the night before the remaining members of the party walked out around 10:30 p.m. That left the state House without enough members present for a quorum and Republicans unable to pass the bill before its midnight deadline." read more at The Hill
THINK.
Is it possible to safeguard the right to vote and protect against voter fraud? We believe it is not only possible, but imperative. When a new election law is reported as creating 'impediments to voting' it is important to evaluate the details and consider the reason for the rules and whether they deny or abridge someone's right to vote. For example, is a person's right to vote curtailed by requiring them to enter a building instead of voting in their car (provided they are not disabled)? Or is their right being denied by requiring them to provide proof of their identity, which is required for other aspects of life, such as boarding a plane? How might these measures guard against voter fraud? The Heritage Foundation has identified nine ways state legislators can reduce the opportunity for fraud, many of which would have been enacted by the Texas election bill. HR1, the "For the People Act", would prohibit most if not all these provisions. While HR1 is currently facing an uphill battle in the Senate, another bill known as the "John Lewis Voting Rights Advancement Act" (HR 4), seeks to override state election laws by another method. It requires states to obtain approval from the federal government before enacting a law requiring proof of voter identification. In 2013, the Supreme Court declared that the federal government can only require approval of state or local election laws if voting discrimination was occurring. Therefore, the only reason to propose laws like HR 1 and HR 4 is if voter ID requirements and other election security measures are viewed as discriminatory (which is how the Texas election integrity bill was framed). It is important to be discerning and determine whether descriptions of legislation match reality.
PRAY.
Heavenly Father, we pray for honest and secure elections in our country. May the voice of the people be heard without suppression and fraudulent distortion. Help us to be faithful to you as we exercise discernment in evaluating media reports. May many more believers be diligent to exercise the right to vote, never take it for granted, and strive to protect it for future generations.
ACT.
In response to the threat from the "For The People Act", also known as HR1 and S1, we have launched an election integrity website, where you can take action. This website enables you to easily contact your senators and state legislators, send a letter to your election officials, and volunteer in your community's elections. Visit ElectionIntegrityNow.org
---
My Faith Votes—is a nonpartisan movement that motivates, equips and activates Christians in America to vote in every election, transforming our communities and influencing our nation with biblical truth. By partnering with national faith leaders, My Faith Votes provides resources to help Christians Pray, Think, and Act to create an America where God is honored in the public square.
Website | www.myfaithvotes.org Twitter | @MyFaithVotes Facebook | My Faith Votes
---
React
---
Comments