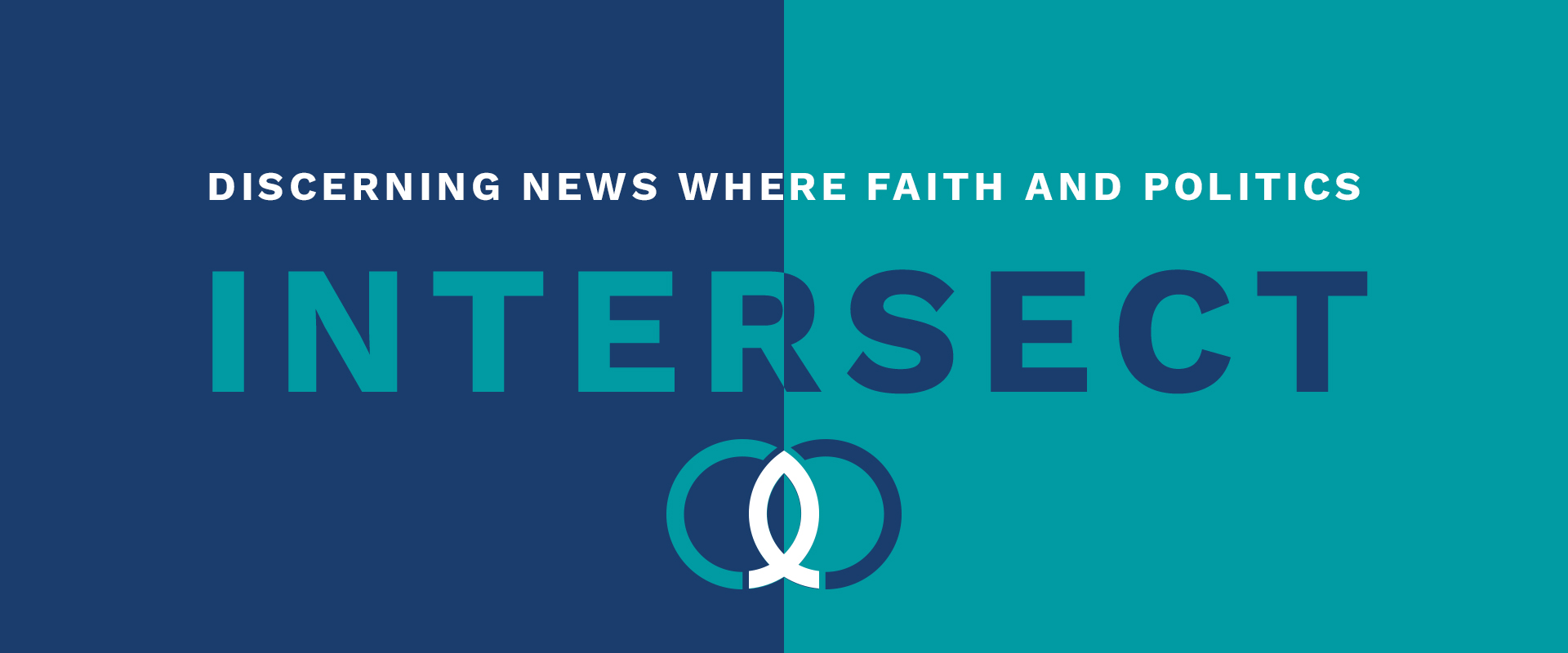 WEEKLY NEWS SUMMARY - JUNE 10, 2020
In this week's Intersect, read about:
---
Trump Signs International Religious Freedom Executive Order, Approving $50 Million for Programs
President Donald Trump called upon the nations of the world to end religious persecution on Tuesday. "Because there is so much religious persecution in the world it also hurts all the other human rights," said Sam Brownback, US Ambassador At Large for Religious Freedom. In the Oval Office, Trump signed an executive order that appropriates $50 million for programs that advance international religious freedom around the world. "I think it can be massive, but part of my modeling in this program is wanted to have religious freedom be like the human trafficking issue," Brownback said. "It would be one that embraces everybody and it goes grassroots." Under the order, Secretary of State Mike Pompeo will develop country-specific action plans for prioritizing religious freedom. To top that, all personnel assigned to positions overseas will now receive international religious freedom training. "It makes international religious freedom a whole of government approach on our basic foreign policy apparatus," Brownback said. The executive order comes as Christian persecution and anti-Semitism are on the rise around the world. read more
THINK.
According to Open Doors' World Watch List, the countries of North Korea, Afghanistan, and Somalia are at the top of the list as the most dangerous for Christians today. Yet, in many nations around the world, the Gospel is spreading rapidly despite tremendous persecution. In Iran, Islamic Clerics are warning against the spread of Christianity. Because the state views Christianity as an action against national security, they implemented a plan to try to stop the spread of Christianity. They are closing down house church gatherings, arresting Christians, and issuing long term prison sentences. The state is worried as the nation's youth seem to be distancing themselves more from Islam; in response, the country is financing Islamic organizations to promote Islam to the nation's youth. In India, a young Christian boy was brutally murdered by religious fanatics in the Hindu-majority country. This young boy's body was cut into pieces by his tormentors all because he believed in Jesus. Persecution Relief Founder Shibu Thomas said it is by far the most disturbing case of Christian persecution he has ever seen. Thomas also shared, "My mind has been gripped by the thoughts of an innocent child who desired to serve Jesus Christ." We cling tight to the hope we have through Jesus Christ's life, death, and resurrection. And we find comfort knowing Madkami is now in the presence of our Savior (Revelations 20:4). The truth of Matthew 5:10 speaks loudly saying, "Blessed are those who are persecuted for righteousness' sake, for theirs is the kingdom of heaven."
PRAY.
Pray today for our Christian brothers and sisters around the world who live under extreme persecution. Pray for their courage to increase in the Lord and for God to continue to use them to spread the truth of the Gospel. Pray for your own heart, and other Christians in America, that we would not take our religious freedom for granted. Pray that we would seek to be used by God to share with others how they can have eternal life through Christ Jesus.
ACT.
We encourage you to take a few minutes to read Ken Blackwell's insightful article titled, Race, Justice, and Religious Liberty in the World. As an African American who has held elected office at the state and local level and serves as the U.S. Ambassador to the United Human Rights Commission, Mr. Blackwell has a unique perspective on what's happening in our nation and on Trump's executive order on religious freedom. Christians must understand the harsh reality that about a million Christians (mostly people of color) have been killed for their faith in the past decade around the globe.
---
'A True Public Servant': Retired St. Louis Police Captain Slain by Looters, 'Serving to the End'
Since the death of George Floyd, the nation has seen property destroyed, innocent lives put in danger, and acts of violence resulting in numerous deaths. Violent protestors have burned down homes, vandalized businesses, and murdered unsuspecting victims. Among those killed was a retired St. Louis, Missouri police captain. David Dorn was shot and killed early Tuesday by people who broke into a pawn shop in St. Louis. Dorn was found dead on the sidewalk in front of Lee's Pawn Shop and Jewelry. His wife told the St. Louis Post-Dispatch that her husband was a friend of the shop's owner and frequently checked on it when alarms went off. A longtime colleague of Dorn's said he was a gregarious and outspoken leader who mentored young people and insisted on strict ethical conduct among his employees. The 77-year-old joined the police academy in November 1969 and graduated in May 1970. He was assigned to patrol support when he retired from the St. Louis Metropolitan Police Department in October 2007. Dorn's personality was "bigger than life", said former St Louis County Police Chief Tim Fitch. "He was a fun guy, a happy guy." Fitch tweeted, "A true public servant. Protecting & serving all the way to the end. None of us who knew you are surprised you went out fighting at Lee's Pawn this morning. God speed my friend." read more
THINK.
President Trump also expressed his condolences to Dorn's family in a tweet, saying, "Our highest respect to the family of David Dorn, a Great Police Captain from St. Louis, who was viciously shot and killed by despicable looters last night. We honor our police officers, perhaps more than ever before. Thank you!" A suspect has since been arrested and charged with first-degree murder. We pray for justice for this man who fulfilled the Scripture: "Do not forsake your friend and your father's friend...better is a neighbor who is near than a brother who is far away." (Proverbs 27:10) Last Friday, Vice President Mike Pence held a listening session with several black faith leaders to address racial equality, criminal justice reform, and our faith. Pence began his address saying that "A place to start a conversation is a place of worship," as he believes worship is, "The wellspring of our nation's strength. It's been the wellspring of our national unity and our steady march toward a more perfect union." His statement is reminiscent of Benjamin Franklin's plea to the Constitutional Convention in 1787, when our founding fathers faced sharp disagreements that threatened to divide them and destroy their whole endeavor to create a government for our new country. Franklin stated, "We have been assured, Sir, in the sacred writings, that 'except the Lord build the House they labor in vain that build it.' I firmly believe this, and I also believe that without his concurring aid we shall succeed in this political building no better than the Builders of Babel." His advice is relevant for us today as we commit to pray earnestly for our elected leaders, and for the church leaders who advise them.
PRAY.
Keep Ann Marie Dorn, David's wife, in your prayers. Pray for God's comfort for her and the rest of the family as they grieve.
ACT.
Archbishop Viganò wrote a powerful letter to President Trump titled: Eternal struggle between good and evil playing out right now. This is a vital read for this unique and tense cultural moment we are living in, and it should remind us to pray fervently.
---
Minneapolis Mayor Jacob Frey Rejects City Council's Push to Defund Police, Despite Veto-Proof Majority
Minneapolis Mayor Jacob Frey on Sunday reiterated that he doesn't support abolishing the city's police force, hours after a veto-proof majority of members of the Minneapolis City Council said they want to take that drastic step in the wake of the in-custody death of George Floyd. Frey, who ordered a police station to evacuate as rioters burned it to the ground last month, was shouted down by a large gathering of demonstrators near his home on Saturday when he defied their demands to shutter the city's police forces entirely. "I'll work relentlessly with Chief [Medaria] Arradondo and alongside community toward deep, structural reform and addressing systemic racism in police culture," Frey said in a statement to KARE. "We're ready to dig in and enact more community-led, public safety strategies on behalf of our city. But, I do not support abolishing the Minneapolis Police Department." read more
THINK.
It's not exactly clear what the Minneapolis City Council meant when they stated their intent to "End our city's toxic relationship with the Minneapolis Police Department", and "to end policing as we know it and recreate systems that actually keep us safe." City Council President Lisa Bender said that their efforts at incremental reform had failed, and in an interview with CNN, stated that a police-free future is an "aspirational goal." It's not only in Minneapolis where elected leaders are working to defund the police department. The mayor of Los Angeles also announced that the city will cut 100-150 million from the Los Angeles Police Department to be reinvested in black communities and communities of color instead. In addition, U.S. House Democrats have introduced a bill that, among other things, allows lawsuits against police for misconduct, and bans chokeholds and requires body cameras for federal law enforcement officers. A Biblical approach will recognize that because humans are inherently sinful, law enforcement is always needed. However, we also need churches and ministries to have a greater influence on the culture, promoting morality and uprightness in our communities. One example of a new approach is the city of Camden, New Jersey. In 2012, they disbanded their current police department, abolished the police union, and created a new police department. They rehired many former officers, added a larger police presence and made specific changes to their training, patrolling, and community outreach. One core aspect of the revision is that the department now works together with local churches and ministries to help prevent crime. Top police officers hold weekly meetings with leaders of local ministries to know better where the troubles lie and how they can respond to them. They have seen improvement: in the last eight years, violent crimes have dropped by 42 percent, and excessive force complaints have dropped by 95 percent since 2014.
PRAY.
Pray that the Minneapolis city council, and other cities, will have Godly wisdom as they attempt to make reforms. Pray that their actions will better promote the role of the police to protect the innocent. And pray that churches and ministries will be included in the discussion and will give sound advice.
ACT.
We encourage you to read this article by Ryan Denison on the Denison Forum about responding to these issues with reason rather than fear.
---
May Sees Biggest Jobs Increase Ever of 2.5 Million as Economy Starts to Recover From Coronavirus
Employment stunningly rose by 2.5 million in May and the jobless rate declined to 13.3%, according to data Friday from the Labor Department that was far better than economists had been expecting and indicated that an economic turnaround could be close at hand. Economists surveyed by Dow Jones had been expecting payrolls to drop by 8.33 million and the unemployment rate to rise to 19.5% from April's 14.7%. If Wall Street expectations had been accurate, it would have been the worst figure since the Great Depression. As it turned out, May's numbers showed the U.S. may well be on the road to recovery after its fastest plunge in history. "It seems the damage from the nationwide lockdown was not as severe or as lasting as we feared a month ago," said Scott Clemons, chief investment strategist at Brown Brothers Harriman. The stock market roared higher following the report as the Dow Jones Industrial Average gained 800 points as of 11 a.m. ET. Government bond yields raced higher as well, with the benchmark 10-year Treasury most recently at 0.91%. President Donald Trump expressed pleasure at the report, directing two tweets to CNBC. The May gain was by far the biggest one-month jobs surge in U.S. history since at least 1939. The only previous month to register more than a million jobs was September 1983, at 1.1 million. read more
THINK.
This recent news about the economy has come as a surprise and a relief to many. Yet, the issue of the economy has been overshadowed in many ways by the issue of race relations and the specific handling of the coronavirus pandemic. According to a recent NBC News and Wall Street Journal Poll, 80 percent of respondents feel the country is "out of control." Even though most of these critical issues are now in the hands of states, governors, and local officials, many Americans in key swing states say they believe Trump is to blame. According to a recent poll, Trump trails Biden in Ohio, Arizona, and Wisconsin, all critical swing states. President Trump won all three states in 2016, but it appears they are now at play. Biden leads Trump on the issues of race relations and coronavirus, while Trump leads Biden on the point of the economy. Whether the polls are accurate or not, all of these issues should remind Americans, and Christians in particular, elections matter. The presidency, congressional seats, governor, state legislatures, mayor, city council, school board, all significantly impact our lives. With just 145 days until the November 3 election and some state primaries still taking place, Christians need to make sure they are ready to vote in every election. You can get the latest voting information for your state at the My Faith Votes Voting Assistance Center.
PRAY.
Pray for those who need the strength that only the Lord can bring. As these last few months, in particular, have been challenging, pray for those who are physically, emotionally, and mentally exhausted. Pray for those worried about their children, worried about finances, health, or the future in general. Ask the Lord for His strength, trusting Him with each moment of each day.
ACT.
We recognize that even with this uptick in the economy, there are many people still struggling because they have lost loved ones in this season or they have lost their job. We encourage you to explore how you can roll up your sleeves to help—Check-in with your neighbors and your church. Your action could look like helping someone financially, or it could be as simple as cooking a meal for someone and offering encouraging words.
---
My Faith Votes—is a nonpartisan movement that motivates, equips and activates Christians in America to vote in every election, transforming our communities and influencing our nation with biblical truth. By partnering with national faith leaders, My Faith Votes provides resources to help Christians Pray, Think, and Act to create an America where God is honored in the public square.
Website | www.myfaithvotes.org Twitter | @MyFaithVotes Facebook | My Faith Votes
---
React
---
Comments