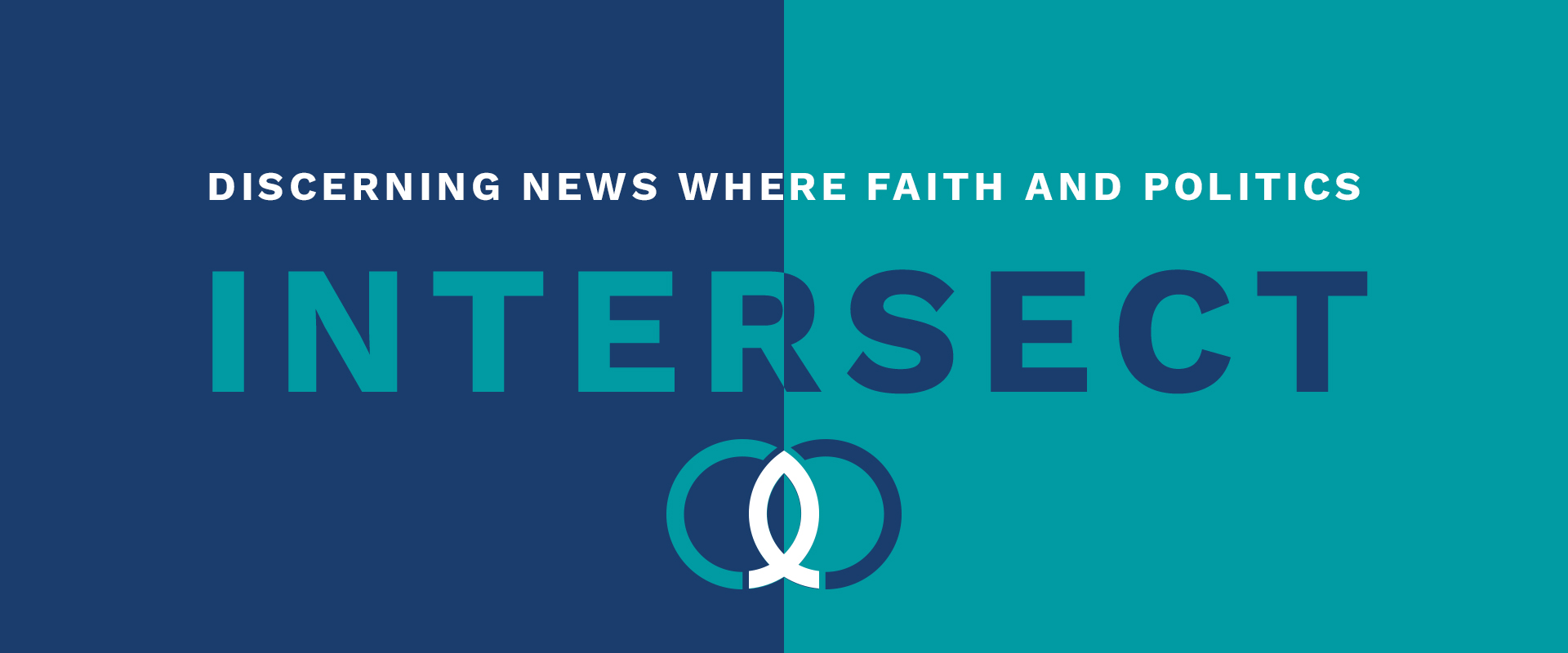 WEEKLY NEWS SUMMARY - JUNE 1, 2022
In this week's Intersect, read about:
---
My Faith Votes 'Write Now' Campaign Secures Outreach to 300,000 Eligible Voters in 10 days
"'Write Now,' a campaign launched by My Faith Votes, has volunteers committed to sending 300,000 handwritten letters and postcards to Christian voters in its first 10 days. While the postcard goal for 2022 has been reached, the ministry is working toward a combined goal of sending more than 1,000,000 postcards and letters before the November General Elections. My Faith Votes is a nonpartisan organization that mobilizes people of faith to vote in every election. The 'Write Now' campaign is a national effort with over 1,000 volunteers to date in the 2022 efforts, writing personalized messages to other Christians encouraging them to vote in the 2022 midterm elections. Within its first 48 hours, 'Write Now' volunteers committed to writing over 100,000 postcards and letters to eligible voters around the country. 'The overwhelming support of our Action Partners reveals the heart of Christians in America,' said Jason Yates, CEO of My Faith Votes." read more at My Faith Votes
THINK.
You've done it before, let's do it again! My Faith Votes executed multiple Get Out the Vote campaigns at the state level in Virginia in 2021 and saw tremendous success–an unprecedented 57% increase in Christian voter turnout. During the Senate runoff election in Georgia, My Faith Votes planned to send 500,000 postcards, but that number doubled to 1 million due to the overwhelming response from volunteers. At a time when there is so much wrong with America, it's hard to know what to do. But we know if you're rooted in prayer, have the right tool and the right message to share, sending a letter to someone who may not otherwise vote is easy and effective. "Let us consider how to stir up one another to love and good works…" (Hebrews 10:24)
PRAY.
Lord, we pray that through a simple letter that is handwritten and prayed over, that more Christians would see the need to put their faith in action and vote. Thank You for all those who are volunteering to be a part of this unique campaign to impact the midterms. We pray for more to join this effort, so a million lives are touched. May lives be influenced for Your glory.
ACT.
Anyone can volunteer. Volunteers are provided with instructions, letter templates, and lists of names. Letters can be written individually or by families, Bible studies, small groups, and church congregations. Get your pen ready and join the "Write Now" campaign here.
---
'Life Begins at Conception': Oklahoma Gov. Kevin Stitt Signs Nation's Most Restrictive Abortion Ban into Law
"Oklahoma Governor Kevin Stitt signed the nation's strictest abortion ban into law on Wednesday, banning the procedure from the moment of conception. House Bill 4327 went into effect immediately after Stitt signed it on Wednesday. It is considered the strictest abortion law in the nation because it restricts physicians from performing abortions at any point in the pregnancy except for in cases of rape, incest or a medical emergency. 'I promised Oklahomans that as governor, I would sign every piece of pro-life legislation that came across my desk, and I am proud to keep that promise today. From the moment life begins at conception is when we have a responsibility as human beings to do everything we can to protect that baby's life and the life of the mother,' Stitt said in a statement." read more at Christian Headlines
THINK.
Emily Wales, President and CEO of Planned Parenthood Great Plains, responded to the new law by stating, "Today, for the first time in nearly 50 years, abortion is illegal – at every stage of pregnancy – in an American state. People who can become pregnant now have fewer rights and fewer protections in Oklahoma than in any other state in the union." Speaker Nancy Pelosi recently expressed a similar sentiment when commenting on the expected reversal of Roe v. Wade, stating, "this is not right. This is not the path of freedom for our country". Pointing to two examples of "defining freedom more fully," she said, "the genius of our founders was to have a Constitution that enabled freedom to expand. And it did with marriage equality, it did with Roe v. Wade." It is no coincidence that both examples of "expanding" freedom are instances of fundamental rebellion against God's good, created order. As the history in the Bible and the whole history of the world demonstrate, such "freedom" only yields societal disorder, and less freedom. We are experiencing this regressive view of "freedom" also produces the suppression of religious liberty, the destruction of women's sports, and invasion of privacy for girls in their own restrooms. Sin presents itself as liberation, but Jesus was right when He said, "Truly, truly, I say to you, everyone who practices sin is a slave to sin." (John 8:34) The next time someone tells you pro-lifers just want to restrict women's freedom, it would be worth asking, "How do you define freedom?" If we legally gave mothers the "freedom" to kill their toddlers, clearly that would not make us a freer society. What is the difference between a toddler and an unborn baby that would make one worth protecting and one not? If Roe v. Wade is overturned, some states will allow abortion up to birth; some will prohibit it from the moment of conception. This article shows the current position of each state. The mainstream narrative will paint the latter as oppressive, and the former as havens of freedom. It will be the citizens of the states that protect all innocent life and that seek to secure freedom as defined by God that will enjoy the most liberty. And as Autumn Leva, vice president of strategy for Family Policy Alliance, noted, "citizens' pro-life vote will matter more than it ever has before…and lawmakers will be more directly responsible for the lives saved and lost in their states than ever before."

PRAY.
Lord Jesus, I know that I was once a slave to sin. But You said that "If you abide in my word, you are truly my disciples, and you will know the truth, and the truth will set you free…The slave does not remain in the house forever; the son remains forever. So if the Son sets you free, you will be free indeed." (John 8:31, 35-36) I cannot thank You enough for setting me free! Help me abide in Your word and commit to helping others discover this freedom in You as well. In Your precious Name, Amen.

ACT.
Focus on the Family is hosting See Life 2022 – a free livestream event on June 14 at 7:00 PM MST. Featuring speakers such as Ben Shapiro, Candace Owens, Jeanne Mancini, and others, this event can equip you to navigate the anger and confusion in culture over the issue of life. Register to access the event link here.
---
This is the First Thing Americans Did When They Heard of D-Day Invasion
"According to news reports, individual testimony, and historical photographs, the first thing Americans did when they first heard the news of the D-Day invasion, was they prayed. Nationwide stores closed and regularly scheduled prayer services were held in major cities. Keith Huxen, a senior director at the National World War II Museum explains: 'The reaction of many Americans, whenever they found out what was happening that day, was to attend religious services. Churches and synagogues were reportedly packed across the country.'" read more at Christian Headlines
THINK.
Monday, June 6, marks the 78th anniversary of D-Day and the Battle of Normandy. It's almost impossible to exaggerate the importance of the D-Day invasion. As one historian notes, "Without question, a failed invasion of France would constitute a calamity of incalculable proportions for the Western allies." Who knows how long it would have taken to organize a second invasion attempt—time that might have allowed a German victory. So as word of the assault trickled out, Americans began to pray. Stores closed, and prayer services were swiftly organized in small towns and big cities. Photographs taken on June 6, 1944, show just how widespread these prayers were. One picture shows a sign in the window of a novelty button shop reading, "Sorry, no covered buttons today. We are praying for the success of the invasion." A sign in front of a church reads, "Come in and pray for Allied victory: Hourly intercessions on the hour." Another photo shows Americans in a synagogue, bowing their heads in prayer. At a noon Mass, we see men and women on their knees, fervently praying. As President Reagan put it 40 years later, speaking at Normandy, "The Americans who fought here that morning knew word of the invasion was spreading through the darkness back home. They fought -- or felt in their hearts, though they couldn't know in fact, that in Georgia they were filling the churches at 4 a.m., in Kansas they were kneeling on their porches and praying, and in Philadelphia they were ringing the Liberty Bell." Today, we can't help but ask: How much did the prayers of those back home have to do with this great victory? War correspondent Ernie Pyle, who arrived at Normandy on June 7, observed that the Allies achieved victory "with every advantage on the enemy's side and every disadvantage on ours." Despite this, he wrote, the total Allied casualties "were remarkably low—only a fraction, in fact, of what our commanders had been prepared to accept." "Now that it is all over," Pyle finished, "it seems to me a pure miracle that we ever took the beach at all." Difficult days require courageous individuals and leaders of integrity who will fight the enemy and steer the course of freedom. As we pause to recognize the significance of D-Day, we also take note of the great deal of courage that is needed to head into such a battle. Prayer is a big determiner of the amount of strength and courage one has. Lasting victory, bathed in prayer, brings results far beyond the battlefield. At My Faith Votes, we are grateful for the prayer that set the course for D-Day to continue to impact the world far beyond 1944.

PRAY.
On June 6, 1944, President Franklin Delano Roosevelt made a statement to the American people, which he read as a prayer. This was his prayer that was broadcast on radio networks nationwide.

ACT.
Serving in the military creates a set of unique challenges that most people don't recognize. These invisible wounds can lead to isolation, addiction, divorce, abuse and suicide. A faith-based organization called The Warrior's Journey works to address those needs and connect "warriors" with others who can help. Learn more, consider utilizing their services, or connect with others with their helpful mission.
---
How a Nine-Year-Old Killed in Uvalde Shared the Gospel
"Ellie Garcia was one of the nineteen children murdered at Robb Elementary School in Texas last week. She died about a week before her tenth birthday. Her father shared a photo he took in January of his daughter praying. He wrote, 'I love you baby girl and I love the way you pray.' He also posted a TikTok video she made recently, where she said, 'Hey, guys. I just wanted to give you a little catch-up. Jesus. He died for us. So when we die, we'll be up there with him. In my room, I have three pictures of him.' Now Ellie sees her Savior face to face. read more at the Denison Forum
THINK.
In such troubled times, how can we raise more Ellie Garcias? Situated in the foothills of Texas Hill Country, Uvalde is known as the "City of Trees." The town of some 15,000 people is 75 miles from the U.S.-Mexico border and sits at the intersection of two major highways. Joe Ruiz, a local pastor, said of the small community, "It's a beautiful city. It's a tight community. We are connected one way or another." It's also hard spiritual ground to till. "There are a lot of people who don't have pastors. They don't go to church," Ruiz said. But a day after the tragedy, more than 1,000 people from this grieving city looked for hope as they gathered to pray and listen to pastors offer messages of strength and salvation. We find ourselves at this dark chapter of our nation's history because we've allowed the foundational institutions of society – specifically the Church and the family – to be attacked, maligned, and mocked. This disregard and disrespect have produced chaos and crisis in our communities. As Christians, we know that the church and the family are foundational to the upbringing of children. But even the secular world acknowledges that children who attend church regularly are happier, healthier, and better-adjusted. It's our choice to choose the way of Christ or the way of the world. As our CEO, Jason Yates states, "In times like this, people of faith must face the evil in front of us and make a choice. Now more than ever, the body of Christ must answer the question, 'What shall I do?' and recognize that our faith requires us to take action. This is not a time to grow weary in doing good or to grapple for power. It is a time to bring the power of the gospel and the good of our faith into a grieving world. Apart from us, our communities will not truly know the values we hold dear: love, joy, peace, patience, kindness, goodness, faithfulness, gentleness and self-control."
PRAY.
This world is evil. But the news of the last week should convince us even more that God's people MUST be people of prayer. The Word of God is meant to drive us to intimacy and union with God, to a life of constant connection to God, and that is accomplished through prayer. And such prayers do not need to be perfect or full of fancy words. Pray Scripture. Write your prayers out. Pray every thought that is angry or bitter or resentful back to the Lord and invite Him into it. When you pass a school, pray for it. When you pass a church, pray for it. When you pass your city hall, pray for it. Change the way you pray from passive to active.
ACT.
Since our inception, we've made it a priority to interview notable leaders to help you gain a better perspective on current events and issues, to understand faith in politics, and bring uplifting insights from a biblical worldview. Now, you can find it all on MFV-TV, our on-demand video library on our website. We hope you enjoy this new feature that has been specifically designed to help you find all our past and current interviews, quick clips on the issues, and PSAs in one simple place. Watch MFV-TV anytime, anywhere from our home page.
---
My Faith Votes—is a nonpartisan movement that motivates, equips and activates Christians in America to vote in every election, transforming our communities and influencing our nation with biblical truth. By partnering with national faith leaders, My Faith Votes provides resources to help Christians Pray, Think, and Act to create an America where God is honored in the public square.
Website | www.myfaithvotes.org Twitter | @MyFaithVotes Facebook | My Faith Votes
---
React
---
Comments